Atria Santa Clarita
24431 Lyons Avenue, Santa Clarita, CA, 91321
Talk to a Family Advisor: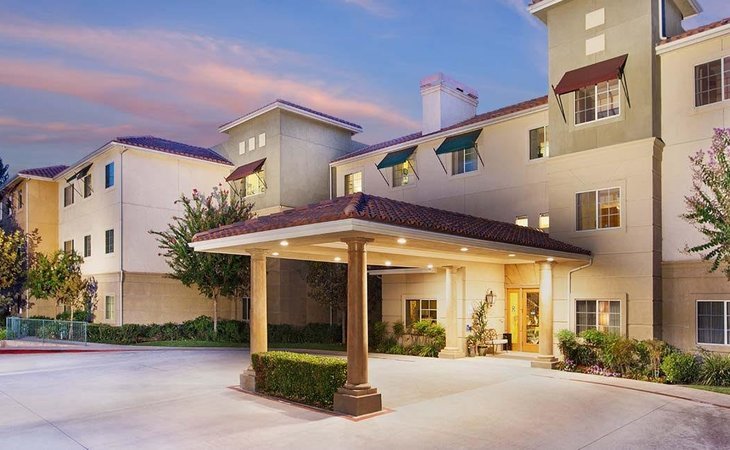 Reviews of Atria Santa Clarita
---
Erinsfun
June 16, 2017
I am a friend or relative of a current/past resident
In December we looked at Atria and had the tour and were happy with the care that my aunt was going to get and the activities. But by the time we moved her in, this month, they were under new ownership, had gotten rid of a lot of the services that they promised, and had hired cheaper employees who don't know how to care for people with Alzheimer's. After 9 days of not being able to get my aunt to eat or get dressed, they sent her to Kaiser for a psych evaluation. Now she is at the Jewish Home for the Aging getting her meds adjusted in being evaluated. They are not having any problems with her over there. Atria had been telling us that it was my aunt and they've never had seen anyone so bad before, but I started researching Alzheimer's and what she is going through is typical and there are ways to work with it that they don't know about.
---
janette-la-bella
May 25, 2017
I visited this facility
I love this place - the people are well looked after and seem very happy. The staff take such good care of them and they are one of the few places that actually books some great entertainment! Thumbs up!
---
Earl304562
March 04, 2017
I visited this facility
Atria Santa Clarita was a nice place and closer to me. Everything looked fine. Everybody that we encountered was good ad personable. There weren't any issues with anybody. It seemed like a nice place. The building was fine and multi-story. However, it didn't feel like a home. It felt more like a dormitory.
---
Joseph1967
January 09, 2017
Other
Short of staff, smelly LG building, French cafe and great room always a big mess and smells bad too, bad food and chefs have horrible attitude's, managers or director never seem to be at the facility. Just a horrible experience and expensive for basic care. Not recommend.
Provider Response
Hi, Joseph. I appreciate you reaching out and I'd like to learn more. Would you mind emailing me at customerservice@atriaseniorliving.com?
---
Donna115177
December 03, 2016
I am a friend or relative of a current/past resident
My dad moved in to Atria last October 18. It was clean, somewhat new, and affordable. It's going to be a strain no matter what, but I checked out three different places in the area because I needed to keep that as close to me as possible, and the first one was at least 10 to 15% more per month. The people were very helpful especially in walking through everything with me. Everyone that worked there was very friendly, and they really do try to help to get my dad involved. My dad is having a difficult time just assimilating right now and getting involved in any activities, but they are still really trying to do that.
---
Kathy675686
November 14, 2016
I am a friend or relative of a current/past resident
My dad was at Atria Santa Clarita, and we absolutely loved it. The staff was great, and everyone was very warm and caring. It was also priced better.
---
Nancy620273
November 05, 2016
I visited this facility
Atria Santa Clarita was beautiful. They were smaller apartments and narrower. We wanted a one-bedroom, and they didn't have many to offer. Their kitchenette was nice, and the lady was terrific. All the activities were upstairs on the second floor. They had a big grand staircase, which most of the elderly were not even using, and then all the activities were upstairs. There was a living room downstairs, but no one was in it. They were having a concert when I went through, so there were a bunch of people in the upstairs room. It was much more expensive, and the rooms were smaller.
---
Anonymous725584
November 02, 2016
I visited this facility
My experience with Atria Santa Clarita was wonderful. The apartments were very nice. They were small, but well laid out to handle accessibility issue. Everyone was very friendly and helpful. We were greeted by every worker that walked by us. They said hello, and they were very friendly. All the residents looked happy. There were lots of indoor and outdoor gathering areas that was well kept and nicely decorated. They had lots of activities going on that the residents were invited to participate in.
---
Frank B.
September 13, 2016
I visited this facility
Summerhills (Atria Santa Clarita) was very nice. We liked it the best. The staff who gave us a walk through was very knowledgeable, helpful, and answered all our questions. They offered three meals, social activities, and a little bus service that would take you shopping or on day trips.
---
Barbara124269250
May 11, 2016
I visited this facility
Summerhill Villa's grounds are really pretty. I didn't care for the studio room that much, but everything else was very nice and clean. They were a little expensive. I saw their dining area and it was nice. The director was very nice and knowledgable. Their staff were also very nice.
---
visitorGXRIK
May 11, 2016
I visited this facility
Summerhill seemed nice. My mom ended up in a studio, which seemed nice, looked well maintained, and had a large closet. She liked it. They seemed to have a number of activities, like bingo and visiting entertainers.
---
MarkJGUCX
May 11, 2016
I visited this facility
Summerhill Villa was an OK, older facility. It didn't appeal to me, so I wasn't going to put my mom there. The staff was satisfactory.
---
A Fellow Reviewer122099650
March 31, 2016
I visited this facility
We visited Summerhill Villa for my mother. The rooms were older because the facility was probably built in the 1970s, so they were darker and dingier. It could use a facelift, but everybody seemed very happy. They have a big dining area, and everybody seemed like they were having a good time.
---
Robert117543250
January 15, 2016
I visited this facility
Summerhill Villa was very nice. I was impressed, but it's just a little outside of our budget. For me, I would have to have 24-hour care with the medicines, which starts at around $4,000 a month, so there's no way we could do that. The facility and ground overall were kept up very nicely with nice rooms and dining room. It was just way out of our budget. The person who gave me the tour was very nice. She answered all of my questions, walked me around the entire facility, and showed me the recreation room, the barber shop, the dining room, and a couple of different-sized apartments. They're small, but I understand that it needs to be that way when you're moving into a place like that, and I will have to tell my mom that she is going to have to downsize; her room would just be a one-bedroom or a studio.
---
firedog
October 20, 2015
I am/was a resident of this facility
After thoroughly investigating and visiting many assisted living facilities, we chose the Summerhill Villa. We chose it because it offered the best place to live in comfort and support from a friendly staff. We have not been disapointed.It is like being on a cruise without the waves. Charlotte and Ralph Davis
---
JimmiesMauiBarbie
September 28, 2015
I am a friend or relative of resident
My mother-in-law has been at Summerhill Villa since 2011. She is now 86 years old. When asked, she says she loves it there. The grounds are well maintained, the staff is friendly and the kitchen is very accommodating to mother's needs. When I or my husband visit, that almost always includes a "pop-in" visit from the caregiving staff to see if she needs any tending too. It has recently undergone a change in management and things seem to be better there, just a better feel. The staff seems happier, in turn, makes mom happy. And us happy. When we travel we never worry if she's in safe hands or not. If there is ever ANY issues out of the normal, everyday things we will get a phone call. Very comforting. VERY glad we placed mom there.
---
Caring101332350
January 19, 2015
I visited this facility
Summerhill Villa is lovely, and I love it. It looked like a lovely hotel and resort. It offers a very elegant city look, and there was nobody sitting at the front door.
---
Ben9
December 30, 2014
I am a friend or relative of a resident
We like the staff at Summerhill Villa, and it is close to our house; that is why we moved my father-in-law in that facility. We also like the activities that they have on a regular basis. We find the staff very pleasant, friendly, and knowledgeable.
---
Judy89072350
August 30, 2014
I visited this facility
At Summerhill Villa, they took me on a walk-in tour of the facility. It was an older facility, but they have kept it remodeled and it was still very nice. I like the way it was set up. I like just the way they had the hallways look nice and clear. They took me to different rooms, i.e., a room that would be for sharing with another person, and then a room that you could also get individually. They do allow you in certain instances, to bring your small cat or dog if you have one. Some of the rooms have a small balcony or a place where you can have a chair just outside your own door. If you don't have that, then you also have access to the larger community area. Overall, I felt it was a really nice location. At that time, the residents were playing bingo in the activity room. The dining room was very nice. The food seemed varied, totally adequate and well balanced. In terms of living environment, it was extremely nicely decorated, it was very clean, it smelled nice, and the people there seemed to be involved in whatever they were doing. There didn't seem to be anybody that was just hanging about with nothing to do. The staff was very knowledgeable about the facility and very interested in the individual they were working with. They seemed to be really into whatever they were doing. At that time, I saw a lady walking with another staff member and they were having a nice conversation. They seemed very caring. It has a warm feeling about it.
---
jackjayne
June 12, 2014
I am a friend or relative of resident
My family member was there and it was a horrible experience. The director made lots of promises in the beginning but never followed through. My family member was left alone and their needs were not met, (showering, tooth brushing and taken to the restroom, basic needs). They sit for long periods of time. They make it look good with the calendar of events in memory care. But unless you plan on spending lots of time interacting with your loved one they will do a lot of sitting and looking at the t.v. alone. Like I said they make a good first impression but don't be fooled they put on a great show for the public. Sad place.
Provider Response
We appreciate the fact that you are sharing your concerns with us on this website and take them very seriously. It is our goal to enrich the lives of the residents and families we support. We strive to exceed the quality, service and care expectations of those we serve. I am always available to meet with you individually to discuss and address your specific concerns. Please contact me to arrange a convenient meeting time.

Thank you!

Margie Vies, Executive Director
---
jefsteph
May 07, 2014
I am a friend or relative of resident
My mother-in-law lived at Summerhill Villa in the Memory Care unit for 1 1/2 years until she passed away two weeks ago. The care and compassion shown by each and every member of the staff to my mother-in-law and our family was amazing. The facility and each of the residents were always clean and well cared for. We will always be grateful to the Summerhill family for all their support and diligent hard work.
---
beachbummer
April 15, 2014
I visited this facility
I moved my grandparents into this facility and since day one, have been blown away by the cleanliness and level of care afforded to them. The staff is friendly and I am at ease knowing they are looking after my grandparents. Margie the executive director is fabulous and very passionate about senior care. Can't recommend this assisted living enough for those in a similar situation.
---
Caring81482250
April 12, 2014
I visited this facility
I brought my mom to visit Summerhill Villa and take a tour. They had a brunch on a Sunday morning for guests, so that was a real good opportunity to get her involved. It's a close location for family and friends to be there. The staff is very accommodating, patient, and very kind. It looks very clean. They just remodeled the facilities. Everything looks pretty top-notch. They have a nurse on-site. They have a sit-down restaurant. It's kind of like a cruise ship. It's a little more expensive than some of the other options. It was referred by a friend whose father was there until he passed away, so it looks like a good fit. They have a variety of different events that there. They have a theater, a library, an exercise room, walking paths with oak trees. They also have a variety of different room structures from studio to apartment in a style of 1- and 2-bedrooms, even for people who are still married. If they go into extreme cases of Alzheimer's, they have a section that they can transition you to, so it provides a long term solution.
---
Nice, But......
April 07, 2014
I visited this facility
It looks nice but need to maintain cleanliness, strong urine odor in the third floor, need a better activities n interaction to clients. I spent time n visited . Just disappointed
Provider Response
Thank you for touring our community. We always seek to exceed our customer's expectations and apologize that you were disappointed. We would appreciate the opportunity to share the specifics of our full time activity calendar and housekeeping standards with you. Feel free to contact me to schedule a personalized visit.

Kind regards, Margie Veis Executive Director
---
Caring 3907
June 25, 2013
I visited this facility
We visited Summerhill Villa for my mother-in-law. It is an assisted living facility that also offered short-term stay for respite care if there were vacant rooms available. It was a very nice and beautiful facility. It was very clean. The grounds were very nice. They have well-maintained garden areas all around. The facility indoors was very nice as well. It was almost like a resort and the staff there were very pleasant. We got to talk to their assistant manager who was very knowledgeable and helpful. I think we are going to register with them for the possibility of future use.
---
heidi lumes
September 19, 2012
I visited this facility
Overall Summerhill Villa seems to be a great assisted living facility from what I've experienced during my visits to a relative there. The common areas were very plesent and clean. The gardens were well kept and peaceful. My grandfather whom stayed there always complained about the food. I admit it wasn't the tastiest but it was well balanced at least. I do wish they would work on it though because his stay would have been more enjoyable that way. The staff was usually very friendly but maybe like any place there were a couple employees who always rushed around those who stayed there. This bothered me as its supposed to be a place that is the guests home. Overall it is well maintained and seems to be of good care.
---
helper1231
July 24, 2012
I visited this facility
This assisted living facility is really unique because of their design. The facility gives everyone a sense of luxuriousness because of the wonderful design. The furniture is has an antique style to it and the overall design makes the facility an amazing outdoor environment. The rooms are fairly big and the entire area is very cozy and will give you a sense of home. It seems easy to adapt to! This facility seems to be more of an independent facility where the elderly people try to live independent lifestyles. But if they need help, help is definitely given. The staff is wonderful and seem to attend to everyone's needs. When you enter you are instantly greeted by their warm personalities. Everyone who lives in the facility also are very nice and seem to be happy because of their living environment. The staff is extremely easy to mesh with, making volunteering there an amazing place to volunteer at.
---
Caring488112
January 06, 2012
I visited this facility
Sunnerhill is just that you're spending your Summer Sunset on the Hill. This facility is beautiful and has a grand design tailored to outdoor living. They have lovely patios and a beautiful garden. From the moment you walk in you're greeted with the grand beauty of a Grand Stair Was and lovely well made furniture in Old World Grandeur. There is a beautiful library and the dining hall is well designed. The staff is friendly and seems to be attentive to the residents needs. The resident seems to be happy, bright and well cared for. The rooms and apartments are all good size and welcoming a warm. This is a very cozy and homey facility. All needs are assessed and a plan is implement by ones needs. This is an assisted living and independent living model. If you are in need to place a loved one you would be happy with choosing this facility.
---
---
Located in the Santa Clarita Valley, just north of Los Angeles with easy access to the 405 Freeway, Atria Santa Clarita is a vibrant community where seniors benefit from a simplified lifestyle, with discreet support from a 24-hour staff.
In addition to independent and assisted living options, the community offers Life Guidance® – forward-thinking memory care in a separate, secure neighborhood setting for individuals living with Alzheimer's or other forms of dementia.
Amenities include a salon and barber shop, game room, library – and bright, welcoming common spaces. The community features two dining venues: a grand dining room serving a selection of dishes with table service, and a casual café for lighter fare. Residents enjoy a social calendar filled with more than 200 monthly events, including regular outings to local restaurants and points of interest like the theater.
Atria Senior Living is a leading operator of independent living, assisted living, supportive living and memory care communities in more than 180 locations in 27 states and seven Canadian provinces. We are home to more than 21,000 seniors and employ more than 13,500 people. We create vibrant communities where older adults can thrive and participate, know that their contributions are valued, and enjoy access to opportunities and support that help them to keep making a positive difference in our world.
Features of Atria Santa Clarita
---
Room and housing options
1-bedroom apartments
2-bedroom apartments
Studio Apartments
General
Respite Care
Pets

Small Pets Allowed
Location of Atria Santa Clarita
---
Get Cost Information
Get full access to reviews, cost information, and amenities