Atria Chateau Gardens
1185 Pedro Street, San Jose, CA, 95126
Talk to a Family Advisor: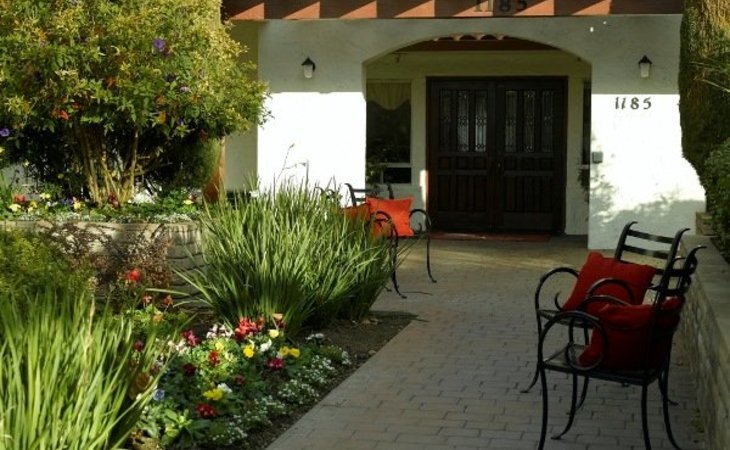 Reviews of Atria Chateau Gardens
---
George057871
January 30, 2017
I visited this facility
Atria Chateau Gardens was an older place but nice. The rooms were a little small, and the place showed its age a bit. The staff was very friendly and attentive. I liked the fact that most of the staff had been there for eight to 10 years. They provided transportation for the residents.
---
Kurt045023
December 27, 2016
I visited this facility
I visited Atria Chateau Gardens. The guy I talked to was really nice. The location was good, but it did have a distinct odor in the hallways, like an old, historic hotel. It had that distinct, musty, and enclosed smell. Everything else was fine.
Provider Response
Hi, Kurt. Thanks for visiting our community and for sharing your feedback. I'll definitely share this with our team. We welcome you back any time.
---
Gracie502471
August 24, 2016
I visited this facility
Atria Chateau Gardens was really wonderful and very nice. They were very accommodating in things that they would be able to do for you. They showed me an empty room, and it was very nice. I didn't try the food, but they sent me home with an absolutely wonderful and fantastic cheesecake. The girl gave me complete information so there would be nothing that I didn't know.
---
Pat L.
August 24, 2016
I visited this facility
Atria Chateau Gardens doesn't do memory care. The place is older and just not as nice. The rooms are very small, and the facility is quite small. The people get quite a lot of individual attention, and they do quite a lot of activities. The residents seem pretty content and all.
---
Sept302015
June 08, 2016
I am a friend or relative of resident
This was my mom's first experience with assisted living and she was very happy here. Sadly, I had to find another place when it appeared she might need dementia care. This facility does not have a special wing for Alzheimer's patients. My review is based on experiences in 2011-2013. Please make sure to use current reviews in your decisions, because administration and staff do change.
---
ellemae
March 31, 2016
I am a friend or relative of resident
My Mother was a resident for three years. In those three years the director was changed 3 times. In my opinion the last director was very "Corporate". The only time I heard from her was to tell me "we will have to place your Mother on a higher tier of care if she continues to ask for her meat to be cut". When we placed Mom at Atria the management and staff were excellent. The director, Mary, was wonderful. Very kind and caring. I had began looking for another residency for my Mom and when I was notified the fees were going up AGAIN, it prompted my decision. My Mother is now in a wonderful board and care home and we are very pleased. Also, I questioned a discrepancy on their final bill. I paid all but the disputed amount and ask them the explain to me the discrepancy. I called them twice and wrote them twice, no response, they just keep billing me. No longer a fan...
Provider Response
I appreciate your feedback. If you would like to continue this conversation, please reach out to me directly at customerservice@atriaseniorliving.com.
---
Visitor121946050
March 31, 2016
I visited this facility
Atria Chateau Gardens looked a little older, and the care facility that my parents would get looked like it needed a remodel. It was clean and well-kept, but it just didn't have some of the amenities that my parents would like, like an outdoor balcony. To me, the facility itself was a little older. But we talked to the people there and they were all good people. As far as the cafeteria and the dining areas, they were set up nicely and I'm sure they had good food.
Provider Response
I appreciate your feedback, as it will help us continue to enhance our community. If you want to tell me more, I welcome you to email me at customerservice@atriaseniorliving.com.
---
Relative27
March 16, 2016
I am a friend or relative of a resident
We chose Atria Chateau Gardens for my mom because it is close to our home and not too far from her healthcare facilities, doctors, and dentists. We chose it because of the price, too. The staff was great and very friendly, and the people we have met are very nice. As far as I can tell, the residents seem happy. Their food is pretty good. From what we saw, they have a full roster of daily activities from reading the newspapers to exercise programs to get-togethers. They have different kinds of fun activities, and a lot of stuff to offer for the residents to keep them occupied and involved. The facility is close to all of the amenities of Willow Glen. They provide bus services for the residents' appointments with doctors and dentists.
---
Caring112430250
August 31, 2015
I visited this facility
I visited Atria Chateau, and the rooms when you go in, they look like boxes to me. Everybody was very nice to me when I went there.
---
Caring108503350
June 25, 2015
I am a friend or relative of a resident
I like that Atria Chateau Gardens was a small and caring community, and the staff seemed happy working there, which I thought was indicative of good leadership. I did feel they could have shared more information about their capabilities to transition their clients into hospice. The rooms and apartments were fine. My brother was very happy there. I ate there more than once, and the food was good. The service was also good. The dining area was bright, airy, and cheerful. Sometimes they had live music there which was pleasant. I was most impressed by the caring staff. They were always concerned about the safety of their residents, and their security seemed completely adequate to me. For someone who needs just residential care, I would give it a five. For someone who needs to be able to transition to a hospice setting, I think it is probably not the best place.
---
Joann21
May 17, 2015
I am a friend or relative of a resident
My sister stayed in Atria Chateau Gardens for a few days only. It's a very old facility, and a lot of the residents were on the old side. The staff was OK. The food was very good, which smelled like a restaurant, and you eat in the dining room. The rooms there had a lot more privacy.
Provider Response
Hi, Joann. We're happy that your sister chose to stay in our community. We'd love to hear more about her experience with us, and invite the two of you to reach out to us at customerservice@atriaseniorliving.com.
---
Anna20
January 09, 2015
I am/was a resident of this facility
Staff is very kind and caring. Food is poor. Not much supervision, a bit disorganized . Inadequate laundry facilities. Marketing person is very misleading. Housekeeping very good.
Provider Response
We are happy to hear that our care staff and housekeeping are living up to the high standards we set for our communities. Thank you for your feedback; we welcome the opportunity to hear how you feel we can improve in the areas you mentioned. Please feel free to reach out via customerservice@atriaseniorliving.com and kindly include "Atria Chateau Gardens" in your subject line so we may connect with you. We are here to help!
---
Amy25
July 19, 2014
I am a friend or relative of a resident
Dad moved in at Atria Chateau Gardens. Its location is convenient to us. The staff are really nice and very friendly. They know dad by name. He has got a 1-bedroom, and it's fine. The only thing I would say is that the plugs are really weird. They were very limited plugs so it was kind of difficult to set up the furniture that we had for him. My dad really is not able to participate in any activities because of his health problems, but they do help him go to his appointments if we can't do it, and that is very helpful.
---
Caring84392950
May 10, 2014
I visited this facility
I saw the entrance area of Atria Chateau Gardens, and it was very nice. The staff are very friendly and accommodating.
---
Caring82236150
April 12, 2014
I visited this facility
The staff at Atria Chateau Gardens are very kind. They gave us a tour, talked to us, and answered our questions. The rooms are clean. The problem is the price is a little bit high.
---
Caring77425250
March 21, 2014
I visited this facility
Atria Chateau seemed like an older facility. But the people there knew each other. Every time we pass by somebody, they will greet each other on a frequent basis. The cafeteria seemed really nice. It was spacious and they have a little dance floor. They had all the activities and dances there and people just love to come and dance there. People enjoy the things that they have. They will have people there who will attend to the needs of the residents. It seemed like they were experienced people.
---
LovelyLady0000070
January 18, 2014
I visited this facility
I have a friend who lives at the Atria Chateau Gardens. We took my husband there for lunch today and he really liked it. It was very friendly; some of the residents came up and talked to him. We looked at a wall with pictures on it of some of the residents who were in World War II. That was a real selling point because my husband spent a lot of time looking at the pictures and a gentleman came up and started to talk to him about it. I thought that it was really nice because it made him feel really comfortable. Then, we looked at my friend's apartment and the library, and what he did see, he really liked. I liked it too. I think it would be a good place for him. We were looking at a studio apartment, which was small, but my husband does not require a lot of space. He thought it was the perfect size. The dining room was gorgeous. They have linen tablecloths, all three meals, and you get waited on. It's just a very comfortable place. They have entertainment sometimes in there during dinner; a man comes in and plays the guitar and the piano too. They have happy hour on Friday afternoons, they have a bar and live music, and everybody gets down and socializes for a few hours right before dinner.
---
cheryl19
December 21, 2013
I visited this facility
Everyone at the facility greeted us when we visited. I feel that my Mom has added another family to her life. We visited 4 assisted living facilities and this one had the same amenities, but their customer service made them stand apart from the rest.
---
Stan4
October 22, 2013
I visited this facility
Atria Chateau Gardens is okay. In terms of the people and so forth, I can't give you any details on that because while I was there, I didn't talk to anybody. It seemed to me to be an older facility that probably could use a facelift.
Provider Response
Thank you for your review and I'm very sorry that you didn't get a chance to speak with any of our residents during your visit. We take pride in providing services that exceed expectations and staff who truly care for those they serve. We appreciate your feedback and will discuss your review to see where we may make improvements to our community's appearance. If we can answer any questions, please contact us at customerservice@atriaseniorliving.com and include the Atria community name in your subject line. We hope to see you again soon!
---
Muriel2
September 26, 2013
I visited this facility
The visit to Atria was favorable until we were leaving and there was a hassle over getting our car out. We had lunch there and I was not favorably impressed with the food, it was very heavy.
Provider Response
Thank you for your review and I apologize that there was some difficulty with our parking area. I encourage you to please contact us to let us know the details of what happened so that we can consider our parking options. I hope that you will please join us again for lunch as we have a great variety of meals to choose from. We certainly welcome resident and visitor feedback so that we can continually improve our offerings. If we can answer any questions or be of further assistance, please contact us at customerservice@atriaseniorliving.com and be sure to include the Atria community name in your subject line.
---
fm
August 27, 2012
I am a friend or relative of a resident
My wife and I screened more than twenty and visited in person around ten assisted living providers in our area while screening facilities for my Mother. All the Atria facilities we visited were impressive, with excellent atmosphere and staff, top notch food and food service, and very clean well maintained facilities. Unlike our experience with other chains, the Atria sales teams were universally supportive and low pressure, and provided an abundance of helpful information and tips. Atria also offered the simplest pricing structure, where others pricing could be complicated to the point of absurdity, with individual staff interactions with the resident causing a ratcheting tally of add-on charges to their basic rate.We also talked to some of the residents and used that interaction as a major input into our rankings.In the end we visited three different Atria facilities with Mom and she picked the one she liked the best, Atria Chateau Gardens.Mom has moved in and is happy. Having restaurant-style dining and housekeeping services allow her to finally not have to cook and clean for the first time in many years, and she's very happy with the staff. We noted on our visits that all the staff always greet residents by name when they encountered them, and Mom has remarked how friendly everyone is as one of the reasons she enjoys the facility. Since her move-in we've had several phone and email interactions with the caregiver staff to help them answer Mom's questions (about her old house, etc.) and my wife and I remain very pleased. Knowing that Mom has a wide range of daily activities, great food, and a caring staff on hand 24 hours a day, 7 days a week allows me to rest easier as well.
---
From Atria Chateau Gardens
---
At Atria Chateau Gardens, you'll find a vibrant senior living community set in a beautiful, historic atmosphere just a few blocks from downtown Willow Glen. Enjoy long walks through landscaped grounds graced with prize roses and English gardens. A complete social calendar and regularly scheduled cultural outings keep you active year-round.
Atria Chateau Gardens offers the following services:
Staff available 24 hours a day
Choice of apartments
Anytime Cafe
Full-time director of events and activities
Emergency call system in every apartment
Daily restaurant-style meals
Housekeeping services
Medication assistance
Scheduled transportation
Atria Senior Living is a leading operator of independent living, assisted living, supportive living and memory care communities in more than 180 locations in 28 states and seven Canadian provinces. We are the residence of choice for more than 21,000 seniors, and the workplace of choice for more than 13,500 employees. We create vibrant communities where older adults can thrive and participate, know that their contributions are valued, and enjoy access to opportunities and support that help them keep making a positive difference in our world.
Features of Atria Chateau Gardens
---
Room and housing options
1-bedroom apartments
2-bedroom apartments
Studio Apartments
Housing Extra

Deluxe Studios
Licenses
Licenses

License #430708777

State Licenses

430708777
Location of Atria Chateau Gardens
---
Get Cost Information
Get full access to reviews, cost information, and amenities