Rhoda Goldman Plaza
2180 Post Street, San Francisco, CA, 94115
Talk to a Family Advisor: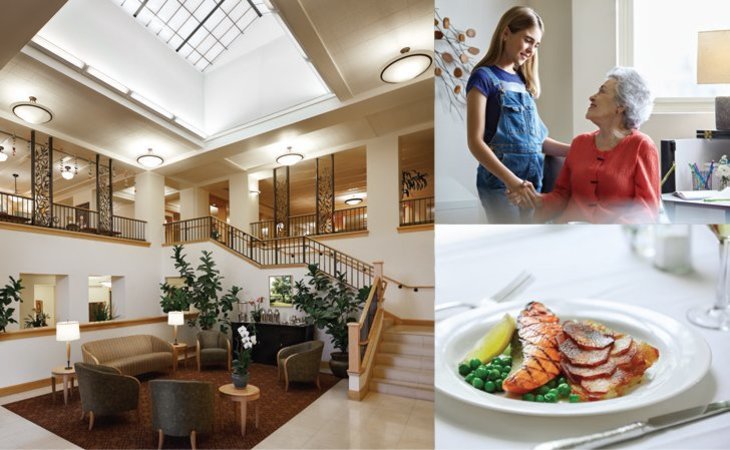 Reviews of Rhoda Goldman Plaza
---
Sandra109530250
June 29, 2015
I visited this facility
Rhoda Goldman Plaza would have been my first choice for my mother. It was a little more money than what she is paying now, but what they do is if your income or your savings falls below a hundred thousand dollars a year, they subsidize you up to fifty percent. That was a huge plus. The residents were very nice. The food was outstanding. They took residents out several times a month, and they also brought entertainment in the facility.
---
Caring2779
November 22, 2014
I visited this facility
We went to Rhoda Goldman, and we were not particularly impressed with that place. The person was not as warm and helpful as other people that we met. One thing that was nice is they have like a café where you could order totally a la carte; that was a nice benefit. I think the food quality was better than where my mother is now, but the apartments were small. You couldn't have pets there, and my mother has a canary that's really important for her, but it looks nice.
---
Caring77413650
October 03, 2014
I visited this facility
The Rhoda Goldman Plaza was a great facility, extremely beautiful, and very well thought out and developed, but I only met with one person from the staff and she was excellent. She spent a great deal of time with us. The rooms were family big and spacious, and they have different sized rooms available. They have a dining room and they also have like a snack restaurant for people who want to eat off hours. Their food is cozier and is supposed to be excellent. I've observed arts going on at that time and that was the only thing that I saw, but they have quite a number of activities both inside as well as outside the facility.
---
Liz18
November 22, 2013
I visited this facility
Rhoda Goldman was nice except the apartments. It was low, small and depressing but so expensive. It's more fun to be in the hallway than to be in your apartment. My mother wants to be enjoying her apartment. The facility was very clean and welcoming and the food is good.
---
Brandon1
January 20, 2012
I visited this facility
This hotel is the place to stay if you are getting a good room price with benefits.Everyone on staff is very professional, helpful & personable.Stayed here for three nights right after Thanksgiving.Try the restaurant, the food and service are excellent. We've had brunch and several dinners and not been disappointed. We were happy to be in the city and happy to have a very comfortable, even luxurious, hotel and room to retreat to in order to charge our batteries for more stimulation and excitement. Daily activities, movies, classes and even an old guy who comes a few times a month to play old Jewish sounding folk songs on the accordion! The Sunday brunch here is damn good for the price. Free! Well free if your loved one resides here and decides to take you out to brunch. You can get a fat plate of lox with capers and onions on a bagel, potato pancakes, endless fresh juice, hearty chicken or matzah ball soup, blintzes and many other classic kosher treats. Best part is, there's no limit to how much you can order. So every time I've been, my grandma insists that I order three or four items and then she makes me eat hers as well. Rhoda Goldman Plaza is more than clean , it is downright swank, and probably a pretty super-hygenic place, which is important for infection control.
---
tidus
October 03, 2011
I visited this facility
Rhoda Goldman Plaza is the place for you if you are looking for a something where you could be independent but sometimes needs assistance and if you want to be involved and enjoys socializing with people. They have a lot of fun and entertaining activities here for you.
---
johnie1
September 29, 2011
I am a friend or relative of a resident
Rhoda Goldman Plaza is better then what you see depicted in movies. My grandparents live their now and they tell me it's not oppressing at all. In fact it has a whole lot of amenities. If I could eat the same meals they eat. The food there is nice and you get 3 meals a day. There are many activities; my grandma told me stories about some musician that comes by every month. It seems really nice. The people their seem to be a bit off. They'll certainly convey the message that you're a pain to them. They do have quite a lot of excuses for not doing simple things. One thing to know about this place is that it's centered on the Jewish faith. If you're not Jewish, you would probably get 1 or 2 conversations about you. The bottom line is, if you can't find a good place you should go to Rhoda Goldman Plaza, else the rates are too high for how some of the staff treat you.
---
ProfessionalGCM21years
July 28, 2011
I am a friend or relative of resident
I have a friend at Rhoda Goldman, and I've visited it many times and referred clients there. Overall I give it very high marks for assisted living--but the dementia care isn't as responsive as it should be.
It's in the Western Addition area of San Francisco, and there's great access by car, walking, and public transportation. Parking on the street during business hours can be problematic, but they do have a parking garage. The neighborhood is mixed use--residential and commercial.
Rhoda Goldman is across the street from the public library and close to UCSF Medical Center and Kaiser.
The facility itself has a luxury hotel feel to it, with original art work on the walls, tasteful appointments throughout. It's really 5 stars. But the monthly fees are higher, too, to go along with that.
The staff is very, very good. Excellent. They have RNs on duty all the time.
The food is also 5 stars. You can't find better food in any assisted living facility. This is gourmet cooking--kosher for those who prefer it. They have high-quality chefs, use organic ingredients. They have a whole foods mindset.
They also offer a full complement of activities, including a van for outings to the museums, theater day (to a show or symphony or ballet).
I give the assisted living facility 5 stars, the dementia care 4 stars.
---
DrJames'Corner
July 21, 2011
I visited this facility
I've both visited Rhoda Goldman and referred 5 families there--and I think the care is excellent. It's 24-hour care by well trained staff who are very intuitive to the needs of residents.
It's a Jewish environment, but not everyone is Jewish. And the facility is very nice. Private apartments, big rooms, all private. They have 5 floor plans to choose from, and they cater to all levels of need. All the apartments come with roomy walk-in, wheel-chair accessible closets, too. And they provide weekly housekeeping and linen care.
The location is great, in the heart of San Francisco, with easy access to public transportation. The one downside is that there's not much outside space right around the facility--just a small courtyard. Most of the activities are inside: a library, daily exercise, nutrition classes, trivia, game rooms. They have an entertainment coordinator, too, for things like music.
One big plus is the food. They have a licensed chef and excellent culinary staff. And they have both a private restaurant and a more informal cafe, where residents can get light snacks and coffee.
---
A Caring Relative
June 21, 2011
Other
This facility has both assisted living and memory care.
The care in assisted living is fantastic. The staff show a real concern for all the residents, and seem to go out of their ways to learn a few personal things about them all and to make them feel comfortable and welcome.
There are lots of activities provided; residents can stay engrossed and busy all day long""which is especially good for residents who are sociable. Residents are also encouraged to interact with one another, which is different and much better than many facilities I've seen. There are frequent field trips to nearby attractions and social activities.
The residents do complain about the food, but I am not sure that criticism is well-founded, since many of them admit they haven't found any type of food that satisfies them anywhere.
The rooms are all quite comfortable and well-maintained; the one-bedrooms are quite spacious for one person""and the location of the facility, near to shopping, grocery stores and easy public transportation""is ideal.
If I had to rate the facility and care for the assisted living portion alone, the place would definitely get 5 stars. It almost feels like living in a 5-star hotel.
However, there was one problematic policy that has left us feeling unhappy with Rhoda Goldman: With very little discussion beforehand, the management decided to move my relative to the memory care unit. While she had been showing some signs of confusion, she was still very social and valued the friendships and camaraderie of the people in independent living.
There is a strict policy against leaving the memory care portion of the facility, so my relative now feels lonely and stranded there, as if she didn't belong. She hates her freedom being taken away, as the policies in memory care are very strict for every resident""barring them from moving about freely or having drinking water in their rooms. It seems as if concerns about "safety" are more important than matching the care needed to the individual.
The family members felt we were not adequately consulted about the move to memory care, or informed about the reasoning behind it""just given an ultimatum that we either had to pay an additional $6,000 to $8,000 a month for a fulltime aide, or she would be moved.
---
anonymousinSF
June 10, 2011
Other
I've been involved in the admissions process for new residents here a number of times. It's in a great location, just north of Geary on Post in lower Pacific Heights""five minutes from everything. Parking is easy, too. And even though it was created by and for a Jewish population, they do have a diverse resident population. It's one of the first places I'd consider if I was looking for assisted living in the city.
Their programming is really good. They have a grief group, lectures, all kinds of compelling and interesting things to do that appeal to a robust , accomplished community of residents. There are a lot of smart people there. It's a sophisticated group, but they're not snotty or intimidating.
Their food is excellent. It's the only truly delicious assisted living food I've ever eaten. It's "˜could this possibly be assisted living facility food?' good, and it's a big focus for people.
The one downside is the sometimes inflexible management. They sometimes forget they should be accommodating the residents, not the other way around. But to their credit, they do offer a forum for feedback. Residents there consistently give it high marks.
It's best for more fully functioning residents looking for a little help. As is often the case with dementia units, people are mostly quite impaired. They have some lovely accommodations in the memory unit so residents can still carve out an oasis and surround themselves with things and memories that can bring comfort.
---
Resident
May 10, 2011
Resident
I have been happily living at Rhoda Goldman for over a year. This place markets itself on providing "elegant assisted living "and it delivers. Walls in the common areas are hung with original art and prints and the common areas are tastefully appointed and kept immaculately clean, so I'm always comfortable and proud to have friends and family visit.
Additional pluses include: --Scheduled activities. Within the facility, there are daily movies, exercise classes with DVDs and live instructors, bridge groups and some unexpected pluses such as lectures about world events and from museum docents describing current exhibits. There is also transportation provided to events in the community""including the symphony and museums.
--Food. The food is excellent and varied""with much of the baking and treats such as candy made onsite. There's a café onsite in addition to the dining room, in case I miss the regularly scheduled meals.
--Amenities. Daily trash and bed-making services and weekly cleaning make life more pleasant and eases upkeep. There are also book collections to borrow from on every floor.
--Location. It's on flat ground in San Francisco, which is a plus""and close to restaurants, shops and a drugstore. It's also right across the street from a public library, which offers many programs for seniors. And buses and cabs are plentiful in the area.
Possible drawbacks are: --No continuum of care. While there are nurses' aides onsite, there is no additional medical care offered as part of living in the complex. --Cost. While most facilities in this part of town are on the expensive side, this one is among the most expensive I've seen""ranging from about $6,000 a month for a studio to $8,500 for a small two-bedroom. There are four additional levels of care""help with meals, bathroom assistance, getting around and managing meals""and each one of those levels is an additional $475 per month, so it can add up in a hurry if you need more help.
Best for: Someone who is independent, mobile and in relatively good health. There is also a memory care unit, which provides residents with peace of mind that they won't need to move again if they need that type of care.
---
assistedlivingfac
May 04, 2011
Visited this facility
This place has one of the advantages of being in Downtown San Francisco, which made it easier for my friends family to visit their dad very often. This place is much more expensive than other places but you get better facilities here compared to other assisted living facilities in the same area.
During my visit to this place, what intrigued me was the fact that they have a full service saloon providing hair cut facilities for both men and women. Since my friends family was Jewish, and Kosher food was one of their preference, this was the best option available to them . The food is pretty delicious and their Sunday brunch is worth giving a try for with unlimited food offering. There are some downsides too.The communication between the people working there and the seniors seems to be very limited. This might be because of the scarcity of the staff there. I guess with an increase in the staff , the place would be great fun to live for older people
---
---
Our community is dedicated and structured to help older adults maintain and enhance their lifestyle while remaining active and involved. Our apartments, dining options, activities, staff, management, and environment provide the freedom to relax and enjoy life in a safe, secure, friendly, and welcoming community that focuses on Living Well With Assistance (SM). Located in the heart of San Francisco, we provide a warm environment built on strong Jewish values, welcoming residents of all faiths. We feature spacious, bright, private apartments on a monthly basis, in a variety of floor plans, each designed for ease of mobility. Weekly housekeeping, linen service, and scheduled transportation are included. We are known for our full range of activities for intellectual stimulation, socialization and cultural interests. Our kosher menu is "made from scratch" and continually offers new choices for breakfast, lunch and dinner. Three meals a day are included from 7:00 a.m. to 7:00 p.m. Entrees are made from fresh local ingredients; a selection of local wine and beer is available; the Café serves beverages, Peet's coffee, cappuccino and lattes, smoothies, light snacks, homemade pastries, and desserts. At the Rhoda Goldman Plaza Terrace, residents with mild, to advanced stages of dementia or memory impairment reside in private apartments. Residents are treated by our highly-trained staff with compassion and understanding where their individuality and dignity are respected. nurturing, home-like, secured environment in private apartments. Our customized personal care programs foster independence through a full range of specialized activities offering cognitive, physical, artistic and sensory stimulation. Fine dining, housekeeping, personal care and medication management are included. We accept ambulatory and non-ambulatory residents
What Makes Us Special
---
Community Features Private Dining Room, All Day Café, Guest Meals, Guest Rooms, Fitness Room/Gym, Gardens/Outside Patio, Beauty/Barber Shop, Friday Shabbat Service, Internet Access, Scheduled Transportation (2 Vans), Secured Parking (extra cost), Private
Features of Rhoda Goldman Plaza
---
Costs
Minimum rate:

$6027/month

Minimum Memory Cost

$8066/month
Room and housing options
1-bedroom apartments
2-bedroom apartments
Companion Suites

We Do Not Offer Companion Suites
General
Minimum Age

62

Pets

No Pets Allowed
Location of Rhoda Goldman Plaza
---
Get Cost Information
Get full access to reviews, cost information, and amenities