NewForest Estates Assisted Living
5034 New Forest Street, San Antonio, TX, 78229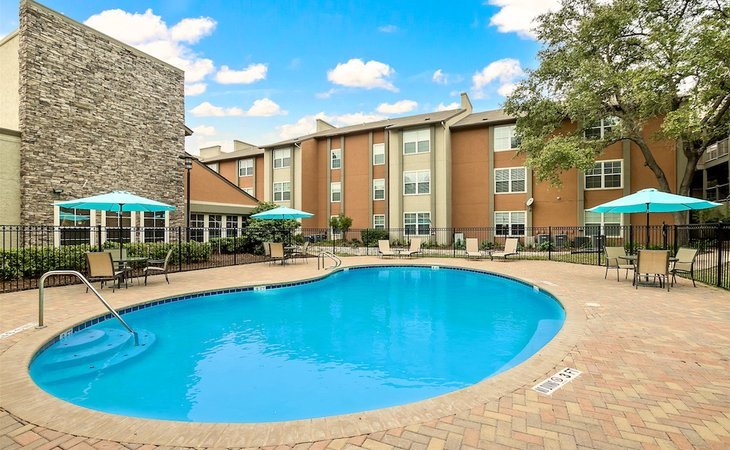 Reviews
of NewForest Estates | Assisted Living
---
---
December 13, 2017
Other
Randy is amazing and so is the super staff!
May 27, 2017
I visited this facility
NewForest Estates's staff was friendly, and the apartments were nice and clean. The monthly cost was affordable and reasonable, and the grounds were nice. The menu looked good; you could eat what they're planning for dinner or you could have a short order.
Provider Response
Hi Liza, thank you for leaving this detailed review about your experience with our community. We appreciate it and hope to see you again soon! Please don't hesitate to reach out if there's anything additional we can do for you.
February 14, 2017
I visited this facility
NewForest is a wonderful community. Caring staff helped my mother adjust to her new surroundings. Michael, Rik and Randy are great with the residents. Property is well kept and staff is responsive to residents, consistently treating them with respect and dignity. Reasonably priced. Highly recommend NewForest!
Provider Response
Thank you, Veronica C, for reaching out to us. Your opinion plays an integral part in our care and service. We love what we do and we try to go above and beyond everyday to ensure that happiness and well being of our residents. We consider them family and we love them! Thank you for sharing your experience!
September 15, 2016
I visited this facility
My mom is currently a resident at Newforest Estates. This is an independent and assisted living facility, and she just happens to be residing in the assisted living right now. She likes it, but she was looking for something that had bigger rooms and a cheaper price, and we didn't find it. The staff are awesome. They treat everybody just like their family. In fact they call my mom, "Mom." She didn't like the food at first, but they've changed the cook, and now she doesn't say anything about their food anymore. She doesn't have any complaints. She just says that everybody is wonderful there. It's in a medical center and close to everything, so it's very handy for doctors and shopping and everything. It's a great location.
Provider Response
Hi Cindy~ We are so happy to hear that your mom is happy. We have a unique community and really love what we do. We are working hard on the menu options and so glad to hear this feedback. Thank you again.
June 23, 2016
I am a friend or relative of resident
beautiful apartments, dining room and common area are beautiful and well utilized. Spoke with several happy residents before making a decision to move in. I love living here.
Provider Response
Donna, thank you for taking the time to leave us your review. We are very pleased to know that you are happy and that you chose to stay here with us~ We are thrilled to have you here! Thank you for sharing! Wishing you a great day!!
March 18, 2016
I am a friend or relative of a resident
I am impressed with Newforest Estates because of the cost and location. The staff is every nice. The rooms are large, clean, and spacious. The food is good. They have activities like day trips, card games, water aerobics, and exercise programs. I will recommend it to others.
Provider Response
Thank you for your positive review!
January 28, 2016
I am/was a resident of this facility
I have lived at Newforest Estates in Assisted Living for almost 1 year now. I love that it is a small intimate home with Great staff. We have our days filled with optional activities. Our staff has been here longer than me. I never realized how difficult life had become. My decision to move was one of the best decisions I made in 2015.
Provider Response
Thank you for your positive 5 star review! We are so happy to have you here with us!
October 26, 2015
Other
Looks like a beautiful place. I like the amenities and activities offered.
Provider Response
Thank you for your review!
October 25, 2015
I visited this facility
Recently I was asked to assist in finding a senior residence for a family member. New Forest was a great option for them. We were looking for a place which was active and engaging and met the budget of someone on a fixed income. The apartments are generous and well maintained. There is a calendar of activities and outings to keep the residents busy. Dining is restaurant style, providing options at each meal. We have found the staff attentive to his needs and responsive to family concerns. Moving and downsizing is never easy, but the leadership at New Forest has helped make it comfortable.
Provider Response
Thank you for your detailed positive 5 star review. We are very happy to have you here with us.
September 07, 2015
I am a friend or relative of a resident
My mom was at Newforest Estates. It had independent living and assisted living on the other side. It was really nice, and people there were very sweet, but I feel they're understaffed. They need to improve on taking action when you have an issue. Newforest Estates used to take awhile to get it done. When my mother fell and broke her hip, her bracelet had not been working for a couple of weeks. She had to drag herself across the room to the phone and then across them again to unlock her door. The food was a good portion but a variety would be a little bit better, but they were good food and of good amount.
January 17, 2015
I am a friend or relative of a resident
We choose Newforest Estates for my mom because she likes it. The staff seems to be great. My mom likes the room, and she's really happy to be there. They have all sorts of activities, and my mom is always into something. The staff is always there to help out. The food seems to be great, and the dining room is very clean.
December 30, 2014
I visited this facility
I visited Newforest Estates. I thought they were very friendly. It was a very nice facility, and they kind of met my mom's needs. The rooms were spacious. We liked it. They had their own bathroom and kitchen. The grounds were very nice and open. They had lots of activities. They could go on and play games. They had bingo, exercise, and different things that you could do. It was in a nice neighborhood and was accessible to a hospital.
Provider Response
Thank you for your positive 5 star review!
November 26, 2014
I visited this facility
My father was a resident at New Forest Assisted living for almost 3 years due to Dementia/Alzheimer's. Throughout his very long stay the staff was professional, helpful, and truly cared for his well being. He had the same care givers for the entire time he was there and they knew him and took care of the many problems that he had. But most importantly, I trusted their judgment on what he needed. Especially at the end when they worked with hospice to ease his passing. Choosing a facility for a loved one is hard. The quality and location of the facility is important but even more important is the quality of the care given and the care given by the New Forest staff was excellent.
Provider Response
Our condolences on the passing of your father, we are glad that we were able to be here for you and your family. We understand what an important decision this is and we are honored that you chose us. Thank you for sharing your experience, we appreciate it and all your kind words.
November 21, 2014
I visited this facility
My mom lived in IL and then moved to AL. both placed were fantastic. the staff and management were always wonderful. the food was and service was always good
Provider Response
Thank you for your positive review, we appreciate it.
July 30, 2013
I visited this facility
My mother was at NewForest Estates and it was a very nice place. They had separate apartments and they also served food. I was not able to try the food but my mom said it was good. They had a lot of activities both spontaneous and scheduled. She was completely satisfied there although it was far from the area that she wanted. I also liked everything about it.
Provider Response
Thank you Rebecca for your positive review, we are very glad to hear that you and your mother are happy and content.
September 26, 2012
I visited this facility
I like the fact that Newforest Estates offers both assisted living and independent living in separate facilities that are right next to each other. Not very many do this and it is a bit of a task to pull off. This facility was recommended to me by friends who had family there at one time. When I made my visit they were in the middle of a needed remodeling. I do have to say that the management staff were very at ease and easy to work with giving the tour felt like it was home. The facility is older but cared for. When I viewed a shared apartment it was very spacious but did seem in need of cleaning and new updates such as carpet etc. I spoke with members who were living there and they seemed quite happy and relaxed. Out of all the facilities that I had toured this one had more of an atmosphere as like to my grandmothers house, comfortable, reasonable on a daily basis not restricted or clubbish. For what it lacked in shiny newness it more than made up for in friendly and comforting appeal. They are also one of the few who will permit modifications of your living space if approved in a much easier fashion than others which is a big plus.
Provider Response
Vasquez, thank you for leaving this detailed review about your experience with our community. Your opinion plays an integral part in our customer service.
August 20, 2012
I visited this facility
My Grandmother was fairly happy there. The grounds were clean the staff were not overly present but they were fairly curteous. My Grandmother's needs were attended to and she had a variety of activities to choose from. There were outings to the store and to church which she particularly enjoyed and she was able to make friends with some of the other residents. If there was a downside it was that the facility frequently changed owners. So there was often changes that she would have to get used to or that she did not like. There was another negative in that once an ambulance had to be called for her but the staff did not take note of which hospital she was in. I thought it was very unprofessional of them to not have an answer in such a serious situation. The other thing was that the "lifeline" necklace that they provided (so that my Grandmother could alert staff in case of an emergency) was broken for months - they never fixed it. A culmination of these little and not so little issues caused my Grandmother to leave the facility.
Provider Response
Sheri1, thank you for taking the time to leave us feedback.
July 15, 2012
I visited this facility
My brother and I visited the facility on July 14th and we were real impressed with it and their friendlyness. I have a 88 year old mother that has alzheimer's and has had it for about a year. We were pretty nervous about visiting these places but they made us feel welcome and comfortable and answered our questions.
Provider Response
Thank you very much for taking the time to leave us this positive 5 star review. We appreciate it!
June 05, 2012
I visited this facility
The New Forest Estates assisted living facility was one of the places we saw while looking in San Antonio for my brother's friend. From the time we arrived, we really liked the overall vibe of the property, staff and residents. The grounds and exterior was designed like a motel or resort, with nicely appointed and beautifully landscaped greenery. The lobby was clean and fresh with very nice staff to greet us. The fitness center had well maintained equipment including a heated pool which provided a relaxing spa feel. They also had daily classes and the residents could safely navigate the lovely grounds with adequate supervision as needed. Their library was impressive, with many good books and games. The meal menus all had healthy food options for all kinds of diets. The dining room was quite nice, with plenty of space. The food we saw looked and smelled delicious. Healthy snacks are offered all day and into the evening, as well as whenever residents request them. The residents are taken to many interesting events in and around the region -- to take advantage of the diverse offerings. The many planned activities feature everything from book readings and discussions to the arts, and museum, gallery, film and theater visits. The living spaces were nice sizes - some exceeding 400 sq. ft. Each unit included kitchenettes, was nicely decorated and had an emergency response system so that the safety of the residents is assured with someone available in case assistance is needed at all times. This is a full service senior community with exception staff. We felt that the atmosphere was conducive to what one would expect in a high-caliber environment.
Provider Response
Commercesd, thank you for taking the time to leave us feedback.
August 19, 2011
I visited this facility
If I could give more stars for this place I would. It was awesome! I took my mom to look it over, as she is going to need to get into a place soon, and she was thrilled! I was amazed at the facility. This is like a 4 star hotel for seniors. They have several different floor plans for independent living, which is what she is looking for. A full kitchen in all that I saw as well, which is good because she wants to keep being able to cook. They also have a heated pool outside as well. I was just flat out impressed with the staff and the residents I spoke with, very happy people. This is a place I would feel good about having my mom at, most definitely.
Provider Response
Bradj62, thank you for leaving this detailed review about your experience with our community.
See all reviews (20)
See fewer reviews
Questions About NewForest Estates
---
Describe the overall population of assisted living residents at Newforest Estates. What is their average age? What are their favorite things to do?
Our population consists of 29 resident with an average age of 83.
What places are near Newforest Estates or within walking distance for assisted living residents to enjoy?
Movie Theater Wal-Mart Sam's Club Pet's Mart Many Restaurants Good Will Home Depot RBFCU Bank Party City
What transportation services does Newforest Estates offer to assisted living residents?
We offer 7 days of transportation which include trips to local shopping areas, grocery stores, doctor's appointments, restaurants and various churches.
What makes the chef or dining program at Newforest Estates exceptional? What kind of menu can assisted living residents expect?
Our chef has over 20 years of culinary experience and ensures that most of our entrees are prepared from scratch. We allow for residents to make suggestions for our menu.
What safety features or security measures does Newforest Estates offer to assisted living residents?
We have a 24 hour response system with fall sensors, complete fire alarm system with sprinklers and 7 emergency exits.
How does Newforest Estates keep residents' families informed about their loved ones?
We spend time with our residents every day and have morning meetings to ensure that all management is up to date with their situations. Families can simply call us and mostly every manager could provide them with an update on the condition of their loved one. Regular daily Face Book posting shows family members how fun and engaged their residents are while engaged in the building and during outings.
What is the care staff-to-resident ratio at Newforest Estates during daytime and nighttime hours?
We have 3 care providers, 1 med tech and an RN on staff during the day. In the evening, we have 2 care providers and 1 med tech on site.
If Newforest Estates accepts dogs or cats, what indoor/outdoor areas can they enjoy?
We are pet friendly as long as they are friendly and well trained.
What ongoing senior care training does the staff receive?
We provide training through the year ranging from healthcare professionals conducting training courses, online training which is updated monthly and manager led training sessions. As a mandatory requirement, each employee undergoes a thorough back ground, character, and criminal check, along with a current drug screening. Initial training is provided and ongoing monthly mandatory training is required as part of the employment agreement. All staff are CPR and First Aid certified. Mandatory in-services are schedule monthly to provide a high level of customer service and care that our residents deserve. Health care topics and demonstration of technique from professional health care providers insure our staff is fully trained to help our seniors as they age gracefully in place.
What safety features or security measures does Newforest Estates provide to protect residents who wander?
Our doors are locked from the outside in but not the inside out in accordance with the Department of Aging and Disability for a Type B facility. Most of our doors are set up to an alarm that go off any time they are opened.
Features of NewForest Estates
---
Costs
Minimum Rate:

$2550/month

Rent Plus Care Fees
Entry Fee
Room and housing options
1-bedroom apartments
2-bedroom apartments
Companion Suites:

We Offer Companion Suites

Studio Apartments
General
Minimum Age:

55

Pets:

Small Pets Allowed
About NewForest Estates
---
Don't settle for ordinary. Escape to NewForest Estates, a San Antonio senior living community offering award winning independent living and assisted living care, all designed for discerning individuals who expect more out of life.
Amenities Available
Library
Free parking
Fireplaces in common areas
Free cable satellite tv
TV Lounge
Piano / Organ
Beauty Salon
Over 55 accepted
Outdoor Common Areas
Meals Provided
Indoor Common Areas
Swimming Pool
Devotional Services Onsite
Devotional Services Offsite
Beautician Onsite
Activities Onsite
Visiting Chaplain
Religious Services: Catholic
Housekeeping provided
Grocery shopping service
Laundry service / drycleaning
Staffing
24-Hour Awake Staff
Visiting Occupational Therapist
Homecare Onsite
Visiting Physical Therapist
Visiting Podiatrist
Visiting Speech Therapist
Visiting Nurse
Visiting Dentist
Dedicated concierge
Full time activity director
Medication care managers / Medication Technicians
Visiting optometrist
ADL Assistance
Other Services
Respite Offered
Hospice Available
Aging in Place
Room service
Private dining room
Restaurant style dining
Guest meals
Professional chef
Resident Parking Available
Complimentary Transportation
Property Convenient to Busline
Accepts Pets
Pet Care Available
Dogs
Cats
Smoking
Get Costs