Independence Hill Assisted Living Facility
Claim 20450 Huebner Rd, San Antonio, TX, 78258
Caring.com Listing
Talk to a Family Advisor: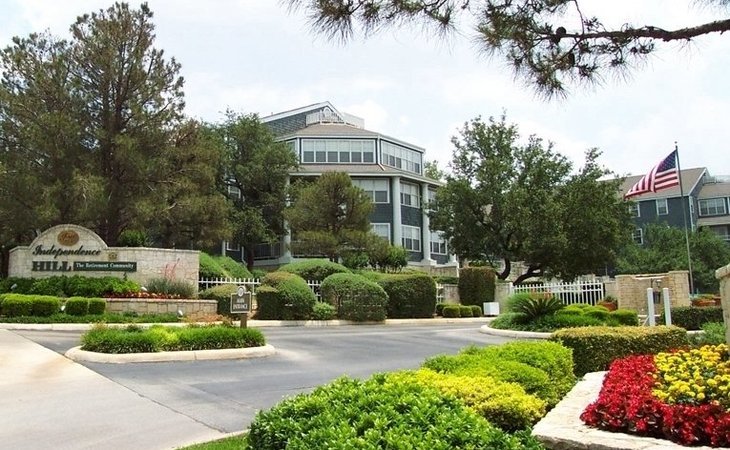 Top nearby Assisted Living Facilities
Reviews of Independence Hill Assisted Living Facility
---
Marie808831
March 29, 2017
I visited this facility
I liked the location of Independence Hill because it was easy for me to find. The facility itself was a beautiful building with beautiful grounds. What they were offering were activities, your 3 meals, and short excursions to small towns in and around San Antonio. You just stand in front of the front desk, and the staff would snap to attention. I got to meet the young man who was out front -- Tommy -- and he would snap fingers for someone to come to the front and see what I needed done. In comparison with other facilities, it was complete the way it was.
---
Rachel256667
March 28, 2017
I am/was a resident of this facility
Independence Hill is great. The food is good, and they give you a lot of choices. I can't complain about anything. We have a lot of activities and a heated pool, library, beauty shop, and theater.
---
Debbie637010
February 01, 2017
I visited this facility
We visited Independence Hill, but we didn't choose it because it was too far from where I am located, and I need something where I could pop in easily. Apart from exercise, they had a ton of things to do, like card games, happy hours, and off-premises activities. Independence Hill has been around for a long time and looked like a great place. The staff was very informative, very professional, warm, and friendly. We saw a number of different rooms in independent living, assisted living, apartments, and townhomes. Their apartments are nice and clean and not brand new but very well kept. They were very homey and very warm. It wasn't so contemporary like a lot of the places they're building now, but I think that seniors don't really appreciate the contemporary. They like it being warm and cozy. The atmosphere they had created was like a little neighborhood. I just did not like the buy-in. They didn't have an option where you can just pay monthly. You had to pay a bunch of money upfront like a down payment. You get most of it back in the end but not all of it.
Provider Response
Thank you for your warm compliments with regard to our team, community and ambiance. We take much pride in this and it is music to our ears to hear it! When mentioning the "buy in" and "upfront down payment," I'd like to clarify that this Membership Fee is only applicable at Independence Village, which is our Neighborhood of Homes. We do not require this at Independence Hill Retirement Community (our Full Service Apartments) nor at our Assisted Living Community. Our residents pay monthly for rent and all inclusive services offered. We do hope that as you look around, we are still a contender, if simply due to the comfort you felt within our community, which is of the utmost importance when choosing the perfect home. We would love the opportunity to further discuss and clarify this, as your choosing to "Hang Your Hat" with us would be our pleasure!

Michelle Houriet Voutour ~ Executive Director
---
Lorraine002031
February 01, 2017
I visited this facility
Independence Hill was a very nice place with a homey atmosphere, but I visited on a weekend and the parking got pretty heavy. I liked the woman in charge. I viewed living quarters that were very nice. The lady was good enough to show us the place, and everything she showed me was very nice. The location and the size was good, too. What I thought was ridiculous was that they wanted a $500 deposit for a dog. It's a nice place, and I would consider it, but I would not pay a $500 deposit for a dog. I have had many friends who have used this facility, and I have never heard anybody complain about it.
---
Wendy800707
January 02, 2017
I am a friend or relative of a current/past resident
We like Independence Hill. My mother-in-law has been there for six years. I can't say enough about it; it's very vacation-like. You can have an independent house, be in the apartment complex, or in the buildings like she is. The restaurant has three meals a day, and housekeeping is wonderful. They have a swimming pool, movie theater, billiards, library, fitness room, and a salon.
---
RajamPBMHW
May 25, 2016
I visited this facility
Independence Hill is the oldest established facility here. They've been here 12 years. Extremely good rooms, independent villas and apartments and they have assisted living as well. They have a beautiful club house and 2 swimming pools. They are quite a nice facility. What I didn't like there is they expect you to pay full amount for the independent living, like let's say it's $300,000 then on top of that, you're paying a monthly fee of almost $3,000 or $4,000 so I don't like that at all. They have contracted with tennis courts with one of the country clubs there. There is golf and you can rent a club house and have a big party if you want. The dining area is beautiful. Very good.
Provider Response
Thank you for your praises regarding our communities. We are very proud of all that we offer and love that our residents can take advantage of the included privileges at The Club at Sonterra. In reading your review/comment, I would like to clarify that the upfront Membership Fee is only applicable at Independence Village, which is our Neighborhood of Homes. We do not require this at Independence Hill Retirement Community (our Full Service Apartments) nor at our Assisted Living Community. Our residents pay monthly for the rent and all inclusive services offered. We would love the opportunity to further discuss and clarify this for you, and get another opportunity to properly explain the different options available to you at each of our 3 communities. We are proud to have great options which allow our residents to choose the plan, floorplan, services and community that best suites their wants and needs. We sure hope we get the opportunity to chat with you again… perhaps over lunch!

Michelle Houriet Voutour ~ Executive Director
---
Happy Visitor14
January 13, 2016
I visited this facility
I visited Independence Hill. It was very nice, but the expense was too much. The staff was very nice and very cordial. The facility was very clean, and the people were very caring. It was a nice place that was very geared toward people who need assistance and had all the appropriate things for them. I had a meal there that was quite good. The dining area was roomy, and the people seemed to know each other. They interacted, so it was a good social climate.
---
KWE
December 17, 2014
I am a friend or relative of resident
The decision to move my mother to assisted living was a difficult challenge for our family but can tell you I wish we would have made the decision a year earlier. My mother has thrived at Independence Hill Assisted Living. She regularly participates in crafts and activities that are cleverly designed for the residents! She also frequently attends resident excursions several times a month. However, the biggest compliment I can list for Independence Hill Assisted Living is that ALL the staff work to help my mother daily from the administration, to the dining room, to the care givers. I would rate them 5 stars in every category as I could not find a more caring and sincere staff.
---
rmbrad
December 08, 2014
I am a friend or relative of resident
Excellent facility with wonderful activities and superior staff. The care my relative receives is far beyond what I expected and hoped for. At 98, my relative is in need of extra care and I am confident that she is getting more than I am paying for.
---
Concerned friend12
May 23, 2014
I am a friend or relative of resident
My relative has been here over 6 years at assisted living and over the years the vibe of this place has really gone down hill almost right after they hired their new manager who has made it clear she does not personally care about her residents. If any of the residents had an issue the old manager would personally check in on the residents. This one not a chance. I have seen her slandering about residents and staff which is against healthcare privacy not to mention very unprofessional. I hope she gets reported. Better were the days when there was actually a manager who cared about her residents there.
---
Linda69676950
September 29, 2013
I am a friend or relative of a resident
My mom and dad have just moved in a week ago to Independence Hill. We chose this facility for the price and location. Also when we visited it, we're very impressed with the staff and the facility. The facility itself is well kept and well maintained. The staff is very helpful and very nice. They have activities and amenities. They have swimming pool, 24-hour coffee shop, and medical personnel on staff. For activities, they have arts and crafts, games, cards, and outings. They also have very nice dining facility and some of the food is very good.
---
Caring 1492
April 17, 2013
I am a friend or relative of a resident
My dad lived in the assisted living facility of Independence Hill for four years. They were fabulous. I'd give them a five on any category, except for the food, which was probably a four. The meals were fine.
---
abesottedphoenix
May 09, 2012
I am a friend or relative of a resident
The first thing that I noticed was that the facility is unfortunately aptly named. It's at the top of a hill, which is mystifying given the number of residents that have trouble moving about without a walker or a wheelchair.On the other hand, it looks quite cheerful from the outside. Inside, most of the walls are mint green. I suppose this is meant to be soothing, but it would drive me nuts. All of the other decor is not bad. Each resident has a little shelf near their door as well as a portrait. Most folks have a wreath or some sort of little decoration to make their place feel like home.Staff is very hit or miss. There were people that were friendly and helpful, and then there were people that were catty.The food is hit or miss, too. There was a tomato and lobster salad that looked like it was mostly mayonnaise. The steak looked tasty, as you would expect in Texas.They do have a lot of activities slated. There's a nice ratio of women to men. Some of the other places I've visited have a lot of women since women live longer.
---
CaringForPeople
February 29, 2012
I visited this facility
My experience at the Independence Hill Assisted Living facility was a very positive one. All of the staff and workers were very friendly and welcoming. All of them knew what they were doing and talking about. The location was very beautiful, peaceful, and clean. It seemed like the perfect place to go to. They provided great service to their members. They had a variety of options for food and did everything so they could meet personal needs of their residents. It is evident that the workers and staff truly care about their residents and employees. They also have a wide selection of amenities and activities to participate in. Some of these include resident style dining, room service, music room, swimming pool, libraries, art studio, and so much more. Independence Hill seems like a great place for residents to live in and enjoy. They can meet a lot of people and make friendships that will last them forever.
---
emrfd
November 04, 2011
I am a friend or relative of a resident
Independence Hill is an older retirement community that's located close to the hospital (great for emergency purposes). They also have a resident help alarm/monitoring system for reporting falls or accidents that's placed by both the bed and bathroom. This is an excellent safety feature. The community is gated for additional security and has nice landscaping including walking trails, flower and veggie gardens, and a gazebo. They even have fish ponds and a large outdoor bird cage. And of course, they offer a variety of exercise classes with a heated pool and fitness center. Housing is decent with balconies or patios, and large closets. The assisted living section offers one bedroom units only. For residents who live independently, they offer one bedroom, two bedroom and stand-alone cottages. Assisted living care will provide medication monitoring (making sure residents are taking their prescribed medication) and can help with ordering additional medication. Free transportation is provided so residents can shop downtown and run errands. I would recommend Independence Hill to someone who needs assisted living care in a secure and gated community close to a hospital.
---
Sandy3
October 24, 2011
I visited this facility
I visited Independence Hill Assisted Living Retirement Community in July 2011 with my widowed, 78 year old mother. Although she currently lives independently in her own home, which is about one mile from my personal residence, we were exploring the possibility of getting my mom into a community with folks closer to her own age. We made an appointment for a Sunday afternoon visit and were greeted, on time, by the representative working that day. She thoroughly explained the pricing for several different options available to us (apartments in the main building or cottages within the facility area) and took us on a tour. I remember what impressed me the most was the friendliness and openness of the residents there. They all said hello to my mom and told her how wonderful it was living at Independence Hill. We toured the dining area, recreational area and an available downstairs cottage. We were both thoroughly impressed, but had to sell my mom's house before we can make this type of commitment. As soon as it sells, we will be back!
---
Faithful1
May 26, 2011
Friend or relative of resident
Our grandmother has stayed at Independence Hill Retirement Community and Assisted Living in San Antonio for the last five years. She has had a fantastic time there and looks forward to living out the rest of her golden years at the facility. The service and staff at Independence Hill are of the highest caliber. At Independence Hill, the staff takes care of all the needs of grandmother, including meals, medication, bathing, and personal services. The food at the Hill is wonderful. When we visited grandmother last time, the staff prepared chicken, Texas BBQ beef brisket, and turkey. There is a walking trail at the facility so the seniors can get plenty of exercise without leaving the gates. Restaurants and shops are nearby, and it is also close to the interstate. I would recommend Independence Hill to anyone considering a place for their loved one.
---
About Independence Hill Assisted Living Facility
---
Independence Hill Assisted Living Facility is an assisted living facility in San Antonio, TX that offers residents independent living options and daily support services. Contact Independence Hill Assisted Living Facility for more details on housing, services, and rates.
Location of Independence Hill Assisted Living Facility
---
Request Info
Get full access to reviews, cost information, and amenities