Cerenity Senior Care - Humboldt
514 Humboldt Avenue, Saint Paul, MN, 55107
Talk to a Family Advisor: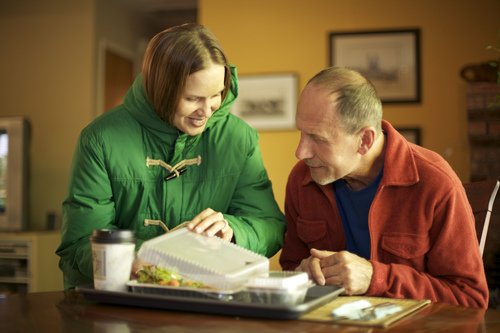 Top nearby Assisted Living Facilities
Reviews of Cerenity Senior Care - Humboldt
---
scary place
April 26, 2017
I am a friend or relative of a current/past resident
Run the other way! I've visited animal shelters that care about their residences more than this place. They won't allow my dad to control his own medications and then refuse to give him his prescribed dosage of pain medication. Staff is uncaring and incompetent. Something is always broken and food is absolutely garbage for the price. It's a garbage heap decorated nicely.
---
Michael564072
January 20, 2017
I visited this facility
Cerenity Senior Care-Humboldt and its grounds look really nice. The staff people seem to be really nice and very kind. The staff members show a lot of care for their residents and are efficient; they do what they are supposed to do and extra. My friend is in a nice, little room with another person, so it is a little tight in there. He seems to be OK with the food. They have bingo and music and a bus, too.
---
Evan212
December 02, 2015
I am a friend or relative of resident
Oh my! NEVER EVER PUT A LOVED ONE HERE! We made that mistake. Fathers meds were found under his cushion. They never made sure he took them. If you run out of toilet paper, they tell you to use paper towels. Boxes of needles laying out in the open. Are you kidding me! Why hasnt the news investigated this place yet?
---
Cynthia42
April 19, 2015
I am a friend or relative of a resident
I recommended Cerenity to my mom since my husband had such a positive experience there, but I was surprised. It was not the same, they were understaffed, and the food was not as good as before. They have not had any updating of the rooms, and it was kind of depressing. Their entrance, lobby, and activity rooms are gorgeous, but the rooms are awful.
---
Caring99874050
October 05, 2014
I am a friend or relative of a resident
My brother is in Cerenity. It is a memory care facility. It is very caring and warm place. It is very inviting, and the colors are bright. It is so beautiful. I think that the people feel very comfortable. The nurses are excellent. One of them has been there for 11 years, and she has even taken care of my parents. They have a full schedule of activities. They have walks to the park from the campus. They have music therapy. They also have church services. I think the challenge is to make people go outside more and for their art therapy I think they are still hiring an activity person.
---
Robin36
September 30, 2014
I visited this facility
I was in a transitional care unit at Cerenity. I had a chance to see some of the facility for their independent and their assisted senior living. They also have memory care. It was a quick tour, but the facility itself seems very clean and well maintained. The grounds were very nice, well kept up, and clean. The rooms are modest, but they're well furnished. They have a lot of nice outdoor areas for picnics and for sitting. On the bulletin board, I noticed a lot of extracurricular activities to do. There are religious services, and there's a chapel and a church. There is a hair salon in the facility. They have a community calendar, and there are several events. When I was here before, the state fair was in progress and they had the state fair outing and museum visits. They have people come in demonstrating pets, animals, and things of that nature. It was an active community plus they have transportation. They have buses here. Very huge lobby lounge and it has a nice, big fireplace. The food is good. The dining area is clean and comfortable, and it's decorated. There's a large cafeteria/kitchen area that everybody goes down to to eat. It seemed to be spotless, and all the food care or the food workers all wear hair nets and gloves. They don't allow people behind the doors in the food area. If somebody steps up there, they chase them out. I talked to a couple of the residents. They seemed happy to be here. The nursing staff that I had in the transition centers was excellent. The physical therapists were great. They're some of the best I had as far as their attitude is concerned and their abilities. The aides were always helpful and always friendly. They all came up and shook my hand and asked how I was doing. They're very, very good staff.
---
Chris46
July 31, 2014
I am a friend or relative of a resident
I visited friends and families who were at Humboldt-Cerenity (Cerenity Senior Care-Humboldt). It was a long-term facility for people that needed rehabilitation and those who were decapitated. I really had a deep feeling when I walked in there. The most part when they had support during the day, they were happy. I liked the way that the nurses took care of their patients. They had activities such as walking outside, do things and going into the game room, but I thought they needed to improve on their activities.
---
JackieO1
July 11, 2012
I am a friend or relative of a resident
During my visits to Cerenity Res on Humboldt, I have been very impressed by the level of care provided and the friendly environment. The staff do a great job making the residents feel right at home. My grandfather, who still lives in the facility, has found a whole new group of friends and thoroughly enjoys living at this facility. After my grandmother passed away, we were worried about my grandfather and how he would respond to life without his wife. While he misses her greatly, he find support from his new friends at Cerenity, and has thrived at the facility. There are always fun activities for the residents to enjoy, wonderful food, and the building is kept clean and tidy. It seems like a great place to live!
---
JamesV
February 24, 2012
I am a friend or relative of a resident
I think this is a very nice assisted living/senior care home. I have a relative that lives there and also one of my coworkers from last year lived there so I have been there many times. The place is CLEAN, the staff is very nice and helpful and all I have heard from the people that I know that have lived there have told me that all of the doctors and nurses are exceptional. My aunt who lives there had a bacterial infection and the doctors and nurses were there, by her side, 24 hours a day. It is my belief that they saved her life because of all the amazing care that she received. Also, the grounds of the place is very well kept and clean, secure and close to many stores and restaurants in the neighborhood. I have spoken with the security guards on the grounds and they have made me confident that they care about the safety about the residents. I really do not have anything negative to say about Cerenity except that it is expensive to live there, but for some people (like my aunt) it is totally worth it. This senior living facility is highly respected in the neighborhood and is a good place in my opinion because they really care about their residents.
---
geegweeg
February 02, 2012
I am a friend or relative of a resident
My elderly aunt lived at the Cerenity Senior Care center in Saint Paul, MN for a couple years up until last November and my husband and I visited her often. Her needs for scheduled medications, food, safety and other care we met with kind, friendly and reliable staff. I would recommend Cerenity for your elderly loved one.
---
From Cerenity Senior Care - Humboldt
---
The Care Center and assisted living and memory care Residence are located on a park-like campus on the west side of St. Paul. Situated on wooded bluffs, Humboldt offers spectacular views of downtown St. Paul and the Mississippi River Valley.
Location of Cerenity Senior Care - Humboldt
---
Request Info
Get full access to reviews, cost information, and amenities