The Wellstead of Rogers & Diamondcrest
20600 South Diamond Lake Road, Rogers, MN, 55374
Talk to a Family Advisor: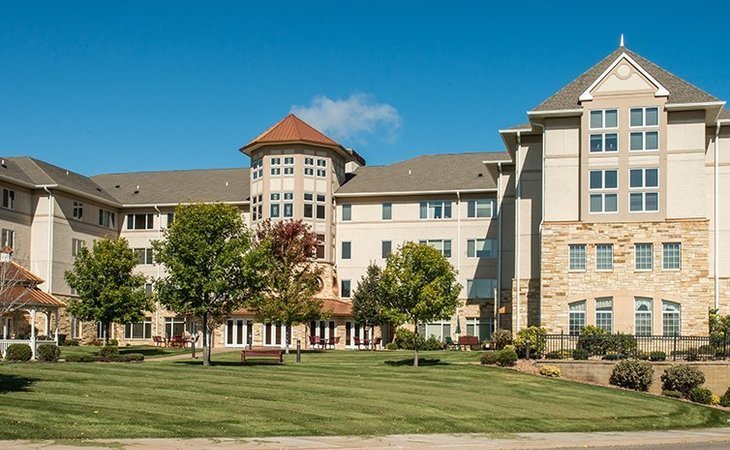 Top nearby Assisted Living Facilities
Reviews of The Wellstead of Rogers & Diamondcrest
---
Joyce503383
December 15, 2016
I am a friend or relative of a current/past resident
I chose The Wellstead of Rogers for my dad. Every single person that works with Alzheimer's patients is trained to work with those patients specifically. They don't allow anyone even somebody who is cleaning up to be in one of the advanced unit without having that training, and that to me is very important. We were able to put him in a male-only unit. It was a small environment. I like that they are also very direct towards keeping their mind as actively engaged as possible. They use a program that is modelled after Montessori for children.
---
Carolyn161684
November 01, 2016
I visited this facility
I had a friend at the Wellstead of Rogers, and right now I am disagreeing with them with the charges. They are not organized at all. The care and the food were OK. They had Bingo, cards, someone coming selling clothes, puzzles, and someone doing crossword puzzles. There is no communication between the care center and the billing.
Provider Response
Carolyn, thank you taking the time to write a review about The Wellstead of Rogers & Diamondcrest. Our entire team is dedicated to creating a superb lifestyle for our residents and peace of mind for families. This includes making sure our billing process goes smoothly, and I am sorry to hear that wasn't your experience. I have spoken with the business office and understand your issues have now been resolved. If that is not the case please contact me directly at 763-428-1981. Regards -- Connie Cannon, Executive Director.
---
Deb650612
October 13, 2016
I visited this facility
I really liked Wellstead, I was really impressed, and even going into the wing where they had severe cases of dementia and Alzheimer's, people seemed happy. They all seemed active. The staff was really friendly, and I was amazed how they interacted with all the people that lived there. I know there's a small library and a place for root beer, ice cream, and soda. They were cooking and playing cards.
---
Kathryn753574
September 01, 2016
I visited this facility
The other place that we looked at was The Wellstead of Rogers. It was a phenomenal facility. The décor was a bit more upscale, which my parents preferred, but they didn't have a two-bedroom available at the time. I was very impressed with this community, they just didn't have openings. In the end, they were farther away from my home. The Wellstead of Rogers has dining options, it is bigger, and they have more robust entertainment options. It is also closer to my home.
---
Dee420302
August 15, 2016
I am a friend or relative of a resident
We chose The Wellstead of Rogers & Diamondcrest because they break down the residents according to the different levels of dementia. They didn't have everybody all together. All the rooms are of the same size, so when they have to transfer to another location, it's not going to be a big deal. Mom seems to be doing well there. The staff seems to be good and very accommodating. The dining area has a table with eight people and another table with three people and a nice environment. They have choices for food, and if you just want hamburger every day, they'll let you have it. They have walks, bingo every day, ice cream every day, music, crafts, manicures, and more.
---
Windsor1
February 16, 2016
I visited this facility
The Wellstead was great and really nice. I was ready to move in myself. The people were friendly and helpful. We had a full tour.
---
Reviewer118286150
January 01, 2016
I am a friend or relative of a resident
We found The Wellstead of Rogers & Diamondcrest for my dad. It is a little more expensive than we thought, but it is the first one to get back to us. The cleanliness and services are OK, but I like them to be a little more higher standard for the cost. They should have a check-in list because there were plenty of things they didn't tell me that came up later. I wish they had a list of check-in items. The room so far looks OK. My dad thinks the food is a little dry though. They overcooked it, and that's the feedback I get from my dad.
Provider Response
Thank you for taking the time to provide feedback about The Wellstead of Rogers & Diamondcrest. We're sorry to hear that your dad doesn't like the food. We know that the dining experience is a very important aspect of life at our community so we endeavor to accommodate the food preferences and tastes of all our residents. If you and your dad would like, please contact us so we can arrange a tour of the kitchens and an opportunity to speak with the head of our dining services.
---
Anonymous116125150
December 30, 2015
I visited this facility
My dad is now on the waiting list at Wellstead. We really liked it because it seemed homey, and there are lots of things for the seniors to do. The staff was very nice to us. We saw two different apartments that were in the process of being freshened up at the time because people had just moved out, but they looked clean, we liked the layout, and the size was big enough. There's a fitness room, an activity room, a restaurant, a TV room, a library, and Internet access. They also have a little church where a pastor comes in and conducts services. It was all very nicely kept. Overall, it had what we were looking for in a facility.
---
Gayle20
December 15, 2015
I visited this facility
The staff was very knowledgeable and very nice at The Wellstead of Rogers & Diamondcrest. The facility was very clean. The rooms were gorgeous. They have real plan in place to keep residents up and moving. The facility was bigger, so it was not as personal but still very nice. All of the people seemed to be really happy, clean, and smell good. They had many activities, physical therapists, speech therapists, and counselors.
---
Buster99
September 14, 2015
I am a friend or relative of resident
My in-laws are currently residing in Diamondcrest. The place is beautiful but the care they are receiving falls well short of acceptable. They are understaffed in providing aide to the residents. My father in-law often waits 30 minutes or more before someone responds to his request for help. By the time the aide arrives, it is often too late. The aides are very nice but they do not have the proper level of staff for assisted living. We have met with the director and head of nursing and all we hear is they will look into it and evaluate the level of staffing. Then in the next breath, we hear they are staffed at the appropriate level. If a resident doesn't need assistance, it is a beautiful place to live. However, if they need help with daily things - dressing, toileting, etc. I do not recommend Diamondcrest.
---
Bonnie110932550
August 06, 2015
I visited this facility
The Wellstead of Rogers and Diamond Crest was perfect. They seemed to be the only place that housed the dementia residents with similar levels. The rooms were adequate in size, and each of them had a window, which I think was important.
---
Caring108535250
June 12, 2015
I am a friend or relative of a resident
My dad ended up moving back to Minnesota, and he's at the Wellstead of Rogers. My stepsister actually found it, but she was just very impressed with the whole setting of the community and how it works. They have nine different levels of care, and they were very diligent about making sure it was a good fit on which level my dad went into, and even though he was really only a level one, they put him in a level two because he would get more individualized care there, and they knew that that was important after having been with me and having one-on-one care for the last six months, so I was impressed with that, and they just seem very caring.
I was there in April, so the outside really wasn't going yet, but I know they have a barbecue area, and they were going to be planting plants and stuff. My dad was able to put up bird feeders, and he enjoys the birds outside his window every single day. They do Bingo and an ice cream social every afternoon, they have different music, and my dad really enjoys that. He needed special care still on his toe and having some things done with his back to alleviate the pain, but they've been pretty good with being able to help him and give a little extra added care that he needs for that.
One of the things that they have is a memory box out front of every person's room where you can put things that help that person know that's their room, but it's also awesome because it tells a little about the person as well, and we really like that. The rooms are nice; you can decorate them as you would like, and that was important. It's very well-kept up, and that just impressed us.
There have been a few things because my dad is pretty picky, and I just emailed the gal and said, "You know, I was just a little concerned because breakfast is the most important meal to my dad, and he always had oatmeal, eggs, and toast. Now he's not getting that, and you took the time to ask me what his likes and dislikes were, and I am just wondering why you did that, if you're not giving him what he needs." My God, the next day they started, and he's been having oatmeal, eggs, and toast every morning since. They fixed it and changed it immediately.
---
Caring104021750
April 07, 2015
I visited this facility
I checked out Wellstead. It's a top notch assisted living home and very expensive. It's a 5-Star facility. The people were very accommodating, and I would recommend them.
---
Pam41
December 18, 2014
I visited this facility
The Wellstead have both assisted living and memory care. The memory care unit is probably the best that I can imagine anybody having. The staff was very attentive; there was plenty of help. They have 8 to 10 different levels of memory care, and there were staff in each one. The dining area was like they had three units, three different levels in one dining area that kind of would eat together. I thought that was very, very well, and then they each had their own sitting area if they wanted to just sit; it's going to be in their rooms. The rooms were -- for those patients basically -- plenty of room. The rooms have bathrooms, and then it had a big L; part of that was for the bed and the other part was the sitting area. They could have a chair or couch and their television and so forth in their room.
The grounds were beautiful. They had a park like setting so that in the nice weather they could be put outside, they had gardens, and those that were capable could actually plant flowers and work in the garden. They showed me a couple of activities, and I actually was able to observed one group doing the makeup class. It's got some industry on the opposite side of the road, but on the same side of the road there's a very nice residential area.
---
Anne46
November 03, 2014
I visited this facility
I went and visited Wellstead of Rogers. I like it very much and also put down money for a reservation for my aunt. I met with their person, and they're working with us. The apartments are very accommodating and a good size. Everything is clean and in top-notch condition, and it's a lovely facility. They have many activities from occupational to physical therapy. They have a meeting time where they do current events. I was very impressed with the whole program and the staff; they were very friendly. I wouldn't mind living there.
---
Bruce14
January 31, 2014
I visited this facility
I've come across The Wellstead of Rogers through the internet. It's a very beautiful facility. It's very up-to-date and really nice. I thought the staff was really good too. However, they were pretty much filled up at that time.
---
caring75910750
December 27, 2013
I visited this facility
The Wellstead of Rogers was very well kept. The staff was friendly. They had nice programs for residents. It had a warm, traditional, and welcoming feeling.
---
Keith9
December 27, 2013
I visited this facility
Mom and Dad want to move to The Wellstead and they really didn't want to go anywhere else. They had put a deposit there to get onto their waiting list. It seemed like a really nice place. They have a lot of stuff right there so that my parents don't have to go anywhere. They have community areas and they're better than what they have here. Also the staff there was friendly.
---
Caring80087350
November 27, 2013
I visited this facility
The Wellstead of Rogers is a relatively nearby facility. It's seems very confined. The person that we were supposed to meet wasn't there, but somebody else showed us one apartment. Their apartment has two bedrooms, but the living room or what they call the family room and kitchen were very bland and it just didn't appeal to us. I didn't saw anybody in the activity room. It was a large facility, but we didn't really see any people.
---
Blobby
August 07, 2013
Other
Nice facility, the only good thing I have to say about them. Severly understaffed resulting in patient neglect, terrible care, and putting their patients in danger of their lives. If you have a loved one there - keep a VERY close eye on how they are being cared for. If you don't have a loved one there, keep it that way.
---
Barbara35
June 19, 2013
I visited this facility
The Wellstead of Rogers is beautiful and very well-run. It is new and has everything we wanted. We even had lunch there and they have a chef. You could order off a menu and the food was wonderful. It was also expensive. It is only twenty minutes from us, but also twenty minutes on freeway, which has very heavy traffic and it would not be convenient for any of our family. If you were going in there for independent living, you could play Bingo and they take you out to go shopping, and have all those things available to you, so you can transition from independent living all the way through to dementia care. Diamond crest is the dementia portion, which is in a different building and there they have five neighborhoods.
---
jrodneyhuffington
October 12, 2012
I am a friend or relative of a resident
I thought the lobbies of this assisted living building were very nice. The atmosphere of the place was relaxed and I could see how an elderly resident would enjoy living in this facility. The staff members were incredibly friendly. They helped me find my grandfather and did not hesitate. They were also very friendly to my grandfather. He seemed to get along well with the staff members, as they had a nice conversation about the weather. After being introduced to my grandfathers living quarters, which were quite spacious and comfortable, he showed me to a dining area, where the food was enjoyable. I would say my experience here was definitely pleasant, and I am glad this is where my grandfather has chosen to live. If I have any other relatives which need assisted living care in the near future, I will show them the Wellstead of Rogers, because it is a place where I would like to have relatives stay because of the wonderful staff and living space.
---
jaharg
July 23, 2012
I am a friend or relative of a resident
The staff is extremely professional and seem to care deeply for my grandmother and the other patients. My grandmother, who is 72, can be very difficult as her dementia worsens. But they keep her comfortable, have given her effective medications that have made her more lucid and ready for visits from family. The rooms seem very nice, clean and comfortable. There's a vintage-style drink shop, musical entertainment and lots of activities that keep residents like my grandmother entertained and busy on a daily basis to keep their minds engaged. Whenever there's a problem with my grandmother, the facility is quick to call and let the family know. There have been a handful of times when she has attacked the staff, but they have managed to subdue her without hurting her and have adjusted her medication accordingly. It is a very expensive facility, and it's draining my grandmother's savings. However, it's vastly preferable to have allowed her to live alone in her condition. She seems happy at Wellstead.
---
Likesdancing
October 23, 2011
I am a friend or relative of resident
My dad's stay started out fine but with new management has come high staff turnover, much less individual attention, screwups in orders, and some really awful meals. We are looking to move as the care is no longer worth the top dollar price.
---
KDK241
September 29, 2011
I am a friend or relative of a resident
My aunt and uncle moved to Wellstead when she was diagnosed with Alzheimer's. It was a very tough move for her and she did not want to do it but they made the transition much easier for them. They had a ton of activities for residents to do and it wasn't long before she had her weekly routine down and was more at home. She was always calling to talk about what they did that day and playing cards was her favorite. When my uncle had to be moved to another room they brought her to his room every day so she could see him. The staff were very friendly, patient and helpful. Visiting there was much better than I expected it to be. They made it feel more of a home with small apartment type rooms and not like a hospital as much. Overall it was a great experience working with them.
---
From The Wellstead of Rogers & Diamondcrest
---
The Wellstead of Rogers & Diamondcrest offers compassionate senior care in Rogers, MN. We strive to create a home-like atmosphere where you and your loved ones can feel secure. Our warm, well-trained staff works closely with our residents to provide the utmost care and comfort. As part of the Five Star corporation, you can be sure that everyone at The Wellstead of Rogers & Diamondcrest shares the Five Star Values, and is committed to a high level of caring in all that they do. Please schedule a visit to see why we are the first choice in senior care in Rogers, MN.
Features of The Wellstead of Rogers & Diamondcrest
---
Diet
Diabetic
Low Salt
Vegetarian
Location of The Wellstead of Rogers & Diamondcrest
---
Request Info
Get full access to reviews, cost information, and amenities