Atria Rocklin
3201 Santa Fe Way, Rocklin, CA, 95765
Talk to a Family Advisor: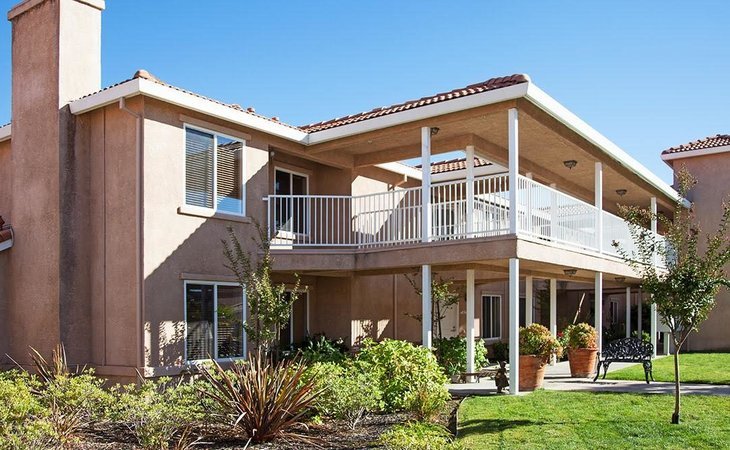 Reviews of Atria Rocklin
---
Penny658755
September 30, 2016
I visited this facility
The atmosphere at Atria Rocklin was beautiful and warm. It was a good place. I would still give it a high rating. I saw out where you can see in the common room some residents there absolutely just giggling and laughing, like very infectious laughter. They were bouncing a ball back and forth. The activity director was so engaging and involved with it, I was impressed with that a lot.
---
Kay505432
August 23, 2016
I am a friend or relative of a resident
My parents are in Atria Rocklin, which used to be Casa de Sta Fe. It is nice. There is a piano player, and children come in to sing to the residents. The facility has a rec room where residents can play pool and ping pong. The place has a swimming pool and a bunch of different stuff. The dining area is nice. The residents have to go at a certain time. The new owners are making it so they can go when they want between 7 a.m. and 7 p.m., which would be much better. Anytime dining is much better. My relatives love the staff and waiters. They can have their cat, which is really nice. They haven't had any issues.
---
Daniel865564
August 17, 2016
I visited this facility
My tour of Atria Rocklin (formerly Casa de Santa Fe) was good. The staff was very nice. They dining room looked small. They need to improve the common areas in the memory care and also the rooms. It was fairly convenient to get to, and the price was comparable.
---
TracyMYNDK
May 22, 2016
I visited this facility
We have decided on Casa de Santa Fe for my dad. The pricing was not that much different from other places, but the caregiving was really different. What I like about the facility is that they never have to leave. Casa goes all the way and could take my father into memory care if needed. The facility is very clean, like a 3-1/2- to 4-star hotel. They have music every night and a dining room. We took my dad and went for dinner. We have friends who have parent there. It was a good experience, and he really likes it, and that's a lot for him to say that. There's just jovial good attitude and a lot of caring by the staff. The food was excellent. The staff didn't talk down to patients. They got down on their knees so they were able to look them in the eye and treated them with respect, like a person. I would recommend this community to others primarily because of the care and what you're getting for your money.
---
KW4
November 30, 2015
I visited this facility
Casa de Santa Fe was nice. I liked the way the living situation was arranged in sort of a circular way, so that people could leave their door open and visit with their neighbors or they could choose not to. It was fairly close to get to all the activities in the dining room. The people seemed friendly and happy. They had a lot of options for the residents to go out -- shopping trips, appointments, restaurants, plays, and other activities. They had a lot of stuff going within the facility itself that people could participate in. Nobody was complaining about the food. They were all saying it was really good. It's a little bit expensive for some people, but it's a really nice place.
---
Toni The Red Tiger
November 16, 2015
I am/was a resident of this facility
I have been here at Casa de Santa before. Lately, the food has been really bad. They have been cutting portion size, and it feels like they're experiencing problems with many things. I didn't an experience like this before. I have written to the person that runs the food and the person that runs this facility about my concerns. The staff is very kind and thoughtful, which makes it comfortable. They are cheerful, and if you need something, they respond quickly.
---
Margaret117660950
November 13, 2015
I visited this facility
A friend and I visited this facility. The staff are very knowledgeable and were able to answer all our questions. I was impressed with the relationship between the staff and management, and the residents. The dining room was very pleasant, elegant but not stuffy and the food was good. We had heard from friends outside the facility how good it was, from residents they knew. We found the apartments to be spacious and convenient with a garage in some. We have been back a second time, and my friend is going to get on the list. I probably will also when the time is right for my husband and I.
---
Jan111134450
July 29, 2015
I am a friend or relative of a resident
Mother has been in Casa de Santa Fe for over a month now. The memory care has a lot of light, and I kind of like the structure of it; it is setup like a big kind of living area and then with all the rooms around the outside because they have windows. It has an area in the center, but it doesn't have big walkways. This facility is assisted, independent, as well as the memory care, and she said she likes it. We had lunch there when we first looked at it, and I was impressed because we are in the assisted living not in the memory care, but the food is of the same way with lots of selection, and I was impressed with the service. It's a lot of retirement adult area. They have a calendar of different events going on each day, and they send out a monthly calendar, but it would be nice if they had more walking areas. I have been impressed with the staff, with 24hr staff. The other thing I did like about is that they have a maximum of about 32 people there, and they are not at the max at this point. The caregivers seem to be very good and always have a smile on their face. I may not have eaten there, but I have seen them serve the food, give their options, and manage the people. The staff seems extremely competent on top of everything, letting me know if there are any issues. And I like that they encourage them to get out of their rooms; they encourage them to go into the general areas where they do exercises and have different activities.
---
Caring110318450
July 20, 2015
I am a friend or relative of a resident
During our visit at Casa de Santa Fe, they were very professional. They took us on a tour of the facility. They sat down and discussed very professionally what my mom and dad were looking for and what options they have at the facility. Casa de Santa Fe is an independent living facility as well as assisted living, so my parents have an option to be able to move from the independent living, e.g., free standing apartment with its own garage and kitchen. The monthly fees for that included their meals except for breakfast, which is what my parents were looking for. Once they got to a point where they needed more assistance, they could simply move into the assisted living side of the facility without any hassle, so that was great to learn. They also have a 24-hour nursing staff available, and there is a lot of security there. There are call buttons throughout the apartment that my parents could reach should they need assistance to have someone help them. Overall, it is a great facility. It is very clean, up-to-date, they have good staff, and the price was right.
---
MMcGhie
April 03, 2015
I visited this facility
Casa de Santa Fe was really nice. The people working there accommodated us very well. We saw some of the rooms.
---
Snowed
January 16, 2015
I am a friend or relative of a resident
Casa de Santa Fe has a lot of activities and a caring staff. So far, so good; my mother has only been there maybe two months. The rooms were spacious, and the sanitation is excellent. The food was excellent.
---
Judy100102950
January 09, 2015
I am a friend or relative of a resident
The problem we had with Casa de Santa Fe was that the room they put my mother in was near the laundry room. They were washing 24 hours a day, so she was listening to the washer and dryer constantly. On the other hand, they do have very nice people working there. The help seem to be very nice as well. I didn't ever see anybody looking really miserable there. Some of these places you go into, the people looked pretty sad. Besides the assisted living, they have condominiums and apartments you could rent. It is a big complex. In the dining room, the food was always very good. The rooms always seem to be clean. The nurse station was excellent. Everybody there was very nice. But the one-bedroom unit got really expensive. It was a lot more than what we are willing to spend. The one downside of this facility is that they don't have like a living room type area. The activities are limited there compared to some other places. If singers come, everybody kind of sits in the dining room to listen. If they did any entertaining, it was all done in the dining room area.
---
Caring89317250
July 27, 2014
I visited this facility
Casa de Santa Fe seemed to fit what my friend wanted. We liked everything about the place. The staff was accommodating. The dining area is beautiful and the food is very good. The rooms are very nice and spacious.
---
Richard16
April 23, 2013
I visited this facility
The lady from Casa de Santa Fe was fantastic. She was very nice, helpful and understanding. She walked me around the facility and also sat me in her office. When I explained my situation, she explained what their guidelines were, etc. She gave me another number to call, which I did. I would commend her if only I could remember her name. I more than appreciated her honesty and the facility itself. It was very clean, with no unpleasant smells at all. Everybody seemed to be very happy there. The workers and caretakers were fine. I was impressed. Without a doubt, I would recommend this facility. If you could afford it, it's the place to go.
---
Candice Green
July 04, 2012
I visited this facility
Love this assisted living community! I went with my mom to visit and the staff was so nice! The activities director Venise was so personable and helpful! There are so many activities and trips for the residents. it looks like a fun place to live.
---
caring5312
June 05, 2012
I visited this facility
It's a great place! It looked like a hotel. It's a high end type of senior living facility. It's pricey but it's worth the cost. So I really like the atmosphere and the way the layout was. I like the dining facility and I've heard from the residents that the food is quite good. The residents seemed to be happy and they were all out there enjoying the piano! I like the number of staff they had and how amazing they were. I would recommend the place.
---
Joanice
December 23, 2011
I am a friend or relative of resident
Lovely grounds and very attractive, spacious apartments, but the best features are the warm, responsive and gracious staff, and the wonderful community formed by the residents themselves. Everyone looks forward to dinner together each evening, and there is lots of neighborly interaction among residents as they come and go from their apartments every day. They live independently, yet there's plenty to do, lots of services, and and friendly neighbors for company and fun.
---
Jesuslovesyou
December 06, 2011
I visited this facility
If we lived in Roseville I would have chosen this care home for my parents without reservation. I knew the minute we walked in that this was a place worth learning about. The staff were all very welcoming and willing to spend as much time with you as you needed, but were not pushy. The personalized memory care was a plus. The apartments are roomy as compared to other homes we visited. They are on the perimeter with the dining area and activity areas in the center. Those seniors who always took care to decorate their home nicely will find this to be a very attractive home. If your loved one needs assisted living, Casa De Santa Fe should be on your list to visit. While we ate lunch we heard several residents ask their waiters for something special (an extra slice of tomato for their sandwich or some spicy mustard). We were impressed with how quickly and graciously the staff responded. The nursing staff were careful to protect people's privacy. i.e. There were no names listed on a wall chart with medications as we had seen at another facility. Residents we spoke to were happy with living there and felt they had developed new and interesting social groups through the activities offered.
---
Team_Patterson_Realty
August 25, 2011
I am a friend or relative of a resident
This is a phenomenal community with many offerings. I have a good friend whose mother is being cared for at Casa De Santa Fe. They have it all. Through the years, I have worked with the staff members to help with local Rocklin community fundraisers including events for the Rocklin Kiwanis Club. I am 2011 Club Secratary and a Director Elect for 2012. Cathy is the Director. She is an amazing woman with a heart of gold and the business mind to have everything running tip top. I would happily live here myself except I'm a bit young yet. :-)
---
---
Set in the hills of Rocklin in the Sacramento metro area – only minutes from the Quarry District and Whitney Oaks Golf Club – Atria Rocklin offers a simplified lifestyle with upscale amenities, delightful dining experiences and discreet, 24-hour support.
In addition to independent and assisted living options, Atria Rocklin has a Life Guidance® memory care neighborhood where individuals living with Alzheimer's or other forms of dementia enjoy more personalized care and programs that encourage engagement.
Atria Rocklin's campus features separate assisted living and memory care apartment buildings, plus one- and two-bedroom independent living townhomes with outside entrances and single-car garages. Amenities include multiple dining venues, a heated pool and spa, salon and barber shop, game room and clubhouse.
Atria Senior Living is a leading operator of independent living, assisted living, supportive living and memory care communities in more than 180 locations in 27 states and seven Canadian provinces. We are home to more than 21,000 seniors and employ more than 13,500 people. We create vibrant communities where older adults can thrive and participate, know that their contributions are valued, and enjoy access to opportunities and support that help them to keep making a positive difference in our world.
Features of Atria Rocklin
---
Room and housing options
1-bedroom apartments
2-bedroom apartments
Studio Apartments
General
Respite Care
Pets

Small Pets Allowed
Location of Atria Rocklin
---
Get Cost Information
Get full access to reviews, cost information, and amenities