Brookdale Northwest Reno
5165 Summit Ridge Ct., Reno, NV, 89523
Talk to a Family Advisor: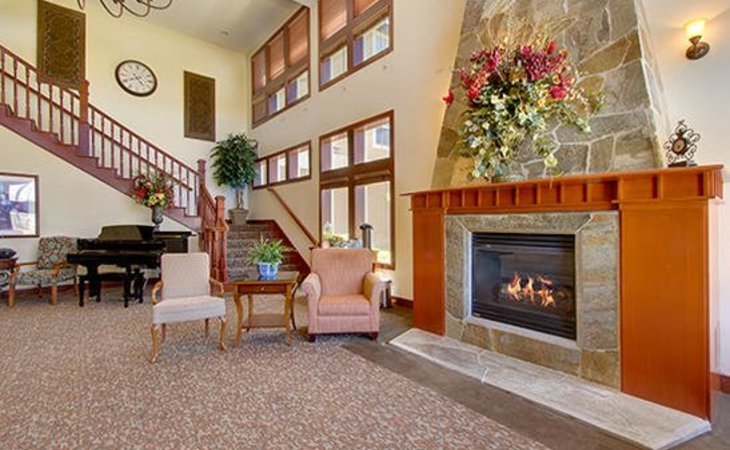 Reviews of Brookdale Northwest Reno
---
Danny841086
March 04, 2017
I visited this facility
Brookdale Northwest Reno was very nice. The staff was very nice and very thorough, but I'm more interested in memory care than assisted living. The rooms are quite nice and very big. I was looking at a shared room because I think my mother would do better in it. When I was there, the residents were listening to a gentleman sing country western songs, so they had entertainment. I would recommend it to other people.
---
Stefany411053
November 28, 2016
I visited this facility
Brookdale was nice. First of all, the lady in charge was very nice, and she talked to us a long time. We looked at economy and 1-bedroom units. They did have a lot of different floor plans. My mom saw some people that were definitely in the assisted part, and to her, it looked like a nursing home because there were some people who just seemed to be really out of it in their wheelchairs. Like there was a lady that was walking out of the cafeteria, she was going the wrong direction, she didn't have her coat, and you could tell that she just wasn't in control of her faculties. My mom saw several people like that, and she was convinced that that was a nursing home and that it was not the place for her. As far as the facility, I would give Brookdale a 4. Brookdale has the appearance of more independence and more privacy. Everybody lives on a floor. It could be like an apartment building or a hotel room, but it gives more that sense of independence. Whether or not it is assisted or independent, it still gives that sense of independence and that sense of privacy.
---
Clark4
February 10, 2016
I am a friend or relative of a resident
The apartment of my mom at Brookdale Northwest Reno is like a double room. One side is the bathroom, a big walk-in closet and the kitchen. On the other side is a bathroom, a walk-in closet, and a bedroom. There is an arch doorway between the two rooms. So she has two doors that she can enter into to go into her apartment. The staff assisting mom is very nice. She is very efficient and keeps me apprise of what's going on. They have a salon so mom gets her nails done there but she spends most of her time in her room. She does not participate in the many activities that the facility is offering. This is a really nice place.
---
Chrissy5
November 25, 2015
I visited this facility
I liked Brookdale. They were very helpful in explaning all of the avenues of financial assistance that I could do. The facility was just so nice. The staff was very friendly, and very helpful. They showed me a room, and I loved their little kitchenette.
---
Billie3
July 21, 2015
I visited this facility
Brookdale Northwest Reno was old and run down, and it smelled. It didn't seem like there were enough people there, and that could have been because it was the Friday before Easter, but it was not the right place for my mom. I wouldn't be able to leave her there; I was not even remotely impressed at all. The staff was nice, but just in the lobby, all these poor people were hanging out there; isn't there something for them to do? The rooms were spacious, but they were old and awful. They needed to be remodeled; they needed painting and new furniture.
---
Caring110142550
July 06, 2015
I am/was a resident of this facility
I am in Brookdale. The staff is very friendly. They call you by your name. They already recognize me and know my name. They are always kidding and joking. It is just a very friendly place. The rooms are neat and comfortable. The food is excellent one day, good the next day, and excellent the next day. It has a variety, and you cannot please everybody. They have different kinds of games and music that comes in. The only thing that I am disappointed in is that they do not have trips to the casino for the seniors who are able. It is very family oriented. They seem to be very helpful when you need help. So far, it is OK. It is not where I want to be, but it is not the worse place I can be.
---
Theta
March 11, 2015
I am a friend or relative of a resident
I moved my friend in Emeritus two years ago, and it's a lovely place to live. But he is constantly riled up and upset as he has to give up a lot of his social activities and the things that he considers important to his life in order to live there as they keep on raising the price and got up to $4400. I went to the VA in reducing the rent, and it worked. His rent was backed down from $4400 to $3300, but it's under new ownership now and they keep sending out letters that they are going to raise the rent. So far he is working fine, he still gets three meals a day, he still gets his laundry done, and he gets maid service. When I first picked out this place to put him in, I picked out a room that was a large apartment, and he had a kitchenette, a little dining area, a living room, and a bathroom. For some reasons, they wouldn't put him in a room like that. The kitchenette, living room, and a bedroom that was so small that you couldn't put furniture in it. What I did was reverse it; I put his double bed, his dresser, and everything like that in what was to be the living room, and then I put his TV and a couple of chairs in what would be in the bedroom, and that's working out really well. It's a nice bathroom with a walk-in shower; he has gotten used to it now, and he doesn't need a lot of room except that he has a wheelchair and walkers that takes up a lot of room. The staff seems to be very nice and friendly, and the girl that does his room, I think is wonderful; she does a very good job. The people in the dining room do a good job too. I can't see any complaints with anybody. The people that are in the management that worked around the desk do an extra job. Everything is clean, it smells fresh all the time, and the residents that are there seemed to be happy and satisfied. The only one that isn't is the one that I put there. That's because he just doesn't want to be there; he would rather be at home. The grounds are beautiful; it's very well-kept up and clean. They also do nice things for the holidays, and they always have a little Christmas banquet and Thanksgiving where the whole families of all the residents were invited. They have music; they have a piano player that plays music, and everybody is working. It's a beautiful place.
---
anonymous104292650
January 12, 2015
I am a friend or relative of a resident
Emeritus at the Seasons has a lot of good about it. My mother is getting excellent care. She is in a studio room, and she has a mobility unit so she has plenty of room to turn around. She has a bed, a sink, a refrigerator, a closet, and her own bathroom. The facility has an elevator and a big dining room. The staff is really good. They take the residents to and from doctors and on some excursions.
---
MLBL
October 21, 2013
I am a friend or relative of a resident
Emeritus at the Seasons is great. Their executive director is very flexible and everyone is very welcoming. So far, my dad seems to be okay there.
---
Lorraine22
September 23, 2013
I visited this facility
Our visit with Emeritus at the Seasons was very good. It was a nice and very well kept facility. The rooms were accommodating just not very spacious.
---
John62764150
August 30, 2013
I visited this facility
The facility was fine and had all the amenities. The staff was accommodating. They just didn't have the financial support I was looking for.
---
Alan3
August 27, 2013
I visited this facility
Emeritus at The Seasons had everything we needed if we were going to move my parents there. The assisted living area was really nice. Although we did not see any activities. If I were to go into a facility, I would definitely go there.
---
Jeff9
August 01, 2013
I visited this facility
Emeritus is very nice and upscale but it's just really expensive. Also, it is far away and wouldn't be convenient for our family to visit her there.
---
Caring3248
July 24, 2012
I visited this facility
It's a nice facility just like the one we visited which I think was a sister company of Emeritus. Their rooms are very well sized. The facility in general is clean and comfortable. The staff were helpful and approachable. They seemed to care for the residents and are knowledgeable at what they are doing.
---
marielessler1
July 11, 2012
I am/was a resident of this facility
Words cannot describe the experience I had in Reno, NV at Emeritus at The Seasons. In the beginning I was very hesitant to go to a facility that would help me; I thought my family was throwing me into a nursing home and leaving me there as a mental patient. But, I was so wrong. I had amazing progress at the facility. I had trouble remembering the beginning of the treatment but I did remember that slowly throughout the care program, my mind began to regain control and I could begin to do more tasks efficiently. The staff was amazingly nice and I could not have asked for better service. I made many friends at the facility and still keep in touch with the staff and friends from the facility today. I left the facility about a year ago to live with my family in Texas. I still visit the facility to check up on friends.
---
Caring500525
February 28, 2012
I visited this facility
Great facility. Very impressed at how knowledgeable and helpful the staff was. I had a great overall experience and would recommend it to anyone.
---
From Brookdale Northwest Reno
---
We offer a home like setting and cheerful smiles from our professional staff who greet you every day. Our caring staff offers the assistance you need while respecting your independence.
Our peaceful setting, restaurant style dining experience, activities and beautiful setting combine to create a wonderful living environment everyday. Our genuine caring staff, home style meals, daily activities add to our residents' experience.
Through special events, activities, clubs and ongoing cultural enrichment programs, we offer unlimited opportunities for you to get to know other residents and us. Call to set up an appointment for a tour because we delight in showing you our home.
Amenities and Services
Daily assistance with bathing and dressing
Medication management
Dining assistance and special diets
Assistance with reminders and redirection
Escorts and assistance with walking
Emergency response call system
Housekeeping
Laundry and linen service
*Rates subject to change at any time. Level of care not included.
Location of Brookdale Northwest Reno
---
Get Cost Information
Get full access to reviews, cost information, and amenities