Sunrise of Raleigh
4801 Edwards Mill Road, Raleigh, NC, 27612
Talk to a Family Advisor: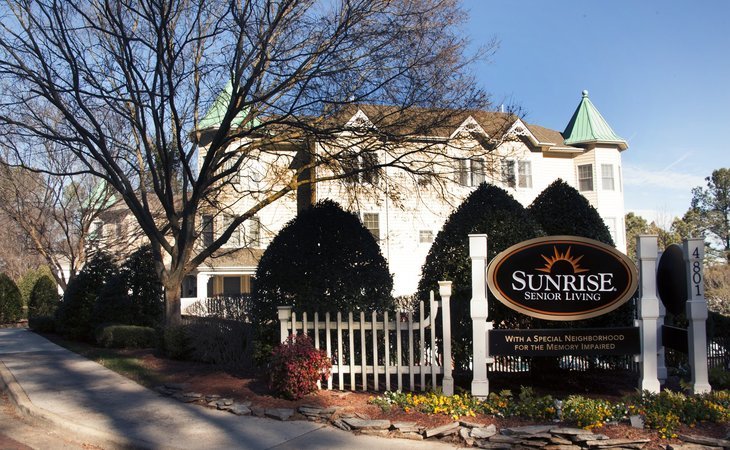 Reviews of Sunrise of Raleigh
---
Betsy811150
November 02, 2016
I am a friend or relative of a current/past resident
My dad is in Sunrise of Raleigh, and we're very pleased with it. It's very clean, and it was just very nice. The grounds are beautiful, and my dad likes it a lot. The grounds are very nice. It had more men, and my dad wanted more men to talk to.
---
Jim788002
September 11, 2016
I am a friend or relative of a resident
We chose Sunrise because of the staff. The care coordinator and the activities director seemed to be outgoing and a better choice for our needs. There were no problems up to this point. In comparison to other locations, they offered more for their residents.
---
Jane777577
July 20, 2016
I visited this facility
I went to Sunrise of Raleigh. The tour was very nice. Everything went well. It was beautifully done. I was very pleased with it.
---
JeffEOLRJ
May 11, 2016
I am a friend or relative of a resident
I thought Sunrise of Raleigh was very good. They met all of our needs and took care of my aunt very well. They were helpful, friendly, kind, courteous, and professional. The rooms were very nice and clean. The food was very good, and the dining room was very nice.
---
Debbie BF
February 18, 2016
I am a friend or relative of resident
My mother is a resident and has been so well taken care of that her sister chose to move in here as well. I went to a lot of Memory Care facilities in Raleigh and liked this one best. It is spotlessly clean. The staff is wonderful. They know her well. Every time I go, there are programs going on. The location is terrific, up on the hill, with beautiful views. There are huge windows that are always clean. Food is great. I am very pleased.
Anyone who visits knows the downside: parking is a problem for visitors! They say they are working on it!
---
Caring113775950
July 13, 2015
I am/was a resident of this facility
Sunrise of Raleigh was OK. Their food was much better too. The staff was good. I didn't participate in too many activities, but they did have regular shows for the holiday. They had bingo of course. However, I think they need to be proactive with their programs. Nevertheless, the facility was very safe. Overall, it was good.
---
Lisa104545550
April 19, 2015
I visited this facility
Sunrise of Raleigh was nice. The rooms and the dining room were nice. It was a secure and locked environment. My only concern during that visit is the activities going on especially in the memory care unit, the people were just sitting around.
Provider Response
Please know that we take all concerns seriously and would like to learn more about your experience with Sunrise. Please email us at Information (At) SunriseSeniorLiving (Dot) com with further details and your contact information so we can address. Thank you, Sunrise Team.
---
Caring100332450
February 16, 2015
I visited this facility
Sunrise of Raleigh would have been our second choice. It was spacious, and the staff people were very gracious. They had rooms with TV's for people to come play games and what not. The grounds and surroundings were very restricted.
---
jamesmays
May 28, 2014
I am a friend or relative of resident
My mother lived on one of the Reminiscence floors last year, and to say it was a negative experience would be an understatement. Staff did not adequately check on her, on several occasions I showed up and she was in her room, alone, and had been sitting in her own feces for god knows how long. She required a lot of care and because of this it seemed like she was almost "ignored" by a lot of the staff, almost a feeling like she was just a massive "burden" for them.
On SEVERAL occasions I tried speaking with the Reminiscence Coordinator and she was extremely difficult to deal with, smiled at first and told me whatever just to get me out of her office, but later on it became clear that she didn't care about our concerns about my mother or my mothers well being. At first she would promise the world, but when I would comeback to follow up on things we had discussed months prior, there always seemed to be an excuse as to why it hadn't happened yet (it took forever for them to change my mothers diet). They will smile and tell you everything you want to hear, but when it comes down to it, as soon as you walk out of that door, the attention and care being given or shown to your loved one drastically decreases.
I had several issues with management and there was such a high turnover rate for a lot of their jobs at Sunrise Of Raleigh that they didn't even have a Facility Director for almost an entire YEAR, which didn't help when I was dealing with the Reminiscence Coordinator, because she didn't have to worry about answering to anybody.
They do have some good Care Managers and Activity workers, but it is blatantly obvious that the Care Managers are overworked. It became clear to my family and I that my mothers overall health and well being was not what mattered most to the Reminiscence Coordinator and many members of the Reminiscence staff. She seemed much more concerned about getting us out of her office than truly listening to our concerns about the quality of care that they were giving my mother.
Unless they have changed management I recommend that you look elsewhere for a Reminiscence facility for your loved one.
---
Janice36
April 25, 2014
I am a friend or relative of a resident
My mother needed more care than Sunrise of Raleigh was able to give her, finally. She was there for about 2 years, and then she was too disabled for assisted living. She had fallen, broken her hip and shoulder, couldn't see and walk. They could not come and take care of her every time she needed to go to the bathroom. They were very good with her, but they could not give her the personal care that she needed. It was not their fault; it was the nature of the service they offered. I had gone and visited my mother until she died near Christmas time last year. She had a lovely room. She had a bedroom, sitting room, and a bathroom. It couldn't be nicer. They had a lovely backyard as well. You could come, watch, and describe the birds with her there. Food was very good too. They had entertainment. They would help her draw or paint because she loved those things. But I was not happy with the way they explained to us that she had to leave. They didn't explain it so that we understood that it was not her fault or their fault; it's just a situation that had to change for her good. We got a little angry; my brother and I just felt that she was being tossed away and not being cared for, but that was not the truth. I don't know why they did it that way, but it was just a communication problem in the end.
Provider Response
Thank you for your review. We would like to learn more about your experience at the community. Please email Information@sunriseseniorliving.com to provide us with further details. Thank you, Sunrise Team.
---
Caring76438350
December 28, 2013
I visited this facility
My visit with Sunrise was very positive and I was very impressed with it. I visited the rooms and I thought that was my biggest concern because they had the smallest rooms. It was a small studio apartment and there wasn't like a small kitchenette or a separate living room area from the bedroom. It was kind of all in one. However, I liked that it was homey and personal. I also liked the Asian place scenario. I knew somebody whose parents were there and they praised it
---
acw1
December 04, 2012
I visited this facility
I was very impressed by this assisted living facility. It is a private pay only facility with excellent amenities including a separate area for residents with dementia. The building itself is beautiful. Each room is personalized and unique, with a space by each room for personal items. There is no institutional feel, rather, you feel as if you are in a private home, due to the design and decorations. The layout of the building is straightforward, but there are no long hallways and no obvious nurses stations. Each resident has a person assigned to them to make sure their needs are well met.Other positives - it's right by Crabtree mall for easy shopping and dining. And Rex hospital is right down the road also. The only downsides are a somewhat a la cart approach to billing which can add up quickly. Also, the food was fantastic, but service at mealtimes could be improved upon. During the meal when I visited, residents were trying to request desserts, but there was insufficient staff to meet requests promptly.
---
RWStein
September 27, 2012
I am a friend or relative of a resident
I have been to this facility several times to visit my mother. They are careful and polite but I'm not real happy about the facility friendliness. I honestly believe they could do more to make my mom's stay better. Their emergency procedures are great and they have certified medical staff! Their community involvement is good too - I just think that their friendliness is a bit lacking. They have wonderful staff and very experienced staff - It's just that I always feel like they just feel like they are there to get a job don and don't take a personal interest in my mom. I am happy with the health monitoring she gets and I am happy with the professionalism - just not so happy with the friendliness.
---
jgflea
May 20, 2011
Friend or relative of resident
My mother in law is a current resident of the Alzheimer's unit at this facility. While the reason she stays here is sad for the entire family, we could not ask for a better place for her to live. Not only is the facility extremely nice and clean, the staff seems to truly care and they take every measure to care for and protect the patients. Even though my mother in law does not always remember things, the staff goes out of their way to get her hair done, help her with makeup and even paint her nails. The facility brings in a variety of entertainers for the patient's enjoyment almost every day. The facility is well maintained and very clean. If you know of anyone who suffers from Alzheimer's, this is definitely a great place for them to live.
---
---
Just minutes from Crabtree Valley Mall, Sunrise of Raleigh is Raleigh's "castle on the hill." We pride ourselves in our individualized care, home-like setting and long-term staff members.
Step into a Sunrise Assisted Living community and you can't help but feel at home. We stop at nothing to make your experience warm and inviting, from our homelike exterior architecture, to our comfortable community areas and choice of suites to our exceptional outdoor gardens and landscaping. Look around and you'll notice fresh flowers throughout the residence, and you may even spot our dog or our cat. And of course, there are always the friendly smiling faces of our staff to ensure that each day spent here is a welcome one.
Features of Sunrise of Raleigh
---
Health services
Nurse On Staff

Available During Business Hours
Licenses
State Licenses

HAL-092-096
Location of Sunrise of Raleigh
---
Get Cost Information
Get full access to reviews, cost information, and amenities