Courtyard at Jamestown Assisted Living
3352 North 100 East, Provo, UT, 84604
Talk to a Family Advisor: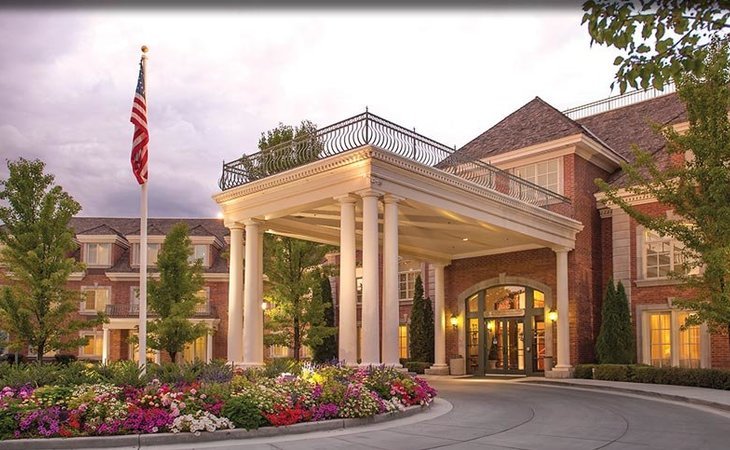 Reviews of Courtyard at Jamestown Assisted Living
---
Tanya476485
February 11, 2017
I visited this facility
I took her to Courtyard at Jamestown, and this was her favorite. If she does decide to go into a home, that would be her home of choice at this point. The reason we went there is because it is one that has the possibility of a memory center, and that is why we are considering it was the best choice for her. We had my father-in-law there, and it worked out very well. They were very kind and very understanding of those who are a little difficult, and Marilyn has that sort of personality that you get a little frustrated occasionally. They were wonderful. We talked to Shawna on the staff, and she seemed to just be in-tune with Marilyn's needs. She doesn't like somebody who is overbearing at all, and Shawna figured that out in a hurry and she got along with her really well. They had 39 different setups in their rooms, 39 different floor plans, so it was really quite amazing. And the rooms were very large and spacious -- especially the bathroom which was really wonderful because they have an actual credenza in there. I didn't see that in the other places, ans that is a huge thing. The storage spaces were very ample. They were holding a session right then for how to use the adult diapers, and she was not impressed with that because she is not ready for that, but you have different age ranges, and they were asking how to manage them, so it was a good session.
---
Susan367663
February 11, 2017
I am a friend or relative of a current/past resident
My loved on, Terry, is at Courtyard at Jamestown. They have been helpful because he is 66 years old and very able-bodied but has memory issues. They have actually given him a job in the kitchen and made him feel useful. They have been very communicative. We're not there on a daily basis, but when we visit, we are very pleased with this place. He has a studio with a microwave, a sink and a refrigerator, a couple of closets, his own bathroom with a walk-in shower, and room for a bed and dresser, so it is perfect for him right now. The location has easy access to the main street. I would recommend this community. They were very helpful.
---
Becky235104
January 02, 2017
I am a friend or relative of a current/past resident
Courtyard at Jamestown has been wonderful. It is beautiful, like living on a cruise ship. They are very attentive and kind of high-end, but the price was very comparable. It goes from assisted living to skilled nursing, so Mom never has to move from there. They have done a wonderful job. They have something going on all the time and are so busy. They do humanitarian stuff once a week, play Bingo, and have church services. They can go to the store and shop. They take them around the community to different events, like concerts. The food is great.
---
Debbie042341
November 22, 2016
I visited this facility
Courtyard at Jamestown was a nice facility, but most of the rooms were studios, and it was not big enough for king size beds and two wheelchairs. The price was higher. It was more fancy. It catered more to single people. The showers were not big enough.
---
Eileen748454
November 03, 2016
I visited this facility
Courtyard at Jamestown Assisted Living was beautiful, and we were really impressed with that, but you know what, it was a bigger place. It was gorgeous and very well appointed too. It was a traditional upscale type. It had a lot of amenities that were available. I was impressed with the dining facility and the menu. However, the thing was, as far as the match went, I did not think they were very good a match to my parents. It would have been for me; if I ever needed a place, I would go there. They had really good menus, and the appointments were gorgeous. They had a library, and they had a lot of things available for the people. They had an aviary where they could watch birds, and that's really cool.
---
Leann674504
October 27, 2016
I am a friend or relative of a current/past resident
A month and a half ago, we put my parent at Courtyard at Jamestown Assisted Living. It was, by far, the nicest we visited. The rooms were clean, very modern, and up-to-date, and everything smelled good. There wasn't anything about it we didn't like. It's not 5-star restaurant food, but it's good, healthy, appetizing food. They have all sorts of rooms. They have a genealogy room, a salon, and a library with books and puzzles. They have walking areas, several gathering rooms, and several sitting areas with fish tanks and a bird cage.
---
Kathryn368828
October 24, 2016
I visited this facility
Courtyard at Jamestown was wonderful and better than what we thought it would be. The dining area was beautiful and gorgeous. The food tasted like it was made by a 5-star hotel chef. The whole atmosphere was very pleasant and friendly. My husband and I have lost our memories but we're still be up and around, and this felt so much like a rest home or senior suite.
---
Resident544508
October 05, 2016
I am a friend or relative of a current/past resident
Courtyard at Jamestown was a very nice and beautiful facility. A little bit expensive for my budget. Everything looks fine, and the rooms looked good, but I didn't stay there. It looked good, but it was more expensive than the other places I visited.
Provider Response
We appreciate your feedback and would love to have the opportunity to show you all of the amenities that are available here at Courtyard at Jamestown. We have many different room options to match most budgets. We would be happy to have you join us for lunch, go over the amenities we have to offer, show you why we have been repeatedly voted Best of State and show you solutions that may work for you.
---
Andy375380
June 17, 2016
I visited this facility
I was extremely impressed with Courtyard at Jamestown and how nice the place was. The people were very helpful. It seemed like they had a good amount of staff and a lot of things for the people to do. It was one of the nicer places that we visited. The grounds were very nice and very well kept. The layout seemed good. They had the eating area and the entertainment area in the center of all the wings in the facility. The facility is very nice and very welcoming when you walk in. It was more upscale than a lot of the other places we've visited.
---
SharonMJSWD
May 11, 2016
I am a friend or relative of a resident
Courtyard at Jamestown is a wonderful, great place. The staff is very caring, very efficient, and very nice. The rooms are also very nice. For the assisted living, they have a beautiful restaurant. There's a gym, an aquarium, an aviary, beautiful common living areas, and a lot of great activities. This is where my dad's living right now.
---
Reviewer124685850
February 27, 2016
I am a friend or relative of a resident
My mother lived at the Courtyard at Jamestown for 8 years and had a wonderful experience. The people serving there were warm and professional. Highly recommended.
---
Caring109772250
July 04, 2015
I visited this facility
We visited Jamestown (Courtyard at Jamestown). It was referred by my niece who did an internship there in Provo. Jamestown was very good, but it was a little higher-priced, so that's why we didn't go with them. We didn't try the food, but they did invite us to lunch. My dad is going to go up there and have lunch with them just to compare it, but the price is higher. They did have bus trips, and they would take them any place they want to go. They have buses that go to the doctors and sometimes to lunch or to shows. They did a lot of different things.
---
Caring66797050
January 06, 2015
I am a friend or relative of a resident
We went at Courtyard at Jamestown, but I was not impressed with that. I just got the feeling that the people were not as caring as I got to feel with the people down at the other facility, and the apartments were very small.
Provider Response
Thank you for the feedback. We take great pride in loving and caring for each our residents and all those who are a part of the Courtyard at Jamestown family. We invite you to read the many positive reviews from others on this website as well as on our own company website. Also, we invite you to come and see our different sizes of apartments. We have a large variety of apartments from smaller studio, to larger studio, one bedroom and two bedroom apartment homes.
---
Joyce48
August 31, 2014
I visited this facility
The director of the Courtyard at Jamestown Assisted Living and Memory Care was very helpful. She gave me enough information about the facility, so that I could make a good decision about it. The rooms were clean and the facility itself was clean. They had practically one-on-one staff there and a lot of activities, fieldtrips, and things for their Alzheimer's residents. They were very clean, very attentive and friendly, and willing to work with you in anything you needed to giving financial suggestions. I was specifically interested in their memory care unit because this is the one that my mom needed. Of course, the assisted living area was also very nice, very clean, and very on top of things. The rooms were also very clean, you bring in your own furniture, and they have a sink and cupboard, and your own bathroom with a shower.
---
Johal-Dominguez Family
May 02, 2014
I am a friend or relative of resident
The Courtyard at Jamestown Assisted Living has been a "life saver" for our 91 year old mother! When we are out of town, we know she is well taken care of... The location is beautiful, the staff helpful and open to suggested improvements. As a family we continue to hope that Management remains stable and costs reflect the marketplace here in "happy valley". We continue to advocate for the Chef to strive for health through good nutrition; that services are consistent with what is promised, that the facility continues to get updated and that staff turnover remain at a minimum. We are confident that the Courtyard at Jamestown is striving for all of this in order to remain vital to its residents and their families.
Provider Response
Thank you for your feedback. We are so grateful for the opportunity to love and care for your mother. We have incredible team members and management and are committed to maintaining a high standard of services and amenities.
---
AllisonL
May 02, 2014
I am a friend or relative of resident
My parents moved here a couple of months ago and have been very happy. We have been so pleased with the friendliness of the staff and other residents. This is a very welcome and homey feeling.
---
Caring81130850
March 21, 2014
I visited this facility
Courtyard Jamestown was very nice, modern, and the rooms were spacious. In fact, the room they showed us had a bedroom and a living room. But it was very expensive. We only met the activity director, the one that showed us around, and she was very helpful. It was a very nice environment. They had a big fish tank. It was just a beautiful place. They did have a lot of things, like exercises, a big room for movies, and a lot of activities going on. The food was gourmet food. But it was still $3,300. I think that makes it more expensive. My friend just figured she couldn't afford that.
Provider Response
Thank you for the kind words about our community. We take pride in providing our residents with quality care, outstanding customer service, well-trained staff, delicious cuisine, a beautiful environment and many invigorating activities. In addition to what you saw, there are other styles and sizes of apartments available. We invite you to come take a look at another option that would better work within your price range.
---
JLurk
August 21, 2012
I visited this facility
My visit to Jamestown was surprisingly excellent. I had visited other care facilities and contrast was shocking. The first thing I noticed was that the facility felt more like a 5 star hotel instead of a hospital. The residents had access to nearly anything they could ever desire, from restaurant style dining to daily entertainment options. My experience was as part of an entertainment group who came to perform. The hall we performed in was beautiful; clean new carpets, curtains (which we used to darken the room), comfortable and accessible chairs, with plenty of room for those in wheelchairs. Throughout our set up, performance and clean up there were community members coming in to ask who we were and what we were doing, always within sight was someone to assist the residents if needed. This was a major contrast compared with other facilities which often dropped off residents and used our show as break time. Honestly if one day I need to move into an assisted living environment I certainly hope its a place like Jamestown.
---
weldon hill
August 08, 2012
I visited this facility
This facility is first class. A library, fish pond, chapel and luxury appointments along with chef prepared meals served at linen table clothed tables with silverware are but a few of the outstanding feature's of this care giving provider who accompanies the physical amenities with excellent service from their staff. Looks like a Grande resort. Check it out.
---
leBMD
April 28, 2012
I visited this facility
The building was beautiful, and the staff were generally kind. The library was well-stocked, and they had musical performances by volunteers every week or so. They had plenty of activities for all of the residents. Sometimes the activities seemed a bit immature, but a lot of people seemed to enjoy them. I had an interesting experience with staff not responding to a distress signal once, but apparently the resident in question pulled the emergency cable quite frequently. The surrounding landscape is beautiful, the staff generally seemed kind, and the facilities were always very clean. They would take residents on trips to Walmart or Magleby's on occasion, which is always good.
Provider Response
Thank you for your feedback. We invite you to view some additional activities on our youtube channel. Please be assured that our residents are equipped with an emergency pendant that they can use within our community 24 hours a day and that each emergency call is important to our staff. www.youtube.com/user/CourtyardAtJamestown
---
CuznMickey
April 26, 2012
I am a friend or relative of a resident
Jamestown has an Enhanced Care unit for residents with memory loss concerns and took very good care of my father. Their weekly calendar of events includes field trips, music therapy, arts, crafts, movies, and party. They provide complimentary manicures and haircuts. The facility and grounds are well cared for and the dining is good. The staff were always friendly and treated my father like family.
---
LBehle
January 28, 2012
I visited this facility
I visited the Courtyard at Jamestown to sing to a few residents. It was very easy to find the facility because it is close to the freeway. It is also in close proximity to the hospital. It was very easy to get into the building which slightly bothers me. I think that they should be more cautious about who they let into their facility. Not a single staff member approached us the whole time we were there. We asked a staff member if there was a piano we could you and the staff knew there was a piano but couldn't recall where it was located. The atmosphere was fun and positive. The facility looked very neat, clean, and well-managed. The residents rooms looked a lot like a home rather then just another hospital room. The Facility is rather large, so they can accommodate for many people.
Provider Response
Thank you for your feedback. We invite you to visit again to sing to our residents. They love the frequent volunteers that come in to perform. We assure you that the staff is well-trained to make sure that our residents are safe and secure.
---
kjkj1208
September 10, 2011
I visited this facility
I visited the Courtyard at Jamestown Assisted Living Community during Christmas. A large group of friends and I went to sing Christmas carols, door to door, at the Community. It was an experience I won't soon forget. The first thing I was impressed with was the architecture and grounds of the building. It was done in a colonial brick style and was well manicured and decorated for the holiday. There were lights and Christmas decorations, making the whole building look cheerful and welcoming. The inside was also displaying Christmas decorations, trees, lights and flowers. It was very beautiful! Another thing I loved about the Community was that the service and rooms provided to their elderly residents were cozy and reminiscent of home. The workers and the overall atmosphere of the building provided me with a sense that those employees respect old age, and realize that it is a dignified state of life, not something to be ashamed of, but celebrated. The patients seemed joyful and content, one old couple was even on a date, when we caroled to them. We came hoping to brighten their spirits, but in the end, they brightened ours. I believe that is because they were happy, and the Courtyard at Jamestown helped them to be so.
---
anonymous44
June 29, 2011
I visited this facility
This is an excellent facility, very beautiful. It's reminiscent of some colonial mansion or something. There are many great aspects of this facility. One of them is the activities. There is always something for the residents to do. And those activities aren't just limited to the occasional game of bingo and shopping trip. There are manicures and parties and picnics and scenic drives. Many of the residents I've spoken with love the drives. They often drive up to the canyon. It's especially beautiful in the spring and fall, with the blossoming trees and the changing of the leaves, turning the entire mountain orange and red. The residents love this little nature exploration so that they can feel that they're still part of the outside world.
---
From Courtyard at Jamestown Assisted Living
---
We are Utah's finest senior living community. Our unparalleled reputation is founded on high-quality health care services and exceptional life-style amenities. At Courtyard at Jamestown, we offer independent living, assisted living, and memory care services, all within private apartment homes in a luxurious setting. More than a great place to live, Courtyard at Jamestown is a great way to live.
Our full-size memory care community specializes in premier care for individuals with Alzheimer's, dementia, or unique physical requirements. We provide secure environment, behavior management, personalized activities, all-inclusive pricing, and private apartments with kitchenettes. Our Memory care program is unsurpassed in the state of Utah. Our ample activities and field trips keep our residents engaged and involved. We have implemented the Montessori individualized approach and lots of music!
In Spring 2015, we have received our 7th "Best in State" award! We are proud of our community and it shows!
What Makes Us Special
---
The grounds are well manicured and there are many beautiful flowers. We have two ponds which have become a home to fish and ducks. The deer come in the mornings to drink from our stream. A paved flat path circles the building, offering our residents an outing in nature. Set away from a busy road, Courtyard at Jamestown offers peaceful and quiet surroundings.
Features of Courtyard at Jamestown Assisted Living
---
Costs
Minimum Rate

$2500/month

Minimum Memory Cost

$4800/month

Rent Plus Care Fees
Fee Structure Extra

We Offer A Month To Month Rental
Room and housing options
1-bedroom apartments
2-bedroom apartments
Companion Suites

We Offer Companion Suites

Studio Apartments
Dining options
Dining Room Shared Meals
Room Service For Meals
Dining Extra

All Residents Have In Room Kitchenettes
Features
Beauty Barber Shop
Computer Room
Resident Transportation
Party Space
General Store
Hiking Trails
Tv Room
Garden And Patio
Resident Parking
Spa
Features Extra

Library, Fitness Room/Gym
Cleaning services
Private Cleaning Services
Housekeeping
Technology and entertainment
Cable In Rooms
Internet Enabled Rooms
Wifi
Technology Extra

Emergency Call System
Health services
Medication Management
Nurse On Staff

Yes
Activities
Offsite Activities
Music
Games
Stories
Religious Services
Lectures Discussions
Book Clubs
Tai Chi
Fitness Room
Yoga
Cooking
Arts And Crafts
Activities Extra

Concerts, Performances Piano, Violin, Harp, Children Choirs, Singing And Dancing Groups
Financial guidance
Home Sale Assistance
Va Benefits Consultation
Financing Advice
Guest services
Guest Parking
Guests At Mealtime
Overnight Guests
General
Staff Patient Ratio

1 To 5

Respite Care
Minimum Age

55

Pets

Small Pets Allowed
Licenses
State Licenses

2015-ALII-UT207334
Location of Courtyard at Jamestown Assisted Living
---
Get Cost Information
Get full access to reviews, cost information, and amenities