Granite Gate Senior Living
3850 North US Highway 89, Prescott, AZ, 86301
Talk to a Family Advisor: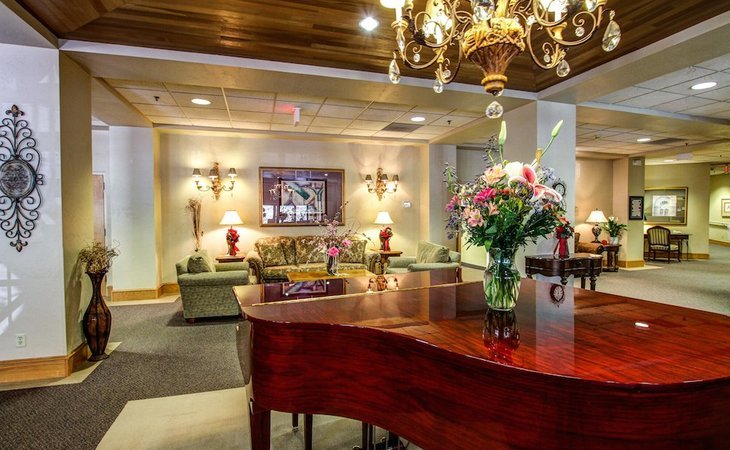 Top nearby Assisted Living Facilities
Reviews of Granite Gate Senior Living
---
Lynn463874
April 18, 2017
I visited this facility
Granite Gate was wonderful. I wish my mom could be there, but it didn't fit her needs. They're not geared for behavioral Alzheimer's. I was sad because I really loved the place, and it was absolutely beautiful. They had very nice people, so I didn't have any complaints about it. It was very warm, and wherever I was, they greeted me. It was really pretty and what I liked most about it was the memory care didn't look like a convalescent hospital and was really nice. They had a little garden area for people who like gardening, which I was impressed with, and activities scheduled all the time, like exercise. They had good food.
---
Alan146423
November 29, 2016
I am a friend or relative of a current/past resident
My mother is at Granite Gate in the Bridge to Rediscovery, which is the memory care unit. It's a big community. Her room is divided into two rooms, one on either side of the wall. Basically, it is one room with wall in it. They have done really well. My mother likes doing the gardening and yoga. I have not eaten there, but she said the food is very good.
---
Joe305018
October 10, 2016
I visited this facility
Granite Gate was very nice. The rooms were spacious. The whole place was very nice. The dining room was very nice. They had very good selection.
---
Tracy20
March 09, 2016
I visited this facility
Granite Gate Senior Living was super clean and nice. It had more prestige in the sense that it was very beautiful. It's a facility for people who like socializing and being with a lot of people.
---
Pam119026650
February 23, 2016
I visited this facility
Granite Gate was a converted hotel and not as affordable as other places. As far as safety for my mother-in-law goes, I saw a greater risk of her falling there. It's very nice and very upscale. It was out of our price range and definitely a five-star facility. It definitely has all of the safety features in place, but, for her, she would not self correct and take the safest route. It's not the facility; it's her. The financial aspect was a barrier for us.
Provider Response
Thank you for visiting Granite Gate Senior Living and we are glad you liked our community. We understand that cost is a concern when you're looking at senior living options. While senior care housing can indeed be costly, many elderly people's needs outweigh the costs. Because many families are facing this dilemma, we at Granite Gate are committed to working closely with you to identify the best possible funding options and finding ways to overcome financial barriers. Please contact us to discuss your specific situation.
---
Scott35
February 23, 2016
I visited this facility
Granite Gate was a little dated and wasn't as upgraded as other place, but it's in a beautiful setting. The rooms weren't really ready for us when we got there, but the lady who showed us around was very friendly and very accommodating. My parents liked this place better than I did.
---
Scott32
January 20, 2016
I visited this facility
We loved Granite Gate. It was more of an upscale place. The staff was excellent and all very helpful. The rooms were very nice, modern, clean, and spacious. It had one common dining area; I would have preferred two or three dining rooms for variety, but it was nice. The common area was very nice down near the entrance and had a beautiful setting. I thought they were a bit limited in activities.
---
Sandy in Prescott
October 29, 2015
I visited this facility
I went to Granite Gate. The staff was very nice. The program they had was only for the residents. I was looking for an adult daycare and a memory care. They had a fine program, but it was only for the residents. I saw one furnished and one unfurnished room. As I recall, they were pretty large, with safety features everywhere. There was a big patio door, so there was plenty of light coming in. I thought it would be alright, but it was out of my price range. I liked how caring the staff seemed to be.
---
Anonymous114361750
October 05, 2015
I visited this facility
My mother-in-law is moving in the middle of October into Granite Gate. The person who showed us around did a very good job. We ate there -- we probably were there four or five times during the week just to keep going back and seeing -- and she didn't care, she encouraged us, and they've been very good. We liked the environment there. It seemed that the residents socialize with each other, and there were things for them to do. It didn't seem so institutional.
---
Anonymous110483250
July 28, 2015
I am a friend or relative of a resident
Granite Gate was very nice. It was well kept up. Their staff was nice. The food was good. They had arts and crafts, music, and exercises. They had a lot to do. The rooms were really nice. It was actually on the fancier side. They made everybody feel good and welcomed. They were very friendly.
---
Susan107826450
June 26, 2015
I am a friend or relative of a resident
My both my parents stayed at the memory care at Granite Gate, and that was an amazing place. The thing that I liked most about it was that the entrance had the living room with a fireplace. They had a cocktail hour there and had newspapers for people who just liked to read and hangout. One of the most remarkable things in terms of staffing was that the person who was manning the entrance desk area was fabulous. She knew everybody's name. She could handle the phone, talk to a client, and answer my question. To me, that was extraordinarily important. The other thing that was interesting in this entrance was that they always had ice-cold water with lemon. Every time I went in there, I had a glass of water. There was a large activity room for the independent and assisted living. They had a cocktail hour, somebody was singing, and if people want to dance, they could dance. Sometime after an activity or doctor's appointment, I would take my mother in there and sit down because she loved music. For memory care, as long as I was with her, she could be there. I would have a glass of wine, and she would have some food and had some music. For me, it was great that they were flexible. The director on the unit was super, and the staff was so attentive to her and so terrific. They also had a nurse there that run the medical and all the units of the memory case was one of the most fabulous nurse in the world. She is super and on top of everything. The food was super and was cut-up before it was placed on a plate. So, all you had to do was put your fork in it, poke it, and eat it. They gave two choices of food, or you could have a hamburger or cheeseburger. They would put two protein, a couple of vegetables, and homemade soup with water on the table. My mother really love that. All the food were homemade. They had a baker and a chef in the house, and the snacks were super.
---
Jammie1
April 01, 2015
I am a friend or relative of a resident
I really like Granite Gate Senior Living for my mom. I like the convenience of the location. I also like the facility and the fact that the assisted living residents are mixed in with the residents. The staff is very friendly. I have had good interactions with the caregivers, and they are very concerned about her wellbeing and what to do to make sure that they are assisting her the best way they can.
---
artknell
March 31, 2015
I visited this facility
We were able to have a visit at Granite Gate Senior Living and that was very nice. The staff were very eager to help and to give information. The rooms were small, but they were okay. They were very clean and very neat. Their dining area was nice and cozy.
---
Renee24
March 08, 2015
I visited this facility
We went to Granite Gate. This is the place my mom wants to go when she is finally OK to go in a facility. It was like walking into a resort and not an assisted care facility. The rooms were almost like apartments style living. It is very nice, very comfortable, and very clean. It has its own bathroom and kitchenette. We actually ate lunch there, and the food was phenomenal. The dining room is like walking into a resort. They have many activities. They have activities there on location as well as field trip type activities offsite. It is very well organized. The people that lived there is really what sold our family on it because they were so happy. Their comments were completely unsolicited, and they were all very happy with living there. It was just more like a community.
---
Loree2
December 12, 2014
I visited this facility
The staff people of Granite Gate Senior Living were helpful. The rooms were more like the resort type, and the dining room was more upscale. I did not notice anything that would cause me to think that the place was unsecure.
---
Caring91450350
August 29, 2014
I visited this facility
We like Granite Gate Senior Living when we went to the facility. This facility is something worth considering should we need them. I like them because they do have procedures for food services per eating, and they treat it as a restaurant facility. The residents eat at the same time. We had dinner and their food is good. They do have all kinds of activities and different exercise programs. They also have a regular bus service schedule to go shopping. You also don't have to change your room if you go from assisted living to more intensive care. They would provide the services there.
---
Caring85363150
May 30, 2014
I visited this facility
I liked the location of Granite Gate. It was very close to my work. The staff was very friendly, helpful, and answered all my questions. They told me what they would and wouldn't be able to provide. The rooms were spacious, and the views were great.
---
Holly13
March 29, 2014
I visited this facility
Granite Gate was very nice. It's a little more showy. When you walk in, they have a frame that has your name in it that says you're showing up today and welcoming you. The residents there, too, seemed a little more on the snobby side. The staff and everyone were very pleasant and they greeted other people in the hallway. They all seemed very attentive. It's just not what I'm looking for.
---
Malcolm3
March 28, 2014
I visited this facility
Granite Gate Senior Living is an incredible facility. It came recommended by a number of other people who have had parents who were actually in the facility. I visited a couple of others too, but once I saw Granite Gate, it was kind of my standard. It was a beautiful place. It was absolutely gorgeous. The surroundings were nice. This facility sits up on a hill, and it is reasonably wooded. There are a lot of trees, and it is just a very beautiful site. My first impression was that this is the kind of place I would spend a fair amount of time at. With regards to the staff, I was impressed with the support that they were providing their residents. They were very focused, very friendly, and caring. Although they were professional, they were very professional in a very caring way. I had two meals for that day and food was excellent. The dining room was open, spacious, and really nice. It was like an enlarged home feeling. They have a workout facility, a walking path, and a library. They had groups that you could spend time with, and they had exercises classes too. They had everything that I thought I would need. I could also bring all my own stuff too.
---
Caring80471350
March 28, 2014
I visited this facility
Granite Gate was very nice and very gracious. They showed us around and answered all the questions. We visited a year ago. This is the second time we visited, and the food has gone down a little bit. They didn't seem to have as many vegetarian dishes. So that was the problem for my mother. But it's wonderful. The rooms were very nice and bright. They have games. I think they have Bible study once a week, and they take residents to their churches if they want to go. It was just a beautiful place. It didn't seem too much like an institution.
---
Caring74010350
February 28, 2014
I visited this facility
Granite Gate Senior Living looked very nice. The people we dealt with there were professional and courteous. They took time to answer our questions. We were treated well by the sales staff. We were provided the information. We were also able to view the potential rooms. We only looked at a studio room and we found that it was bright, that it was laid out well, and it had all the things we would want if we're going to use the facility. We didn't really have any concerns about it.
---
Joavon
February 17, 2014
I visited this facility
This institution really impressed me. It is set in a beautiful setting, the different areas are decorated well and uplifting and the hostess showed us around very adequately. We asked a couple of the residents about the food and they said it was great. We saw one studio apartment and really liked it. In fact, our relative is going to go there as soon as there is an opening.
---
Donna's number 1
January 24, 2014
I am a friend or relative of resident
My mother is a current resident of Granite Gate and although it was difficult for her to leave her home, she has adjusted to her lovely apartment. My mother was amazed that everyone knew her name, smiled, and offered her assistance whenever she left her apartment. Mother has not been without a family member since our father died, nearly 20 years ago, and now she has new friends and activities to fill her days. My sister and I visit multiple times a week and I have only witnessed patience and caring to the other residents as well as to my mother. Whenever I have had a question or concern the staff at Granite Gate have swiftly addressed them with courtesy. On one occasion my mother had stumbled in her room while I was speaking to her on the phone. She began to cry and I quickly got off of the phone and called the front desk. A care giver was dispatched and I received a phone call from her room with a report that she had only frightened herself. Granite Gate is a beautiful community and well maintained. I don't think of this community as a "placement" for an aging parent; I can truly say it is a wonderful home for my mother.
---
ssmall
January 15, 2014
I am a friend or relative of resident
I recently moved my 87 year old mother to Granite Gate. I found the marketing intake director, executive director and rest of administrative staff including medical and care taking assistance, compassionate, caring, professional and made the move and transition for my family and mother a seamless process. The facility is beautiful (resort located in the Granite Dells with beautiful views and landscape) and very warm for the residents and also for family and friends when visiting. It is such reassurance to know that on a daily basis all of my mother's needs are tended to from her safety, personal needs and medical needs along with caring professional staff.
---
sgherrera54
December 05, 2013
I am a friend or relative of resident
Making the decision to move a family member into an assisted living facility is not an easy one. I must say that the entire staff at Granite Gate made our decision easy. Our entire experience was wonderful - from the incredible views to the genuine caring attitude of the staff. I would highly recommend this place to anyone considering an assisted living facility in Prescott!
---
Goodlife
July 25, 2013
I am/was a resident of this facility
I recently moved into Granite Gate with my spouse and am VERY happy. I visited several facilities in Prescott on numerous occasions (and interviewed residents in those facilities) from 2008 through the present and after that extensive research determined that Granite Gate best suited our needs. The facility itself is beautiful and is located in a gorgeous setting. All the apartments are quite spacious, have patios/balconies with gorgeous views, and include kitchens (albeit small). The staff have been very accommodating, caring, and helpful. The residents I have met are active and involved with activities at the facility and seem quite happy. Choosing to live in an assisted living facility can be a difficult decision, particularly for those who have been fortunate enough to own their own homes and enjoy complete privacy. Assisted living requires that people interact with others in ways they may not have done in many years, particularly if they have lived alone and without help. These adjustments can be difficult at ANY facility regardless of the number and quality of the staff. Granite Gate makes every effort to assist residents while at the same time respecting their privacy and their individual needs.
---
oldcowboy
March 14, 2013
I am a friend or relative of resident
Obviously no one rating this pace has spent a enough time visiting the dependent side of Granite Gate. There are not enough caregivers. The residents don't look happy, and there is a lack of compassion and patience with the residents. Too many extremely young and inexperienced caregivers. I am currently looking for a new assisted living facility for my relatives.
---
One checking out options
December 12, 2012
I visited this facility
This community is set in the lovely Granite Dells near Prescott and has a beautiful setting. The property is a remodeled luxury resort site. The dining room is operated restaurant style and very elegant with great vistas. Rental includes meals and weekly housekeeping. There are also resident laundry areas as well as fitness and exercise areas. Staff are on duty 24 hours a day to help residents. Assisted living services are available. Activities are plentiful and the residents seemed active and involved when I visited.
---
Robert10
September 11, 2012
I visited this facility
When I got to the facility I was surprised by its location and beauty. It's mounted in the rocky granite dells of Prescott, Arizona. It is a beautiful place barely away from all the noise and busy parts of the city. It is very clean and kept up nice. I enjoyed seeing how pleased people living there seemed. My sister even said it was a great place to work at because everyone was friendly, caring, and considerate. The people living there seemed pleased and enjoyed living there. It is a place that makes you feel at home. Granite Gate Senior Living is a place someone can call home where you can be helped and feel safe and secure. It is also in a nice location near a beautiful place full of nature. I would definitely recommend Granite Gate Senior Living to anyone near the area that is considering assisted living.
---
Emmyrose
October 20, 2011
I visited this facility
This is a beautiful senior resort type facility. They have independent, assisted, and memory care. they have studio, one and two bedroom spacious fully equipped apartments for independent, These are sunny and airy with sliding glass doors onto a balcony or patio. The assisted have partial kitchens. These apartments are handicapped equipped and have an emergency call system. They also have a secured memory care unit. They offer linen service and housekeeping weekly and as necessary for assisted. In side the main building is elegantly decorated with paintings and statues. They have a lounge with a grand piano, other lobbies and lounges with fire places, a library, fitness center, billiards room,activities room, computer room, a formal and private dining room. They serve three meals restaurant style and snacks available in the formal dining room. They have a beauty salon and barber shop. They have nurses on duty and on call. They have certified caregivers, an activity department and therapists. They offer transport for appointments. The staff seems competent and caring. All residents are checked on every few hours or more. The grounds are beautiful with courtyards with walking paths, flowers, rock formations, sitting areas, and greenery. There are great views of the tall pines and mountains. They are very active offering one on one for the memory care residents. They have theme parties, live entertainment bingo and other games, fitness programs, and many other options. They do a lot of planned outings to shopping, museums, restaurants, and cultural events. This is a great facility.
---
leezee
June 10, 2011
Visited this facility
This was literally like walking into a fine resort! Absolutely breathtaking views of the mountains and an absolutely huge walk-in area. My favorites, if I can try to limit them, were the library, larger than any other facilities I'd seen thus far. Two gentlemen were both in the library, a table apart, deep in reading. I felt that many of the residents here were still very active and preferred more fitness and recreational things than just sitting and watching television. In fact, when my mother and I toured Granite Gate, I never spotted anyone watching t.v., though I did notice residents using computers. While there, a social gathering was just beginning. I'm not sure if it was bingo or bridge but about 15 women were together and their laughter was uproarious. My mom really liked the idea that if all of her daughters (there are 3 of us) and all of our kids came to have dinner with her, they offer a private dining room. We definitely felt like it was more resort-type living. I noticed staff members throughout the tour, laundry service people and most seemed friendly, although busy with work. Another thing I noticed, as my mother and I were leaving and heading back to my car in the parking lot, residents were using their balconies. I remember looking up at one and a gentleman waved. I try not to go into a facility with any expectations, but this particular place actually blew my expectations away. Very well kept, clean and elegant. Friendly staff and residents actually using the amenities offered to them.
---
From Granite Gate Senior Living
---
Granite Gate Senior Living offers compassionate senior care in Prescott, AZ. We strive to create a home-like atmosphere where you and your loved ones can feel secure. Our warm, well-trained staff works closely with our residents to provide the utmost care and comfort. As part of the Five Star corporation, you can be sure that everyone at Granite Gate Senior Living shares the Five Star Values, and is committed to a high level of caring in all that they do. Please schedule a visit to see why we are the first choice in senior care in Prescott, AZ.
Features of Granite Gate Senior Living
---
Costs
Rent Plus Care Fees
Entry Fee
Room and housing options
1-bedroom apartments
2-bedroom apartments
Companion Suites:

We Offer Companion Suites

Studio Apartments
Dining options
In Room Kitchenette
In Room Kitchens
Dining Room Shared Meals
Features
Beauty Barber Shop
Computer Room
Resident Transportation
Party Space
General Store
Tv Room
Garden And Patio
Resident Parking
Spa
Cleaning services
Laundry For Linens
Private Cleaning Services
Housekeeping
Laundry For Clothing
Technology and entertainment
Cable In Rooms
Internet Enabled Rooms
Activities
Offsite Activities
Music
Games
Stories
Religious Services
Lectures Discussions
Book Clubs
Wii Sports
Tai Chi
Fitness Room
Yoga
Gardening
Cooking
Arts And Crafts
Guest services
Guest Parking
Guests At Mealtime
Overnight Guests
Diet
Diabetic
Low Fat
Low Salt
Vegetarian
General
Respite Care
Pets:

All Pets Allowed
Location of Granite Gate Senior Living
---
Request Info
Get full access to reviews, cost information, and amenities