Eskaton Village Placerville
3380 Blairs Lane, Placerville, CA, 95667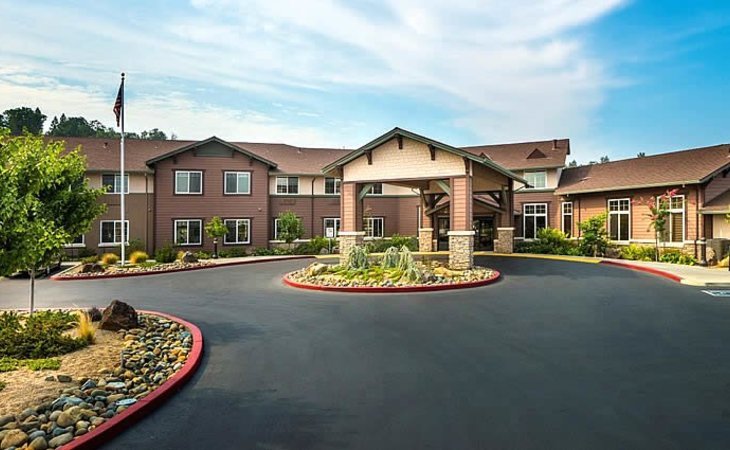 Reviews
of Eskaton Village Placerville
---
Write a Review
October 16, 2017
I visited this facility
Staff members were courteous and hospitable. I was impressed with the way they handled their residents.
October 15, 2017
I visited this facility
No word is enough to describe the beauty of this community. It's by far from all the rest. I am giving them a++++.
October 10, 2017
I am a friend or relative of a current/past resident
such an outstanding community with caring, loving and professional staff . Lots of activities that keep my loved ones busy and active. I highly recommend this place. Truly a 5 star place.
September 29, 2017
I am/was a resident of this facility
Fantastic day for me. Eskaton is the Gold Standard for senior living and care.
September 29, 2017
I am a friend or relative of a current/past resident
I am very happy with Eskaton Village facility and staff for my mom. The staff is very responsive to needs. They are warm and friendly and care about the residents. Thank you Eskaton people, whom I love very much. You are helpful in every way. I hope this will be my home until God calls me home in heaven with my Lord and Savior Jesus Christ, and my dear husband, who is already waiting for me.
September 28, 2017
I visited this facility
Nice family day, including the food and entertainment.
September 26, 2017
I am a friend or relative of a current/past resident
We really enjoy Eskaton. They take good care of Kelly! Everything is very clean and well taken care of. That is the main thing that we like about being here. The personnel is also the best! We like all of the staff!
September 26, 2017
I am/was a resident of this facility
Very nice to see the little kids having so much fun during family day. Hotdogs and popcorn very good.
September 24, 2017
I am/was a resident of this facility
Service is good, friendly and helpful.
September 21, 2017
I am a friend or relative of a current/past resident
My wife is in the memory care center and is receiving good care. She appears to be comfortable with the staff and her home there. I think she has good support and is well cared for by an excellent group of caregivers.
September 13, 2017
I am/was a resident of this facility
Very nice place for the residents who live in this mountain paradise. Friendly staff, good food, and plenty of activities for all.
September 10, 2017
I am a friend or relative of a current/past resident
Great community, friendly staff members, awesome events and activities, highly recommended!
September 09, 2017
I am/was a resident of this facility
Beautiful location, friendly people, caring staff, good food and a safe and lovely place to live.
August 22, 2017
I am/was a resident of this facility
I have been in Placerville for 5 years and it has been a good experience. The setting is pretty and peaceful. The staff is caring as possible.
August 22, 2017
I am/was a resident of this facility
Excellent care. Friendly people.
August 22, 2017
I am/was a resident of this facility
Sherriton knows what she's doing. Always takes me in for appointment and gets all I need completed. Housekeeper, Sharon, is doing a great job. Very good job. Red room looks great! Best I've seen since I have been living here!
August 22, 2017
I am/was a resident of this facility
I like it here. Nice surroundings and very friendly people.
August 22, 2017
I am/was a resident of this facility
Living here is satisfying.
July 17, 2017
I am a current client of this provider
A great community. The bistro is well managed.
July 17, 2017
I am a friend or relative of a current/past resident
This is the second year of Eskaton Kids Connection in Placerville and it has been a fantastic experience. I cannot put into words just how important the youth/resident connection is. Thank you for this opportunity!
July 17, 2017
I am a friend or relative of a current/past resident
The Kids Connection event at Eskaton has been such a rewarding experience for my mother who is a resident. She enjoyed every minute getting to learn about her "buddies" and teach them about her own life. The sharing between generations is vital to foster respect and compassion. And it was fun! Please continue this program!
July 03, 2017
I am a friend or relative of a current/past resident
My mom lived here for 8+ years and was ALWAYS treated with respect and kindness and compassion. It was her home, and she enjoyed many friendships with residents as well as staff. I highly recommend this place for anyone who want s a quality of life and safe and beautiful surroundings.
June 23, 2017
Other
Love the.concepts of the events, showing care and.love for the residents.
June 16, 2017
I visited this facility
Eskaton is a very nice and clean place. Staffs are welcoming and pleasant. They have superb facilities. They always offer variety of events and entertainments.
January 30, 2017
I visited this facility
Eskaton Village was positive and good. The staff was friendly and accommodating. Most of the residents were happy but a few were bored.
December 04, 2016
I am a friend or relative of a current/past resident
My mother has resided at Eskaton for two years now. I cannot say enough good things about Eskaton Village and the wonderful, well-trained and caring employees. My mind is at ease knowing that she is always well cared for when her family is not with her. Lots of activities and excellent food. A welcoming and comfortable home for my mother.
November 18, 2016
Other
As a volunteer, I enjoy watching the residents do activities that help them with their eye and hand coordination like balloon volleyball. Everyone plays along with the residents. Also the type of music that is played, the residents sing along and enjoy listening to it.
November 17, 2016
I am a friend or relative of a current/past resident
Overall good care. I make sure my mom is taken care of well, so I go in at least once a week. Everybody is very friendly. The doctor said my mom looks well and seems to be taken care of well.
November 13, 2016
Other
I am a volunteer in the memory care unit. The residents are treated with love and respect. They are kind and caring. The residents are happy and engaged by staff in activities and exercise daily. I would trust Eskaton with the care of my family any time.
November 12, 2016
I am a friend or relative of a current/past resident
It is a wonderful thing to know that your loved one is in the best possible place. We feel our mother is clean, well cared for, and in a happy nurturing place. Everyone here is competent and pleasant and makes us feel welcome when we visit.
November 12, 2016
Other
I have been a volunteer since August 2014. I help out with activities and outings. Eskaton does a fabulous job planning fun and practical activities for their residents. The residents are genuinely happy and well cared for. I do hope when my time comes I can stay here.
September 10, 2016
I am a friend or relative of a resident
Very caring and always checking on their needs. As a daughter of client, we are very happy. We are always being kept abreast of what's happening. Thank you
August 31, 2016
I visited this facility
Eskaton is a nice facility. It's clean and they seem to care about the people. The staff that toured us was very capable. The dining room was pretty nice, but it was a little cramp.
August 25, 2016
I am a friend or relative of a resident
Everything is amazing at EVP. Just driving up Blair Lane to the facility puts you in the mood to enjoy your visit. The setting is beautiful and serene. The management staff and caregivers are cordial, very friendly and ready to help. My wife is in the Memory Care Unit, suffering from Alzheimer's disease and is treated with all the care and respect a queen would deserve.
June 29, 2016
I visited this facility
I liked Eskaton Village, but they didn't have anything other than a little tiny studio cottage. You get into a studio and move up. I just felt it won't work because we would have to store all of our stuff. It was a very nice studio for one person, and it even had an area around it where you could put in a garden. The kitchen had a microwave and two burners and no oven. It wasn't a full kitchen. There wasn't much storage in the kitchen. They had a nice indoor pool with changing rooms so you don't have to go there in your bathing suit in the wintertime. They had little cars that can take you around the village to various places. If you don't have a car, they will come and pick you up. We ate there, and I was a little disturbed in the presentation of the food. I asked for some cottage cheese and peaches, and I expected a plate with a little dab of cottage cheese on it and a peach, but I got a bowl of cottage cheese with diced peaches on it dumped on top of the cottage cheese, liquid and all.
June 24, 2016
I am a friend or relative of a resident
Wonderful! We love the staff, every staff member treats all the residents with love and respect. They brighten my mom's day and tuck her in at night with loving care. We are thrilled to find such a perfect home for my mom.
June 17, 2016
I am/was a resident of this facility
The caregivers are helpful and caring. The administrators are very supportive. This is a positive experience.
May 11, 2016
I am a friend or relative of a resident
The staff members are wonderful. We are there almost daily and see how they interact with the residents, treating them as family. When we can't pop in we know mom is in good hands.
October 29, 2015
I visited this facility
We visited Eskaton Village Placerville. The only thing I did not care for was that the community itself felt like it was out in the boonies, and I felt "Oh, my God! If there is a fire, how can everybody go out?" There was a long road to get to the Escalon in Placerville. However, the people were superb. The place was very fresh. The activities really worked. I had not eaten the food, but it looked good. The menu looked superb. They had chefs there. They had facilities like rooms if you wanted to have the whole family group there. They had the same types of outings, and they also took people to doctors' offices. They do crafts and they had little examples of what people had drawn. I thought that would be fine. They also had a game room. They also had a movie room. If my mother-in-law had not chosen the one she was in now, we would be happy with that too. They seemed very competent. They had monitors. If somebody went into the bathroom like 40 or 50 times, then it was okay and alert or if nobody went in and out of the room, that was alert also. So, they were very into making sure that the residents stayed healthy.
September 29, 2015
I visited this facility
Eskaton Village Placerville was great, excellent, and incredible. It was clean, well-maintained, and looked nice. The staff was very pleasant. I was very impressed. If we do have to move our grandmother at some point, that would be the place that we would choose for her.
August 10, 2015
I am a friend or relative of a resident
My mother is in Eskaton Village. I like it. It is good for my mom. She is much more comfortable. It is a healthier, more nurturing environment. It is good. She has her own room. The food is a lot better than where she was before. I like the care. I like the staff. I like the overall feel of the facility.
July 14, 2015
I visited this facility
Eskaton Village Placerville was small. The dining area was OK.
February 28, 2014
I visited this facility
My first impression of Eskaton Village Placerville was that it was very nice and very clean. It was pretty and brand new. They are in a very nice wooded area. A friend of mine had placed her mother there. They have assisted living and then they have where you really actually need a lot more help. The community was beautiful and very clean. I had visited my friend's mom there and I just like it. For accommodations, the assisted living ones were like very large bedroom and very large bath. They did have a nice little living area and a little kitchenette that had a microwave and a little refrigerator. They were very nice. They also offered cottages and little houses with garages. They did have one-bedroom and two-bedroom cottages. They had high ceilings and they were really roomy. They had little cooktops. They were nice. Everything was clean and new. For activities, they did have all kinds of things. At that time, they were painting. They also had transportation that would take them to doctors, etc. I had seen the dining room and the menu. Actually I was impressed with their menu. My friend's mom has said that she does enjoy the food there.
September 02, 2011
I visited this facility
I visit my grandmother several times a month and i got to know a lot of the staff at the facility. They are very nice and friendly. They look happy and enjoy their work. My grandmother loves the caregivers. She said they take care of her like a queen.
June 23, 2011
I visited this facility
Over the course of eight weeks I volunteered one hour per week at Eskaton Village, and despite my initial apprehensions, I found the facilities comfortable and quickly came to look forward to my visits. My principle task as a volunteer was to facilitate a Wii Games activity hour, other activities included Bingo, Art, and Yoga. Various off-site activities happened on a weekly basis, such as trips to the store or casino. The staff was very friendly and professional; effort was made beyond suiting physical and medical needs of the residents to provide a social atmosphere while respecting privacy. Compared to the old school nursing home this felt like a resort, no hospital type of feel in the assisted living areas.
March 09, 2011
Amazing place
If you want to read their reviews, go to their official website. This community is exceptional in the way they provide care. My mother lives in this place and the staff is absolutely wonderful, bar none! They treat you like family and not just a client.
July 25, 2010
Highly Recommend!
Look no further, this is a very clean, beautiful and nice place for your loved one. My parents moved at Eskaton when it opened over a year ago and they are very happy with the caregivers and all the staff. Everyone is very attentive to the clients who live there. I visit regularly and I've seen enough to say they do an exceptional job.
July 25, 2010
Excellent Place for Dad
When I first started looking for an Assisted Living for my Dad, I looked at 6 places. I was impressed with this community. I moved my Dad almost a year ago and he is very happy with everything about Eskaton. The staff is great including the Administrator who is very friendly and accommodating. I'm really surprised about the negative review. Anyway, I hightly recommend this place.
May 29, 2010
Mom loves it
It was very hard to think about putting mom in an assisted living facility. She lived with me for over a year and I watched her slipping farther away each day. We looked at a lot of communities and decided on Eskaton in Placerville. It is absolutely beautiful, clean and the staff is so loving and kind and very capable. Mom fit in immediately and is always saying how much she loves everyone who works there. She recently fell, when visiting relatives and the added concern and care upon returning to Eskaton has been superior. Her memory has actually improved since she moved into Eskaton. I'm sure her improvement is because of the added activities and socializing that the staff has provided. They are good at notifying me if there is ever a problem . She considers Eskaton her home .
See all reviews (49)
See fewer reviews
Features of Eskaton Village Placerville
---
Costs
Minimum Rate:

$5154/month

Minimum Memory Cost:

$5984/month
Room and housing options
1-bedroom apartments
2-bedroom apartments
Studio Apartments
Dining options
In Room Kitchenette
Dining Room Shared Meals
Features
Beauty Barber Shop
Computer Room
Resident Transportation
Party Space
Tv Room
Garden And Patio
Resident Parking
Pool
Spa
Cleaning services
Laundry For Linens
Private Cleaning Services
Housekeeping
Laundry For Clothing
Technology and entertainment
Cable In Rooms
Internet Enabled Rooms
Technology Extra:

Emergency Call System
Guest services
Guest Parking
Guests At Mealtime
About Eskaton Village Placerville
---
Welcome home to Eskaton Village Placerville (a multiservice retirement community). Eskaton Village Placerville sits nestled among the pine trees of the Sierras "above the fog and below the snow." The 65 acre site provides privacy and serenity on a secluded hilltop, permanently buffered from other developments. Residents can enjoy the delightful views and walking trails, meander through the quaint, historic town, or take nearby Highway 50 to explore the county's many recreational resources. Nationally recognized Marshall Hospital is just five minutes away. The Eskaton Village Placerville community offers independent living, respite care, assisted living and has a wonderful memory care unit.
Memory Care - The Memory Care Center is designed to offer a supportive and secure environment for individuals with memory impairments. The Lodge's home-like setting and specially trained staff represent Eskaton's commitment to dignity and quality of living for all residents.
Private rooms in small clusters with shared common areas (dining, recreation, etc)
24-hour personal assistance with bathing, dressing and grooming
Medical management
Bedside care and tray service for minor, temporary illness or recovery from surgery
Recreation and social programs tailored for memory impairment
Enhanced security system
Emergency alert/response system
In addition, the fitness center has an indoor swimming pool, exercise room, locker rooms, space for group classes (yoga, low-impact aerobics, tai chi), outdoor patio with barbeque are, community room with a kitchen available for events and parties. Full of the best amenities and standard of care, Eskaton Placerville offers a plethora of options as your needs change.
Reimbursement
Private Pay
Apartment Features
Kitchenette, Temperature Control, Emergency Call System
Bathrooms: Private
Facility Features
Activities/Recreation, Beauty/Barber Shop, Internet Access, Private Dining Room, Fitness Room/Gym, Gardens/Outside Patio, Facility Parking, Private Laundry, Guest Meals, Room Service, Pharmaceutical Service, Transportation, Pet Permitted
Map
of Eskaton Village Placerville
---
Get Costs