Sunrise of McCandless
900 Lincoln Club Dr., Pittsburgh, PA, 15237
Talk to a Family Advisor: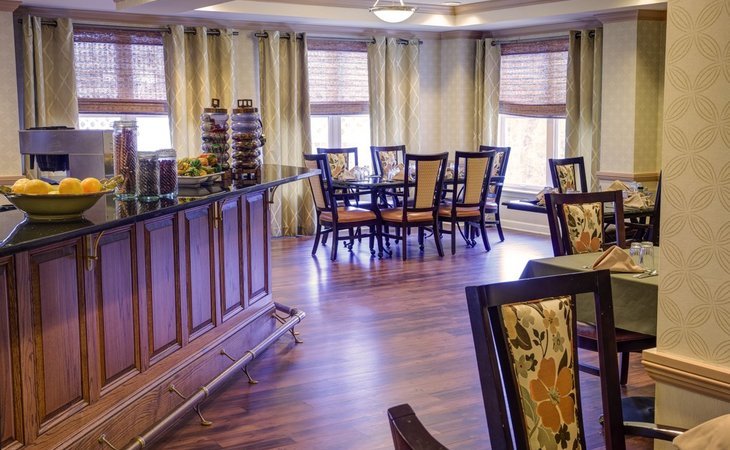 Reviews of Sunrise of McCandless
---
PDCO
June 26, 2017
I am a friend or relative of a current/past resident
We are very concerned about the level of care that our mother is receiving at Sunrise, McCandless. Many of the care givers are very good and attentive but VERY much overworked and understaffed. On 6/25/2017, while visiting we found that there was just ONE caregiver on the first floor to manage the many residents on this floor – by herself (5P – 11PM)! This DOES NOT meet the care requirements for the number of residents and the level of care required for these residents. The director of this facility is aware of the shortages but very slow to respond. There has been a fairly high turn-over of caregivers at this facility which is concerning in itself. We feel that very frequent checking is necessary to insure the level of care and are often disappointed.
Provider Response
We're sorry to hear that you did not have a positive experience. We care deeply about the safety and well-being of our residents and staff. Please contact us at information (at) sunriseseniorliving.com so that we can learn more. –The Sunrise Team Dear Reputation Specialist at Caring.com,
---
Beth216278
April 12, 2017
I visited this facility
The one that stood out to me was Sunrise of McCandless. They had a dog, which I thought was nice. It was very nice, clean, and very nicely appointed in the public areas. The private rooms were plain but doable. They had a lot of activities for the seniors. Everyone looked pretty well cared for.
---
Jada P
March 09, 2017
I am a friend or relative of a current/past resident
We have a parent that has been with Sunrise McCandless for over a year. The staff is friendly and helpful but over the past few months their newer and younger caregivers are not as trained and attentive to the residents needs. Too often they are on their phones and avoiding the residence. The quality of the care has declined and we are becoming more concerned with their professionalism and our parents care.
Provider Response
Please know that we take all concerns seriously and would like to learn more about your experience at Sunrise. Please email Information (at) SunriseSeniorLiving(dot) com with further details so we may follow up. Thank you, Sunrise team
---
Carol637331
January 19, 2017
I visited this facility
My mom will be moving to Sunrise. They have a house dog that interacts with the residents. The staff and residents are very friendly. They have a range of rooms to accommodate different levels. Security is fine; they have a person at the front desk at all times, a nurse on staff, and they're a block away from a hospital specializing in geriatric care. It was convenient for me and my relatives.
---
Penny382523
December 27, 2016
I visited this facility
Sunrise of McCandless was more active than the others I visited. There were more people up and about doing things. I spoke with some of the residents and their families, and they were really happy. Instead of just sitting in a wheelchair, bed, or at a table, people were outside socializing. The staff was fine, and I was very pleased with the rooms. They seemed to be very nice. What I liked about the shared rooms was that each had their own bedrooms and there was a door. They also had little kitchenettes.
---
Sue221057
December 08, 2016
I visited this facility
Sunrise of McCandless was very nice. It is very expensive, and it does offer care for a little longer than some places. The staff was very nice. It was a nice tour. They took time to speak with us, and they were very caring. The rooms were very nice. I understand the cost, but it's prohibitive.
---
Patricia731521
November 06, 2016
I am a friend or relative of a current/past resident
My mother is in Sunrise of McCandless. It is a wonderful place, and she has been there about a month. It seems to be a wonderful organization to date. I have been there while my mother was eating and she seemed to enjoy it. The place is extremely clean and extremely well-maintained. The only thing was the occupational therapist ordered a wheelchair for her when I have one here, and the nursing staff knew that I had one and that I was bringing it in. They should have -- and as they said they normally do -- call the family before they order equipment. They ordered equipment for her which would have been charged to her account when it wasn't necessary. So it was simply a little lack of communication on that one.
---
Lisa33
August 22, 2016
I visited this facility
I would highly recommend Sunrise of McCandless. It was my first choice for my grandmother. Our problem was the distance. It was very clean, everyone was friendly, they had various room options available, and the entire staff was extremely friendly and helpful. They paired the residents with partners when they would first come in to help them get acclimated to the facility. It was very nice. It was a multi-transitional facility where they went from independent living all the way to hospice. It truly felt like home when you walked in there. Even as a visitor, I felt like it was home for someone. I didn't get that feeling anywhere else.
---
James121694650
March 18, 2016
I am a friend or relative of a resident
My sister-in-law is in Sunrise and loves it, but it is very expensive. It is a beautiful facility. She is well cared for. The level of care is great, but every level of care is charged. If they feel they have to remind her to go to breakfast, lunch, and dinner, they charge you for that. If they need to come in and have assistance with clothing, they charge you for that. Everything has a charge. I will recommend it to others only if they have money. The apartments are absolutely beautiful. Everything is great.
---
Kim115651150
November 10, 2015
I visited this facility
My mom is on a waiting list for Sunrise. It is very clean with very nice people. The studio apartments and shared suites are clean and of a decent size. They have movie nights at 8:00 p.m. and activities during the day.
---
Caring110728650
September 30, 2015
I visited this facility
I did go to Sunrise of McCandless and it's a beautiful facility. It seemed like a very engaged and active community, which I liked a lot. If there are folks who are looking for more activities, they have that at Sunrise, especially for those who are more in the assisted living aspect of their lives. They have a separate floor for dementia and memory care and those who don't get engaged in some of the activities. It's a very bright place. When you walk in, there's a lot going on. They have a house dog that lives there. It's very clean and nice. and I liked the sense of community there. It was very open, and the people I met were very nice and very helpful. There was really nothing negative.
---
Larry112920650
September 15, 2015
I am a friend or relative of a resident
My mom is in Sunrise of McCandless. The staff has been very good in the move-in phase, and the follow through is good throughout. We really have good experience. We get what we feel is consistent and accurate feedback, and we are very pleased so far. It has only been six weeks, but so far, so good. The rooms are efficient. They are shared spaces, but they are situated in such that each one pretty much looks by itself. So, even though it is a shared facility, everyone has their own privacy. I know my mother is very much enjoying karaoke that she does there. They also have regular exercise program. We recently go to a facility wide luau party. They had entertainers, a big barbeque, and a roast outside. It is very nice. What impresses me the most is the fact that there is a very "fall in love" living engagement for all the residents, however, it is not force for militaristic. If someone is having a bad day or does not feel like being in a group, that is OK, but they are not ignored and left. Someone is with them, talking to them, and helping them. I am very impressed with the flexibility of day-to-day care.
---
Samuel Right
February 28, 2015
I am a friend or relative of resident
It is all about money....what they can get out of you!!! Some care managers are very good but they do not stay there because of their low wages. A lot is expected of these folks to take care of the residents. The marginal employees stay because it is a paycheck. Huge turnover of employees. My mother was there for along period of time....missed medications, waiting long periods of time when the call alarm pulled, etc. Ask a lot of questions and make notes and challenge management. The look is a lot of fluff on the outside until one is involved over a period of time with a relative. Bottom line...management is only concerned with the top line revenue and expense control ( serving cheap cuts of meat...too tough for the residents to chew!) BEWARE!!!
Provider Response
Thank you for your review and please know we take all concerns seriously. Please email us at Information@SunriseSeniorLiving.com as we'd like to learn more about your experience with Sunrise. Thank you, Sunrise Team
---
Caring102445750
February 25, 2015
I am a friend or relative of a resident
My mom moved to Sunrise of McCandless about a week ago. The thing that impressed me most is the staff because my mother is not well, and they have been nothing but fantastic. They bring her out in the community as much as they can. She is wheelchair confined. I even see them with the other residents, and they are so kind, giving, and respectful. It is also lovely. My mom has a shared suite where she has her own room with a door, but it has a shared bathroom. She doesn't participate much in the activities. She watches them, and as I have said she's only been there a week. She is now in hospice care, but she smiles when they still take her out to sit with the community, which I love them for. They have bowling. I see them play with balloons. The food is quite good. It is delicious. It is very beautifully set-up. On the Alzheimer's floor, they have a really nice balcony so the people can still go outside and sit but they can't wander off. It is secured, but it is beautiful, and I am sure in the summer time it is going to be lovely. They have a gazebo, lots of outdoor chairs, and a pretty wrap around porch. I am so impressed even their sales person knows every resident's name that comes up to her. Their personnel is what I will recommend above all, and the staff are quite wonderful. I do recommend them very highly.
---
Caring101198450
February 20, 2015
I visited this facility
Sunrise was relatively new. It seemed to have a lot of different activities going on. They had a couple of different movies at night. They had a lot of interactions. The staff seemed fairly well and seemed attentive. Their dining facility was a restaurant style. They had a couple of different servings that you could have for lunch or dinner. The rooms seemed fairly good. The shared room also had a shared bathroom. It was a very nice and very organized place.
---
Caring101842150
January 29, 2015
I visited this facility
We were there at Sunrise, and it was very nice, but it was just way too much for our mother. It is like a four star hotel that has four or five levels to it. There was all kind of things that it would just be overpowering for my mother. She is 92 years old with Dementia, and it was just too much for her. They had an open house with wine and hors d'oeuvres. Everybody was very nice. The woman talked to us and explained everything to us. I didn't have anything against it except that it just wasn't appropriate for my mother.
---
Rhona
June 30, 2014
I am a friend or relative of resident
It is a beautiful package on the outside. That is the only nice thing that I can say. Understaffed. Very expensive. If your loved one can no longer speak up if something is wrong they are on their own. When your money runs out, no Benevolence fund. Upon admission you are told that you will always have a home here. What they really mean is, as long as you have money. You are out on your ear when you have no funds. Foods listed on menu are always served to those on the first floor, because they are not memory impaired. Those who are memory impaired may or may not get what's on the menu. Usually they are "all out" by the time the upper floors are served their meals.
Provider Response
Thank you for your review. We take all concerns seriously and would like to learn more. Please email us further information at the inbox Information@sunriseseniorliving.com . Thank you, Sunrise Team
---
Susan87421450
June 27, 2014
I visited this facility
Sunrise of McCandless was very nice. It seemed a little high class. I found nothing wrong with it. I just didn't know if my aunt would have been comfortable if we kept her there. The staff was very nice. They were very helpful and kind. The facility was beautiful. But it wasn't some place that my aunt would feel comfortable living in.
---
Diane79195550
April 01, 2014
I am a friend or relative of a resident
My aunt has been in Sunrise since November. I liked the facility, the layout was very nice, there's privacy, and it was quiet. I liked the people, and the location is convenient for me. I liked the atmosphere and that they always had a lot going on. It just seemed like they get personal, one-on-one care. They have the same caregivers every day, so they are familiar with the patients and get close to them. They have been very good, and I haven't any complaints with anyone. The rooms are divided into little quads; each area had its own little living room, and it has a homey feeling. My aunt has a studio with a little kitchenette and a bathroom. They have bingo, movies, they have entertainment come in weekly, and they take them on field trips. She has no complaints about the food.
---
Caring77813250
January 31, 2014
I visited this facility
I have come across Sunrise of McCandless through a referral. The atmosphere there was much better. When we walked in, it seemed like it was a five-star hotel more than an assisted living. The staff seemed to be very positive. Their rooms were nice.
---
Miriam4
October 22, 2013
I visited this facility
The facilities at Sunrise of McCandless are so gorgeous. It looked like a five-star hotel. When we went there for an interview, the seniors were playing bowling. They had a movie scheduled for every night, so they had a lot of activities. They had a buffet of popcorn, coffee, doughnuts, and fruits in the front of their "hotel". Their rooms were gorgeous and very spacious. Everything was pristine and clean. They also have a memory care facility on the third floor, which had a special room for people who had some down problems with all those lights on the ceiling. The staff was very helpful and very nice.
---
Caring72375050
October 11, 2013
I visited this facility
Sunrise was amazing. It was beautiful and the people were great. The rooms were very nice. I wouldn't hesitate to place my father in all there at all, but they turned him down because they would not be able to provide the level of care he needed for his condition.
---
Jane29
July 25, 2013
I am a friend or relative of a resident
My mom moved in at Sunrise of McCandless a couple of weeks ago in their dementia locked down unit. The facility is close to our home and it's very nice.
---
Aileen1
June 07, 2013
I visited this facility
The tour at Sunrise was very good but it's just that mom is not interested and doesn't want to move in right now. She's still staying in her own home.
---
JRudy20
October 18, 2012
I am a friend or relative of a resident
Personally, I thought that the staff, amenities, and facilities were all in tip top shape, but after asking the thoughts of my family member, they believed it was an act put on when there were visitors, and that the overnight staff was not as friendly. Everything seemed clean during the visit, and all staff members were friendly with family members. Our resident was upset with the level of service provided, and said that after visiting hours, everything changed at the facility.
---
From Sunrise of McCandless
---
Step into a Sunrise Assisted Living community and you can't help but feel at home. We stop at nothing to make your experience warm and inviting, from our homelike exterior architecture, to our comfortable community areas and choice of suites to our exceptional outdoor gardens and landscaping. Look around and you'll notice fresh flowers throughout the residence, and you may even spot our dog or our cat. And of course, there are always the friendly smiling faces of our staff to ensure that each day spent here is a welcome one.
Sunrise of McCandless offers an innovative Reminiscence Neighborhood which addresses the unique needs of residents with memory loss and other forms of memory impairments, along with Terrace Club for seniors with early memory loss. In addition, The View provides customized assisted living for seniors with low vision in a comfortable environment.
Location of Sunrise of McCandless
---
Get Cost Information
Get full access to reviews, cost information, and amenities