Atria Paradise
1007 Buschmann Road, Paradise, CA, 95969
Talk to a Family Advisor: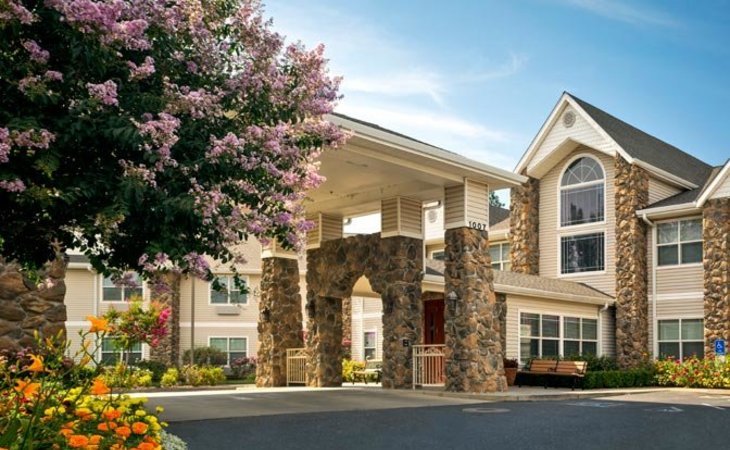 Reviews of Atria Paradise
---
Marianne031364
February 07, 2017
I visited this facility
Atria Paradise covers about everything that typical facilities are like. The costs are much lower, but they are going to be going up because it's gone up 18% in two years, and that has been a struggle for us. We are in a cottage; it is 2-bedroom with 2 bathrooms and a garage. I think the food needs some improvement; there are too much carbohydrates. I've been here for over 20 years, and to me it's like going from a menu way back 20 years plus ago. However, the workers know what they are doing and are very compassionate. The grounds were absolutely beautiful, and that's what turns me on to come here as it's very beautiful.
---
Nanci473077
November 23, 2016
I visited this facility
Atria has an age in place philosophy, where as people progress through the different stages of dementia, they're equipped to deal with each stage and add levels of service. You only pay for what service you need. The staff was caring, and the longevity of the staff impressed me. Most people had been there between 10 and 15 years in the jobs that they were doing. They knew the residents by name, they seemed to know what the levels of memory loss were, and they address them accordingly. It was very respectful, clean, and had a hotel or apartment atmosphere.
---
Bob078328
June 28, 2016
I am/was a resident of this facility
I like Atria Paradise, but they don't seem to have enough help. I like the food. The staff is very friendly, helpful, and have been very good.
Provider Response
Hi, Bob. Thanks for reaching out with feedback. I'm glad to hear that you had a pleasant culinary experience. If you'd like to talk more about any staffing concerns, please feel free to send me an email at customerserivce@atriaseniorliving.com.
---
Eve6
May 11, 2016
I visited this facility
Atria Paradise was very well done, very clean, and very updated. The staff was very kind and knowledgeable. The food looked great. They gave us some apple turnovers that they made that were absolutely delicious. It was a very nice facility. They had exercise programs, outings, movie nights, and themed parties. Atria had a nice program where they teamed up a resident with a new resident, so that they had a companion during their first month. They also had a Wall of Honor for the Veterans with their pictures up and what service they were in. I liked this place.
---
Paul123668650
May 11, 2016
I visited this facility
Atria Paradise was clean, and I liked it. The staff seemed friendly and helpful. The dining area was very neat and clean.
---
Angie17
September 08, 2015
I visited this facility
I got to see Atria Paradise (Formerly Oak Knoll Senior Living) a little bit inside, and it's not very far from home. They had people that I could hire right in there to come and bathe my husband, come and change him, etc. It was an extra charge, but that was fine. They had two-bedroom units. They had a couple of vans that they can take people wherever they want to go, shopping or to go to friends; they just have to make an appointment. They had a very large TV room and a game room that I saw personally.
---
Caring100515550
October 18, 2014
I am a friend or relative of a resident
We got my mother-in-law in assisted living at Atria Paradise. We chose this place because it was the best one out there, and we liked that it was all-inclusive, it was clean, and they had activities. It is a very nice facility. It is very clean, and the staff is adequate. My mother-in-law loves the food. She says it is very, very good.
---
songbird75
October 05, 2014
I am/was a resident of this facility
I choose Atria Paradise because of the price. They are having a discounted price on rental fee during the month of July and we happened to go in the last day of July. It is cottage with two bedrooms, two baths and a garage. It is fine, but the bathroom, showers, and tubs are huge problems, because the showers are too small and the bath tubs are dangerous because the bottom of the bathtubs are actually higher than the floor that you set out of the tub. However, they are going to change it, and the director says it will be an ADA standard. Also, we have a couple of other things in our cottage that needs attention, and it has not happened yet. So, I will address that today. The dining staff is great. However, the food is not okay; a lot of people are complaining about it. They get their products from a company and I am concerned about salt because my doctor tells me not to have salt. They have a wide variety, but something's not right, and I haven't quite figured it out yet. They have lots of activities, but I only participate in a couple of them which were music related like sing-a-longs and listening to the different styles of music.
Provider Response
We are happy to hear that you appreciate our dining staff and would like to make you aware of our monthly "Food for Thought" meetings where our residents are invited to make suggestions and comments about the current menu and even share recipes and sample new menu items. We're happy to accommodate no-concentrated sweets and no-salt-added diets and your menu suggestions are always welcome. Please also feel free to email us directly with questions and concerns at customerservice@atriaseniorliving.com, including "Atria Paradise" in your subject line so we may quickly include the right people in the correspondence. We are here to help.
---
Caring1888
September 30, 2014
I visited this facility
We have chosen Atria Paradise. We haven't moved in yet. The people are very professional, very nice, and we like them immensely. The surroundings are attractive. We have quite a few trees around. It is an attractive area. The facility itself is attractive. It is kind of traditional in furnishing, but it is attractive and seems to be very well maintained. Our impression of it is favorable, or we wouldn't have agreed to move in. We are favorably impressed with it so far.
---
Cherri1
August 29, 2014
I visited this facility
Atria Paradise is a really nice place. It's big, clean and the staff was great. The rooms were nice -- it's like having your own little studio apartment and you have your own bathroom. The dining area is like a restaurant; there's a lot of tables and white table cloths. Everything seems to be very nice, professional, and caring. They do have a theatre room where they have really nice chairs for people to sit and watch a movie. I couldn't afford to live there as most of their homes are too expensive, but the place is very homey and I liked it.
---
LaurenM
August 15, 2014
I am a friend or relative of resident
My Mother in Law resides at Atria and we could not have had a better experience. The staff were so helpful with the transition and helping with the initial move in. My Mother in Law was very skeptical, but she is now loving her new friends that she has met, the activities that are being offered and the staff that treat her like family. We are extremeley happy with this choice that we made.
---
RegJon67
December 23, 2013
I am a friend or relative of a resident
Atria bought out Oak Knoll Senior Living and the facility is not the same. 1). Higher rent 2) Don't answer the phones at night, 3) Don't return calls when requested, 4) Gave my mother wrong drugs, 5) Cannot find a supervisor in the evenings, 6) Don't talk to family in charge, 7) New staff not knowledgeable about residents, 8) General staff apathy about their jobs and residents.
Provider Response
Your comments are very concerning to us. We would like to discuss this matter with you personally to get a better understanding of the situation. Please call (516) 829-4100 or email us directly at customerservice@atriaseniorliving.com, including Atria Paradise in the subject line.
---
Paul18
August 28, 2013
I visited this facility
It was a nice and clean facility. I liked it. However, it was way too expensive. I would recommend it to others.
---
Smltwngrl
July 21, 2012
I am a friend or relative of a resident
Aesthetically facility is very pleasing. Can't say much more. Assaultive residents permitted to remain long beyond evidencing that they are such. Resident toiletry supplies not monitored for timely replenishment. Prospective residents may be pre-assessed as being appropriate for one level of care, and then if they display initial resistance to residing at Oak Knoll they are relegated to a higher, more costly level of care and not re-evaluated and downgraded after acclimating. Personal mail withheld.
---
commercesd
June 09, 2011
Visited this facility
The Oak Knoll Senior Living facility is in central Paradise, CA near the Sierra Nevada Mountain foothills. The area's pine trees provide a forest-like backdrop that is quite beautiful. We used to vacation in the vicinity a lot as kids, so our aunt really likes the area. She suffers from memory loss, so we need to find her a place where she can live that offers assisted care.
The common areas were wide and open, inviting participation from the residents. Guests can feel welcome and there are private areas for visits. The grand room features a piano and built in book cases. It looks like the drawing room of a mansion, with a warm fireplace. The communal rooms were all spacious and easily accessible, with windows of great views to the outside.
The studio apartments are just a little more than 400 sq. ft. and the units with bedrooms feature walk in closets. The kitchenettes are fully equipped and each room has a nice sized private bathroom. The retirement cottages were really lovely, with spacious full kitchens and two bedroom and bathrooms. The neutral decors are designed to allow for individual additions to suit one's personality, which we really liked.
The staff went out of their way to ensure that all of our questions were answered. They showed us everything there is to offer and we were most impressed. The residents volunteered information as well, which really put us all at ease. It's really more like a resort than a retirement home. We could see that anyone would enjoy staying there. In fact, my cousin remarked that he'd like to move in (he's only 35 so he's too young)!
---
---
Nestled in the foothills of the Sierra Nevada Mountains lies Atria Paradise, an independent and assisted living community for active older adults in historic Butte County. As part of the Chico metropolitan area, Atria is located near restaurants, medical centers, shops, museums, places of worship and other local points of interest. Residents can relax with their neighbors inside their beautiful mountain community, or venture into town during one of our regular group excursions. Atria Paradise offers a lifestyle of choice, with care that can be adapted as individual needs change. Our independent living option offers spacious, freestanding cottages - a model of maintenance-free retirement living. Our assisted living option provides just the right amount of discreet support to help residents remain as independent as possible, while our Life Guidance&reg memory care program provides specialized care for those with Alzheimer's or other forms of dementia. Our responsive, 24-hour staff, comfortable surroundings and industry-leading quality standards make Atria Paradise a senior living community that truly lives up to its name.
Atria Senior Living is a leading operator of independent living, assisted living, supportive living and memory care communities in more than 180 locations in 28 states and seven Canadian provinces. We are the residence of choice for more than 21,000 seniors, and the workplace of choice for more than 13,500 employees. We create vibrant communities where older adults can thrive and participate, know that their contributions are valued, and enjoy access to opportunities and support that help them keep making a positive difference in our world.
Features of Atria Paradise
---
Features
Beauty Barber Shop
Resident Transportation
Garden And Patio
Resident Parking
Technology and entertainment
Licenses
Licenses

License #045002489

State Licenses

45002489
Location of Atria Paradise
---
Get Cost Information
Get full access to reviews, cost information, and amenities