Brookdale Owasso
12807 East 86th Place North, Owasso, OK, 74055
Talk to a Family Advisor: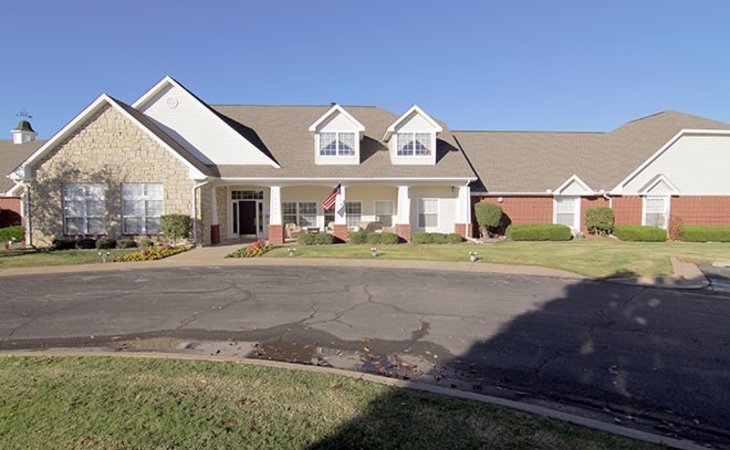 Reviews of Brookdale Owasso
---
Sherry and Kent
March 29, 2017
I am a friend or relative of a current/past resident
Our mother moved into Brookdale two months ago, During that time her health has vastly improved, which would not have happened had she continued living alone.. The entire staff is friendly, caring, patient, and competent. The residents, too, are friendly. Meals are delicious. Daily activities are provided for residents as well as monthly celebrations. The staff strives to involve family in the care of their loved one.. People from the community often visit to share music and inspirational messages. Brookdale Owasso provides a nurturing environment to foster and promote the well-being of their residents. We are so pleased to find such a wonderful facility.
---
Visitor120236550
February 26, 2016
I visited this facility
Brookdale is clean, and fine; but I think people there were just older. We didn't want father to be around a lot of elderly people in wheel chairs. The staff was fine, the rooms were nice, and average.
---
Lance7
February 22, 2016
I visited this facility
Brookdale Owasso seemed like a nice place. I wasn't really fond of the location, though. It was a too busy and wasn't quite what I was looking for for my dad. The rooms seemed OK but a little pricey. The dining area seemed nice.
---
Cathy112402250
August 31, 2015
I am a friend or relative of a resident
My parents just recently moved in at Brookdale Owasso. The place is very clean and well kept. I've eaten there, and the meals are excellent. The care is excellent. My mother has meds given to her. The physical therapists have just been amazing. They work with her. The nursing staff is very nice. The aides know my parents by name. Special requests are not a big deal. My parents enjoy the activities. They like exercise class as well as bingo trivia questions and the crossword puzzles. They enjoy the entertainment at night. It's a very family-oriented facility.
---
Shelly8
June 30, 2015
I visited this facility
We looked at Sterling House. The staff was very courteous. I liked that it was closest to my brother.
---
Caring102208150
February 11, 2015
I visited this facility
I thought Sterling House was nice; they seemed to care for their people. I think my mom's initial problem was that the apartments were small. There were different reactions that she has. It is a very small facility, but I can't remember how many people are in it -- maybe 48. The dining room is basically right when you come in the door, and that was kind of the sitting area. There's a small TV room to the side. The people were extremely friendly, and the person who is in-charge of the activity there is a caring and wonderful person. The personnel were nice.
---
Karen0171
May 28, 2014
I am/was a resident of this facility
We stayed in Sterling House of Owasso for respite care, 2 times, for a month each time. It was a very attractive and clean property; it was just not big enough for me. It was right across the street from the high school, so when they were practicing the band you could hear music. You could go out and sit on the 4th of July and watch the fireworks. The halls were very clean. There was a lovely sun room with a glass window, white furniture, and well-stocked books and magazines. There were a number of men that were there, and they liked to play dominoes and checkers. They accommodated that if they wanted to play late. The employees were very caring and pleasant. The employee to resident ratio was very good too. They knew that I didn't know people there and I stay up late. They would drop by and talk to me. They were very accommodating in that way. It's one of those places that you feel safe. They take care of a lot of memory care residents, so the doors are kept locked. If you want to go out, you have to get an employee. I think that's a good idea because some others don't have relatives left. The apartments were very clean. The rooms were very small about 400 – 450 square feet. I think they were only 3500 USD for the base rate, but if you needed more room they would put two together, but that would cost you 7000 USD, but you wouldn't have any more room. However, they didn't have a kitchen in them. Everybody ate at the same time, except when you want to go to the small refrigerator and get something out. They have sit-down meals at longer tables. You get to know the other people that are there because you sit by different people at different times. One of the things that was good was that they didn't just take a few apples and a grapefruit or two out and say those were your snacks for the day and that the law requires it. They actually had a refrigerator in the kitchen, and you could go in any time, even if there was no one working there. You can open the refrigerator and get food out, like a bowl of tuna salad to make a sandwich. However, I did feel I had to tell the management that they were breaking the law. It was very unsanitary that these people were trusted to stay sanitary when handling the food when they couldn't be trusted not to run out the door. We didn't know if they sanitized themselves or they were taking out, eating, and putting food back in the refrigerator. Having owned and operated a restaurant, I knew that definitely it wouldn't make the food inspecting people very happy. And due to that, they did change and had a smaller refrigerator set up. The next time I went in they had certain amounts of things they'd keep in so you could go in and get a snack at any time.
---
Caring020411
April 22, 2014
I visited this facility
Sterling House of Owasso seemed clean and well taken care of. It was very nice. The staff seemed very nice. Overall it was a nice community. Some of their units did have a kitchenette and some didn't. The one we looked at had a small refrigerator, a sink, a counter, and cabinets. It was only a one-bedroom. It was nice and big. It would be comfortable for one person. The dining room was very nice, very comfortable, and in a very relaxed setting. They have different activities, like making things, such as crocheting, knitting, and beadworks. There were games, bingo, and dominos and stuff for men. There were a lot of things.
---
commercesd
January 05, 2012
I visited this facility
We visited the Sterling House of Owasso assisted living facility as an option for our aunt. The grounds looked well-kept and accessible for residents to enjoy freely. This is important, since our aunt likes to be outside as much as weather permits. The single-story building was well-designed seemed very comfortable to live in. One of the reasons our aunt needs to move is due to the stairs in her home. It is just too hard for her to get around. The interior was really beautiful. There seemed to be plenty of privacy for everyone who desired it, while others could participate in a number of activities like games, socializing, snacking, watching television and movies and listening to music. The private apartments were all spacious and lovely and easy to navigate. The homey settings had the feel of a charming cottage or bungalow rather than an old folk's home. You can reserve private areas for social events, entertaining and dining which is nice for visitors and friends and family. All of the area are designed to be easy to access for everyone, including those with limited mobility. The dining options looked interesting and delicious. Residents can choose from a variety of types of food choices that are healthy and nutritious. The activities ranged from walking, exercise and games to reading and other forms of entertainment, which everyone has access to. The staff seemed caring and kind and the residents responded well to them. That's what is most important to us for our aunt. We think this could be a good living environment for her so it is a strong contender.
---
---
Brookdale Owasso provides assisted living residents with lifestyles, housing, and services in comfortable surroundings combined with exceptional amenities, programs, and care. Through Brookdale's signature Personalized Assisted Living, we customize our care offerings for the individual. This allows each resident at our community the freedom and opportunity to make choices that will ease their lifestyle transitions. Residents enjoy life with the support they need, coupled with the appropriate accommodations as their needs change.
We promise Respect for Individual Preferences by offering personalized care needs and providing an atmosphere that encourages each assisted living resident to live in health and longevity. We also offer special housing and care options for those who require assistance with the activities of daily living such as dressing, bathing and assistance with medication. We offer graduated levels of care based upon the individual need of residents, as determined by our continual assessment process. We are dedicated to enriching the lives of residents every day with signature services for those who value their freedom and independence, but desire or need services providing them with the highest level of quality, care, and value.
Features of Brookdale Owasso
---
Location of Brookdale Owasso
---
Get Cost Information
Get full access to reviews, cost information, and amenities