Brookdale Olney
2611 Olney Sandy Springs Road, Olney, MD, 20832
Talk to a Family Advisor: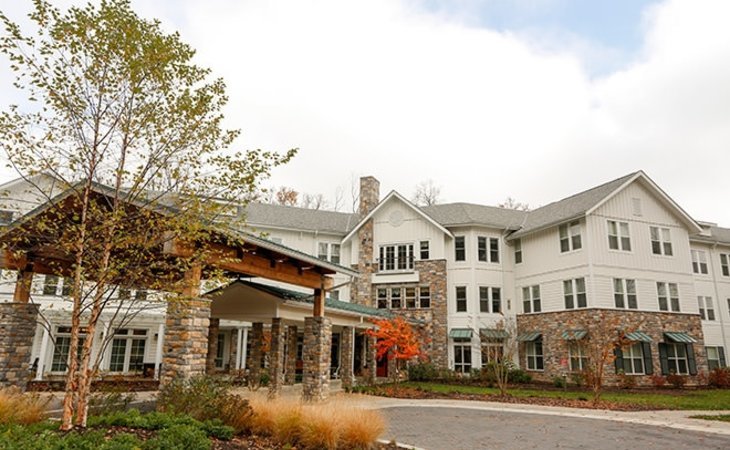 Reviews of Brookdale Olney
---
RK3
February 23, 2016
I am a friend or relative of a resident
My mother decided to go to Solana on a respite-basis to see if she likes it. She likes it very much; so yesterday I went over to sign the contract for her to be a permanent resident. I feel that the care is very much above average. I felt that the CNA's are well-trained, and that they truly try to win their mission statement, and that is by treating the residents first. The food is good, and the chef there takes his job very seriously. So the whole experience has been very positive. The only thing that I notice is that the cost is high. I don't know if that is something you can improve on and keep the quality where it is. I looked at places that were less expensive, but the quality of care just wasn't the same. So as of yet, I have not seen any areas that they can improve on.
---
kandrea
December 07, 2015
I am a friend or relative of resident
I have been very happy with my mother's stay here over the past two years. Every single staff member is friendly and is genuinely interested in my mother's wellbeing. I looked at many places before moving mom and Solana is the most beautiful and well appointed of the other options. They also offer many more food choices than other places. The other places I went only offered two items for lunch or dinner. They always have special events for holidays and very good entertainers. The care staff are always nice to mom and she likes them very much. I always say that people post these reviews when they are extremely happy or dissatisfied and to take it with a grain of salt. You can never please everyone, but I feel that the staff at Solana try their best. We are one of the many happy families and plan to be for years to come!
---
Jennifer L1
November 30, 2015
I visited this facility
We visited Solana at Olney and we really liked it. They were our top place. They're really good. It's just the price was a little more than what my grandmother could afford. They only had assisted living there. There were only two elevators, but it's only two floors that we were mostly on, because the third floor was the memory care center. We didn't really go up there, so it's really quick to get around. It had really nice scenery. The shared room, which was what she's going to be moving into, was a little small. The food was really good and good portion size for older people.
---
Anonymous Daughter1
November 25, 2015
I am a friend or relative of a resident
We moved mom into The Solana Olney. The place is modern, and the apartments are what you need as an apartment rather than just a room. It's very bright and didn't remind me of a nursing home. They have a movie theater upstairs and bingo downstairs. They also have massage people come in once a week for hand massages. They also play bridge and go on excursions. They have different kinds of activities.
---
Caring112949450
September 13, 2015
I visited this facility
The Solana Olney was nice. The rooms were small but clean. The food was fine. Social recreations looked great like bingo, exercise, and all that stuff. What I like the most was their orderliness.
---
Caring111215750
July 29, 2015
I visited this facility
The Solana Olney seemed really nice, and I thought about keeping her in there. It had everything but a bit on the price. The appearance was clean, and the people were friendly. It was not that old of a facility; it was still in good shape. The staff was friendly and accommodating.
---
M. Kay, Olney, MD
April 02, 2015
I am a friend or relative of resident
My mom recently moved into the Clare Bridge (Memory Care) community at Solana Olney and the facility has exceed our expectations. Mom had lived at a nearby facility for several years. Her needs changed and they could no longer meet them. Moves are difficult but my mom loves her new home! I have had dealings with many facilities in the DC metro area and Clare Bridge at Solana excels in several areas. First, the community is impeccably clean, bright, and inviting. There are many high quality activities, events, and interactive stations that blow away other communities. I visit several times a week and am always greeted and invited to stay. This is my mom's home and she loves to have us visit. The place is so beautiful you just want to! Drs. visit my mom there and medication changes and therapies are all initiated quickly. Secondly, the staff is very interested in learning about my mom, her likes and preferences. Pictures are hung, favorite foods are cooked, and her questions are answered quickly. Also, safety and security are of utmost importance without being intrusive or making my mom feel "locked in." Clare Bridge is nothing like that! I can finally sleep at night knowing my mom is safe and not wandering. Billing is clear and the fees are extremely reasonable for the services provided. If you have a loved one with memory or dementia related illness, please consider Clare Bridge at Solana Olney. We are very happy that mom has found her home there!
---
babsd
January 24, 2015
I am a friend or relative of resident
I have been nothing but happy since my mother moved to Solana. I was surprised to read some of the other comments. I guess you only leave reviews when you're extremely happy or not so happy! You definitely can't please everyone, but I believe the staff try very hard. The sales manager was very up front with me about the fact that a new management team was brought in to improve things. They obviously had an uphill climb but have done a great job making necessary changes. The staff are very friendly, always willing to help. I would tell others who are looking that the grass isn't always greener the more places you look. Anytime I have asked a question, the staff are always willing to listen and do their best to meet my request or mom's request. The food is really good and I join mom for dinner occasionally. I feel comfortable with mom living at Solana and my grandchildren even enjoy visiting. No place is absolutely perfect, but people make the place. The people at Solana are kind and caring.
---
advocate4seniors
December 17, 2014
I am a friend or relative of resident
Lovely physical plant, pets accepted. Generally nice staff but poorly trained and supervised. Staffing levels seem low (poor) compared to similar facilities we subsequently looked at. The Solana appears to have accepted a higher acuity population than they are prepared to care for. Systems of care and quality oversight are virtually non-existent. Check out annual state survey reports (public record). If you only need low level assisted living, this may be the place, but if medical care or medication management is required, I'd absolutely choose someplace else unless/until a state inspection confirms that long-promised improvements are in place and effective. We moved our resident out after a year (care needs exceeded the facility's ability).
Very corporate/for-profit-focused management company (Brookdale). Pricing is ala carte, and most residents (including us) found costs going up early and often. Brookdale is unable to provide detailed bills, so it's often unclear what services are being charged. Upon death of our family member 2 weeks after moving out, we received no condolence note from the facility, and an announcement to the community had his name completely mis-spelled. We've been receiving invoices for four months noting a credit of several hundred dollars, but despite multiple phone calls and emails, we're still waiting for reimbursement.
Provider Response
We deeply regret that we were unable to meet your expectations. Please be assured the well-being of our residents is our top priority. We want to thank you for your feedback and please know it will be reviewed and used to better serve our residents and their families in the future.
---
trc12
October 04, 2014
I am a friend or relative of resident
Although The Solana had some challenges in the past, I am nothing but happy with the new management. They are responsive and approachable. I have seen a complete turn around in the past few months.
---
Caring91592150
August 14, 2014
I visited this facility
I went to Solana but my mom didn't like it. She wasn't really that blown away by this place. She didn't care for it. Nevertheless, Solana was gorgeous. They have nice food there. Also, their assisted living rooms were bigger than the assisted living rooms at the other facility. I saw their calendar of activities but I didn't think they had as much as the other facility. The facility was brand new, though. It was very pristine, very clean, and very pretty. We ate lunch there and it was nice.
---
Gil2
July 07, 2014
I visited this facility
Solana at Olney was modern, upscale, and very clean. The rooms were great as far as size and outfitting are concerned, and the prices seemed to be pretty much the same as everywhere else we've looked. The staff was very helpful and very friendly. The dining room was very nice, well appointed, and the table settings were very good. They had numerous activities that would cater to multiple ages. The overall environment was very good. We thought it would be a good, thriving environment for my wife's mother.
---
Sarah K
June 27, 2014
I am a friend or relative of resident
My grandmother has been there about a year now and has nothing but good things to say. Although this was a difficult decision, it has been the best decision for her wellbeing; both physically and emotionally. She now has regular companionship and has made friends. The staff and residents have exceeded my expectations in making her feel welcomed and "one of the family". As soon as you walk into The Solana Olney it just feels like home. We have found the staff to be the key to a warm, caring, healthy environment. They really answered all my questions and went out of their way to help with the transition from home to assisted living for my grandmother, and even for us kids. My grandmother's current state of health gives her the opportunity to be with some people who still have mobility like her. The facility constantly offers projects and events for the residents. I am very pleased with all aspects of my grandmother's care and have recommended the community to many of my friends with elderly family needing assisted living.
---
Resident gone bye bye
May 10, 2014
I am a friend or relative of resident
My father lived at The Solana Olney for almost a year before I relocated him to another assisted living in the area. The Solana Olney is beautiful. The apartments tend to be small. There are serious construction issues that you wouldn't expect. My father had no heat during his stay at The Solana. They are managed by a company called Brookdale. The only offer we received for no heat and air conditioning for a year was $500 for "inconvience". This didn't pay for the hospital stay my father needed for pneumonia. They boast their 4 star dining experience that is no more than institutional as best. I have seen hot dogs and fired catfish & slaw on a bun on their menu. Not what I'd consider 4 star. Their nurses are unresponsive to a residents needs. The head nurse never returns calls, is not available when you need to see her and doesn't seem to care when you are able to discuss a physicians recommendations or care changes to a residents needs. I experienced this as did several other families; they give you a price for apartment and another for care needs that you agree with and sign a contract. By the first bill (which is usually 60 days later) the care needs have increased without explaination and they continue to change without an explanation from the head nurse or her team or Brookdale's main office. I would cringe when I saw my fathers bill as I didn't know how much I would be expected to pay this month. I heard this complaint from many other families while we were there. The resident care is poor and evidenced by their last State inspection. Ask to see it. It's public record. My recommendation...it's beautiful but look elsewhere until they fix their problems.
Provider Response
Thank you for sharing your concerns about the heating and air conditioning at Solana at Olney. Our HVAC system has recently been repaired and we expect it will continue to work properly. We have also passed your notes regarding the dining menu to our dining team. Please be assured that the safety and well-being of our residents is our first priority and we share their concerns as well as the concerns of their families.
---
Susan81746850
March 30, 2014
I visited this facility
I visited the Solana at Olney. There are a variety of room layouts for assisted living residents and dementia residents. The dementia patients are on the third floor. The place has about 80 units, feels cozy, has lots of natural light, and they have programming for residents during the day. They also offer long-term respite care. The things I particularly liked about the facility are that my parents, one with dementia, could share a 1 bedroom - which is actually 2 rooms, so could either be 2 bedrooms or a bedroom and sitting room, on the third floor, and then my dad could come downstairs to be more mentally challenged if he wanted to. There is also a deep discount for two living in one unit. I ate lunch there with a couple of residents, and they spoke highly of the place. Food was pretty good, and there was some choice at the restaurants (5 choices in assisted living and 3 in the dementia unit).The staff I have talked with are informative, helpful and caring.
---
Ruthann1
January 31, 2014
I am a friend or relative of a resident
Solana was a beautiful facility. It was also new. I like its location. It is in a very nice location. It is an easy access and near major roads. That was nice. It did have beautiful grounds. It was beautiful the way they got it in terms of landscape and everything. It was really nice. It was a little higher priced than what we were looking for but I can understand why they would do that because it was a brand new facility. I would recommend this place to others. Aside from assisted living, they also have dementia and Alzheimer's patients there. The staff was very nice to me when I went there. Regarding residents, they didn't have that very many people wandering around, so I couldn't talk to any of them but the ones that were there seemed to be very pleasant and nice.
---
makeup lady
December 17, 2013
I visited this facility
Solana at Olney was lovely, new and very pretty. They had everybody there. They just had rooms in the second floor all the way in the back for memory care. But there was no way I would want my loved one to take the elevator to go up the second floor and all the way in the back like they had some disease. It did not make sense that somebody with dementia was going to use the elevator, I did not like it at all. I did not know what type of security they had other than going in/going out of the front door. I just did not feel like they paid special attention with the residents that had some form of dementia. I was not impressed with the person that took us around. They should have somebody better to represent them.
Provider Response
Thank you for taking the time to share your concerns about the Solana at Olney. Please be assured that the safety and well-being of our residents is our first priority. The main doors of our seven Solana locations open at 8:00 a.m. and are locked at 8:00 p.m. every day. Each of these locations is designed with the memory care unit on the second or third floor. The floors are each secured and a code must be used to enter or exit each floor. We would welcome an opportunity to discuss your concerns and hope you will call us at 877-400-5296.
---
Caring73350550
October 30, 2013
I visited this facility
Solana was fine. We really liked this place. It was a beautiful facility. The staff and the amenities were really nice there. Their rooms were nice also but much smaller than where my uncle is now, but they did have very spacious bathrooms.
---
Lisa39
October 26, 2013
I visited this facility
The living environment at Solana at Olney is beautiful. It looked like they also had some great activities for the residents, but I was underwhelmed with their rooms. They were very small and not a whole lot of options with regards to making it feel homey. It didn't look like a home rather than it looks like an efficiency room. The rooms were not warm and inviting. The feel that we all got when we went to look at it is that it encouraged people not to stay in their rooms. Theirs is not enough room to put your own personal belongings in there besides a bed.
---
rampservic
July 25, 2013
I visited this facility
I visited The Solana Olney for my mother and I really like that place. It was a very nice facility. It was new. Its location was only 2 miles away from my residence, so it was very close. I had lunch there and their food was good. They also offer different levels of care and that was one of the things that I like because their upper floor was a lockdown facility. You need a passkey for the elevator to get on and off. My mother is still functional but she is not remembering a lot, so if she ever progresses to the point where she starts to wander, she wouldn't be able to just leave this place. To me that was good because she would be in the same place but she would be more secure.
---
---
Brookdale Olney provides our residents with lifestyles, housing, and services in comfortable surroundings combined with exceptional amenities, programs, and care. Through Brookdale's signature Personalized Assisted Living we customize our care offerings for the individual. This allows each assisted living and Alzheimer's care resident the freedom and opportunity to make choices that will ease their lifestyle transitions. Residents enjoy life with the support they need, coupled with the proper lifestyle and care accommodations as their needs change.
We promise Respect for Individual Preferences and offer personalized care needs in an atmosphere that encourages each resident to live in health and longevity. Our residents enjoy life with the support they need, coupled with the appropriate assisted living and Alzheimer's care accommodations as those needs change.
Our community is dedicated to enriching the lives of our residents every day with signature services for those who value their freedom and independence, but desire or need services providing them with the highest level of quality, care, and value.
Our Clare Bridge Place program serves those with Alzheimer's disease and other forms of dementia. Each day, we promise to work to deliver Daily Moments of Success for each resident. The Clare Bridge Daily Path provides structure and activities each day designed to meet specific needs of those with dementia, while the Clare Bridge Dining Program, designed by a gerontologist and registered dietitian, helps residents in need of Alzheimer's care retain the ability to enjoy and master the daily dining experience.
What Makes Us Special
---
We allow couples to live together even in memory care. Our care fees are ala carte so a person is only paying for what they need. We do allow pets and can provide basic care for that pet as well.
Features of Brookdale Olney
---
Costs
Rent Plus Care Fees
Entry Fee
Fee Structure Extra We Offer A Month To Month Rental
Room and housing options
1-bedroom apartments
2-bedroom apartments
Companion Suites We Offer Companion Suites
Studio Apartments
Dining options
In Room Kitchenette
Dining Room Shared Meals
Room Service For Meals
Features
Beauty Barber Shop
Computer Room
Resident Transportation
Party Space
Tv Room
Garden And Patio
Resident Parking
Features Extra Library
Cleaning services
Laundry For Linens
Housekeeping
Laundry For Clothing
Technology and entertainment
Health services
Hospice Care
Medication Management
Physical Therapy
Nurse On Staff Yes
Pharma
Activities
Offsite Activities
Music
Games
Stories
Religious Services
Lectures Discussions
Book Clubs
Wii Sports
Fitness Room
Yoga
Gardening
Cooking
Arts And Crafts
Activities Extra Live Entertainment
Financial guidance
Home Sale Assistance
Va Benefits Consultation
Financing Advice
Financial Aid
Financial Guidance Extra Long Term Care Insurance
Guest services
Guest Parking
Guests At Mealtime
Overnight Guests
General
Respite Care
Minimum Age 62
Pets All Pets Allowed
Licenses
State Licenses 15AL0470_B
Location of Brookdale Olney
---
Get Cost Information
Get full access to reviews, cost information, and amenities