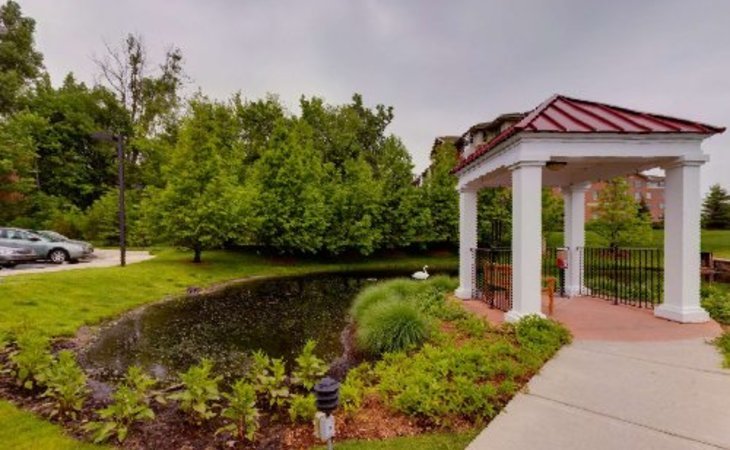 Top nearby Assisted Living Facilities
Reviews of Fox Run
---
David836036
January 02, 2017
I visited this facility
We chose Fox Run because of the size and amenities of the apartments and club houses. The staff and the cleanliness were outstanding and top notch. I was not able to eat, but the setup was nice.
---
Caring Daughter121119450
February 27, 2016
I am a friend or relative of a resident
Fox Run is a very big place, and there's way too much walking for my parents. The staff was great, the rooms were nice, and the food was very good. There were a lot of activities, and things going on. The place was clean, they seem to know their jobs, and were very friendly and informative. I think it's probably one of the best places in Michigan.
---
Lfranklin
September 23, 2015
I am a friend or relative of resident
My parents lived in Fox Run for 11 years in independent living. Great for healthy, active seniors. They both have had stays in short term rehab after illnesses and injuries. We found the Rose Court lacking in many areas-- no rooms for couples for one! They finally opened a memory unit--but it is on the SAME floor as the skilled nursing patients. My dad is on this floor and there is a HUGE difference between the level of care needed for these two groups of people. Yet they share the same foor, common areas and dining room. Mom went to short term rehab after a fall, and after 2 weeks of rehab they have discontinued her rehab and are telling us she needs to go to skilled nursing instead of assisted living! She was living independently up until a few weeks ago. I guess if you have their insurance you only have 2 weeks to get better! Now they want $385/day!!! Food is average on a good day. Fox Run restaurants are much better. Good variety of activities. We also have found there is lack of communication and lack of empathy from staff. Now mom and dads money is all tied up there and Rose Court will drain their accounts.
---
Caring69182350
April 21, 2015
I visited this facility
I thought Fox Run was also lovely, and it was more reasonably priced. The staff was very nice. The dining area was very nice, clean, and very impressive. It wasn't quite as fancy as the other place, but then it wasn't as expensive either. Their sanitation was excellent. If I were to move into assisted living, I would probably move into Fox Run.
---
Caring72594450
July 20, 2014
I am a past client of this provider
It's an excellent place. It's really good, no doubt. Fox Run Novi seems to be the best for me. The staff is caring, warm, and very friendly, and the place is nice and clean. It has all the amenities of an assisted living, and people are nice. They have a pool, a cafeteria, there's an exercise room, like a gym, and a gift shop. If you go there, you don't have to go anywhere else. Everything is there. You can do more of an inside walk because there are a lot of corridors. It's a very big facility.
---
Caring8125
June 13, 2013
I visited this facility
Fox Run was one of the best and the most expensive facilities I've looked into. Everything is very nice, well-organized, and well-planned. They also have lot of activities for the residents.
---
Brian9
May 31, 2013
I visited this facility
Fox Run is a really good community. It is also highly respected in our area. The rooms are beautiful and well-appointed. The staff is excellent, helpful, and they'll do anything for you. We had lunch there several times and the food is always excellent. They have every type of activity you could think of as well as dozens of clubs. It's a well-organized place.
---
Caring214 1
November 09, 2012
I visited this facility
Fox Run is a nice place. It was more like an apartment complex. The staff was professional and courteous.
---
croppinkb
October 19, 2012
I am a friend or relative of resident
Don't be fooled by the appearance of this facility. My mother lived at Fox Run for 5 years, 2 years in the Assisted Living facility. It is fine for residents who are ambulatory and can do most things for themselves. Once they get very sick and need much assistance, you will find that this facility is understaffed, and that the staff does not follow it's own procedures, and the residents are often left to fend for themselves. My mom passed away recently while there after being in hospice......two weeks before she passed away I was researching other hospice options because Fox Run's care was sub par. If only they would take care of their residents as well as they do their landscaping they would be all set. Maybe they should spend less on their landscaping at reallocate the budget to hire more nurses and aides.
---
John S.1
October 13, 2012
I am a friend or relative of a resident
Simply upon driving up to the facility it was evident that it was a very nice place to live. The landscaping was very well maintained, the building looked nice, it overall simply looked like a great place to live. Upon entering the facility I was greeted by a warm, welcoming lobby area with friendly staff. When I went to visit my Great Grandma she seemed very happy and is doing as great as ever, no doubt thanks to Fox Run. She is not a very active person but according to her there are lots of activities for the people who live there to take part in like swimming in a swimming pool, walking or running on treadmills in the workout room, she even talked about how she watched some of her friends play pool/ Overall she seems to be very happy their, and I feel safe and secure knowing that my family made the decision to put her within such a friendly, accepting, wonderful community.
---
Sue3
June 02, 2012
I visited this facility
It was my father who has been to Fox Run for about a week but he ended up passing away. It was a facility that actually he had looked prior to getting sick. The whole care is okay, and he was treated very well. He was very sick. The only problem was his heart stopped and they did a resuscitation. We had a do not resuscitate order but they went ahead and send him out to the regular hospital. Well I just think that there was a miscommunication since we had a do not resuscitate order. But the over all care before that was fine.
---
commercesd
March 28, 2012
I visited this facility
The Fox Run assisted living facility looked really well-kept from the outside as we drove up. I was helping a friend find a suitable place to live for his mother. The main foyer had a lovely receiving area, and at first glance, it was hard to imagine that this was an assisted living facility. It seemed more like a five star hotel. The living suites were offered in a variety of really nice options. They were also beautifully decorated. We could see that my friend's mother would be comfortable in any one of them. Each unit had individually controlled temperatures. The kitchens all had ample counter space and nice appliances. There is a lot of convenience here as well, from the salon, fully-equipped exercise spa and whirlpool, to the library and coffee bar, TV studio, music room, well-stocked library and computer room. We especially liked the uniqueness of the billiards room, creative arts studio and woodworking room. The dining areas have many options. From more intimate to communal dining, resident can choose whatever they like "" in addition to hosting guests in their own spaces. The menu choices looked nutritious and delicious, as well as the regular snacks "" offered continually. The food looked and smelled like what you would find in upscale restaurants. The activity calendar features many healthy and stimulating activities. We liked that the staff encourages participation and tries to make everything interesting for its residents. They have outings to local libraries, events, culture, restaurants, shopping and athletic activities. They take suggestions to update the schedule as much as possible. We've visited quite a few assisted living facilities and thus far, the staff at this one were some of the most friendly we've met yet. This facility was really more like a fully-equipped village, with a market and a bank - and amenities like a five star hotel and any senior could easily be very happy here.
---
---
Novi assisted living options are many, but only Renaissance Gardens at Fox Run offers such a high level of care in a comfortable, homelike setting. Here, you or your loved one will enjoy the convenience and dignity of a private room, which you're free to decorate any way you like.

Our Novi assisted living program is the perfect choice for someone who is in generally good health, but who needs extra support with meals, medication management and other tasks of daily living. Best of all, our residents have access to all the activities and amenities of the larger Fox Run campus.

Novi assisted living residents at Renaissance Gardens enjoy multiple restaurants, a swimming pool, gardens, walking paths and dozens of clubs and interest groups.
Request Info
Get full access to reviews, cost information, and amenities