Sunrise of Northville
16100 Haggerty Road, Northville, MI, 48170
Talk to a Family Advisor: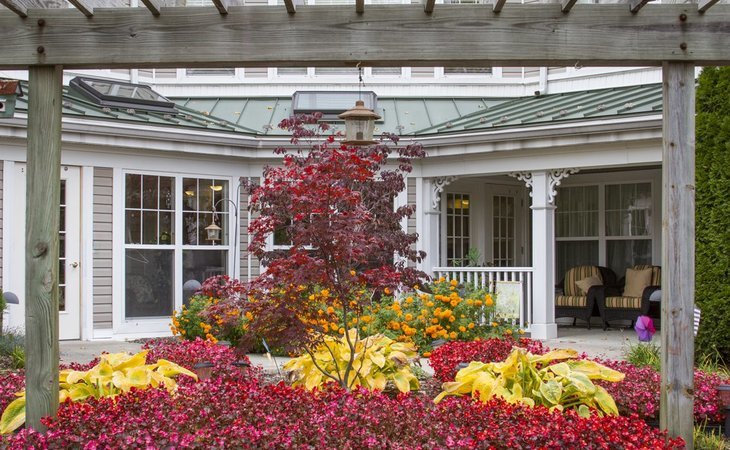 Reviews of Sunrise of Northville
---
Lisa456732
March 29, 2017
I visited this facility
The only room that they had left at Sunrise of Northville was a double occupancy room, and they were nice. The staff seemed friendly and knowledgeable. It seemed like they had a lot of activities for the residents to participate in. In comparison to others, it seemed to be a good value.
---
Beth242202
October 13, 2016
I am a friend or relative of a current/past resident
We chose Sunrise because we really liked the people there. The director was very nice, the facility was extremely clean, and the staff was just wonderful. We tried the meal, and it was very good. My friend moved there in September. They were excellent about trying to draw her in the activities. They have bent over backward in assisting her, and they have made it easy for her to make friends. I can't say anything bad about Sunrise.
---
Patrick784627
June 17, 2016
I visited this facility
Sunrise of Northville was not bad. The people were really nice, but they didn't have any openings at the time.
---
Kerri5
March 05, 2016
I visited this facility
Sunrise was not good, it was much unorganized when we arrived, and it just didn't feel we got all the information we were hoping to get. The staff seemed okay, and not overly friendly. The rooms were nice, spacious, and they had a very nice dining room.
Provider Response
Thank you for your review. We are sorry to hear about your experience and would like to learn more. Please email us at Information (at) SunriseSeniorLiving (dot) com so we may follow up. Thank you, Sunrise team.
---
Melanie14
February 10, 2016
I visited this facility
We did go to Sunrise of Northville. It was clean. It looked like they had good activities, but it was not one that would meet our needs for what we were looking for. There were decent-sized rooms. Nothing really stood out, though. The staff was very nice, and very helpful. They were friendly staff. The one thing that stands out there was that, we were talking about my dad being able to do a lot of the work. However, if my mom was there, they would have to give her her drugs, and they wouldn't need my father to do that for her. So for us, we didn't feel like we needed to have that service, but they won't take stuff like that off of the service. Sunrise of Northville wasn't what we were looking for.
---
Denise45
November 07, 2015
I am a friend or relative of a resident
My parents are at Sunrise of Northville, and everything has been wonderful. The staff is amazing and very caring. It's a very clean place. My mom and dad's unit is one of the bigger ones, so it's very nice. The food is wonderful; I think they have a 5-star chef. My parents are really enjoying it so far.
---
Caring112542050
September 17, 2015
I visited this facility
The one I liked the most was Sunrise. The place was very nice. The staff seemed to be very attentive to the client's needs. They were nice and engaged with the clients. It was very pretty and nicely done. I thought it would be a good choice.
---
Heather19
September 07, 2015
I am a friend or relative of a resident
My grandma was at Sunrise, which has the memory care. My grandmother had to go into the hospital and get a PICC line put into her arm and PEG into her stomach, but Sunrise would not take her back. They kept telling us that they were unable to care for her when she had the PICC line. We basically had to either pay Sunrise and pay the rehab center or move her to a place that would take care of her, so we ended up moving her to another facility. At Sunrise, they were really nice with my grandma, but it was very difficult to communicate with them. They would say they would tell the staff, but the staff would forget. The notes would be in one spot, but not everybody would see it, so you had to keep telling people the same thing over and over, and nobody would remember or nobody saw the note.
Provider Response
Thank you for your review. Please know that we take all concerns seriously and would like to learn more about your experience at Sunrise. Please email us at Information (at) SunriseSeniorLiving (dot) com with more details so we can follow up. Thank you, Sunrise Team
---
Caring103098950
December 17, 2014
I visited this facility
My visit at Sunrise of Northville was nice. The coordinator though I didn't particularly care for. He wasn't as caring and welcoming. However, when we walked around, the rest of the staff greeted us. The place was very clean, and the rooms were nice as well. They had the same activities as with the other facilities. They had balloon toss, bingo, and outings. They take them on trips. They had them posted on the board. The dining area was nice. There was enough food that you could eat pretty much up to the wee hours of the night because they had another area which was like a café that had free food sitting on the counter -- like little snack foods -- that you could always get. I like that.
---
Jeanette10
October 17, 2013
I am a friend or relative of a resident
My husband, shortly before he died, was in Sunrise of Northville for a week. This was our choice because it was only half a mile from where I live and that was only 10 minutes away from me. It was a beautiful place. He had a room back then. Regarding food, I ate in the cafeteria then, and it was very good. I also saw some of their activities and there were plenty of them. What I like best about this facility was the concern and the care of the people that worked there. The staff was just extremely caring. They couldn't have been nicer to him. They were comforting to me too. As a whole, it was just a very nice place.
---
Judy43
October 04, 2013
I visited this facility
We had a good tour at Sunrise. The lady who assisted us was fine. There were no activities going on at the time of our visit. However, the facility was clean and nice.
---
Diana18
September 29, 2013
I am a friend or relative of a resident
Sunrise of Northville is a beautiful place. It is very clean and it doesn't smell. The rooms are kept very clean. However, I am not really happy because they don't have good consistent care. It is hard to get a hold of the head of care coordinator and I think they need to have a better manager. Although their manager seems like a very nice lady and I am sure she is a very good caregiver, I don't think she has the qualification for management and the skills to handle that many workers. She has a hard time talking to families. They are also just overseeing medicine givers who are just people trained to give medicines. But some medications require critical thinking like blood pressure medicine and they are not qualified to make those decisions. However, there are a couple of caregivers who are taking good care of my mom and can make my mom laugh and make sure that she has what she needs. They also put my mom in a shared room and she cannot have a roommate because she has issues. There are times that she is okay and times that she is not. I guess I just want something much better for my mom.
Provider Response
We're sorry to hear about your experience in our community. We care deeply about the safety and well-being of all of our residents and would like for you to contact us directly so that we can learn more. Please send us a message at information@sunriseseniorliving.com. – The Sunrise Team
---
mark mcgraw
October 17, 2012
I am a friend or relative of a resident
Sunrise is very clean. There are a lot of activities for the residents. The food is good. The caregivers treat the residence with respect and give genuine care for them.
---
tellsitlikeitis
April 06, 2012
I am a friend or relative of resident
Lovely looking facility, but they don't include you on patient reviews or medical/pain plans. My mother was there for 17 months, the first 4 without hospice. Numerous occasions had to get help for her by making them aware she needed changing, mattress soiled, bed not made up, dirty linen in room, etc. Coat, dentures, shoes and other clothing lost. Always getting other people's clothes in laundry. Father, sister, and I disatisfied with many issues including time it took to get her help for changing, attitude when apprised of issues, and results. Mother died a very painful death under hospice care. Given mixed answers or no answers on why. Will never let my father (who is still on his own) live there. Called assisted living, but most clients debilitated or have multiple problems. Cost listed as $2-3,000. Unless you are extremely healthy, plan on $5-6,000.
---
Social Worker # 1
November 26, 2011
I visited this facility
I think Sunrise Assisted Living of Northville is an excellent choice for someone who is looking for placement for a friend or family member. While there, I noticed that the staff and management were always visible to the residents and very polite to the residents as well. The facility is located out from downtown Northville and Plymouth MI and very beautiful inside and outside. The residents receive excellent care there and I know that they like it there. The staff and management there are very professional team, task oriented in their job duties and performances. It has a suburban style setting and looks like a very comfortable home instead of a facility'. Sunrise Assisted Living of Northville offers their residents a vast majority of recreational activities among various other activities as well. Their residents are treated like family and they seem to enjoy it there too. The facility is very well coordinated and designed beautifully interior and exterior the surrounding neighborhoods is also beautiful as well. It offers such a homey and most comfortable atmosphere as well. Anyone and everyone would love to be there in such a real home setting. The food there looked excellent and the facility was also clean and did not smell. In general, I would have to rank this facility a five stars rating for its expertise and its excellence. Anyone and everyone would like to live in this facility and their residents receive excellence and expertise care there also I also noticed while I was there that the residents were watching a movie and being served a variety refreshments as well.
---
From Sunrise of Northville
---
Located just minutes from beautiful historic downtown Northville and Plymouth, Sunrise Assisted Living of Northville offers close proximity to shopping centers and medical facilities as well as convenient access to I-275. Our community is nestled in a serene, suburban setting. We pride ourselves in our consistent, dedicated and caring staff as well as our excellent activity program.
Step into a Sunrise Assisted Living community and you can't help but feel at home. We stop at nothing to make your experience warm and inviting, from our homelike exterior architecture, to our comfortable community areas and choice of suites to our exceptional outdoor gardens and landscaping. Look around and you'll notice fresh flowers throughout the residence, and you may even spot our dog or our cat. And of course, there are always the friendly smiling faces of our staff to ensure that each day spent here is a welcome one.
Features of Sunrise of Northville
---
Features
Resident Parking
Security Gate
Technology and entertainment
Health services
Nurse On Staff

Available During Business Hours
Location of Sunrise of Northville
---
Get Cost Information
Get full access to reviews, cost information, and amenities