Talk to a Family Advisor: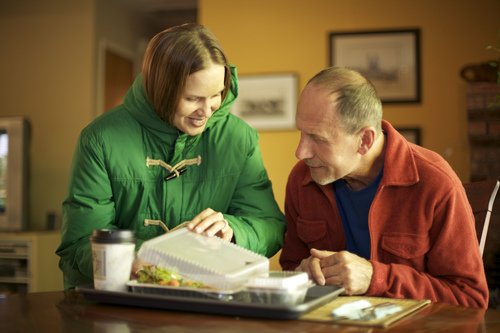 Top nearby Assisted Living Facilities
Reviews of Abramson Center
---
adler
December 28, 2016
I am a friend or relative of a current/past resident
My mother lived at the Inn and then in the nursing home part. She was there for 9 years. My mothers care was beyond anything I could have hoped for. Loving caring people taking care of her 24/7. the facility is spotless the activities are excellent. The hospice was excellent. I am grateful for Abaramson.
---
Caring Son41
March 05, 2016
I am a friend or relative of a resident
The staff at Abramson Center was very caring, and helpful. They were all lovely. The facility was excellent. I know they have a lot of activities, but we were not able to have an opportunity to take advantage of them.
---
Badreview
February 17, 2016
I am a friend or relative of resident
My mom has been at this facility in the rehab unit. Everyday each meal has been not what she has ordered. She is a stroke victim and needs a lot of assistance. She has lost weight because the food they give her keeps getting messed up and she can't eat what they give her. The caregiver staff has been very pour. Each time she has to explain to them she is paralyzed and needs help. Her medicines have been mixed up at times as well. She even had another wandering in a wheel chair patient keep coming into her room invading her privacy despite telling the staff keep him out. He even came into her bathroom and stole her baby powder! Everyday has been one terrible thing after another. We are transferring her to another facility. The staff are incompetent and management doesn't do much to change things. She was in therapy when her dinner was supposed to arrive. She got to her room and no dinner. All they had to give her was a choice of cold sandwiches. She got chicken salad. It didn't taste right she said. Her third mouthful had a big bone in it! That night she ended up throwing up and severe diarrhea. Something was bad in the chicken salad to say the least she could have choked on the bone. What a horrible experience my mom has been put through! I would not recommend this place! It may have been good in the past but it is terrible now. 02/17/2016.
---
Sandi3
July 11, 2013
I visited this facility
I thought Abramson Center was beautiful. I thought the skilled nursing was superior to any other one that I've seen and it was the best place for skilled nursing or even assisted living. The apartments were very nice but they had very few independent living residents.
---
Jeanne4
February 28, 2013
I am a friend or relative of a resident
We knew Abramson Center had a wonderful reputation. Everybody we knew who had been there or living there was very, very pleased with the place. It's clean, very modern, and relatively new, maybe six years old. When you come in, there's a huge atrium they call the "Town's Square." It's light, it's airy, there's a piano and a nice gift shop there. The place has a very good feel to it. The staff is very good, and they provide a lot of different activities for the residents. However, I was told they're understaffed.
My son's friend doesn't have high marks for the food. But maybe part of the problem is it's Kosher food, so I guess it doesn't taste as regular food. It's bland and institutionalized. They don't give them anything with caffeine in it. And for him, that's a problem because of the illness that he has and the medication that he takes. If he doesn't get enough caffeine, he will just sleep the day away.
---
jacincm
November 09, 2012
I visited this facility
I thoroughly enjoyed my experiences here. It helped me grow as a person at a very crucial age and to appreciate the older folks there. They had great stories and experiences to share with the world.The staff there was excellent. Very friendly to the residents and knew them on a personal level. All staff seemed happy to work there and they loved their jobs. The facility is very clean and in a nice, secluded location. Very spacious and comfortable, almost like a small community
---
anon5
September 02, 2012
I am a friend or relative of a resident
The Abramson Center for Jewish Living is a fantastic facility that appears to deliver excellent compassionate care. The accommodations are generous and the building is kept in immaculate condition. The place is much more reminiscent of a brand new apartment complex than an assisted living faculty. Everything from the landscaping to the grounds to the welcoming common spaces contributes to the positive feel. Interactions with staff members show compassion for the residence as well as significant competence. Moreover, the nurses respond instantly to any medical need and are of great assistance in helping to administer daily medication. Residences seem to enjoy the myriad activities available as well as the major event that seems to be planned each and every day. Some examples include arts and crafts, on site hair care and visits to cultural sites such as the orchestra and various museums. In addition, some events are brought to the residents like a small group of singers. I can highly recommend this facility.
---
judithr105
September 30, 2011
I am a friend or relative of a resident
From the first look at the Abramson Center for Jewish Life, I knew that it was a very different kind of facility, for both rehabilitation and skilled nursing. It is beautifully maintained, with a large open space which is used for various entertainment on a daily basis. There are lots of chairs, good lighting, and the center area is surrounded by a gift shop, a library, a computer center, a synogogue and an a la carte lunch area for residents as well as guests. There is even a large indoor play area for children with toys, and as well as an outside play area. There are many tables and chairs with large umbrellas outside the facility for seating as well as visiting with friends and family. The care that the residents receive is kind and thoughtful, as well as very thorough. Doctors come and go and do examinations on the residents, and it seems that you do not even have to ask for a doctor to come, they are already aware of the problems. The nurses come to the resident's assistance quickly and do what is needed to be done - the residents are not ignored. The residents are clean, dressed properly, and seem to be well taken care of. One of the nice things in the nursing area is that each person has a private room. It provides dignity and the ability for the resident to maintain their own space. My mother refers to her room as an apartment, which makes me think that she likes the facility. The bathroom is large, immaculate, and wheelchair ready. The residents eat together in a sunroom, and it is a pleasant room with lots of light. The food is somewhat bland, but then again, most of the residents are on low sodium diets, so those types of foods tend to be bland. There is a large portion of food on the plate, and it looks freshly made.There are some very nice touches in that the staff serves freshly cooked cookies, just warm from the oven. There are also treats of ice cream, smoothies, and pudding throughout the day.The staff provides entertainment throughout the day, and encourage the residents to participate. All in all, it is a very pleasant facility. It is nicely decorated, immaculately clean, provides all kinds of entertainment, and the staff is very pleasant, and do their jobs in a very pleasant manner. I have been very pleased with the facility, and in fact I just referred a friend to facility, who is pleased as well.
---
---
Abramson Center is an assisted living facility in North Wales, PA that offers residents independent living options and daily support services. Contact Abramson Center for more details on housing, services, and rates.
Location of Abramson Center
---
Request Info
Get full access to reviews, cost information, and amenities