Brookdale New Port Richey
6400 Trouble Creek Rd., New Port Richey, FL, 34653
Talk to a Family Advisor: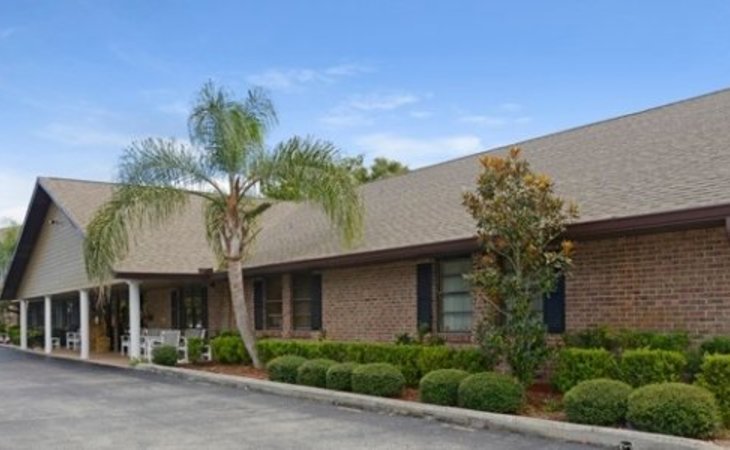 Top nearby Assisted Living Facilities
Reviews of Brookdale New Port Richey
---
Anthony860475
January 14, 2017
I am a friend or relative of a current/past resident
My mother was living at Brookdale New Port Richey. The place itself was quite nice. It was very warm and inviting. There were a lot of nice people there. She loved the food. The problem is because she has dementia, she would get up in the middle of the night and go to the toilet, and every time she'd do that, she'd fall, and she fell three times there. The third time, she was really injured badly. The last fall fractured her elbow and the rest of her arms, and now her arm is in a permanent sling. There were some things lacking there, but overall, the place was fairly pleasant.
They had a cockroach problem there as well. It puts me off that they have a type of vermin. Other than that, the rooms were painted nicely. The landscaping was inviting. They had activities and things for the elderly to do.
---
Sandra422542
January 10, 2017
I visited this facility
I was not impressed with their facilities for the Alzheimer's unit of Brookdale. It was way, way back, so you had to walk a long way. because of the architectural layout of the facility. They had a very spacious area for outside flower beds and all, but there's nothing attractive about it. I would not put my husband there. They had a very nice sales manager, but I felt bad that that's what she had to work with. It seemed people were lounging, laying out, and sleeping in their socks, no shoes, and looked like they were just being housed. The dining area was in a large space but not set up nicely.
---
Kate201668
November 12, 2016
I visited this facility
Visited for a relative. Staff was friendly and people were interacting all over which I didn't see other ALFs I visited. Rooms were spacious and I liked the idea of the apartment like setting, made it feel more independent for her.
---
Nomar
September 11, 2016
I visited this facility
I saw the assisted living of Brookdale; it was mid-century, with a high ceiling, and lots of sunlight. The studio apartments were nice, and the room had a nice yellow tone, which was a lot warmer and inviting. They had a nice dining area. They had a garden in the back that the residents worked on.
---
TinaKYBAB
May 11, 2016
I visited this facility
We did go to Brookdale New Port Richey. It seemed like the staff was good. But I'm not sure if my mother would have been as happy there. The look of the main hall, not actual apartments, was dated and dreary. The rooms seemed OK. The price was a little above what my mother could afford, but it did have that dreary feel about it except for the staff. They said they have bingo. They have a rec room that we went into that had puzzles and all the stuff and they had coloring and things like that.
---
Michael119623050
January 29, 2016
I am a friend or relative of a resident
We put my mother in Brookdale New Port Richey. It is very good. It is excellent. The room she is in is very spacious. She has a sitting area and a sleeping area separated by a wall. There is also a walk-in shower and a walk-in closet. We are very pleased with what we have selected for her. The staff is very approachable. My mother likes the ladies who come to her room to help her. She is quite pleased with the staff. They're very attentive. Also, she said that the food is good.
---
Diane M.1
January 27, 2016
I am a friend or relative of a resident
My mother is in Brookdale New Port Richey. That is the best place for her. She loves her room and she loves the people even though it is a huge place with lots of people. She can go to the big cafeteria or she can stay in her room. They are great and they accommodate and take care of her. They love her.
The only concern is that because it is so big, but there are a lot of caretakers and they have beepers. My mom likes it there. So, we decided to keep her there. They have lots of stuff there, but she cannot participate. So, she stays in her room all day and lies in bed. Brookdale people do not feed, so my brother has to hire people to come in and feed her. They accept her and love her, and the fact that people come in and feed her, they are okay with that.
---
Anonymous117373350
December 20, 2015
I am a friend or relative of a resident
My mother has been at Brookdale New Port Richey for three weeks now and is very comfortable. It is a little rundown, but it is getting better. We chose it because we were comfortable there. They have two long gardens that are just so relaxing when you're outside. It still needs a lot of work, but it has the youngest people there, who are interacting all of the time, which I didn't find at the other seven places I visited. My mother likes the people there and has found groups of people to eat with. The neighbor across the hall from her is very sweet and helping her a lot. My mother's eating habits were terrible, and now she is eating three meals a day. They have a menu that she can choose from, but if she has a thing she likes that is not on the menu, they will cook it for her.
---
Diane113125950
September 26, 2015
I visited this facility
Brookdale New Port Richey (Formerly Emeritus at La Casa Grande) was more like a nursing home. There weren't reasonable rooms. They were smaller and they didn't have kitchens. You couldn't cook your own meals. You had to go out to the dining room and they've always had the meals for you. The staff was friendly and they would try to talk to you. They were making sure you got plenty of what you needed. They will be happy to help you with whatever you needed and take you anywhere. They just should try to make the rooms a little bit wider and bigger. For people that have wheelchairs or walkers, it's hard for them to manage to get around if you have a lot of furniture in your room.
---
Caring112736050
September 15, 2015
I visited this facility
Brookdale New Port Richey (Formerly Emeritus at La Casa Grande) was like a motel. If you went out of the apartment, you're outside, and I didn't like it at all. I just didn't have a good feeling. The staff was friendly, and the dining area seemed adequate, but I don't think the rooms were spacious.
---
James112319850
August 22, 2015
I visited this facility
I did not care for Brookdale New Port Richey. It was very dirty. They also had an emergency medical situation where a person was laying on the floor for more than half an hour with an injury, and they could not get a nurse to respond. The person who gave me the tour was a nurse, and she did not help. She did not want to break up my tour. I was very turned off by it. I would not recommend the memory care unit. The rest of the facility was nice.
---
Caring111925250
August 22, 2015
I visited this facility
Brookdale New Port Richey seemed very nice. At the time of my visit, they were doing their recreational activities.
---
tomjerry1
July 02, 2015
I am a friend or relative of resident
Since Brookdale took over Emeritus at La Casa Grande, the only positive changes I've seen are renovations. My mother's rent has been increased twice within a year. Additional charges are added with absolutely no explanation. The communication between the Wellness center and family is just about non-existent. They tell you they will do something and they don't or won't follow. through. Brookdale seems to be only interested in $$$$. Very disappointed.
---
Caring109219850
June 21, 2015
I visited this facility
Brookdale New Port Richey (Formerly Emeritus at La Casa Grande) was a very nice community, clean, very friendly, and there were a lot of social activities. It was well located. I was impressed by it. The drawbacks were that the apartments were extremely small and that you have to travel outside to get from the apartment to the main social and dining area. My concern would be when it's cold or rainy that my grandmother constantly would have to be going from indoors to outdoors to get to the social center.
---
Theresa29
April 17, 2015
I am a friend or relative of a resident
We choose Brookdale because I think it has a variety of options for living and a variety of price ranges. It has nice, flexible schedules for meals and a variety of food. They have different levels, and there are people who are kind of independent; that is what I am looking for. The staff is fabulous and very helpful. The admission person works with us. It is a very difficult move because he is hesitant. They have a lot of activities going on. They have ice cream social on Thursdays. They have trips to communities and different areas. I see people in the activities room doing craft things.
---
Caring102946850
March 20, 2015
I visited this facility
I was able to visit Brookdale New Port Richey (Emeritus at La Casa Grande). The rooms are very spacious and very clean. It's also well-staffed. It's very spacious, and there are a lot of outdoor places where people can walk; that is very inviting. They just have about every activity. They have movies and cards. The only thing that I found a little bit annoying was I did mention to them that my brother was HIV positive, and that was the end of that particular conversation.
---
Robert102395950
February 22, 2015
I am a friend or relative of a resident
We moved her there in Brookdale New Port Richey. The place is nice, and the people who work there are fantastic. They do have few issues with their food stuff, but it may just be getting used to different nutrition. They do serve some strange food. I have not tasted their food, but mom said their food is bad. Sometimes it is cold, and there are other problems. They do serve some kind of spinach and sausage soup that even their employees question. They have lots of activities, and mom stays busy all the time.
---
grateful to be out
December 02, 2014
I am/was a resident of this facility
I am a 63 year old, single physically disabled female. My diseases are degenerative and since I was finding it becoming increasingly difficult to safely take care of my daily living needs, I made the decision to look into assisted living. I chose La Casa Grande. This facility gives you a great sales pitch, but I quickly learned that they do not keep promises. But far worse than that is the lack of proper care. In my case my medications were mishandled and one particular medication was stolen. When I filed complaints which fell on deaf ears and said I would notify the police, the "head nurse" tried to label me with mental issues due to a urinary tract infection. My family doctor immediately came to my aid as I had just seen her that week for a routine check up which included a urine test. It was negative. She requested my medications log and didn't get it. The straw that broke the camel`s back was inappropriate sexual advances, both verbally and physically by the married executive director. I filed a report with Florida Department of Children and Family. There is an investigation but I was told.not to get my hopes up because it is my word against his. I have moved out. I am lucky that I am of sound mind and could stick up for myself. I write this to implore families to listen to their loved ones and investigate anything suspicious. If my story helps even just one other resident, it will have been worth the pain, stress and inconvenience.
Provider Response
Thank you for sharing your feedback. Please be assured this was thoroughly investigated and unfounded.
---
Cathy98012050
November 29, 2014
I visited this facility
The visit at Emeritus was good, but the room was tiny so I am glad it didn't work out there. The staff was nice.
---
Caring88246850
November 24, 2014
I am a friend or relative of a resident
My mom is in Emeritus at La Casa Grande, and that's about 10 to 15 minutes from where I am living. It is very convenient. I can be there quickly. I visit her 3 times a week, and she seems to be acclimating very well to the situation. So far it is working very well.
The place is like a hotel almost, but it is rather large. They have 240 beds, and they have different levels of care. My mom is in the memory care section. They have a recreation area where they can go outside, but they are not allowed to leave that area unsupervised. When I ring the bell, they let me in only because the employees there recognize me. So, they let me in. I sign my mom out, and we go out for dinner or I'll take her out for shopping and then I'll bring her back to the house. I usually get her between her meals and I get her back in time for her to have dinner. My mom has the basic level of care for someone who is at the memory care. There are different levels as her condition progresses. Basically, she dresses herself, and she has to be supervised for her medication.
It is very clean, and they provide meals and stuff like that, but for the amount of people that where she is, in her section, they may have 20 or 25 people, they can use 1 or 2 more employees down there at a certain area and time of the day.
---
Judy92632450
October 22, 2014
I visited this facility
The outside of La Casa Grande was very nice looking. I actually visited there three times. The problem I was having -- and I told them -- that I don't think they were completely upfront. They were good in giving me all those specials to move in, but then they couldn't tell me at all how much it was going to go. I think they were in such a hurry to get me in there that I wasn't being upfront with. I came home more upset every time that I went there.
---
Caring91280850
August 30, 2014
I visited this facility
I visited Emeritus and I wasn't impressed at all, as it wasn't very clean. The rooms are small with just a bedroom and a bathroom. There's a living area that they call attached, but you have to share it with other people. They were doing some renovating. The young woman who showed me around did mention a few activities like Bingo, card games, and crafting. They have an area for people with dementia or Alzheimer's and also an area for assisted living, but I did not see any of that.
---
Caring91403750
August 26, 2014
I visited this facility
Emeritus at La Casa Grande was pretty good. The rooms were all right, but I don't think my grandma would have liked them because likes her own space and she would have felt that the people there were too close. I liked the open space and that there were lots of different areas like gardens, which my grandma would have liked, too.
---
Caring81840750
March 27, 2014
I visited this facility
I went to Emeritus in New Port Richey because it was close to where we were. I would not recommend this to anybody. At the time we went there it was being renovated, but it is very old and dated, so I did not care for it at all. The person we dealt with was very annoying, and so we couldn?t wait to leave because he would not shut up. He talked way too much. We looked at the rooms, and we didn?t like them. Overall, we didn?t like the facility at all, and we didn?t care for the man who showed us around.
---
Jack & Sharral
March 12, 2014
I visited this facility
It appeared that the patrons living their were happy and well cared for! I was pleased with the range of services provided to include meals. They were in the process of renovating, but the facilities did not appear to be that worn. As I was mainly interested in Independent living, however, I found the facilities and living space to be inadequate. We were shown a small studio apartment and a one bedroom apt. The one bedroom apt would be preferred, but the kitchenette and refrigerator were too small for my wife and I.
---
Caring74664850
November 27, 2013
I visited this facility
Emeritus was just around the corner from me. I went through the whole place and it was very nice. I had sat down and had a long talk to the people and the rooms were in good size.
---
Harry16
November 24, 2013
I am/was a resident of this facility
I've already moved in Emeritus at La Casa Grande. I'm quite pleased with this facility. One nice thing about it is that I haven't heard complaints from other people here. They all seem to feel that the management is doing a nice job. I would recommend this facility to others. I chose this one because, once I get all the information, I can end up getting a government grant to help me pay. None of the other facilities seem to know anything about it. I'm on Social Security and I can't afford to live here but I qualified for Veterans Administration so that I can pay for it. That's number 1 reason. My number 2 reason, it is just about three blocks from my church and that is a major factor. The staff is doing pretty good, although they do have a little trouble with enough staffing in the afternoon. Sometimes they're down to two people and it takes some little while to get served, but aside from needing more servers, they're very good. They even have a person that writes down whatever it is that you have trouble with. Regarding meals, they do have a lot of variety of them. There's always two items on the menu. If you don't like either one, you can always order a grilled cheese sandwich, a ham and cheese, or a BLT. You can order whatever you like. I even have pancakes for supper. They're very good about that. In terms of transportation, they do have buses going to doctors and laboratories. They're also pretty good about scheduling. I'm reasonably well satisfied. I'm very fortunate with my room. I'm in a room in their independent living. It has a living room that I furnished and I was able to share my videos and books with anybody else. I also have a chair, a table, a couch, two bookcases, a TV and a disc player. It's like I have my own private living room and it's nice. The bedroom itself is not that really small but it's large enough for my dresser, computer and the bed. I'm reasonably happy with my room.
---
Mike35
November 22, 2013
I visited this facility
I was saddened because Emeritus was just down the street from where I lived but we weren't too impressed. The guy that met us acted like he didn't think we knew anything. I don't think that he actually felt that way but that was the impression we got. He didn't seem to be in touch with our concerns. It wasn't the best tour that we went on. They had some very nice things there. Their alert badges were able to pinpoint where a resident was. If they called for help from anywhere on the property, they could pinpoint that location. They could improve on better personnel especially in the marketing. We were totally unimpressed when he started telling us about the place but didn't actually take us around to different areas and eventually did show us some of the facility but not enough to really make a decision on.
---
Karen73584850
November 11, 2013
I visited this facility
Emeritus was nice and we liked it but it was very large and we thought it would be overwhelming for mom in law. The staff seemed very nice and friendly. They have different sizes in rooms. We haven?t tried eating there but the dining area was big, it looks very clean and it had tablecloths. I liked the outside courtyard areas; they had a large area for people to go and sit. They were ready for a big overhaul and we knew she would be overwhelmed by change. In addition, I just felt that it smelled moldy when we first walked into the place.
---
Marjorie9
October 09, 2013
I visited this facility
The employees seemed very nice at Casa Grande and it was clean. They have independent living; assisted living and they have a nursing home so that's three places where you can go. It's probably one of the least expensive which is what I was looking for. They have all kinds of activities there, they go out in the bus, and they take you shopping if you're in assisted living. They can also take you places if you are in independent living. We had a meal there and it was very nice. The lighting needs to be improved though; it seemed dark when you went in.
---
John67104250
September 29, 2013
I visited this facility
They did a good job taking me around Emeritus at La Casa Grande and answering my questions. The studio is small but I suppose for the needs of one parent, it would be okay. The facility didn't seem very lively to me. I wouldn't say that there was a lot of high energy staff present. It looked like a lot of people were looking lost in there.
---
caring1354
April 26, 2013
I am a friend or relative of a resident
Mom is at Emeritus. The community is nice. The food is good and the rooms are nice. They have music, bingo, and even church services. The staff is helpful and they answer my questions when I have them. But they could add more staff.
---
Lynda 2
October 15, 2012
I am a friend or relative of a resident
I am very pleased with Emeritus and so is my mother. Her room is very nice, and the meals are great. She likes the staff, everybody seems nice, and there are no complaints.
---
JMARTIN1
June 23, 2012
I am a friend or relative of a resident
The building is comfortable and provides an atmosphere that is more than welcoming for short term patients to be in. Living quarters seem up to standards and what I really liked was how they allow their residents to have their pets with them. Another good aspect of this place is that they don't merely watch over your loved ones, they involve them in some really entertaining activities.The staff seem to thoroughly enjoy their jobs and definitely make you feel as though your family member is safe inside of their community. Not once was there a question left unanswered or a problem unresolved. Unlike some other facilities this one allows for you to visit with your family member privately and without them constantly dictating what you can and cannot bring them. My Aunt happens to like ice cream snacks ever since her dementia set in and i was allowed to bring in extras every other day. Her favorite pet also enjoyed visiting her which was an awesome plus. I'd definitely recommend Emeritus to anyone looking for a warm and welcoming alternative living situation for their family member or close friend.
---
rdsmith
May 10, 2012
I visited this facility
found the unit to be run down,staff seemed friendly though entrance fee seemed extreme
---
Dot's kids
April 18, 2012
I am a friend or relative of resident
Mom moved into La Casa earlier this year. After a short adjustment, she loves it! The staff are caring and friendly, and the LaCasa leadership group is making continual progress with upgrading the services and facility. We're very happy we moved Mom here!
---
tampabayCNA
December 26, 2011
I visited this facility
This facility appears as if at one time it was a hotel. The rooms are mostly semi-private and are devided by a partition in the floor that rises to about 4 1/2 feet. There is a building in the center that is a two story unit used for high need ALF residents. The staff seemed pleasent. The dinning area is large and it welcomes you apon entrance. The dementia unit is one of the largest I have seen in the area.
---
TampaRays
October 11, 2010
Life of the Party
My dad was very reluctant to go to an assisted living. He didn't want to give up his house and his way of life. It was the hardest decision I've ever had to make, sending him to live at Emeritus at La Casa Grande. After just a few weeks, my dad has made friends, he has attended parties, and has even gone out to eat with friends (this is a first since my mom died 15 years ago). My dad is now the life of the party. Now the hardest decision I ever made is the BEST decision I've ever made. Thank you.
---
PhotoGuy
October 01, 2010
Home Sweet Home!
My parents were both in ill health and needed a place to live where they had access to nurses and therapy. My mom was worried about not being able to cook in her own kitchen. However, my parents have discovered they have the best of both worlds. They have their own apartment and they are not bothered or intruded on unless they ask for help. They also have 3 big meals a day, snacks, parties every week. They play bingo every week and are still able to go to church and still use their old doctor. The staff has always been incredibly nice and made the transition seamless. Thank you La Casa!
---
GatorFan
October 01, 2010
My dad is alive again!
My dad lived a very lonely solitare existance before going into Emeritus at La Casa Grande Assisted Living. My dad's life consisted of waking up, eating frozen meals, watching TV, and going to bed again. He only got out of the house to go to the doctor every three months. I was his only visitor and I only get to come to New Port Richey every 2 weeks. I was worried when my father's doctor told him it was time to check out an Assisted Living. My dad's nutrition and hygeiene were affecting his health. I knew that my father would not adjust to change or being around that many people. We checked out several Assisted Living facilities, but went to Emeritus at La Casa Grande at my father's doctor's recommendation. The grounds were beautiful, the rooms were bigger than others we had seen and the staff was helpful and informative. Within 3 weeks of living at Emeritus at La Casa Grande my dad is a different person...he is alive again. My dad comes to the dining room for every meal and visits with his table mates before and after meals. My dad goes out to eat with a group of friends from La Casa. My dad has even joined a walking club and walks with other people every night. His whole personality has changed and we have Emeritus at La Casa Grande to thank.
---
katzoo
June 21, 2010
I am a friend or relative of resident
These people will do anything to get your money. They told me they were the only ALF in the state of Florida with an Extended Care License. That's a bunch a bull crap. There are hundreds of them. Unfortunately we moved my mom to this place and now she's stuck. If we move her out, we lose our $5,000. They are supposed to have caring angels who will get your loved one out and about and show them what there is to do and where things are. I think my mom saw her 3 times if that. My mom sits in her room and does nothing because no one has taken the time to introduce her to people who have similar interests. I hate this place!
---
From Brookdale New Port Richey
---
We offer a home like setting and cheerful smiles from our professional staff who greet you every day. Our caring staff offers the assistance you need while respecting your independence.
Our peaceful setting, restaurant style dining experience, activities and beautiful setting combine to create a wonderful living environment everyday. Our genuine caring staff, home style meals, daily activities add to our residents' experience. They will tell you they appreciate all the options while living at an Emeritus Senior Living community.
The sense of community is all around you when you become part of the Emeritus family. Through special events, activities, clubs and ongoing cultural enrichment programs, we offer unlimited opportunities for you to get to know other residents and us. Call to set up an appointment for a tour because we delight in showing you our home.
Our Family is Committed to Yours.®
Amenities and Services
Daily assistance with bathing and dressing
Medication management
Dining assistance and special diets
Assistance with reminders and redirection
Escorts and assistance with walking
Emergency response call system
Housekeeping
Laundry and linen service
*Rates subject to change at any time. Level of care not included.
Assisted Living Facility #6024
Features of Brookdale New Port Richey
---
Location of Brookdale New Port Richey
---
Request Info
Get full access to reviews, cost information, and amenities