Sunrise of New City
233 North Main Street, New City, NY, 10956
Talk to a Family Advisor: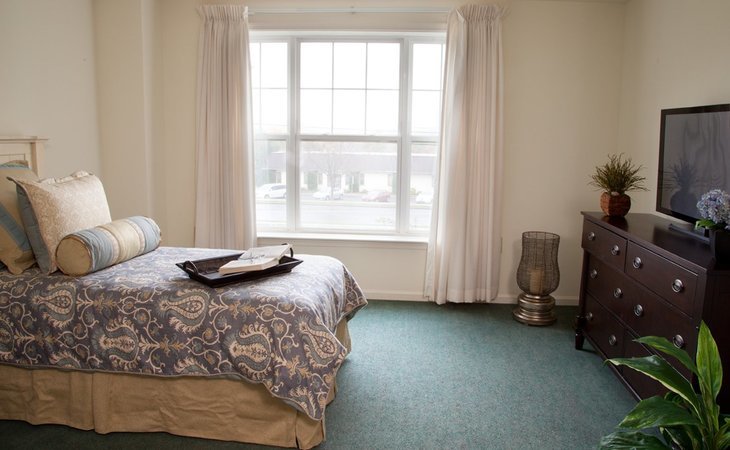 Reviews of Sunrise of New City
---
Visitor068455
September 30, 2016
I visited this facility
My mom moved to Sunrise; she's been there for 2 months now, and she likes it there. I think most of the staff is patient. The food is OK; they cook it without salt, fat, and sugar, so she finds it bland. They take them to out to church.
---
Joann26
September 30, 2015
I am a friend or relative of a resident
Sunrise of New City is a beautiful place. They look after the people really well. I do not have anything bad to say about it. You can bring your own things in the apartment, which makes more homey. There is a bathroom and a room. They have snacks and ice cream days. The sitting arrangement in the dining room is like a restaurant. I feel comfortable that he is there, and he is happy there. I do not really have any problems with them.
---
Caring99927850
February 17, 2015
I visited this facility
I visited Sunrise of New City, and it seemed very nice. However, when my wife had an interview there, they called back, and they said they did not feel that they could offer the level of service that my wife required. However, I thought the facility seemed very nice. I met with a nice group of people. It seemed clean with lots of nice looking rooms. My wife would have been happy there had they been able to offer the service she needed. I liked the rooms that I looked at.
---
Caring99931750
January 22, 2015
I am a friend or relative of a resident
Sunrise was presented as a place that would be able to provide the one-one-one extended medical supervision that he needed, as well as support in terms of the dispensing of medications and assisting him in going to bed, waking up, washing, going to the bathroom, putting his clothes on, etc. So it was the level of personal services that we were most attracted to. I want to see more one on one care. They do have activities. My father is not one to participate in them so much. That has more to do with him than it does with the facility. But there are sometimes inconsistencies in terms of something they reschedule. It's not going on right now. It is not habitual, and it does not happen all the time. Sometimes it is not as consistent as I would like.
---
Caring100180950
January 04, 2015
I am a friend or relative of a resident
I really Sunrise's cleanliness and that people were doing something. The care is good.
---
Caring103098950
December 17, 2014
I visited this facility
I visited Sunrise of New City. I had a very good experience with them. They actually gave us a taste of their desserts. It was excellent. Food was very good. The place was very sanitary. The dining area was also laid out nicely.
---
Caring96456050
October 22, 2014
I visited this facility
We chose Sunrise of New City for mother because it was close to a relative. I think the care is great, and they have a whole host of activities like every hour or two. They have morning exercises, afternoon movies, and word club games. They have trips outside -- like trips to different shopping strips. Once a month they have a family activity, and they have mass on Sundays; those are just a few of them. The facilities are beautiful, and the rooms are great; however they have an issue with the people who serve the food. If they don't show up on time, they're the ones who's holding it up so breakfast, lunch and dinner can be very time consuming especially if you are not independent or if you are in a wheelchair. It can be very tedious, very long, and very upsetting, so that is the issue that most of the residents have now with the meals. On one hand it's gorgeous, and they have all these activities that the administration and the volunteers are running, but the food part of it is just as important. This is just the one aspect that is a little troubling at the moment, and I hope that they resolve it soon; and if resolved, it is spectacular. It's the best place, and it's a great facility.
---
Pat69419850
May 10, 2014
I am a friend or relative of a resident
Sunrise of New City doesn't look like institutional. It looks like home. It's very bright, sunny, and there are lots of windows. And that's very important to me. They also have a nice dining room. It had a full linen tablecloth and napkins. They have a choice of food and a living room area that you would find in any home where the clients can look at television or listen to music. It's kind of homey looking. The staff is very friendly, and I like it. There's a doctor on call and nurses. I'm very happy with it. The rooms are very nice. They have music, sing-alongs, board games, bowling, passing a ball around, and bingo. I think it's really nice. I'm happy with it.
---
Caring84385950
April 26, 2014
I am a friend or relative of a resident
My mother has been at Sunrise for a while. She's very happy there, and that's the most important thing. They have movies. They play games. They have people come in and lecture. My mother doesn't take part in some of the activities, but she does go to some of the lectures. This place is like a hotel. They come in and help you with showers. She does her own medication.
---
Mlo
December 23, 2013
Other
This place is a home away from home! I have seen residents make a new life for themselves at an older age with new friends and new interests! The care is good, the food is good and it is a very pretty place!
---
Cate85
September 11, 2011
I visited this facility
At Sunrise the quality of care was exceptional. The Staff were gracious and nice not only to the elders but to the families as well. They took the time to sit with us and listen to our thoughts and concerns as well. They were very helpful in answering any questions we had. There was staff available all hours of the day and night, should a problem occur with a patient. I felt that the staff took pride in their jobs and were happy to be working in their field.The grounds surrounding the home were well manicured. The facilities were beautiful. Everything was clean and kept neat. The staff take care in preparing meals for the seniors. They actually interact with the patients to find out what they like, and then try to incorporate it into their everyday.Also offered was creative classes to keep the seniors occupied throughout there day. Physical activities were also provided to keep them active and healthy. Housekeeping services were also provided such as trash removal and laundry services. However they were only provided on a weekly basis. Provided to the patients by the facility are wellness visits by a trained on staff nurse.
---
---
Located just minutes from the county courthouse on Main Street, Sunrise of New City sits north of the heart of the city overlooking Rockland's mountain ranges. We pride ourselves in the cohesiveness of our staff, and the family feeling among our staff, residents and families.
Step into a Sunrise Assisted Living community and you can?t help but feel at home. We stop at nothing to make your experience warm and inviting, from our homelike exterior architecture, to our comfortable community areas and choice of suites to our exceptional outdoor gardens and landscaping. Look around and you?ll notice fresh flowers throughout the residence, and you may even spot our dog or our cat. And of course, there are always the friendly smiling faces of our staff to insure that each day spent here is a welcome one.
Location of Sunrise of New City
---
Get Cost Information
Get full access to reviews, cost information, and amenities