Brookdale North Naples
1710 SW Health Parkway, Naples, FL, 34109
Talk to a Family Advisor: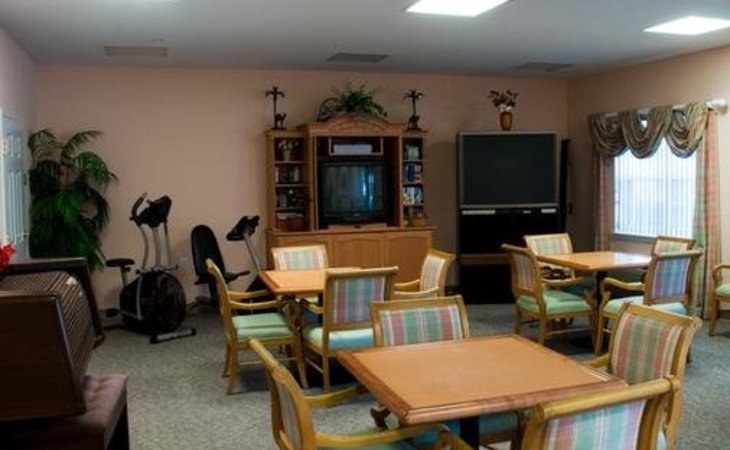 Promotion ends in 3 days!
NOTHING SAYS SUMMER LIKE SAVINGS. Move into a Brookdale community by June 30, and receive a $1,000 rent credit! *Eligible new residents will receive a one-time $1,000 credit to the Basic Service Rate/Monthly Fee following the first 90 days of residency.
Reviews of Brookdale North Naples
---
Jackie463821
May 06, 2017
I visited this facility
Brookdale North Naples looks good, nice, and clean. They have several activities. The rooms were OK, and the dining area was nice and good.
---
Christine573450
March 31, 2017
I visited this facility
I visited Brookdale North Naples. The person who showed us around was a very young person who did an OK job. It was very large and somewhat older. It had lots of facilities and activities because of the size of the place. They had activities like swimming and trips out. I was able to visit some of the rooms. The staff was nice.
---
Terry276058
August 24, 2016
I am a friend or relative of a resident
My mother is staying at Brookdale North Naples. She's in a beautiful, large room that has a kitchen in it. It's a very nice facility. They have games for residents to play, chair exercises, music, and card games. The food is excellent. We've had issues with the staff not cleaning her properly and not taking her to the bathroom when she's supposed to go. She soils herself because she doesn't really understand that the staff is supposed to take her and that we're paying staff to do that. There have also been billing problems.
---
Anonymous116181550
January 30, 2016
I am a friend or relative of a resident
My mother is at Brookdale North Naples. Everything is fine. The food is good, the services are good, and the people are very friendly. The only thing is that they need a better orientation process, not just for the residents, but for the family as well. There are some things that have happened. Like, they would come and say they were going to do an evaluation, and after that evaluation, they would have these recommendations that would end up being an unnecessary expense for my mother. There was no explanation of how this was going to be charged to the resident. They sent in a physical therapist, an occupational therapist, and a nurse, and they've started billing her for these services. Also, trying to get these bills revoked was very difficult. These are some of things that I think need to be more clearly defined upon arrival. When they do those types of things in the beginning, someone should be with the residents to make sure that they truly understand what it is because I don't believe my mother did.
---
Joe118141950
January 29, 2016
I visited this facility
Brookdale looked more like an upgraded hotel. I liked this Brookdale better, but my mother liked the other place. Also, they did a special cost for me. Food isn't available after meal times. I liked the lady there, and she invited my mother to different functions.
---
Howard G.
December 16, 2015
I am a friend or relative of a resident
This Brookdale community is excellent. They are taking good care of my mother. It is a good place to live. The staff is very caring and attentive and the food is very good. As far as activites, they have cards, bingo, rummykub, and there is also a van service.
---
KP2
November 30, 2015
I am a friend or relative of a resident
My parent is in Brookdale North Naples. I like it. It is a good place. We chose it because of all the amenities and the way it look. It fits what we are looking for. The rooms are clean and spacious. They have large handicap-accessible bathrooms. The apartments come with a kitchenette or kitchens, with large a walk-in closet. The dining facility is like restaurant style. Their menu has a very wide selection to choose from each day. They offer a lot of activities. They have a monthly calendar that they post. They have a bus that you go to the stores. They have something going on weekly on various places.
---
Anonymous114149150
October 28, 2015
I visited this facility
Brookdale did not have enough support for memory care, which was what we were looking for at the time. They were very nice and had decent food, but their rooms were very industrial. It wasn't like living in a home. It was more like a hospital room. They were very kind, though, and everybody seem to be really helpful. There were several times we saw people just sitting in the hallway and not doing much of anything, although they did have activities available for people to enjoy. It just wasn't the type of place we needed, and it was pretty small.
---
Anonymous113713850
October 21, 2015
I visited this facility
I had a very nice visit with Brookdale. It was a really nice place. The rooms were clean and spacious. The staff was very nice. The residents looked fine.
---
Caring111138950
July 28, 2015
I am a friend or relative of a resident
My husband is at Brookdale. We were very impressed with it. He has a studio apartment, which is big enough for a bed and a little kitchenette. He has his own bathroom too. It is very comfortable. I've eaten there and the food was very good. Their dining area is just a dining area; it is adequate. I guess they have all kinds of activities, but I didn't pay a lot of attention to it. They have the usual activities though like exercise classes, crafts classes, cards, and movies. I would recommend this facility. The staff is very caring. Also I like this place because the dining room is open all day. You don't have to have any set time; you just go in and eat as often as much as you want.
---
Caring109662150
July 06, 2015
I visited this facility
Brookdale is extremely accommodating, and they really went out of their way to allow her to get in there. The service was above and beyond as far as communication. The dining areas are beautiful, and there are three dining areas. My friend desired some special preparation, and the staff was very accommodating and helped her. They were very friendly and nice.
---
Richard105471150
June 30, 2015
I visited this facility
This is where we put my father at the end of the waiting list. The property that they had was really nice, you could walk around the lake and it was shady.
---
Jim102783550
March 17, 2015
I visited this facility
Emeritus at Naples has a staff that is more laid back and not as aggressive. The girl that I worked with was very nice and very accommodating, but they didn't have the licensing to carry my uncle through if he got to a position where he needed full time care. He had to move someplace else, and that is not what we were looking for. The availability was the hard part because they didn't have anything available for a period of time. We needed something immediate. I think the staffing needed a little bit more. When we went to this place, we had to wait. The girl that was showing us the place had to leave the room several times to go take care of whatever business. It just seem like she was very busy and didn't have the time to sit down and actually take care of us as future customers.
Provider Response
We deeply regret that we were unable to meet all of your expectations. We want to thank you for taking the time to visit and for providing feedback. Please know it will be reviewed and used to better serve our residents and their families in the future.
---
Caring98605350
February 16, 2015
I visited this facility
I visited Emeritus at Naples, and the staff was very helpful. The apartments were very small, but the dining room was nice. They have bingo, field trips, water exercise, and cards. The place was secured and safe.
---
Glenn15
February 10, 2015
I am a friend or relative of a resident
My father is a resident, and I found Emeritus at Naples to be the best value and the best location. It is a nice looking place, reasonably priced, and it is close to my residence. It is very professional right from the initial contact. The staff is terrific and very accommodating. His room is a one-bedroom suite -- small, but very nice. The food is very good. They have a very good activity schedule. Once a week, they go to the dog track, bingo, and during the holidays, they have a lot of activities. Everything is doing fine.
---
Caring100610250
January 19, 2015
I am a friend or relative of a resident
We found Emeritus at Naples for my mother. It is very nice. My mother is very happy there. With regards to the staff, they are all very caring, very friendly, and very accommodating. They are just very nice people there. Dining is very nice. I think it is probably the high point of my mother's day. They don't have any assigned hours for meals. She can go there whenever she wants and eat whatever she wants. The food is very good. It is prepared very well. Her room is very nice. She has exactly what she needs. She has her own little bedroom, her own living area, a nice bathroom, and a kitchenette area. It has everything she needs. With regards to security, I feel very secure there. They are taking good care of her. She wears her little pendant wherever she goes. They take that responsibility very carefully.
---
Caring100133050
December 27, 2014
I visited this facility
I visited Emeritus. They didn't have any balconies, and I didn't like that. If I would be on another floor, I would like to have a balcony. However, the staff was perfectly friendly as far I was concerned. They had a good selection of food, and you were not just confined with one menu.
---
Caring94491850
August 30, 2014
I am/was a resident of this facility
Emeritus has a convenient location. We liked the people, the cleanliness and the knowledge of the staff. They were wonderful. They answered all the questions that we have and showed us an apartment and took us to lunch at their dining room. They had a nice, varied menu and you can eat anything you want to, you're not limited to starting time. They have an exercise room and a card playing room. They have activities from playing cards to going to the theater. The apartment was very nice with a kitchenette, a living room, and a bedroom.
---
Caring75907750
May 30, 2014
I visited this facility
The staff at Emeritus Naples was friendly. The rooms were nice. They weren't quite as big as the others, and they were a little more expensive. The dining room is very nice. You could go down at any time and eat. There was no assigned seating. You could go get breakfast at 4:00 in the afternoon if you wanted it. You could get whatever you wanted during the time that they were open. The dining room's door is always open. However, they could increase the space to work with the agility that you have. There were no balconies or lanai.
---
Caring9929
April 21, 2014
I visited this facility
I thought Emeritus at Naples was very nice. The facility was clean and everything. I never got to see a room because they didn't have an opening at that time. The staff was very friendly. The dining room was very nice; it was nice and clean. They have an outdoor heated pool, which was very nice. They have a very nice reading library, a gymnasium with exercise equipment, and a card game room. They would take you to the grocery store once or twice a week, to Walmart once a week, and to a liquor store once a week. They have a beauty salon on site. They have an on-site RN and a doctor who comes in. My health isn't really good, and the day that they came and interviewed me, they said my health wasn't good enough. I said then, "What is assisted living for?" They irritated me and I was not happy with them.
---
Caring77434550
March 21, 2014
I am a friend or relative of a resident
Emeritus Naples responded very quickly to my wanting to visit. I like the personnel. I found out that they would be willing to transfer the community fee that mom paid in Fort Myers. That was $5,000 and I'm not going to lose that. So we moved her in November. They turned turned out to be a great place. It's a lovely facility, the food is outstanding, there are a lot of activities, and it's very clean. I can't say anything negative about the place. It's wonderful. You can tell that the staff really love what they do. They're very warm and friendly. I'm amazed at how they all know my mother's name as well as my name. They're excellent. They really bend over backwards to help my mother in any way they can. I have no problem with the room. It was very clean and they repainted it before Mom was in. Anything we want to change, they change for us. It has a very nice space. They have jigsaw puzzles, card games, a happy hour, a lot of musical entertainment comes in, church services and Bible studies. My mom has gone swimming twice. They have shopping trips, too. I like that the doctors come in, so I don't have to take mom to the doctor. The nursing staff is outstanding. They'll take them out to eat if they want to sign up to go to a restaurant. They take them to the dog track, even the casino. The activities are really unlimited. I like the warm and friendly staff. They really ask a lot of questions about my mom, and ask her a lot of questions as well. I felt like they really got to know her. She can also go downstairs anytime she wants to go eat from 7am to 7pm. That was a big decision as well.
---
Helen32
January 30, 2014
I visited this facility
I'm currently at the waiting list of Emeritus at Naples. I chose this facility because it's the best; it's the nicest. It's very clean and well organized. The staff and the residents are very friendly and very warm. I know they have a lot of activities there.
---
Acacia
January 12, 2014
I visited this facility
Naples Assisted Living is nice and very clean. It's like going into a hotel when you walk into the front. People there are helping the elderly. They got a place where they could get their hair done, a beauty salon, and guys have their own little barbershop. They have a bingo room where they also play cards. It's pretty neat. They have a little bus that comes in to pick them up to do the groceries and their shopping. They have apartments in there where people could cook. They have people that clean their apartment and they'll even do their laundry for you. They were great but everything was full. Also, I have a little dog and that's my baby; I would never leave my baby. I would definitely recommend this place, especially for people who don't have dogs or cats.
---
Caring82033750
December 30, 2013
I am a friend or relative of a resident
My mother found Emeritus at Naples so everything is fine now. She is in what I think called Emeritus now. The facility seems nice. Also the staff there seems nice as well. My mother likes this facility and that's what I like best actually. It was a relief that she likes it there. So if my mother likes it, then it must be five and a half stars.
---
Jaggo
October 30, 2013
I am a friend or relative of a resident
The facility, formerly Merrill Gardens, is located in North Naples. It is a beautiful ALF and also has independent living as well. When my parents moved in last year my mother required Assistance and my Father was Independent. They permitted them to live in the same apartment despite each receiving a different level of care! This was our primary reason for choosing this facility as most places separate ALF from independent living. My parents would have been separated. My father passed away this past December. Emeritus staff were with us kindly supporting us throughout his brief illness and their kindness continues since his loss The staff are caring, knowledgable and kind. The surroundings are clean and well cared for by a loving staff. As a critical care nurse with 20+yrs of experience I have felt comfortable knowing the staff are caring for my loved one.
---
Janice20
September 27, 2013
I visited this facility
The thing I liked about Merrill Gardens is that it was very bright, open, and there were a lot of residents that are interacting with each other. They looked very friendly and they told me it's a nice place. It's clean and fresh. I also like that you don't have to be in the dining at a certain time for the meals. You can order foods for breakfast and dinner and I really like that. The rooms were big and it's worth it for what you are getting with the amount of money that you are paying. The facility is also right across NCH Hospital so that is really nice.
---
From Brookdale North Naples
---
We offer a home like setting and cheerful smiles from our professional staff who greet you every day. Our caring staff offers the assistance you need while respecting your independence.
Our peaceful setting, restaurant style dining experience, activities and beautiful setting combine to create a wonderful living environment everyday. Our genuine caring staff, home style meals, daily activities add to our residents' experience. They will tell you they appreciate all the options while living at an Emeritus Senior Living community.
The sense of community is all around you when you become part of the Emeritus family. Through special events, activities, clubs and ongoing cultural enrichment programs, we offer unlimited opportunities for you to get to know other residents and us. Call to set up an appointment for a tour because we delight in showing you our home.
Our Family is Committed to Yours.®
Amenities and Services
Daily assistance with bathing and dressing
Medication management
Dining assistance and special diets
Assistance with reminders and redirection
Escorts and assistance with walking
Emergency response call system
Housekeeping
Laundry and linen service
*Rates subject to change at any time. Level of care not included.
Assisted Living Facility #9471
Features of Brookdale North Naples
---
Room and housing options
1-bedroom apartments
2-bedroom apartments
Studio Apartments
Location of Brookdale North Naples
---
Top Cities for Assisted Living
---
Get Cost Information
Get full access to reviews, cost information, and amenities