Montclair Royale
9685 Monte Vista Avenue, Montclair, CA, 91763
Talk to a Family Advisor: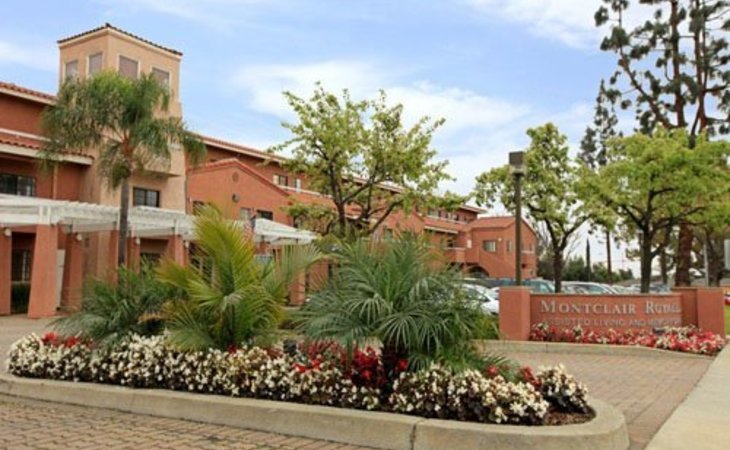 Reviews of Montclair Royale
---
David271754
March 28, 2017
I visited this facility
The tour at Montclair Royale was good, and we liked it. It was a nice facility, and the only drawback was that it's on a busy street, but the actual facility itself seemed to be adequate. It appeared that they had the full range of typical senior activities. The grounds were average and the staff appeared to be adequate. It seemed to be a very nice, average facility that was reasonable in price.
---
Regina616166
February 23, 2017
I visited this facility
Montclair Royale gives you a price for independent living, then they start adding additional costs for care, so to me it's still an independent living place. It's definitely an older building, the dining room was nice, and the staff seemed to be nice. The rooms that they showed me weren't very nice, and it looked old. There's a cord that you pull if you need help, but they don't have a medical alert button that you have on you.
---
Kent164424
January 18, 2017
I visited this facility
Montclair Royale looked OK and like they are doing some renovation. It's not a place where I would put my parents because their rooms need touch ups. They are in a transition phase with new management. The staff was friendly.
---
Susan070245
January 10, 2017
I visited this facility
Montclair Royale was a little more expensive as far as what they did. They provided meals and things like that, but the rent was just too expensive. For assisted living, it seemed to be more expensive. Everybody was very nice, and they served us lunch. It was a very nice place. They had a dining center where there were a lot of tables, and usually anybody can go down there and socialize or eat or watch TV. They have a big screen TV where you can watch and sit down there; that looked like it would be nice. There were a lot of people who had friends that they socialize with, play cards with, or anything like that. The apartments were very nice, and they had everything that you would need. We saw a 2-bedroom, and the bedrooms were a good size and were kept very nicely.
---
tommy11
January 10, 2017
I visited this facility
5 stars
---
Lorry180166
January 06, 2017
I visited this facility
Montclair seemed efficiently run. They had a nice eating area, and the menu seemed varied and nutritional. They had nice, large-sized rooms. The personnel I met seemed very friendly, caring, and involved with the patients. I wouldn't foresee any problems.
---
Janet254240
December 06, 2016
I visited this facility
The tour at Montclair Royale went well, and I really like the place, but we are still following up with them. I think Montclair Royale would fit the needs of my mother-in-law. The people were very friendly and efficient. I was impressed with what I saw. I think my mother-in-law would fit in fine there. What attracted me most were the activities that they offer and the friendliness of the people.
---
Dawna024384
November 22, 2016
I am a friend or relative of a current/past resident
We placed my father-in-law in Montclair Royale. We are very happy with them. It seems like the staff is more involved with the patients. They are very caring towards their residents. It is not too big and not too small. The environment is very friendly. They have different activities for them also. They have bingo, a room where they can watch TV and movies, one lady leads exercise, and they a lady teaches them dancing.
---
Toni422615
November 19, 2016
I visited this facility
Montclair Royale has amazing staff. They are so caring and so good with the residents, especially for memory care. Most of them in the unit are not very coherent, and the staff just takes them along, guides them, and keeps them busy. I can't say enough about the staff because they're wonderful. I was surprised by the size of the rooms because they're huge. It's great, and it just seems clean.
---
Robert838565
November 13, 2016
I visited this facility
Montclair Royale was very nice. It had games and other activities, and it served 3 meals a day plus snacks. The staff was easy to approach.
---
Chris S.521354
October 21, 2016
I visited this facility
The assisted living part of Montclair Royale looked OK; you have to walk through there to get to the memory care unit. It was considerably less expensive, but there's no way I could ever put my mother in that place. People were lined up in the activity room in wheelchairs looking at a little TV screen. The memory care unit was like a warehouse facility to me. The assisted living part was a little better, but I only saw a part of it as I was walking through. I'm sure their care was fine, but it was just depressing.
Provider Response
Thank you Chris S.521354 for your personal and individual comments of your experience here at Montclair Royale. It is important for us to hear from everyone that has taken a tour and we value comments that lead us to even greater accomplishments. Since we are one of the larger communities in our neighborhood we strive to remain personal with our residents with daily connections made through daily personal care and supervision. This close relation also extends to all of our family members of our clients. Care is principal and the very foundation in which we have built an outstanding reputation in our city and the outlining areas. It has been our experience through word of mouth of family and friends that Montclair Royale continues to be known as a community with reasonable charges while providing quality care to our residents. We understand that aesthetics of a community can be deceiving in many ways. Montclair Royale is the kind of community that "gets-it". Our residents and their families share with us a on a daily basis of their appreciation toward our staff. Lastly, since Montclair Royale does offer a Small Memory Care. When the majority of our residents are in the common area at the same time, it is true the room is full. However, we have continuous activities for our residents throughout the day, where residents are in other areas of the facility as well. We remain FULL at this time with a waiting list of five people deep. As you have noted, we have affordable rates and with our tri-level care ability, this appeals to families knowing they don't have to keep moving mom or dad from place to place should conditions change over time. The proof of our growth can be traced right back to "family satisfaction" and is evidenced by our tremendous growth. Families are happier and residents are safer. We do understand that Montclair Royale is not for everybody. We wish you all the best at the community you have selected for your loved one, and please know that in the future if costs begin to get too high and care becomes insufficient for your loved one, we are here for you. Thank you again for your honest review with Montclair Royale!
---
Randy281831
October 13, 2016
I am a friend or relative of a current/past resident
My dad is pretty happy at Montclair Royale. He is satisfied with the facility and the help that he is getting. They have an activity area, a TV room, and a nice-sized courtyard. They have a really nice dining area too. He said the food is good, but the portions are kind of small. The rates are reasonable, and so far, we have been pretty happy with it. It is all inclusive.
Provider Response
Hello Randy It is quite common in the industry as a whole where food portions come up for discussion. In general female clients want smaller portions and male clients want larger portions. With that regard we fill plates with more than the normal size portion. Typically the client eventually will tell the server to please either limit the portion size OR increase it. It's entirely up to the resident. Recognizing that many residents come from the depression era, they still live thinking they do not want to waste anything, which is why we usually get comments that portion sizes are too large. Thank you for you comment and please note again, all the resident has to do is let the server know and the server will gladly accommodate the request.
---
Thomas172736
October 10, 2016
I visited this facility
Montclair Royale was a nice place. I like it, but it was out of my price range. I didn't pursue it very far, but I was on a waiting list of two years. It was something I can do. I just talked to somebody at the leasing office that said they had a waiting list.
---
Melvin5
May 11, 2016
I visited this facility
We only visited Montclair Royale for my mother. That one was very nice. They're very reasonable. They gave us the information. Everything was nice. The staff was fine. They're very friendly, they're nice, and they answered some of the questions we had. They gave us more information that I was looking for at the time. They're very helpful. Everybody was great.
---
Dee25
February 29, 2016
I am a friend or relative of a resident
I move my mom in Montclair Royale. I love the facility. I love how they keep it clean and how they tend to my mom. She is really happy there. She knows the staff by their name and has no complaint. She is always dressed and ready to go. Their room is always clean and she really likes her roommate. It working pretty good to her. They take their residents out on field trips. They have internal activities like bingo, arts & craft, bible studies and movie nights. They often take her down to the courtyard where she can get some fresh air and she can walk around. She likes to jog and she goes around in the courtyard. I like it a lot for my mom.
---
Andrew27
December 17, 2015
I visited this facility
The person at Montclair Royale did not give us enough time. She was in a big hurry because she had another appointment. The facility is being remodeled. It looks like it is well maintained inside. I believe they were moving the residents around, because they had to do each room at a time. It did not stand out to me. The surrounding area is right next to a hospital, and it is in a lower-middle class area. The driveway needed to be redone. The parking lot was small; we had to park next door.
---
Christine116112950
November 22, 2015
I visited this facility
I looked at Montclair Royale for my grandfather. They're a little bit more expensive; my grandfather can only afford a shared room there. I dealt with one staff member who was helpful. The community was OK but wasn't as nice as the one that my grandfather moved into. However, it was on a busy street, and the area was not safe.
---
Eileen27
June 29, 2015
I visited this facility
The people were very friendly and very accommodating at Montclair Royale. It was very nice. It was renovated recently. We saw the dining room, and it was beautiful. They had several nice rooms that the residents could use for either watching television or socializing. I would recommend it to others.
---
Richard107707650
June 20, 2015
I am a friend or relative of a resident
Montclair Royale is a nice place, and it is clean. They are very accommodating. It is very well staffed. They play bingo, watch movies, and go shopping. It is a hundred yards away from Montclair Hospital. My cousin loves it.
---
Caring105117250
May 05, 2015
I am a friend or relative of a resident
Montclair Royale is good in how easy it is to sign up and how easy it is to work with them in getting all the specifics put together. Overall, it seems good although my uncle has been in there for only a few months. The environment is nice, but the place is kind of small. It looks like it is big from the outside, but it is not a big facility. Inside, it is fairly clean. They have people that work on that floor, but it is not structured as other places would be in terms of getting a hold of somebody. They are kind of slow in some ways when it comes to getting of a hold of people like the staff or the administration. They are good with responding when you do get a hold of them like when they know they need to talk to you.
---
Bill104328550
April 17, 2015
I visited this facility
We are going to be placing our aunt at Montclair on Tuesday. Basically, I liked the way they had everything set. When I walked through the doors, I liked the entrance area. I like the counselor a lot better; she has worked with me a lot more, filled me in with what is going on, and how to do it. All around, it was just a better feel. The rooms were very nice; there was a good selection of rooms with different sizes and different layouts. They had just recently upgraded a lot of rooms, and they have more rooms to upgrade. I just met a few of the staff members -- I was basically dealing more with the counselors and the management -- and they were very good, very knowledgeable, and they gave me a few different avenues to look at. They had all the activities that all these other ones had. They had the basic ones -- they had Bingo and the TV lounge, they work with the individuals whether it be memory care, and they have general games. They did have a little physical fitness program in the morning. They get them all out there, stretch them, and kind of work with them to keep their bottoms moving.
---
Barbara108646150
April 01, 2015
I visited this facility
Montclair Royale is very nice, and the people were very good. The staff was very friendly. It is a very nice place. It is upgraded, and I think they just renewed the whole inside of it right before we got there. It is all updated, and it has a very friendly atmosphere. It is very nice, and the person who did the walkthrough was very sweet and very nice. They have big rooms, there's two little rooms, and they all seem to have a nice view. They have laundry and a salon. They have transportation and family members can take them.
---
Caring107249550
March 07, 2015
I am a friend or relative of a resident
My brother-in-law is currently in a facility called Montclair Royale. He has been there since the end of May. I have some doubts about the qualifications of some of the employees. Not the management but some of the employees. They have activities, and the facility seems adequate. It is an older facility, but they have been doing upgrades. He has Alzheimer's, so what he says and what really goes on is sometimes hard to sift through. I have eaten there, and I wasn't impressed. They need to have better communication though. They need to have better communication between management and staff and between management and the clients.
---
dorothy8269
October 07, 2014
I am/was a resident of this facility
I liked the staff at Montclair Royale. They were really helpful, and they treat you like they really care about you. They had Bingo, walks and exercises in the morning, and once a week a singing group comes. It was a very nice experience, and I was with all my friends. In the beginning the food was really good, but they keep changing the cook, and finally it wasn't good at all.
Provider Response
Thank you so much for your kind words regarding our community Montclair Royale. We are very excited to hear that you enjoyed our staff and our activity program. This means so much to us as staff members to know that you felt our caring and compassionate philosophy and delivery of service. Montclair Royale, believes in service with a smile, service with compassion, and to have you feel as part of our family. We do appreciate your review regarding our food service. Our current Chef is an alumni of Le Cordon Bleu in Pasadena. With many different palates, our Chef tries to accommodate each and every individual likes and dislikes. Although this presents challenges we have had much positive feedback from our residents, their families, and our staff. -Montclair Royale
---
Kristina4
August 14, 2014
I visited this facility
Montclair Royale has close and caring staff. I think the rooms are a good size. They have Bingo, arts, and socials, and they have barbecue on holidays, movie time, Bible studies, and church groups. They have lunches out and shopping. I liked the warmth; I get a warm feeling that they will take care of my mom.
Provider Response
Thank you so much for visiting our community Montclair Royale. We were excited to read your review, and thank you for allowing us to be a part of your extended family. It has definitely been our pleasure. -Montclair Royale
---
---
Montclair Royale in San Bernardino County California offers a warm inviting retirement community with independent and assisted living along with memory care. Located near Claremont, Upland, Rancho Cucamonga, Ontario, Pomona, and Chino, CA, Montclair Royale provides full-service assisted living along with staff trained with the best senior living services for the elderly. Our studios and one bedroom apartment floor plans are designed with your comfort and convenience in mind that will suit your lifestyle for assisted living in Montclair, California. Our well designed retirement homes provide a variety of amenities to enhance your quality of life in the Montclair neighborhood. Amenities include all paid utilities (excluding telephone and cable), vertical blinds, disability access, walk-in closets, weekly house keeping service, plush carpeting, air conditioning, and patios or balconies. Our senior homes offer a distinctive style and incredible comfort in a relaxing setting.
What Makes Us Special
---
Our caring staff makes every effort to treat our residents with respect and dignity and to become an extended family for our residents.
Features of Montclair Royale
---
Costs
Minimum Rate

$1800/month

Minimum Memory Cost

$2800/month

Entry Fee
Room and housing options
1-bedroom apartments
Companion Suites

We Offer Companion Suites

Studio Apartments
Features
Beauty Barber Shop
Resident Transportation
General Store
Tv Room
Garden And Patio
Features Extra

Library
Cleaning services
Laundry For Linens
Private Cleaning Services
Housekeeping
Laundry For Clothing
Technology and entertainment
Technology Extra

Emergency Call System
Health services
Hospice Care
Medication Management
General
Minimum Age

62

Pets

No Pets Allowed
Location of Montclair Royale
---
Get Cost Information
Get full access to reviews, cost information, and amenities