The Brennity at Melbourne
7300 Watersong Lane, Melbourne, FL, 32940
Talk to a Family Advisor: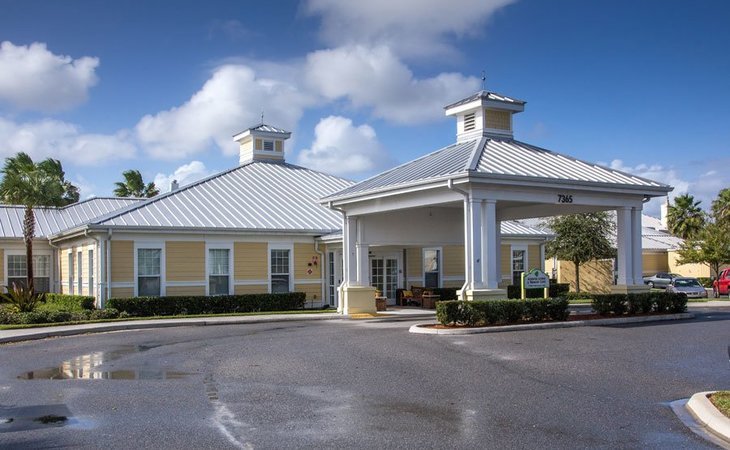 Reviews of The Brennity at Melbourne
---
renee623106
May 22, 2017
I visited this facility
The Brennity is a very nice facility with a dedicated memory care area. It's secure, very nice, and clean. I didn't have any issues with it, other than it was farther than I wanted to go. The cost was close to others. I would recommend them.
---
Del552208
April 13, 2017
I visited this facility
I looked at the Brennity at Melbourne for my brother. It was very nice and very clean. The staff was very good. They were very nice. The dining area looked very nice. I had a cookie, and it was delicious.
Provider Response
Thank you for taking the time to Visit the Brennity at Melbourne and considering us for your brothers new home... We look forward to working with you in the future!
---
Linda151232
February 10, 2017
I visited this facility
I loved the Brennity at Melbourne. It was a wonderful experience. They greeted everyone and acknowledged you, and the tour was wonderful. If I had my choice, I would have chosen Brennity because it was well equipped for my mom's needs. It had been established for quite some time, so they have a history and good reviews.
---
Anonymous122455450
March 31, 2016
I visited this facility
Brennity is a very nice community in West of Melbourne in Viera, where there are a lot of new developments. It's a relatively new area and upscale. The reason why we selected it was because my relative already knew someone who was a resident there. She is in the assisted living. They also have independent living and assisted living with different levels of assistance.
---
Michael120708750
February 29, 2016
I visited this facility
The Brennity at Melbourne was a good facility. The people are fairly accommodating. It's very clean and looks like it's very well managed. The rooms were reasonably sized and very neat.
---
Sidney3
January 29, 2016
I visited this facility
I visited The Brennity, and I liked it because they had cottage homes. I liked everything about the community.
---
Carol117548950
December 17, 2015
I visited this facility
The rooms at The Brennity At Melbourne were not as large as the other facility. The price was out of our range. The dining area was very nice. We had light lunch there, and the food was very nice. However, I don't think the staff was quite as good as the staff from the other facility. We got interrupted a couple of times. I don't think that should have happened when we were trying to discuss things.
---
Anonymous116335450
November 22, 2015
I visited this facility
The Brennity at Melbourne was phenomenal. It was really nice and brand new or at least looked brand new. They had inside and outside pools. The decor of the common area or the living room was set up nicely with crown molding, nice fireplaces, and nice furniture. It was all upscale. The people were very nice. I would move there.
---
Greeneyeangel56
April 07, 2015
I am a friend or relative of resident
We placed our mom in the memory care unit Dec. 2014 and are currently considering moving her to a smaller facility. Brennity is beautiful, kept clean and the food is good. The CNA's do a great job of bathing, dressing, and feeding mom but have no time just to sit and chat for a few minutes. My biggest complaint is the staffing policy. It is the family's job to train the CNA's to know the likes, needs and wants of the resident. This would be true at any ALF. At Brennity our work is never done because they move the staff in and out of the memory unit without regard to the resident. Just as we get one CNA trained she is reassigned to a different area and we start over again. With three shifts a day, and two shifts to cover seven days that is a lot of CNA's. Same thing with the servers who bring the lunch in. Just as we get one trained as to what mom prefers that server is reassigned to another dining room. I feel like we are paying way too much money to be working this hard to support the CNA's and staff to provide current level of care. I am also disappointed in the level of training and skill of the CNA's and of course the turnover. For ex. they don't recognize the symptoms of dehydration. Why should I have to explain to them that they have to give mom water and remind her to drink it. She has Alzheimers and she is in a memory care unit. What else is missing from Brennity: Old time favorite music that would bring back memories of happier days and times, music that the residents would know by heart and could sing along with while sitting with each other. When music is turned on it is a small portable radio and you hear lots of commercials, static and modern day music they are unfamiliar with. They play movies and TV programs that seem inappropriate for most seniors who have the mental capacity of a child. I would expect shows that are made for kids, easy to understand, and rated pg. Things like old musicals and national geographics would be nice. They do a music activity once or twice a week for an hour. It seems that the residents are taken outside once a week for 30 minutes of fresh air and sunshine. Thus, it falls on the family to take the resident out for a daily walk. There are no walking paths thus the family must take residents through parking lots and such to walk anywhere. The daily walks advertised consist of walking the resident from their room to the dining area two or three times a day. The garden area is quite small with no shade and has a loud AC unit making it noisy. The memory care unit has over twenty residents in it and yet many activities provided are beyond the skill level of the majority of the residents. The facility lacks reading materials like the readers digest which is popular with seniors. Again, it falls on the family to provide and read to residents. Enough said....
Provider Response
Thank you for your review. We are sorry to hear you and your mother have had a bad experience with our Memory Care programming. We would like to invite you to The Brennity at Melbourne for a private lunch and meeting to discuss your concerns. Please contact Amy Stephenson the District Director of Operations at 772-342-3618 to schedule your meeting. Again thank you for taking the time to give us feedback.
---
Caring95650150
September 30, 2014
I visited this facility
Everything about The Brennity at Melbourne is excellent. I'd say that the rooms were adequate. We had lunch and it was very good. The staff were friendly and courteous. When we were there, I saw a woman swimming, and I think she was getting some therapy.
---
Caring6094
April 29, 2014
I visited this facility
I was very impressed with the Brennity. It was very clean and well-kept. The rooms were rather limited as far as space. They staff was very helpful and answered all my questions. We met several workers, and they introduced us to different people. They had activities, like games, and they took them out to different places when they needed it. I liked that their dining rooms were not that large; they have individual dining halls for 20 to 24 people, so you get to meet residents more intimately.
---
Janne
April 07, 2014
I visited this facility
A beautiful gated community--very upscale-looking, well maintained, with friendly staff. The residents I saw and spoke to seemed happy and engaged. I'm looking for a place where my mother can have the assisted living attention she needs now, and the more complete memory care I'm afraid she will need in the future, without my having to move her. The pricing at The Brennity is competitive, but they do not accept Medicaid vouchers, and my mother does not have enough income or assets to afford memory care without that assistance. Nevertheless, even though I had made that point clear before going to visit, I was still invited down and treated as if it didn't matter--I got the whole tour, and all my questions were answered in the most courteous and friendly manner. For those who have private assets, long-term care insurance, or veteran's assistance, this would be a wonderful community for assisted living and/or memory care.
---
Shirlley1
April 02, 2014
I visited this facility
The Brennity was very, very impressive. I had a chance of having a couple of meals there, and it was wonderful. I couldn't see a thing wrong with it. The amenities and the staff were wonderful. The only thing is it was too far from my family. I have a girl who works for me five days a week for a few hours a day, and it was too far for her to travel. The rooms were smaller, probably close to 600 sq.ft. The dining room was beautiful. It was very tropical with white woods, and the colors were wonderful. It was a very lovely, Florida look.
---
Hattie2
February 01, 2014
I visited this facility
My mother was approved at The Brennity. I went to interview several other facilities but I felt comfortable with this one. Also I thought this one suited her better. Someone there would check on her every 30 minutes. My mother would wake up at midnight and walk until 8 a.m., so if with someone checking on her every 30 minutes, it gave me a lot of comfort. Just the loving kindness of the staff, there was such a warm feel to it. They have very secure lockdown for patients with memory care. The living accommodations were excellent. They were well maintained and clean. It was actually a home away from home. I could bring a dresser or a chair from home, just to make my mom's surroundings more familiar. I was also asked to bring photographs and blankets, anything that would make her feel as though she was at home. They also have activities depending on your level of functioning. They have exercises, arts and crafts. They have sing and dance and they could read their Bible. They could go for a walk but it was all within the secure surrounding. Another thing, for the level of care, the pricing was very competitive. It was affordable and it had all the amenities that the others also have.
---
Caring70745050
October 04, 2013
I visited this facility
Brennity is first class. It has indoor and outdoor pools and a full gym. They have everything that you would want but it is expensive.
---
Caring463
July 24, 2012
I visited this facility
We went to a tour at Watersong in Viera. It's for my mother-in-law but she's actually in Alexandria Virginia. We really liked Watersong a lot. It takes us about from our home and takes us 15 minutes to get there. So that would be really convenient to us if we ended up bringing her down here and putting her in a place like that. It would be really convenient for us. With regards to the people in Watersong, they are very professional staff and as far as the facility it's very clean, neat and well organized. The people that we saw there seem to really enjoy it. We saw a lot of people sitting out and chatting that kind of thing. Very sociable! We were just really impressed! Although we haven't moved my mother-in-law into that facility yet, we're very pleased and they are in close contact with us before we make the decision to place her there.
---
kingpanda87
June 21, 2012
I am a friend or relative of a resident
Watersong of Melbourne, Florida is a facility for senior citizens that includes both an assisted living section as well as an independent living section. My grandmother has been living in the assisted living part for about a year now and I can honestly say that she seems happy and that the facilities/staff are top notch. The buildings are beautiful and well maintained inside and out. Decor includes bright, cheerful colors and furniture that makes one feel at home. My grandmother and I will often pick one of several small reading nooks to sit down and visit with each other. Even I feel at home when visiting and I think that is very important. I should also mention that that the place is always VERY clean and smells nice. The food and dining services are also quite good. They have a legitimate executive chef overseeing this department and his food is much better than the average assisted living facility. There is a pre-planned menu for all meals, but residents are given the option of ordering practically anything they want. This is good because my grandmother can be very picky about her food, depending on her mood. The staff is extremely friendly and gives me the feeling that they genuinely care about my grandmother. This was evidenced when I walked in on one of the aides sitting down and having girl talk with my grandmother. Instead of just doing her job and leaving, she engaged her in conversation and showed true compassion. Everyone that works at Watersong is very friendly and will say "hello" to you first. Overall, I think this facility excels in every important aspect of an assisted living center. I would recommend this place to anyone that cares about their elderly family members.
---
commercesd
May 11, 2012
I visited this facility
While driving through the Florida region, we decided to stop in and visit Watersong, since we were looking for an assisted living facility where my friend's mother could live. We were really glad that they could give us a tour on such short notice. This area is very convenient for my friend's family. The main area seemed clean and well tended, with a fresh and inviting decor. The staff was very nice and attended to the residents well - at all levels of ambulation. They are able to accommodate most senior circumstances with a variety of living options available. They offer independent living apartments and assisted living situations, so that seniors may transition easily from one to another. We really thought their wellness program was a cut above others we've heard about at various places. There is a lot of attention to detail, to ensure that each resident is very well taken care of. The rooms we saw were all nicely decorated - and better looking than many we've seen. The variety of activities available was very impressive - from the Internet cafe to all of the rooms for games and other social activities - everything someone might want to do was there. They dining rooms were really gorgeous, also with a wonderful private dining area and guest meals. They also offer room service. The menu and food looked fantastic - like what could be found in a 5 star restaurant. The exercise area had well maintained equipment, offers classes and also has a heated pool that is also used for therapy. They also offer exercise classes of many kinds. They have many amenities here, including a convenient salon, many patios and gardens, transportation in and around the community and the also accept pets. This place was so nice that my friend said "When can I move in?" This is a really extraordinary senior living community that is safe, well designed and has everything a resident needs to live a very nice life with the level of care they need.
---
From The Brennity at Melbourne
---
Brennity at Melbourne is a preferred retirement community in the Melbourne, FL area. Located on 48 acres, Brennity at Melbourne offers independent living cottages and apartments plus assisted living, memory care and extended congregate care with rehabilitation services on site.
With a focus on wellness, Brennity at Melbourne enjoys a research partnership with Wake Forest University and was a recipient of the 2010 and 2011 Best of the Best Award for wellness programming from the Assisted Living Federation of America. Brennity at Melbourne is a community for people who wish to live a longer, healthier and happier life.
Featuring a community clubhouse that includes dining services, pub, Internet cafe, game and activity rooms, multi-media center plus a wellness center with heated therapy pool and exercise equipment, Brennity at Melbourne offers more social and fun opportunities than one could receive in their current house and at an affordable price. With Brennity at Melbourne taking care of all the house and lawn upkeep, the paying of bills, the cooking of meals, and the planning and set up of parties and events, Members get to spend more time enjoying their family, friends and interests.
Experience Brennity at Melbourne and experience a maintenance-free lifestyle in a fun and exciting gated community. Living here could indeed impact your life by helping you live a longer, healthier and happier life.
Assisted Living Facility License #AL11595
What Makes Us Special
---
The Brennity at Melbourne has modernized and redefined the retirement experience. From spacious cottages to independent and assisted living apartments to a memory care community, every need and desire is addressed with style and compassion within our beautiful gated community.
Features of The Brennity at Melbourne
---
Costs
Minimum Rate

$3948/month

Minimum Memory Cost

$5303/month

All Inclusive Rent
Entry Fee
Fee Structure Extra

We Offer A Month To Month Rental
Room and housing options
1-bedroom apartments
2-bedroom apartments
3-bedroom apartments
Companion Suites

We Do Not Offer Companion Suites

Studio Apartments
Housing Extra

Al And Mc Are Studios Only
Dining options
In Room Kitchenette
In Room Kitchens
Dining Room Shared Meals
Room Service For Meals
Features
Beauty Barber Shop
Computer Room
Resident Transportation
Coffee Shop
Party Space
Golf
Hiking Trails
Tv Room
Garden And Patio
Resident Parking
Security Gate
Pool
Spa
Features Extra

Library, Fitness Room/Gym, Indoor Spa Pool And Fitness Center
Cleaning services
Laundry For Linens
Private Cleaning Services
Housekeeping
Laundry For Clothing
Technology and entertainment
Cable In Rooms
Internet Enabled Rooms
Wifi
Technology Extra

Emergency Call System
Health services
Medication Management
Physical Therapy
Nurse On Staff

Yes
Activities
Offsite Activities
Music
Games
Stories
Religious Services
Lectures Discussions
Book Clubs
Wii Sports
Tai Chi
Fitness Room
Yoga
Gardening
Cooking
Arts And Crafts
Activities Extra

Computer Class
Financial guidance
Home Sale Assistance
Va Benefits Consultation
Financing Advice
Guest services
Guest Parking
Guests At Mealtime
Overnight Guests
Diet
Diet Extra

Meal Packages Included To Match Your Lifestyle
General
Staff Patient Ratio

8 To 1

Respite Care
Minimum Age

55

Pets

Small Pets Allowed
Location of The Brennity at Melbourne
---
Get Cost Information
Get full access to reviews, cost information, and amenities