Rose Tree Place
500 Sandy Bank Road, Media, PA, 19063
Talk to a Family Advisor: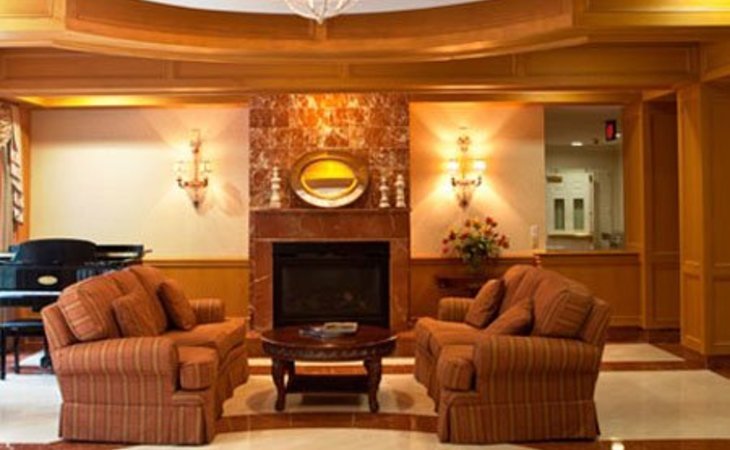 Top nearby Assisted Living Facilities
Reviews of Rose Tree Place
---
Donna528783
December 16, 2016
I visited this facility
Rose Tree Place was very nice. Their cafeteria was like fine dining and really nice. Their rooms were larger than other places, which we really liked. However, the hallways were very long, and if you were a resident who was all the way at the end of the hallway, you might feel a little overwhelmed. It was a big consideration that it was half a mile from my job. It was a little less pricey for a bigger room. It looked like a hotel and was very luxurious.
Provider Response
Thank you for taking the time to share your impressions and we hope to see you again soon. I'm glad to hear that the dining experience and spacious residences were to your liking. We are happy to accommodate new residents' preferences for location whenever possible. If you'd like to review the locations we currently have available, or if you have any questions at all, feel free to contact me any time. Sincerely, Cindy Evans, Executive Director
---
Mrs.CGorey
August 05, 2016
I am a friend or relative of resident
If you are looking for just the right place for your Mom and/or Dad—Rose Tree Place is where you want them to be!
It's a challenging time when sons/daughters/parents have to come together and "make the decision" that it's time and your parent(s) can no longer live alone and need a little assistance. It's a hard decision taking your loved one(s) from a home they know for so long, their personal property and most especially their independence. This was the case with my Dad. He has Parkinson's and mobility issues and falls frequently. After 2 years, many visits to the ER, coaching to us by his Doctors we finally had to sit down, talk and make that decision. My husband and I started the process by researching and making appointments to tour several facilities in the Media/Rose Tree area. Upon arriving at Rose Tree Place we were greeted by Michael Rasmussen, Director. Michael was awesome! He couldn't have been more professional, pleasant, helpful, explaining the facility, how things work and helping us get things in place. He said hello to every resident we passed and knew everyone by name. When we found Rose Tree Place we knew this was it!
But to be fair we took my Dad to a few places my husband and I had selected and asked Dad to pick since this was going to be his new home. He picked Rose Tree Place! Rose Tree Place is a beautiful community situated in Media on lovely grounds with walking trails. Once inside you walk into a marble lobby with grand piano that overlooks an outdoor patio courtyard. The library just off the common room is stocked with books where residents can relax and take in a new read. The residents come together to eat in a dining room that looks like a restaurant and overlooks the courtyard. Residents order from a menu that changes daily and their food is delivered right to their table. When they're done they can walk-about the place, get involved in one of the many activities going on or go back to their apartment. The resident's quarters are nothing like I've ever seen. Most residents live in one bedroom apartments that have high ceilings, windows, full kitchen and lots of closet space. And residents can take their stuff from home with them to their new apartment. So while it's not exactly 'home' it sort of looks a bit like home. And I have to mention the smell—the air is so clean and fresh. The place is immaculate! Truly Rose Tree feels more like a quaint Bed & Breakfast then an assisted living facility. Most important to the "aesthetics" is how the residents are treated and cared for. Everyone knows everyone's name. Residents are treated and cared for with the utmost respect.
If you're looking for an Assisted Living Facility in or around the Delaware County area—Rose Tree Place is a MUST see and THE place you'll want your parents to be.
Provider Response
Thank you sincerely for sharing your review and insights. Your words of advice on the process of transitioning to a retirement community will be a beacon for every family reading your review. We're so glad that you and your father are part of the Rose Tree Place family. Stay in close contact and always let us know if there's anything we can do to help him thrive. Thanks again. Sincerely, Cindy Evans, Executive Director
---
alicia999
June 29, 2016
I visited this facility
My siblings and I had a tour because we were interested our mother moving in. The place did seem very beautiful and our tour guide was pleasant and informative. Unfortunately the Director was terrible. We over heard her being nasty and condescending to her staff and i were never allow my mother to live anywhere where the staff is treated poorly. Being a nurse myself I believe if the staff are treated poorly that will show in their performance.
---
Caring112218750
August 21, 2015
I am a friend or relative of a resident
My grandma was at Rose Tree Place. Walking in there, the whole place looked very, very nice, and there was always a person at the front to make sure you've checked in. However, once you go there for a while, you realized that the staff actually wasn't working. The place itself was very nice, but the staff didn't know what they're doing. There were a few times where my grandma pressed on the Life Alert thing that she had to wear, and they wouldn't show up for 15 to 20 minutes. They weren't there. We went and looked for them, and they were just standing around talking. So the employees themselves were not so good. Food was OK though. As for recreation, they had little shows that my grandma would go to.
Provider Response
I am sorry to hear that your experience with Rose Tree Place has not met your and our high expectations. In light of your comments, I have reviewed our daily reports for the last week and found that the average response time was unacceptably long, at 8 minutes rather than 5. We have held a staff-wide meeting to address this issue and expect to see faster response times. The call pendants that residents wear are connected to the front desk and if resident page is not responded to in a few minutes, our concierge will page a caregiver. I appreciate the opportunity to speak with you personally, to hear more of your experience as well as update you on our progress on response times. Please contact me at 610-565-1405 at your convenience. Sincerely, Cindy Evans, Executive Director.
---
Gennaro
August 02, 2015
I am a friend or relative of resident
Our family member was a resident in the memory care unit at Rose Tree Place for over a year. We were impressed from our first visit by the friendliness and caring of the staff-starting with a call to Mike, a greeting at the reception desk and a tour of the unit. After he became a resident some changes were made in the nursing staff and things just got better. Lines of communication (so important) were always open. Medications were altered to ensure his safety and well being. The facility was always bright and clean, his room was clean and his person was clean. He loved the food! The support we received when he passed was heartwarming but not surprising as the staff is 100% about their residents.
---
J. Rosen
May 28, 2015
I visited this facility
I visited Rose Tree several times. I was inquiring information for my 91 year old father. I worked closely with Michael who is the Community Sales Director. Michael understands the decision to move a loved one into a personal care facility, is sometimes not an easy one. His patience and guidance was remarkable. While my father decided to stay in his home for now, my one and only choice for him will be Rose Tree Place.
---
Kathy74133950
April 25, 2015
I visited this facility
Rose Tree Place is very nice. We like it there too. This facility was actually our second pick, but they had a couple more reviews that we didn't like. The staff was very nice. The rooms/apartments were very nice. It looked like they're living in a country club. They have like foyers, hallways, sitting areas, and outside areas also. The dining room was beautiful too. It was like a hotel fancy dining room. They have the same type of activities, e.g., bingo, arts and crafts, and sing-a-longs. As for amenities, they have laundry and hairdressing. Security and safety management was pretty good. What impresses me about this place are the people that work here and the appearance and overall cleanliness.
Provider Response
We're so glad to hear that Rose Tree Place is such a gracious setting that it seems like a country club! We think that an inviting, well-designed and maintained environment is important for healthy aging. As you note, our associates are remarkable and many of them have been here for several years. They make the real difference in residents' daily lives, forming strong bonds that provide support and friendship over many years. We are, of course, sorry that you did not choose Rose Tree Place. If you would like to visit again and share your impressions, please call me any time. Best regards, Tim Ballas Executive Director, Rose Tree Place
---
Conrad5
March 31, 2015
I am a friend or relative of a resident
My mother-in-law and father-in-law did select Rose Tree Place. We are very happy with that choice. From our very first visit, we found only friendly, caring people from the marketing manager who is phenomenal and his assistant manager who is likewise phenomenal, friendly, sincere, eager to help, and eager to answer questions. As we toured the place, we would run into other staff members. There was always a ready smile, a warm, genuine "Hello, are you moving here?" Happy people and residents would wave and say hello and "We look forward to your coming here." It was not a façade. They just seemed like a place where people were generally happy. We're really pleased with the staff and of the nursing support. Extra care services that mom and dad are paying for are prompt and professional. They follow through very nicely. Rose's mom had been in four or five rehab facilities over the last couple of years. They all pale in comparison to what we have seen at Rose Tree Place.
---
sky301
January 28, 2015
I am a friend or relative of resident
My mother has been residing at Rose Tree Place (Pathways Memory Care area) in Media, PA. for two years and I'm pleased with the service provided. The entire staff, including the Receptionists, Resident Care Associates, Medical Technicians, Sales Associates and Activities Coordinators, is friendly, caring and attentive to her needs. She also enjoys the meals served at Rose Tree Place. The menu is varied and the food is appetizing, nutritional and plentiful.
Additionally, the in-house FOX Rehabilitation staff has provided my mother with excellent Occupational and Physical Therapy over the years. The friendly, upbeat staff really connects with her and gets the best out of her. The therapy sessions have resulted in her having more energy and being more alert.
It is comforting to know that my mother is being taken good care of in a clean and safe environment at Rose Tree Place.
---
bs2570
January 15, 2015
I visited this facility
Recently toured the facility and we liked it. My biggest concern is all of the comment about the food. Can someone tell me if anything has been done to address this ongoing criticism?
Provider Response
I have spoken with my team and I have some information to share. Please pardon the lengthy reply. Much has changed since the date of the original comment on July 16 of last year.

First and foremost, I'm happy to let you know that there are absolutely no "hand me downs" in dining. The residents in Pathways Memory Care enjoy the same fresh, healthy menu items as those in The Inn, our personal care neighborhood. Additionally, puddings, salads, penne and rigatoni are all on the menus, with puddings and salads both being daily options. Our servers have been trained to go around to every table offering drink refills at least twice, and we monitor closely to ensure everyone is satisfied.

The topic of cutting food is a bit complex, as we are committed to respecting the choice and dignity of all our residents. If the dietician or their physician recommends pre-cutting food, we absolutely do so, every time. We also do so upon request. However, we are careful to treat each individual with respect and part of that is only cutting food for them by professional recommendation or personal request.

Of course the absolute best way to learn about our dining program and our entire community is to visit and see (and taste) for yourself. Please contact me at any time to join us for a meal, a class or program and a tour to see what life is like here at Rose Tree Place. Thank you again for your questions, interest and feedback. Tim Ballas, Executive Director, 610-565-1405.
---
DaveDoral7
November 11, 2014
I am a friend or relative of resident
I have never been more pleased then dealing with Michael and Jim of Rose Tree Place. My concerns are always met and they make me feel like I have been heard.
---
Reanie
November 04, 2014
I am a friend or relative of resident
Rose Tree Place was the perfect assisted living facility for my father. He has been treated with respect and thrived wonderfully in his two years at Rose Tree. When we needed a memory care facility, Rose Tree came through again and offered my Dad a studio apartment where he feels comfortable and is treated with dignity. I cannot say enough good things about Rose Tree, if you are thinking of placing a parent or relative, consider RTP. You won't be disappointed.
---
Shirley95866650
October 17, 2014
I am a friend or relative of a resident
We chose Rose Tree Place as she lives near the area. The staff seemed to be very nice and so far everything is going along very well. The dining room is very nice, they have tablecloths, it's like a restaurant, and the rooms were spacious. There are lot of activities like they had outings, bingo night, cards, music, offerings, and trips to the grocery store. The food is adequate, but the food can always be improved on.
---
hank and kathy
July 30, 2014
I am a friend or relative of resident
My mother was a resident of Rose Tree Place for only 2 weeks before she passed away. The attention and service she received from both the senior staff and the aides and nurses at Rose Tree was extraordinary. They are a caring and highly attentive group of people who have the patient's best interest at heart. We would highly recommend this facility for assisted living and personal care. And the one bedroom apartment was beautiful and convenient.
---
advocate for those that cannot be
July 16, 2014
I am a friend or relative of resident
I had been wanting to write a review for sometime and finally getting around to it. My husband was at this facility for 7 months before he passed. Yes, the aides are very good and caring; a shame they make so little money compared to the others. As another person mentioned we, too, were surprised that the 30 day leave the facility notice included upon death. Suppose it was in the contract somewhere but verbally told, 30 days notice if transfer out. Who knew transfer out meant to be with our Creator at what time He chose. Just think how one would know to give 30 days notice for a person with this debilitating disease that can last 2 to 7 years. Yes, all about bottom line. The biggest problem we had when my husband was a resident was to get proper nutrition thru meals; chairs to heavy to get residents close to table, food not cut into bite size pieces; everyone constantly wanting refills on drinks and not getting them. Heartbreaking to see residents struggle with such a basic life necessity. I know this as I was there every day during meal time just to make sure he got one nutritious meal a day. They are served a whole slice of lasagna or spaghetti not cut up. (what's wrong with penne or rigatoni:) offered soup that no one wants but would prefer salad as the assisted side gets. would prefer ice cream or pudding over a cake with whip cream. This is not the aides fault - they serve what they are told --- it is a problem with the kitchen help and who sets the menus. These residents get the hand-me-downs from the assisted living side. Tables that are hard to eat at --- soft leather cushioned sofas and chairs that I as a fit person had trouble getting out of. Yep, bottom line. So, if you are thinking of Rose Tree I suggest you read the contract, very very carefully and be prepared to have your loved one lose weight very quickly.
Provider Response
Thanks much for your feedback and for meeting with us to ensure we were all on the same page. I reiterate our apology for the miscommunication and clarification on the 30 day notice policy. We agree, two days would be too soon for any family going through such a difficult transition. We're glad you received the sympathy card from our team and were honored to attend the funeral services. We were also touched that you and your family participated in the special memorial service we hosted honoring your loved one who had become part of our family as well. Most of all thank you for your kind words that our community was the right place for him and that he received the care and attention he needed and deserved. We all sincerely wish you and your family the very best today and in the future. If you ever have any questions please do not hesitate to contact us at any time.
---
Caring84995450
May 20, 2014
I visited this facility
Rose Tree Place was very nice and clean. We saw everything that they had to offer, but the tour guide didn't had answers to a lot of the questions that we had. They were not very thorought with the tour. It seemed to me that they were just more interested in getting somebody in there. I was not very impressed. I would recommend it, but pricing-wise, I thought they were a little much.
Provider Response
Thank you so much for the feedback. I would like to learn more about how we can improve. If you could contact me at 610-565-1405 I would sincerely appreciate a quick conversation about how we can do a better job. I will of course answer any questions you may have, as well. Thank you again for taking the time to provide your feedback.

Sincerely, Tim Ballas, Executive Director, Rose Tree Place.
---
Carsu
May 05, 2014
I am a friend or relative of resident
I moved my mother and brother here when she was very sick. The staff were phenomenal in helping me obtain the best care for her in her quickly deteriorating condition. Unfortunately my mother passed quickly, but I am glad she was at a place for her to be cared for. My brother remained there for about 21 months. All the staff were extremely pleasant and helpful and caring. There were always facility activities for the residents to join in. There were also outings provided for those residents who wanted to get away on an excursion. My brother enjoyed his time while at Rose Tree Place. Although the food services provided were adequate, there could be improvements in the menu/food preparation.
---
Caring82371150
April 23, 2014
I am a friend or relative of a resident
My mom likes Rose Tree Place a lot, but she doesn't need an assisted living; that is why we are moving her out to a more independent place. She loves everything there, but the people living there complain about the food. Other than that, everything is OK. I really like the people who work there and the activities. They went on a lot of trips. They have people come in and sing.
---
Khs657
March 12, 2014
I am a friend or relative of resident
My father moved into Rose Tree Place about 5 months ago, and he has had nothing but positive things to say about it. He truly enjoys the daily activities, the staff, the food, and being able to spend time with others his own age. Prior to moving in, my father lived alone in his home after my mother passed away, and he felt isolated from the community. Since he has moved in, he has been more positive and happy because of the social interactions. Every time I visit him, the staff is warm and friendly and makes me feel reassured that my father is receiving top notch care. I would highly recommend Rose Tree Place to anyone!
---
amg5002
March 10, 2014
I am a friend or relative of resident
To start with, I rarely write reviews on place, but I have been so happy with Rose Tree Place I think they deserve a comment. I have been in multiple personal care facilities in the area when visiting friends and Rose Tree Place is definitely one of the nicest! The staff were all very kind and seem to really care about the residents. The facility is well maintained and very clean! When I got there the other day, my friend was down in physical & occupational therapy and she said that it has really helped her get stronger. When I get to the point that I need to move into a personal care facility, I will definitely be going to Rose Tree Place!
---
Happyneighbor
March 06, 2014
I am a friend or relative of resident
I just wanted to write a quick note about a recent visit to Rose Tree Place to see an old neighbor. I was taken back by the beauty of the front lobby and all that was going on. There was a social gathering going on where I saw my neighbor enjoying laughs and conversation. She told me that there are times her throat hurts from laughing so hard - especially with her breakfast group. During my visit, I had such pleasant interactions with an enthusiastic staff including Mike from marketing, Tracy from nursing, and various care-givers. My neighbor looked strong and happier than I have seen her in years. She told me she was thankful for the therapy department in the facility (which after some more exploring I found out it was Fox Rehab) and all the activities that Rose Tree Place has going on for its residents. My old neighbor is just one of the happy residents at Rose Tree place and I look forward to visiting her again soon.
---
For mom
March 03, 2014
I am a friend or relative of resident
My mother was clearly in a need of a community for both care issues but even more so for social opportunities. We visited and mom fell in love immediately. She has lived there now for nearly 4 months and it is the happiest I have seen her since dad died. Thank you so much Rose Tree Place. You brought joy to mom and sanity to me.
---
puppygram
February 19, 2014
I am a friend or relative of resident
My mother has been cared for in Pathways for almost 2 years and I have found the total experience comforting, caring and professional. The attitude of the staff is one of concern and pleasant relationships to all residents. I would highly suggested having a tour of this community and spending some time there. My mother was living with me for several years and was closing in on herself. Now, with the care and watchfulness of the staff, she is enjoying having meals with others and joining in activities. I do recommend a visit to see for yourself.
---
dsmit
February 12, 2014
I visited this facility
I visited in January and it was very nice. Very professional and very clean. Longer hall ways which can be tough for my mom. The dog had clothes and was welcoming. Nice visit.
---
Caring75342850
December 13, 2013
I visited this facility
I had a quick tour at Rose Tree Place and that was an okay facility. It looked pretty new. It's a nice and it's definitely clean. The rooms from what I recalled were okay and it looked clean. Their restaurant area was nice and very modern. The people seemed content. The staff were able to answer all my questions with no problem and they were really nice. I had very nice tour there.
---
Caring73423750
November 20, 2013
I visited this facility
Rose Tree Place was very nice and my aunt liked it. They had different activities for people. The people giving the tour all seemed very nice and very knowledgeable. I spoke to some of the residents and the person giving the tour knew a lot of the residents which I thought was very nice and greeted them by name.
---
Vash
November 11, 2013
I am a friend or relative of resident
My mother has been living at Rose Tree since December of 2012. Everyone has been very friendly and welcoming. I have had good experience with communication with staff and management. I live out of town, but the staff knows my name when I call or visit. The food is good and there is plenty for her to do. We are very satisfied.
---
Horrible Experience For My Family
October 22, 2013
Other
I'm still sick to my stomach the way my family was treated by this facility. After months of visiting this facility, going through all the required paperworks, doctor visits, etc...we were told the day before my father was due to move in to the Memory Care Unit that we was being denied entry into Rose Tree Place. At no time, since our initial visit in July, were we ever given any indication that there was a problem. The way we were treated by this facility was disgusting, to say the least. We received a PHONE CALL with no written reason why this was happening? I hope you will think twice before you look at Rose Tree Place and/or deal with the employees there. I hope they can sleep at night because my family has not. I cannot even give them one star.
Provider Response
We are extremely sorry for your frustration. As you know, when we made the initial health assessment of your Dad, he did qualify for admission to our community. Months later when the decision was made to move to Rose Tree Place, his health condition had changed to a point where our initial acceptance had to be reconsidered. Our entire team met to discuss what the best options were for everyone involved, and to see if there was a way we could admit him. Our Regional Care Director and our Compliance Nurse also wanted to try and make an exception. Regrettably, in the end, we recognized that he now needed a level of care we could not provide. The moment we realized this, we were in touch with the family and attempted to assist in finding a place that could provide the level of care he needed. I spoke with members of the family, issued a letter, and met with a member of your family personally in their home. Our team tried to do everything we could to help. We also offered and purchased some of the furniture that the family had obtained for the move, to try to be of as much assistance as we could. The ultimate bottom line is we were wrong to base our assumptions of his condition on our initial (months old) assessment. We absolutely should have done an in-person RE-assessment of your Dad immediately after you decided to move forward in coming to Rose Tree Place. It would have been very clear at that point that he needed an entirely different level of care. For this, we accept responsibility and sincerely apologize. I am always willing to discuss further with you or your family. Please call me any time at 610-565-1405.
---
Caring69844950
October 11, 2013
I visited this facility
Rose Tree would have been a lot of traveling for us even though it was in lower Pennsylvania. I thought it seemed dark. We went there late in the afternoon and they were having a happy hour and lots of folks were traveling down, getting to the place where they were having happy hour. Everybody was laughing and it seemed very jolly. The only thing I didn't like about it was after you got off the main highway, you had to go through a neighborhood and it was kind of out of place. Otherwise, the people were friendly.
---
Caring08141
August 28, 2013
I am a friend or relative of a resident
My mother-in-law was a resident of Rose Tree Place. It seemed like a nice facility and she had a one bedroom studio apartment. It was a very small community and the residents seemed nice. A resident played the piano everyday. The food was good too. However, we had an issue with them in the financial standpoint because my wife explained to them that my mother-in-law had a long-term illness and they said it was okay. She was brought to the hospital because of the recurrence and after that, they did not accept her back and we paid for the whole month already. They were unfair to us and I would not recommend them because they were not helpful with the actual situation.
---
dancer1
August 15, 2013
I visited this facility
Visited this facility with my siblings and my mom. We have looked at several facilities and was very impressed with what is offered. The staff, especially, one of the Directors was very welcoming and knowledgeable. Made all of us feel very comfortable. The apartments were clean and most of all very bright and spacious, unlike some other facilities we had looked at. They will make the admitting process easy and streamlined. We are working to move our mom in the very near future.
---
caring0375
July 25, 2013
I visited this facility
I visited Rose Tree Place and I really like the facility. I like everybody I spoke with. They had everything that might be needed. It's clean. They have a lot of activities. I really like the place. Everyone I met was very friendly. The director seemed very knowledgeable, very easy to talk to and very friendly. They were all warm and helpful. I like the fact that there are a lot of activities like trips. I also like the fact that when the needs of the residents change you don't have to move unless there's a problem with memory. I like the place so much.
---
caring0506213
May 16, 2013
I am a friend or relative of a resident
Right now, Rose Tree Place seems to be working well for my mother in particular. It appears to be a clean place. I don't really have any criticisms yet but it seems to be suiting her needs at this point and she seems to be settling in well. It's worth going to. It may not suit everyone but it seems to suit my mother fine.
---
Jim7
September 11, 2012
I am a friend or relative of a resident
At first, Mom was a little reluctant to move into Rose Tree Place. But now, with the help of Michael and the excellent staff at Rose Tree Place, she feels right at home with the Rose Tree family. Mom is beginning to enjoy very much the many daily social functions, activities and amenities available as well as the fine staff and friendly residents at Rose Tree Place. She tells me that everyone at Rose Tree Place has been courteous , obliging and kind. I want to thank everyone.
---
Fran3
September 11, 2012
I am/was a resident of this facility
We are the lucky ones!!!
After a terrifying phase of my illness and being hospitalized for five months, I woke up at Rose Tree Place. My daughter said this is your new home! It didn't take long before Fox Rehabilitation wheeled me into their Physical Therapy Room. They succeeded in helping me become independent again.
I was helpless coming to Rose Tree Place. Now I am walking and socializing with friends. Oh my "" every day an aid comes in and says, "˜I am here to take care of you,' fills my glass with water, pats me on the cheek and says "˜Just call and I will be here, if you need anything!' At night I am tucked into bed with another pat on the cheek of reassurance, "˜If you need anything through the night just call and I will be here!!'
Yes, I am one of the luckiest people to live at Rose Tree Place. I love my new home!!!
---
creskillian
May 16, 2012
I visited this facility
Rose tree place is an amazing assistant living facility. It is very beautiful and clean. Those two points are the strength of this amazing facility. The properties are kept in perfect condition which makes everyone feel like they just bought a new apartments or something. There are many amenities anyone can ask for. There are computers, mini chapel, garden etc. Also the people there are so nice. The employees are always caring and loving to all. However, some staffs are unprofessional. They are sometimes rude and poorly trained. Hopefully those problems are gone soon. Yet because Rose tree place is in driving distance from Philadelphia, there are many things people can do at Philadelphia. Also because there are many colleges near by, many caring volunteers like me come to help and care for the people. This place is a great fun and joy so I strongly recommend Rose Tree Place!
---
pierre4192008
September 14, 2011
I visited this facility
From the moment you drive on to the grounds surrounding this beautiful care facility you just feel welcome. It is a newly built Nursing Care Facility in the woodsy background of Media, PA Upon entering the building the Receptionist is there to greet and help you with your visit. Beautifully decorated and spotless. It caters to each and every resident with not only the upmost of care and attention but to each and every wish. I was quite impressed with this facility and would consider this one top on the list for myself one day.
---
GrizCyber
June 22, 2011
I visited this facility
This place is beautiful! The property is kept in perfect condition and inside the complex is a very homey, yet sophisticated and organized, atmosphere. All of the employees seemed nice enough, especially the tour guide who was very insightful and helpful in our decision making process. In addition to the atmosphere and staff, the building has just about every amenity one could ask for; ranging from a chapel to computers. However, if this isn't enough entertainment, many attractions surround the facility. The location is fantastic! Philadelphia is within driving distance, taking roughly 30 minutes of travel time. Definitely worth considering.
---
---
Rose Tree Place in Media, Pennsylvania is a rental community offering Assisted Living and Memory Care in an engaging setting on a friendly full-service campus. Residents choose from six floor plans, from cozy studio- to deluxe 2 bedroom, and enjoy restaurant-style dining. We know that challenging our brains and getting in better physical shape has enormous benefits at every age, and can even slow the process of memory loss. That's why, as part of Watermark Retirement Communities, Rose Tree Place participates in Watermark University that has a course catalog is filled with an array of innovative brain and body fitness courses. We're surrounded by 16.5 acres of natural wooded beauty, but just a short 30 minute drive from Philadelphia and all that Center City has to offer. A Watermark retirement community.
Features of Rose Tree Place
---
Features
Computer Room
Garden And Patio
Resident Parking
Health services
Nurse On Staff

Onsite 24/7

Pharma
Guest services
Guests At Mealtime
Overnight Guests
Diet
Diabetic
Low Fat
Low Salt
Renal
Location of Rose Tree Place
---
Request Info
Get full access to reviews, cost information, and amenities