The Bristal Assisted Living at Lynbrook
8 Freer Street, Lynbrook, NY, 11563
Talk to a Family Advisor: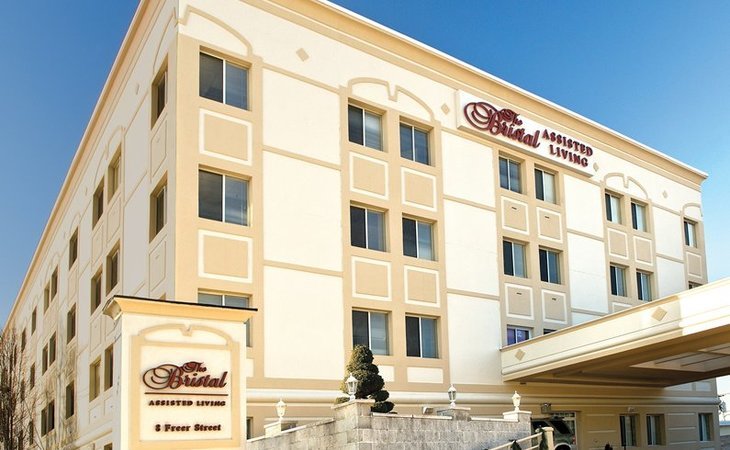 Reviews of The Bristal Assisted Living at Lynbrook
---
RN584061
March 06, 2017
I am a friend or relative of a current/past resident
We have selected The Bristal Assisted Living at Lynbrook. I like the environment there and the care that they give my mother. I would say that they have a robust schedule of activities for their residents. They have a salon, a library, a TV room, and a computer room. The food is very good. The rooms are very spacious, bright, and clean.
---
Tom113904250
November 02, 2016
I visited this facility
The Bristal was a very nice place. I thought for the money, it was very good value. The place was nice. It was very clean, and the people seemed to be extremely helpful and well informed about the programs. They included things that were important like Medicaid if you needed that thing. The rooms were nice and an average size. They all had pretty nice views because they were right about in the country. I did not see anything there that would put me off.
---
PF
November 29, 2015
I am a friend or relative of a resident
My mother-in-law is in assisted living at The Bristal Lynbrook. They were very friendly when we made the tour, and the facilities cost less than the other facilities we looked at. The staff and the residents were friendly.
---
Anonymous116500550
November 22, 2015
I am a friend or relative of a resident
We choose The Bristal for my sister because the ambience is much nicer, it's in a secure location, and the cost fits in our budget. The staff is very helpful, supportive, very professional, and very caring. I have not seen any kind of abuse happen to any of the residents. I like that. They have large, semi-private rooms with two full-sized beds, dressers, closets, a very nice bathroom, and a little private area with a refrigerator. It has a nice view. I liked the location. They have a lot of activities and have people come in like bands and entertainment. They also take them out. I will recommend them to anyone.
---
Caring106026950
July 29, 2015
I am a friend or relative of a resident
My loved one is at The Bristal at Lynbrook. Their care is beyond reproach. The rooms are huge. There are plenty of activities. They have a movie theater and bingo, and I see him playing cards there. What swung me over to this place was that I had a friend of mine that stayed there for a year and a half, and I knew the people.
---
Caring103884850
April 07, 2015
I am a friend or relative of a resident
The rooms were fine, but I didn't think The Bristal had enough supervision or knowledge of the patients there. It was more casual than I would have preferred for my own family member who was there. They were not definitive enough. The surroundings were very nice. It certainly was thought out.
The thing that was most concerning to me is that they didn't really have a conference area where you could get a full assessment of your care. They didn't give me that much detail when I tried to get that from them, and that bothered me.
Provider Response
As with all our communities, The Bristal at Lynbrook is fully licensed by the New York State Department of Health and has a Wellness Center which consists of a doctor's office, physical therapy center, as well as a dedicated private area where the assessments are held. Prior to admission, residents are interviewed and an individual service plan is developed by staff members who are highly trained in the field. The individual service plan identifies specific therapies, treatments and medications the resident may need as well as what assistance they'll require with ADLs — Activities of Daily Living. Every resident is unique, of course, and while we deliver quality care and vigilant attention that is highly personalized to each resident's needs, it is also important to us to foster an environment that is comfortable and not overly clinical; it should feel like home, providing an ideal mix of attention and independence that is appropriate for each resident's abilities. When it comes to making a choice about an Assisted Living community, we have found over our more than a decade operating that every resident and family has unique and diverse needs — distinct expectations, priorities, perspectives and experiences — and that some aspects which prove essential for some families are less important to others. This is why we encourage all families who are considering The Bristal to visit us in person, and see for yourselves what makes us so successful and sought after a senior care solution in the communities we are privileged to serve.
---
Frances22
February 17, 2015
I am a friend or relative of a resident
My aunt is in The Bristal. We are very pleased with the place, and we see a couple of other things that we like. We settled on that because it was five minutes away from family members. The rooms are very nice. They have activities like cards, dominoes, and bingo. They go on shopping trips. In the summer, they go swimming. I like that the staff seems quite sincere, accommodating, and helpful.
---
Jose3
August 20, 2014
I visited this facility
The Bristal Assisted Living at Lynbrook was a very nice place. It seemed to be well run. The people seemed very competent, and it was very, very clean. It was very nice, excellent. The staff was very cooperative, very friendly, and very professional. The rooms were very well laid out, and the security arrangement they had was very nice. The dining room was very nice; it looked like a place I might invite someone to eat at. They seem to have many activities. At that time, I saw them doing art, drawing, and other kinds of art things with putty and paint. They also have exercise classes, medication classes, all kinds of things like that. I liked the professionalism of the staff as far as I saw it, there was the cleanliness, the physical space was very attractive, and their security was excellent.
---
caregucci
May 30, 2014
I visited this facility
I liked The Bristal in Lynbrook. It was small. It was on a main road and almost on a highway, so it doesn't have grounds or an outside area. The people were very nice. The rooms were small but pleasant. They also had a lot of activities there. It just didn't seem to be spacious. The staff was very nice, helpful, friendly, and well trained. They also told me about veteran's benefits.
---
Caring82687050
April 12, 2014
I visited this facility
The Bristal Assisted Living at Lynbrook was very good. They have everything you can think of. The staff that assisted me was very helpful and answered all my questions. The rooms were very neat, very pretty, and large. The dining room was magnificent. Overall, I'm impressed with this community.
---
Joe31
March 26, 2014
I visited this facility
I find The Bristal at Lynbrook to be a very good facility. The physicality of the place was very nice. The staff were very nice and very helpful. And I felt that they were high quality professional staff also. Aesthetically the food were very nice. The woman who took us on a tour was very lovely.
---
tomjomil
January 28, 2014
I visited this facility
My mother is 100 years old but she?s still living independently. I brought her to the Bristal. It's a lovely place and when the time comes, I told them that they would be on the top of our list. I thought it was great. First of all, the proximity to my house is wonderful because I could see her just the way I see her now and I thought the facilities were bright and cheery, the people were lovely, three wonderful meals. It?s a little pricey for my mother truthfully but I?m looking into the Veterans Affairs and see if they could help supplement some of her income. The facility, I thought, was excellent. They have a beautiful dining area. They have all kinds of activities. I was very favorably impressed. They gave us a lovely lunch. We went down there with three or four of the women who live there. The food was excellent. I couldn't believe it. I had a shrimp salad. The menu was wonderful. But it?s expensive. I wrote them a letter thanking them for the opportunity and how much I enjoyed their facility.
---
Caring90641
October 30, 2013
I am a current client of this provider
I found The Bristal on the Caring.com website. We chose them because it's clean, has the lowest price of all the Bristals and it has a convenient location for the family members. My mother said that the food is very good. She has a separate room there with a bathroom. She finds the place comfortable. She likes it there because they have a lot of activities.
---
Caring06050804
August 10, 2013
I visited this facility
I visited the Bristal once and I liked it very much. The location was also good. The room sizes were very good. The place was very nice and clean. The staff was very nice and very friendly. It offered a lot of care. From what I saw I would recommend this place.
---
Carmen7
July 25, 2013
I visited this facility
We visited The Bristal and it's a very nice place. I liked it a lot but it's too expensive and they don't accept any insurance like Medicare or Medicaid. Their staff are very attentive and very nice.
---
Caring 6409
May 11, 2013
I visited this facility
The Bristal Assisted Living at Lynbrook was a clean facility and looked like a good place to stay. However, the shared rooms were smaller and it seemed like there was no privacy between the two residents. The beds seemed to close together and only a divider in the center. The price was slightly cheaper to the other facility. This would be my second option for my dad.
---
danie111
December 22, 2012
I visited this facility
I visited my grandmother at this facility. She seemed to be happy and the staff was very friendly and respectful towards her. I knew she was in good hands the moment I set foot into this building. It was also very clean and orderly so I have an easy time imagining that they take good care of her all of the time. She said the medical staff was excellent towards her and that she enjoyed the activities with the other residents. Every day there were different activities for her to do so she seemed to definitely be happy. Everyone I interacted with was very helpful. The building itself was very nice and roomy. She had also said that the food there was good, she loves breakfast the most. She has also seemed to be very sociable and she has been forming new friendships. I have not encountered service this good at other living facilities that I have visited.
---
Will Ransom
December 13, 2012
I am a friend or relative of resident
When my mother has reached a few years after her retirement she wanted to sell her house and began researching assisted living facilities in hr area. She knew a few people from her church that had moved to the Bristal and she liked what they offered her and their reasonable monthly rate. The facility is very clean and spacious and the staff their is exceptional. Everything looks new and the upkeep is exceptional. She is close to the community she lived in for 50 years and she has easy access to shopping and activities. Include this with plenty of activities the staff provides she says that she has never been bored. They also have a caring medical staff that is always available and this was a relief to my mother as she worries as she has gotten older. She raves about how warm and caring the nursing staff is and I don't worry at all with her care in their hands. Great Place for Family Peace of Mind.
---
mzchrissy4177
October 24, 2012
I am a friend or relative of a resident
It seemed to be very elegant and fancy looking but the staff was very down to earth. Everyone treated my grandma very well, everyone was nice to her and very caring. it made me feel that she was receiving the best care she could get even though she was not at home with her family. I was hesitant at first but when I saw the care she was being given I knew it was ok. My grandma had parkinson's disease and alzheimer's disease and needed a great deal of attention and care towards the end.
---
Trapper3
September 13, 2012
I visited this facility
I visited the facility to visit my uncle. The facility was very elegant and upscale. I am unaware of the cost to stay here, but it looks like they did not spare expenses in making the place look nice. All the rooms I saw were very well kept and clean. The lobby and all of the halls were also very high class. I did not interact with the staff extensively, but they did seem very friendly and caring, and my observation of them interacting with the residents was the same. There was also large amount of medical staff and it seemed all of the residents were well cared for. Everything looked organized with plenty of options for activities and outings. The residents were also very friendly and it looked like everyone got along. Another positive was that there was plenty of space and it was not crowded like some residents were complaining of in other facilities. All in all, it looked like a wonderful place to stay.
---
theBESTgrandson84
May 30, 2012
I visited this facility
Well, it should be known that we looked at many places for my father, and eventually found one that was better than The Bristal Assisted Living at Lynbrook. However, my time at this assisted living center was enjoyable. The rooms we were shown provided a solid sense of amusement and entertainment. The rooms were comfortable, warm, and welcoming. Additionally, the staff was extremely helpful and provided a good sense of direction, structure, and care about their jobs and the current status of their residents. The location of The Bristal Assisted Living at Lynbrook is also in a prime location, located just off of sunrise highway. Finally, this assisted living center provides weekly trips to different locations, such as movies theater visits. In the end, the decision to not leave my father here was because the facility scared my father a little bit, and although the facility was right off a major road, it was not close enough for his comfort and he did not want to be forgotten about like some families use these types of places for. If that is not a concern for someone looking to attend this assisted living center, then The Bristal Assisted Living at Lynbrook is a prime location for anyone who needs top level treatment to stay.
---
grandchild08
November 17, 2011
I am a friend or relative of a resident
Overall, I would say that this nursing home provides exceptional service. My grandmother recently fell ill, and had to be sent here for a minimum three month stay. Under the expert care of doctors and nurses, my grandmother is now smoothly on the road to recovery. My grandmother has enjoyed her time at this nursing home so much that she does not want to go home! Prior to being sent to this nursing home, she lived alone in a big house, and spent much of her time in isolation, with only the radio and TV as company. Thanks to the nursing home, she has an abundance of activities to choose from, including her favorite--gambling at a casino! She has made tons of friends during her stay here, and is quite reluctant to return home after her stay is finished. Another aspect that my grandmother really loves about this nursing home is the extensive care to detail that the nurses have. When she first arrived at the nursing home, she was in an extremely feeble, malnourished condition. The nurses were able to nurse her back to health--they completely took over her feeding, bathing, and grooming during her convalescence period.
---
LonnyEffulgent
June 22, 2011
I visited this facility
My grandfather stayed here for about 7 or 8 months. He loved the social aspect of it. They had weekly trips to theaters and other various events. They had scheduled card games, bingo, and parties. The community areas were beautiful and large enough to fit many residents at the same time. From my few visits, it seemed that the staff members were not only capable, but that they genuinely cared about doing the best job they could. They went out of their way to make sure not only that every resident was getting the best physical care that they required but also that their emotional needs were being met. The communal breakfast area allows both friends and new acquaintances to feel comfortable in their own environment, while the vast size of the room also allows for privacy for those who desire it.
---
From The Bristal Assisted Living at Lynbrook
---
The Bristal Assisted Living at Lynbrook is dedicated to enhancing the lives of seniors by encouraging them to enjoy and express their independence in a luxurious setting. We boast gourmet dining, beautiful surroundings, weekly laundry and housekeeping services, cablevision and scheduled transportation to shopping, community activities and group outings.

At The Bristal, individuals will find that help is available, if needed, for personal care, medication management, meals, housekeeping, laundry, recreation and 24-hour per day supervision with our high staff-to-resident ratio, compassionate, and expertly-trained staff. Residents have a choice of friendship suites, studios, and one bedroom apartments, replete with roomy kitchens and generous bathrooms. In addition, each Bristal houses a special area call Reflections for those adults who have early to mid-stage Alzheimer's and other memory related cognitive disorders.

The Bristal at Lynbrook could not be more conveniently situated. Endless shopping, dining, banking and more lies literally in every direction of the village, and there's Greis Park right nearby. It's easy to visit with your loved ones at The Bristal, because it's located so close to the border of Nassau County and Queens, NY. Countless places of worship, entertainment and culture about, not to mention plentiful South Shore recreation.
Features of The Bristal Assisted Living at Lynbrook
---
Costs
Minimum Rate

$4300/month

Minimum Memory Cost

$6300/month
Features
Beauty Barber Shop
Computer Room
Resident Transportation
Garden And Patio
Resident Parking
Technology and entertainment
Location of The Bristal Assisted Living at Lynbrook
---
Get Cost Information
Get full access to reviews, cost information, and amenities