Elmcroft of Lebanon - Tennessee
801 West Main Street, Lebanon, TN, 37087
Talk to a Family Advisor: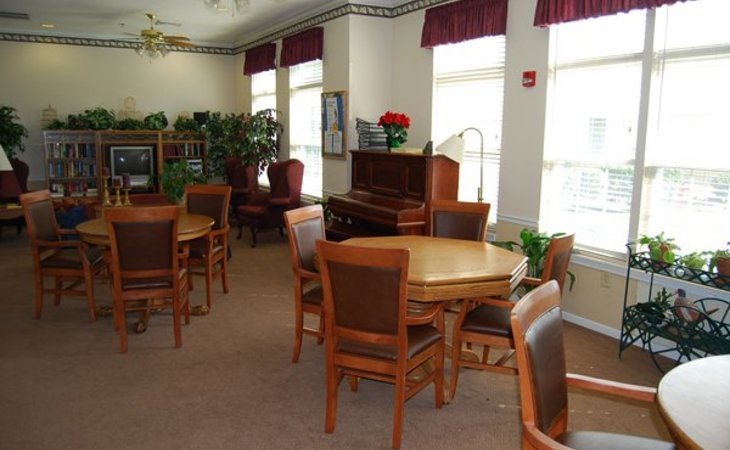 Reviews of Elmcroft of Lebanon - Tennessee
---
Jerry483562
August 22, 2016
I visited this facility
In the very beginning, Elmcroft of Lebanon was very nice. The lady who gave me the tour was on the sales staff; she did an excellent job and presented things well. When I found out that I was going to take my wife out of the assisted living where she was, I called Elmcroft back and went to do an evaluation for her. They told me what level I would have to bring her on in and that it was going to cost $4,200 a month. We had no insurance to cover any of this expense at all, which meant that it would have exhausted our monthly income plus some my wife to go there. I decided that I would try to get her in there anyway. To be quite honest, I ended up getting very upset with them and terminating the agreement. I was going to move my wife in two days after the conversation, but at the last minute, they said, "Oh, by the way, there's a $500 move-in fee." I got very angry because at $4,200 a month, I didn't want to pay a move-in fee, too. That's just the bottom line. I said, "What's the move-in fee for? I've hired a truck, and I'm moving myself in. Why are you charging?" They said, "We don't charge the outgoing person. We charge the incoming one to update the facility and put in new carpeting or paint." I told her I wasn't going to pay for that. There was nothing she could do at her level, but she had her supervisor to call me. The supervisor was rude. I didn't like her. She never offered any kind of condolence at all about the fact that we were going to be paying $4,200 a month all of a sudden. So, I just terminated the contract and did not go back. Now, it was a great place, but when it came down to it, dropping that extra move-in fee on me at the last minute just upset me. I had been totally sold on the place. It was the whole idea of having to pay for any damage done by the previous person who had been there. Everyone (except for the supervisor) seemed to be considerate, thoughtful, and courteous. I have nothing bad to say about the unit. It was clean.
---
kp39222
June 29, 2015
I am a friend or relative of resident
Avoid! I had a loved one in this facility and it was AWFUL. The caregivers are all very nice and helpful, but they are very much understaffed. My loved one would go days without clothing changed and baths and nothing was ever done about this. I was lied to on multiple occasions about different complaints that I had. The turn around rate is extremely high because they staff is exhausted from lack of support. Of course, when you take a tour they make everything seem like a bed of roses, but it is not the case. If you want to throw away your money every month and have your loved one be soiled and live in a dirty room- then this is the place to do it at!
---
Karen107324550
June 04, 2015
I am a friend or relative of a resident
My uncle went to Elmcroft of Lebanon. They had a separate facility for memory care, but it's not in the basement. He was there for 10 days, and it was totally fine. He had his own little apartment in there, and it was very nice. The staff was very helpful. They were really good about calling and letting me know what he was doing. I like them very much.
---
woodmouse58
January 14, 2015
I am a friend or relative of resident
Had a family member there for a few years. For the most part they were ok. Just a good idea to keep a check on them. They have a tendency of lockin patients in their room. They said it was for their own protection . Also the leader would always try to put on this big front of how much she cares. Don't plan on ever having anyone else in my family to have to be there.
---
Community Advisor
April 05, 2013
Other
What a great place to take your loved one. The staff at this faculity makes Elmcroft a grear home environment.
---
knc562
October 01, 2011
I visited this facility
My grandfather lived at Elmcroft of Lebanon for several years before passing away in 2006. I always felt a sense of comfortand releif after a visit with him. The staff at Elmcroft was always very willing to answer any questions we has as loved onesandnever made us feel as if we were taking up too much of their time. Not only did we get regularlydetailed updates on his health/progress, we were also very informed on his activity level, interaction with other residents, and behavior with staff. While just observing the interaction between my grandfather and the staff before even introducing myself as his granddaughter, I could see the caring attitude they had towards him and other residents also. After he passed, the staff even had our family come back for a memorial service in his honor. The sincere sadness was seen on the faces of those who attended. It was really heart warming to seejust how many people genuinely cared for him.My grandfather was well progressed into the stages of dymensia while my grandmother was still caring for him at their home and she hid his dymensia from our family for quite some time until she passed away. However, I know she would be pleased that we chose Elmcroft of Lebanon as his home away from home. And, within an extremelyshort amount of time, our family was confident in our decision to place him in such a caring and loving environment. The home is set up just as such...a home-like atmosphere. In fact, it almost felt as if I was at my grandparent's home. There was never a cold, staunch hospital feel like some of the other facilities I have visited. There are comfortable couches and chairs scattered throughout the large common area with tables and bookshelves filled with numerous puzzles, card, and board games available to be pulled out on a whim. There are organized arts and crafts activities galore, billiards tables, cable television, a library, and internet access. They offer regular church services, which was important to our family because my grandfather was extremely religious and often led the singing portion of the Elmcroft services.My grandfather absolutely loved playing the guitar, which strangely enough, was one of the skills he hadn't forgotten with his alzheimer's. So, the activities director scheduled a show just for him to play for the residents (it was even posted in the weekly activities bulletin). He was as proud as a peacock! Elmcroft regularly scheduled live entertainment for the residents as well as taking the facility's van for outings so that the residents could participate in activities outside of Elmcroft. And a beautifully kept garden outside for residents to venture out a bit and enjoy the fresh air. The staff planned dances in which my grandfather, being the Don Juan of the home, was crowned "King of Elmcroft". The ladies used to argue over him! But, the staff always handled these events with care and couth. They were even quite graceful when finding my grandfather in the beds of various women! I'm sure he didn't know what he was doing, but I can only assume he thought he was in bed with my late grandmother.My grandfather had his own private bathroom,cabletelevision,telephone, laundry service,and housekeeping so he could enjoy life and not have to worry about the everyday dauting tasks of life. The facility also has its own medical director on site and the staff os very detail oriented regarding administering the neededmedications of the residents. I clearly remember a couple of calls from Elmcroft specifically about questions with my grandfather's medication. This truly gave us peace of mind in knowing he was well taken care of.While my grandfather was living at Elmcroft, the staff was very skilled in motivating residents to stay active and participate in all that was offered as to enrich residents' lives and help them have the most fulfilled and happy last years possible. It's as if the staff truly understand the concept that one day they will grow old, and treat everything and everyone as they will wantto be treated. I believe Elmcroft of Lebanon truly brings a living example to the word "golden" in the phrase golden years. I would definitely recommend Elmcroft of Lebanon to anyone who needsacaring and comfortable environment for their loved one.
---
Shanesgurl1987
June 13, 2011
Visited this facility
Upon visiting this facility , I thought at first that the staff was very professional, and caring. After a couple of visits to this facility I began to notice that the patients were all in their rooms more and more. They seemed to be weiry of the staff. The patients were left soiled for hours without being changed. On one occassion I saw one of the staff members get very angry when a patient asked for a refill of water and ice. I do not recommend this place for your loved ones.
---
From Elmcroft of Lebanon - Tennessee
---
Elmcroft of Lebanon sits in the well-known Castle Heights area of Lebanon, TN, conveniently located off Interstate 40 on Main Street, just thirty minutes east of Nashville. A quiet community, nicknamed the "Antique City of the South," the Lebanon area boasts many antique stores, an outlet mall and a variety of recreational activities at two state parks. Rich in history and tradition, Lebanon is an ideal place to live and visit. Elmcroft residents enjoy all the advantages of small town comforts and big city attractions.
Accommodations and Services
Elmcroft of Lebanon is an assisted living and Alzheimer's Care community offering accommodations for those who may require assistance in their daily living activities. It is staffed 24 hours a day with trained healthcare personnel and offers as much or as little care as a resident may want or need. In addition, Elmcroft of Lebanon has a licensed Health Care Director on call 24 hours a day.
Elmcroft of Lebanon features a full sprinkler system and each apartment is equipped with an emergency call system that may be used whenever the need arises. In addition, all exterior doors may be locked so that a secure environment can be maintained.
Each apartment includes all meals and basic utilities as part of the monthly fee. Also, residents enjoy daily activities, private dining room for family and guests, library and sitting areas, bistro and billiard activity room, housekeeping services and many other amenities. Other services include a beauty/barber shop for a nominal fee.
The emphasis on activities is a main thrust of the service offerings. Social interaction is a vital part of overall good health and Elmcroft of Lebanon is committed to offering residents a full range of social, recreational and spiritual activities from which to choose. Scheduled transportation on the community van allows all residents to take advantage of travel activities.
Elmcroft of Lebanon is truly a great place to live and work and is proud to be a part of the Lebanon, Tennessee community.
Features of Elmcroft of Lebanon - Tennessee
---
Costs
Minimum rate: $3030/month
Minimum Memory Cost $4260/month
Location of Elmcroft of Lebanon - Tennessee
---
Get Cost Information
Get full access to reviews, cost information, and amenities