Sunrise of Leawood
11661 Granada Road, Leawood, KS, 66211
Talk to a Family Advisor: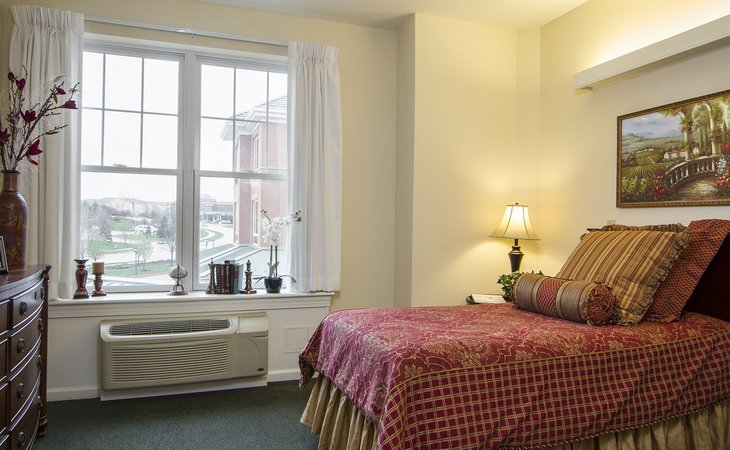 Reviews of Sunrise of Leawood
---
Vespersia
May 10, 2017
I visited this facility
Sunrise of Leawood was excellent. I very much liked it. The staff was extremely friendly, informative, answered all my questions, and gave a very good tour. The only thing I didn't like was there's no door between the bedroom and the rest of the apartment. I would like to have a bedroom with a door to close everything off. It also looked like it was in a very nice neighborhood. Lunch was very nice, and the chef sat with us and told us that he would prepare whatever we want.
---
Loraine238032
March 07, 2017
I visited this facility
I visited Sunrise of Leawood. I thought they had a couple of pets that lived there -- a dog and a cat. It was nice. It also had kind of a very strong potpourri smell which to me was not a good thing. It was warm and homey. They were very friendly. The people that worked there were very nice.
---
Sharon488723
January 07, 2017
I visited this facility
The tour at Sunrise of Leawood is good. It is a beautiful location, but to me, it has a bit more of an institutional feel. Also it is in more of an office park area, so it doesn't feel quite as homey. The grounds are very minimal too. It is mainly just a building. The amenities are good. They're standard to anything else like tours, musicians coming in, and transportation available.
---
Nanette881354
October 22, 2016
I am a friend or relative of a current/past resident
My mother-in-law is in Sunrise of Leawood. It's adequate. For what we had to work with and price, it's good. I've had some communication issues with their nursing staff. Sometimes it's good, and sometimes it's bad. The CNAs seem to be doing really well, but some of the actual nursing staff could use some help.
---
Dee435577
June 10, 2016
I am a friend or relative of a resident
My husband is in Sunrise. So far, it is a very nice home with very nice people who take good care of him. Their rooms are nice and roomy, but you have to decorate them yourself. I've tried their food, and it's very good. The dining room is very nice. The waitresses come out, wait on you, collect your menus after you have marked them, and then bring your food out to you. They go out to lunch and walks, and have music and craft rooms. My husband does go out on walks. One of the caregivers took him down and played a couple of games of pool with him. They have pool tables and religious services.
---
lanie777
May 31, 2016
I am a friend or relative of resident
I would have to say that my Fathers care in the lower level assisted living area was 5 star, except for the decline in quality of food. Once he had to move to the Memory care unit the care was severely lacking. There were some great staff members, but others there just to do their job and inattentive to residents needs. Food was an issue often served cold and had such poor nutrition my father ate 100% of meals but couldn't gain weight. Staff were slow to respond to call signals usually 20 min or more or had to go hunt them down. Was told they would get 24 hour nursing when first moved him in and that didn't happen. Evening/night staff the worst. With no nurse to keep them on their toes and supposed lead care aid who didn't take charge, it was lacking any control. Staff frequently just parking everyone in the TV area after dinner for hours calling it a movie night activity.. Staff would then sit around chatting with each other. Addressed concerns with upper management but their lack of supervision and addressing care issues had us decide to move our father out of the facility.
Provider Response
We're sorry to hear you did not have a great dining experience. We'd like to learn more about this and the staffing concerns you've mentioned. Please contact us at Information (at) sunriseseniorliving (dot) com –The Sunrise Team
---
Caring112790950
September 30, 2015
I visited this facility
Sunrise of Leawood was very inviting and clean. The staff was very friendly and seemed experience in the care that was given. The rooms were very nice and plenty. They seemed to have plenty of activities and the people that were living there seemed to be very active. Some of the people were coming from outings, they had board games, there were able to go outside in the fresh air, reading room, activity room, things to keep their minds active. The dining area seemed pleasant.
---
Lisa79016850
November 14, 2014
I am a friend or relative of a resident
My mom is at Sunrise of Leawood. We chose it because it is close to my office, and it is right off the highway, so it is fairly close to my home as well. Also I was impressed with the cleanliness of it. It has a very homey feel about it. It feels like a home not like a nursing home. I know my mom is very happy with the food. I think the staff that they have there who deal one-on-one with the residents are fantastic. My mom has a one-bedroom apartment with a family room, a bathroom, and a bedroom. They have a vast array of activities. They have live music, cocktail hour, different sports events, get-togethers, movies of the week, news program, church activities, arts and crafts, and field trips.
---
Mary91600950
September 23, 2014
I am a friend or relative of a resident
Sunrise of Leawood was bigger and nicely furnished. It was a very nice place with nice people. It was in a very nice neighborhood and it had nice grounds. However, for my husband's particular care, I don't think he had enough attention there because it was assisted living. I thought the other residents there were happy, but he is not. They don't have enough access outside than they do where he is now. It was not as secured; he jumped the fence there. However, I don't think they need to improve on anything. I thought it was more of my husband's doing than theirs and would recommend them to others.
---
Kirsten4
July 24, 2013
I am a friend or relative of a resident
Sunrise services were wonderful. Probably they could improve on their food, but it might just had been mom like her appetite was not used to be. But otherwise, everything else they did was great.
---
aogilvie
July 24, 2012
I visited this facility
The facility itself is very nice, nice furnishings and is always kept clean. It also smells nice. The residents seems to be in a good mood for the most part. The staff does a pretty good job of attending to the residents, but some of the nurses are incompetent when actually having to care for a patient in need.
---
---
Step into the senior living community of Sunrise of Leawood in Leawood, Kansas, and you can't help but feel at home. We stop at nothing to make your experience warm and inviting, from our homelike exterior architecture and comfortable community areas, to our choice of suites, exceptional outdoor gardens, and landscaping. Look around and you'll notice fresh flowers throughout the residence, and you may even spot our dog or cat. And of course, there are always the friendly smiling faces of our staff to ensure that each day spent at this assisted living community is a welcome one.
In addition to offering senior housing in Kansas, Sunrise of Leawood also boasts Alzheimer's care, assisted living, respite care, and short-term care.
Sunrise of Leawood is built upon a commitment to our residents and their families. We believe no two people are alike, so the assisted living services and attention we provide should never be exactly the same. That's also why we offer a variety of lifestyle, service and care options. By providing these choices, we not only offer solutions for today, we provide the security of knowing that there are options for tomorrow.
Features of Sunrise of Leawood
---
Location of Sunrise of Leawood
---
Get Cost Information
Get full access to reviews, cost information, and amenities