Fairfield Village of Layton
1205 North Fairfield Road, Layton, UT, 84041
Talk to a Family Advisor: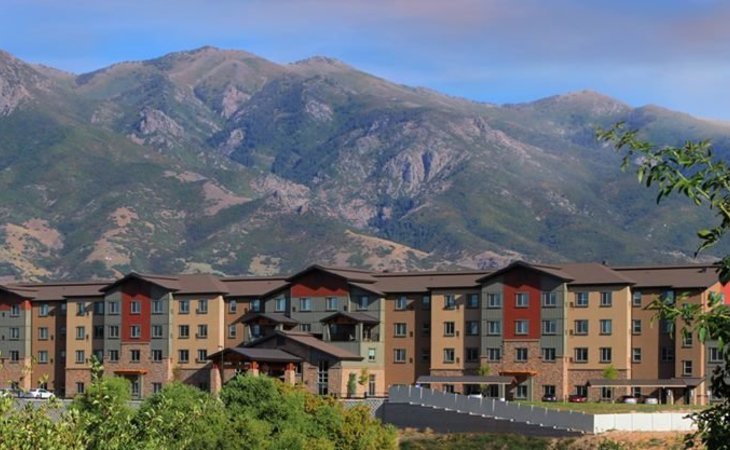 Reviews of Fairfield Village of Layton
---
mandy616257
June 06, 2017
I visited this facility
Fairfield Village of Layton seemed very nice and bright. The rooms are very nice, and it's a newer facility. My mother called it the Taj Mahal, but it was a little out of our price range. The dining area looked very clean.
Provider Response
Dear Mandy, We are pleased to hear your experience at Fairfield Village of Layton was delightful! We take great pride in our community's appearance. It is beautiful, our food is delicious, but it is the residents that live that make Fairfield Village of Layton so amazing! Thank you for taking the time to post your review. Sincerely, Sherry Morrill Director of Marketing Fairfield Village of Layton
---
Reed728148
August 30, 2016
I visited this facility
I liked Fairfield Village of Layton very much. We looked at a one-bedroom unit and a large studio that I liked very much. They told me they had smaller units, too. I liked my experience very much. I had a good meal, and they treated us great. I could tell it would be the best place for me to live. The staff was very friendly and nice. The price was a bit high. They told me it would cost me $2,450 a month. I liked the location very much.
---
Jolisa
May 12, 2016
I am a friend or relative of resident
They have GREAT CNA's for the most part, but are often under-staffed. My Mom lived there over 3 yrs, and there were a lot of ups and downs as far as care was concerned. Facility nice, and management bends over backwards when you first move in. After a while, hardly a smile came our way. Food was not very good for the most part. Just beware, as per contract, you have to pay rent for 30 days after your loved one passes away! We moved everything out within 5 days after Mom died. (They told us we had a week) They had the cleaning cart in there even before everything was out. Name tag was gone, so I imagine they had it rented. After protesting about paying another 30 days, they changed it to 15 days. however, we had paid for her care level for the month, so they almost got their 30- rent on apt. anyway. Kind of a bad experience. They are much easier to work with when you move in than when you move out.
Provider Response
We are saddened to hear about your experience with our community and your loved one. We strive to provide our residents and families with a positive experience and apparently fell short of that expectation in your understanding. We cherish the opportunity we are given to provide caring, compassionate service to our customers. We hold our residents in the highest regard and have upmost respect for them as individuals. We encourage open communication with our administration from residents and their families if something is not as it should be. Our hope is this heartfelt apology to you and your family will be acknowledged. In regard to your comment about payment, this is a contractual term that is addressed prior to joining our community. In our efforts to be transparent, we address this early in the process. Often times with the hectic, emotional strain of transitioning a loved one to assisted living, it is understandable that a detail such as this is difficult to recall. Our hope is to compromise when such issues arise and it seems we accomplished this in this specific instance. Thank you for your feedback. Your comments will aid our efforts to continuously improve our service.
---
Larayne
March 27, 2016
I am/was a resident of this facility
Fairfield Village of Layton is wonderful. I actually stayed there for a few days with my father to settle him in there. It's a beautiful place; absolutely top drawer. The place is just great and the people are very friendly, even the seniors. We've got him in the retirement section. They also have a memory care and an assisted living section that's all separate with a gate. The apartments are absolutely gorgeous, clean, and don't smell, and they even have a laundry facility and housekeeping. He's actually in a one-bedroom apartment right downstairs by the front desk. They've got a place upfront with all of their mailboxes and a game room where a lot of elderly gentlemen like to play pinochle while the women are playing bridge, and bingo occasionally. They have a theater room with theater chairs and show two movies a day. There's absolutely no way for the seniors to become bored. They have cable and Internet that you pay through them, along with the phone. They just turn the phone on, and we're paying just about $2,800 a month. I've spent a lot of time there and I have really seen absolutely nothing they could improve on. They even take your garbage out for you.
---
Holly27
February 27, 2016
I am a friend or relative of a resident
What we liked about Fairfield Village of Layton was the close proximity to everybody. The staff seems very friendly, and the place is clean. The dining room set up is OK, not fancy, and the food is OK. They offer a lot of activities, but my in-laws refuse to participate.
---
Diana118080650
January 15, 2016
I visited this facility
Fairfield Village was quite new and very beautiful inside. The rooms were beautiful and had lots of activities. They were playing some games. I heard lots of good reviews about it, but it was very dark, and we needed some place with lots of light. The staff was awesome.
---
Marlene32
November 16, 2015
I visited this facility
Fairfield Village was a nice place, and everyone there was very nice, but the rooms were small. We had dinner, which was good. When you first go in, they have a lot of nice facilities and everything looked very nice, but as you go up to the room, the facility is not as nice. It's dark, and the carpet is dark and ugly. I just didn't like it.
---
Anonymous114966450
August 05, 2015
I visited this facility
We liked Fairfield Village of Layton. We thought it was really good. The rooms were nice, and the people were nice. The rooms were more like apartments. They were a little bit bigger than those in the other places I looked at. The dining area was very nice.
Provider Response
Thank you for sharing your impression and experience with our community. It is always a pleasure to hear the positive experiences our guests have had. We appreciate you taking the time to compliment our efforts. We value feedback, and use the information to continually improve the service we provide.
---
Caring109421250
June 26, 2015
I visited this facility
Fairfield Village of Layton was really nice. I was impressed with the staff there. They were very conscious about trying to help us. Overall, it was a place I would go to if I was in a condition that I needed to go. They were very friendly and made sure that had all our questions answered. When we took my mom back there, they were really good with her. I would definitely recommend them to others.
---
pamela2015
June 16, 2015
I am a friend or relative of resident
There have been a lot of changes here recently. They have new owners and a new director in their assisted living and I just haven't been as impressed as I used to be. It's a nice facility but not as organized as it once was for the most part the staff are still pretty good, though the quality of staff members has gone down a little as well.
Provider Response
Dear pamela2015, Thank you for your feedback of Fairfield Village of Layton assisted living. We take reviews and comments very seriously and are disheartened that your impression of our community has recently changed. We invite you to reach out to us in person so we may visit about your specific concerns. In an ongoing effort to provide the very best service to our residents, we value and appreciate feedback. Without it, we could not continually improve as we strive to. We cherish the opportunity we are given to make a difference to those we serve. Please feel free to call or stop by and visit with our director, Wes Hansen, or myself, Summer Crouch. We hope to visit with you soon. Sincerely, Summer Crouch 801-807-0111
---
Susan101007850
January 19, 2015
I visited this facility
Fairfield Village of Layton offers level 2 of assisted living. Some of the people were really friendly, some of them were a little bit more distant; it was a combination.
---
Caring100711050
January 13, 2015
I visited this facility
We went to Legacy quite new, and it was close to my home, but it was very expensive, and the rooms were really small. The dining area was fine and seemed adequate. The community was very beautiful inside. However, I was disappointed that they didn't tell me when I was there about helping my mother's husband to get in because he was a veteran. They didn't mention that at all and didn't take time to explain that to me. They didn't give me a very good introduction to the place. We met the person at the front, and the lady who showed me around was very quick and didn't take a lot of time. I wasn't impressed with how she handled things at all. They had activities, there were people in the room, and there was a lecture person talking to them about a Country -- like taking them on a slide show tour on a Country. I thought the community was fine, I just wasn't impressed that they were so high priced compare to the other ones, and that lady didn't care if we liked it or not. She was just very quick. I thought they had enough people there that they don't even worry about trying to get more people there.
Provider Response
We are honored that you would consider our community for your parents. Thank you for your compliment of the beauty inside. We are so sorry we offered you an unsatisfactory introduction. Our marketing team is intimately familiar with the need for true connection and clarity when a family is considering their future options, as it is such an important decision, but the member of our support staff who met with you was not able to fill in adequately and we do apologize. If you would consider another visit, we would be delighted to give you a comprehensive tour to gather a real sense of our wonderful culture, treat you and your guests to a lovely meal, invite your parents to join our residents in an event or activity, or to otherwise answer any questions you have. Our Marketing Director, Summer, and our marketing team can be reached at 801-807-0111. We look forward to earning a good impression
---
Diane3617
October 17, 2014
I visited this facility
Legacy Village was too big for my mother; it easily closed to a 100 residents. It has retirement, assisted, memory, and dementia facilities. It was a nice facility, pretty, but it was big, and they have a lot of options for the room. They had an attractive dining room, but again, it was very large.
Provider Response
Thank you, Diane, for visiting our community! We are delighted you found our campus attractive, if seemingly overly spacious. We like to consider our size an advantage for promoting socializing, supporting a range of activities, and a sense of companionship and community, but understand that sometimes the perfect fit is a smaller more intimate environment. Should you mom gravitate to this in future, we would relish an opportunity to welcome her as part of our family.
---
blw6yc
October 09, 2012
I am a friend or relative of resident
This is an awesome assisted living facility! The building is always clean, meals are always delicious, and the staff is incredible! They are so amazing and take such good care of all of the residents. They recently got a new director and he is so kind and very willing to talk to us. There is no way I could have ever imagined that this quality of care could be provided. This is truly a home-like environment. There memory units, the cottages, are also spectacular and their staff is professionally trained to work with dementia residents! Thank You Legacy Village Assisted Living for taking such great care of my loved one.
Provider Response
How your review warms our heart! We are so proud of our talented teams and the leadership at our community who work together to provide an environment focused on delightful experiences for our residents and on loving professional care. We are honored to have your loved one call our community home.
---
rkaitlyn
May 30, 2012
I am a friend or relative of a resident
This facility reached beyond my highest expectations. The interior looked like a hotel and everything was high end. The last thing you would have expected to see was a hospital, rehab, or assisted living facility if you had just seen the interior. It had a clean smell and there were many nurses and employees openly doing their jobs and availible to answer questions. Every employee had a smile on their face and looked genuinely happy to be at work. Interacting with the nurses was just as great. They were as knowledgable as could be. I wasn't very comfortable to have my Grandfather in a facility but after visiting, my mind was eased and I realized he would get the best care there.
Provider Response
It is an extraordinary privilege to care for a person's loved ones and our employees are a particular wonderful breed that truly loves what they do. They do such a superb job of supporting a culture of excellence and welcome and of making our community a home for our residents. And our residents in turn inspire us all, bring joy to our lives and work, and give us a meaningful purpose. It is a true compliment that your Grandfather is a part of our family.
---
momof41
April 19, 2012
I am a friend or relative of a resident
Legacy Village in Layton is an excellent assisted living facility. The building is well kept and the staff is very friendly. The facility is always clean. The food is good. The rooms are amazing! Each room has its own kitchenette, bathroom and separate bedroom. There is not a "smell" like you find at some other facilities. They have fun activities for residents and provide good meals. The aides and nurses seem to love their jobs and the residents and are very nice to family members and friends.
Provider Response
We are so delighted and touched to read your review! From the campus design, to the employee team, and all the experiences in between that make a community happy healthy home, we are in endless pursuit of excellence and could not be more joyful to hear your experience to be a great one. Thank you!"
---
nmark007
June 10, 2011
Visited this facility
My grandmother and I toured this facility as she is starting to think about moving into an assisted living center. This is a new facility and it is large. It has all the various stages that elderly people face as you can move into the senior apartments and really have your freedom and independence but then move into other areas of the facility as your medical care needs advance. They offer a number of different activities for seniors and have a large rehab gym for patients that are sent to the facility to recover from hip surgery and other things. The nurses are very attentive and there is a large staff of them, which is nice to see that the patients are getting plenty of attention. As we toured the facility we noticed that many of the rooms we went into had large rooms with really pretty mountain views. They are all modern and very clean and the overall feeling of the facility is welcoming and inviting.
Provider Response
We are so pleased you and your grandmother toured our community and found our nursing and therapy teams to be genuinely devoted and dedicated to our residents and rehabilitation guests. They certainly are. And, yes, the Wasatch Mountains are a spectacular backdrop – we are very lucky! Thank you for taking the time to get to know us and our range of services and care options. If someday we can be of service to your family, we are here for you. And thank you for such a kind review."
---
From Fairfield Village of Layton
---
Fairfield Village of Layton is a senior living facility located in Layton, Utah, a growing town of more than 73,000 residents nestled at the base of the Wasatch Mountains. Fairfield Village is owned and operated by Generations, a company that's provided senior care for 70 years.
Today, the company's community in Layton provides homes and healthcare services for residents from mostly upper-middle-class backgrounds—including military veterans and their surviving spouses--who are seeking retirement living accommodations, assisted living, memory care and rehabilitation services. Rent ranges from $3,000 to $5,100 per month and is based on residents' care needs and amenities.
FACILITIES AND AMENITIES
Fairfield Village offers a range of studios plus one- and two-bedroom apartments from which to choose. Each living space has a kitchenette with a microwave and refrigerator, an emergency call system, individually controlled heating and air conditioning and access to all of the facility's amenities.
The campus includes a community television room, a general store, beauty and barbershops and a library. Most residents eat meals in a shared dining room, although residents can also have meals delivered directly to their apartments. Housekeeping and laundry services for clothing and linens are also available.
The facility's location on the edge of the Wasatch Mountains provides ample opportunities to enjoy natural views, and the campus includes a walking path for exercising, socializing and spending time with pets, which residents are allowed to bring to live at the community.
HEALTHCARE
Fairfield Village provides a broad range of healthcare services, including medication management, on-site nurses 24 hours a day, physical therapy and short- and long-term rehabilitation for those recovering from illness or injury. Residents with dementia receive specialized treatment in the community's memory care center.
Residents who need acute or specialized medical care can be treated at Davis Hospital and Medical Center, which is a short drive from Fairfield Village of Layton and offers cancer care, diabetes care, diagnostic imaging, heart care, orthopedics, pain management and more.
HEALTH PROGRAMS
Fairfield Village of Layton offers residents a wellness program that's focused on physical fitness. Residents may take classes from certified instructors in a space that is designed to be safe and comfortable for seniors with different ability levels. The goal of the program is to keep residents physically strong, healthy and living as independently as possible for as long as possible.
ACTIVITIES AND EVENTS
Fairfield Village residents have numerous opportunities to participate in organized activities and events. The facility staff offers fitness, arts, woodworking and crafting classes. Musicians are frequently invited to perform and local experts host lectures and discussions at the community. Other community activities include book clubs, Wii sports competitions, yoga groups and opportunities for guests to cook their favorite meals for friends and neighbors.
Staff also organize offsite outings to nearby restaurants and shops. Popular destinations include Antelope Island State Park, the Centerpoint Legacy Theater, the Hive Winery and the Great Salt Lake Shorelands Preserve, which is a boardwalk that takes visitors through one of the country's largest stopover points for migrating birds from throughout North America.
Features of Fairfield Village of Layton
---
Costs
Minimum Rate

$3000/month

Minimum Memory Cost

$4300/month

Rent Plus Care Fees
Entry Fee
Room and housing options
1-bedroom apartments
2-bedroom apartments
Companion Suites

We Offer Companion Suites

Studio Apartments
Dining options
In Room Kitchenette
In Room Kitchens
Dining Room Shared Meals
Room Service For Meals
Features
Beauty Barber Shop
Resident Transportation
Party Space
General Store
Tv Room
Resident Parking
Features Extra

Library
Cleaning services
Laundry For Linens
Private Cleaning Services
Housekeeping
Laundry For Clothing
Technology and entertainment
Cable In Rooms
Wifi
Technology Extra

Emergency Call System
Health services
Skilled Nursing
Hospice Care
Medication Management
Physical Therapy
Nurse On Staff

Yes
Activities
Offsite Activities
Music
Games
Stories
Religious Services
Lectures Discussions
Book Clubs
Wii Sports
Tai Chi
Fitness Room
Yoga
Cooking
Arts And Crafts
Guest services
Guest Parking
Guests At Mealtime
Overnight Guests
General
Minimum Age

55

Pets

Small Pets Allowed
Licenses
Licenses

AL Type II licensure
Location of Fairfield Village of Layton
---
Get Cost Information
Get full access to reviews, cost information, and amenities