Sunrise at Webb Gin
1375 Webb Gin House Road, Lawrenceville, GA, 30045
Talk to a Family Advisor: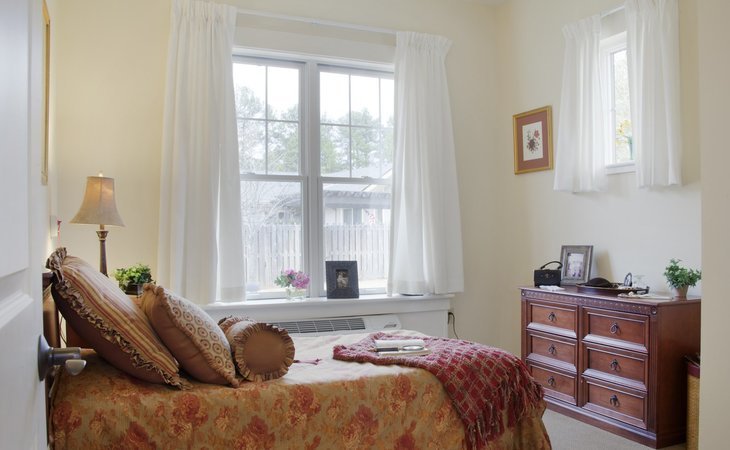 Reviews of Sunrise at Webb Gin
---
Janice570106
April 13, 2017
I visited this facility
Sunrise at Webb Gin was very nice. It was very modern, and it looked very clean. If they had a room that met my dad's criteria, I think that place might have been a consideration. We ate there, and the food was better than the other place I went to. The staff was very nice, and the place was more professional compared to the other places I've seen.
---
Brenda668833
April 10, 2017
I visited this facility
Sunrise at Webb Gin was beautiful, and the location was perfect because we were able to shop next door. That would have been perfect, but the price was more than the other place we visited. It was accessible to us. There was a fantastic staff. If they were cheap enough for my father to get in, he would go there. The one-bedroom unit was clean and adequately sized. I saw people eating, and the food looked very nice.
---
Sue743782
September 11, 2016
I visited this facility
We loved Sunrise. We were ready to sign her up, but it's too far from where we will move, and we want her close to us. It was close to other things, so she would be able to walk, and there were shopping areas right across the parking lot. They had huge windows in the rooms, and they had short halls with little courtyards and places to sit. They had a cement walking trail in and around the place. They had the best smelling food. It was really top notch, but it was more expensive.
---
LAWQBZZ
May 17, 2016
I am a friend or relative of a resident
The staff at Sunrise seem very caring, easy to get along with, and very loving to the people in the facility. They have games like bingo, they take those who are able physically and mentally to restaurants once a week if they want to go, and play different types of games to try to keep them stimulated. They have a nice garden.
---
Karen118040450
February 16, 2016
I visited this facility
They seemed to be very organized, and I liked that Sunrise at Webb Ginn had a place for the seniors to go. It seemed really homey during the day for meals and such. They had activities, but my father wasn't so much interested in that. It just wasn't the right fit for my father.
---
Naomi9
October 28, 2015
I visited this facility
We liked Sunrise at Webb Gin a lot,and from our standpoint, it was the best one. The staff was very friendly and very welcoming. It was decorated very nicely, and it was laid out to make it easy for the people that live there. Out of the few different places we visited, they were the most active, and they had full activities calendar with lots of options.
---
Caring3472
November 22, 2014
I am a friend or relative of a resident
My sister is currently at the Sunrise at Webb Gin. They are a pretty standard facility with the different steps of assisted living, and they seem to fit seniors well. I am not really happy with the menus; the quality of it doesn't come up to what she was used to before when she was in another assisted living place. The caregivers seem to be very consistent. They have a good ratio of seniors to the attendants, so they get prompt and consistent care.
---
Coalette
July 31, 2014
I am a friend or relative of resident
My mom was usually in bed. She was not clean. Cost a lot of money for poor care.
Provider Response
Thank you for your review. We take all concerns seriously and would like to learn more. Please email Information@sunriseseniorliving.com . Thank you, Sunrise Team
---
Scheryl
July 07, 2014
I am a friend or relative of a resident
Sunrise at Webb Gin was very nice, very clean. I would say that I didn't think the people were quite as friendly. They were nice, but they weren't as exuberant about their jobs. I have a friend who lives at Sunrise, so I go there on a regular basis. She is very happy, and they have everything there. But it is missing a little warmth, the homey warmth. I think everybody is cared for. Everybody was nice, but I didn't get the warm feeling of home. It was sort of like we were in a beautiful institution. It is well managed, well kept, well staffed, but it still had a little more of an institutional feel to it than people who are relaxed. I didn't have a relaxed experience there. It was good. It wasn't bad, and I didn't have a bad experience there, but I just wanted to feel comfortable. If they had the availability, it was actually the closest place, but they didn't have the exact availability that I needed for my mother.
Provider Response
Thank you for your review. We strive to provide a warm and friendly atmosphere at Sunrise and take all concerns seriously. We'd like to learn more specifics about your experience at Sunrise. Please share with us at Information@SunriseSeniorLiving.com. Thank you, Sunrise Team
---
Hank2
January 22, 2014
I visited this facility
I immediately felt that this was a professionally operated facility the moment that the receptionist answered the phone. The staff is polite and extremely knowledgable about caring for those who can no longer do for themselves. I was welcomed in for a personal tour even though I arrived late in the day. The atmosphere is that of home and comfort throughout. I was looking for a facility that offered hospice care for my mother. Of all the facilities in the area Sunrise at Webb Gin is by far the best.
---
Mariane3
September 25, 2013
I visited this facility
The staff at Sunrise are very nice. However, I wasn't thrilled with the activities that they offered to their residents. The place was dark. It was painted orange and I felt like the ceiling was coming in on me. It just had a different style that I didn't care for. They had empty rooms for the visitor to see which were spacious.
---
Ramona P.
September 20, 2013
I visited this facility
I like Sunrise at Webb Grin. It is not too big of a place. It is nice and clean. They have three different buildings. There is one for people with Alzheimer's or dementia and another one for people that just need a little bit of help. The rooms are nice. It is just that they are not quite as big as I would like. They have plenty of scheduled activities for their seniors. They also have a chef and I think they don't use salt in their food. I have visited two other facilities but I like Sunrise better.
---
Emily6
June 22, 2013
I am a friend or relative of a resident
My husband moved to Sunrise on the 5th of May. We loved it and it's been wonderful. His room is very nice. The staff were very loving and very efficient. He likes all of them very much. I can't say anything but positive things about it and we really appreciate it.
---
lover88
October 18, 2012
I visited this facility
I felt that the facility was very nice. The area is a nice place to have the facility. When I got there I noticed how polite the staff was to me. The staff explained to me everything that went on there and how what type of schedule they ran. The inside of the facility was very nice and welcoming. It almost felt like home. I do not think that I can come up with any thing negatove to say about the facility. This may be the case because it is a new facility. I do plan on going back to visit later on to see if any thing has changed either for the better or for worse. I would love to see if the staff really interacts with the residents on another level other than helping with everyday needs. I would like to go back and volunteer in the future but I would have to find out if they accept outside volunteers.
---
jklrn
August 02, 2012
I am a friend or relative of a resident
The staff of Sunrise has taken care of my mother for 9 months. They are kind, patient, and loving with her. It could have been a very traumatic move for her since she was moved from her home to another state. You could see the calmness and contentment in my mother's demeanor within the first week. They keep me well informed of my mother's condition on the days I cannot visit with her.
---
Krisstea
July 12, 2012
I am a friend or relative of a resident
I really liked this place. At the time they were encouraging them to exercise and do crafts. The staff was very pleasant and helped me find my way around. The place was very clean and the staff was very friendly. I was given a tour and met many of the guests. Everyone living at this facility seemed very happy and had wonderful things to say about the environment, staff and food. They felt safe and well cared for and enjoyed being able to socialize with the other guests. They also enjoyed the activities and felt they had a nice place to gather with visiting family and friends. The rooms were spacious and provided plenty of room to bring personal belongs and make it like it was a home away from home. Everyone I spoke with loved being there.
---
---
Step into a Sunrise Assisted Living community and you can't help but feel at home. We stop at nothing to make your experience warm and inviting, from our homelike exterior architecture, to our comfortable community areas and choice of suites to our exceptional outdoor gardens and landscaping. Look around and you'll notice fresh flowers throughout the residence, and you may even spot our dog or our cat.
And of course, there are always the friendly smiling faces of our staff to ensure that each day spent here is a welcome one. Ask about our innovative programs: The View for the visually impaired and The Terrace Club for early memory loss.
Features of Sunrise at Webb Gin
---
Location of Sunrise at Webb Gin
---
Get Cost Information
Get full access to reviews, cost information, and amenities