Heron House of Largo
2050 East Bay Drive, Largo, FL, 33771
Talk to a Family Advisor: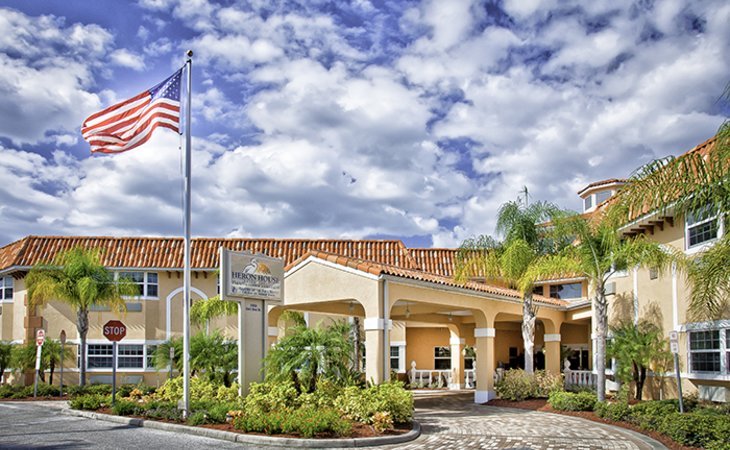 Reviews of Heron House of Largo
---
Please Read!
December 28, 2016
I am a friend or relative of a current/past resident
I moved my father from Seasons to Heron house 3 months ago. Here are the pros in comparison to other facilities: 1. Price is fair and partially negotiable, more less now that they have changed management. 2. The food is hot and fresh and the open dining concept was a game changer for dad, especially with his onset of dementia 3. They now have an Alzheimer's wing for the progressing dementia patients or for those like my father who may be considered an elopement risk. 4. The staff is super friendly and welcoming, at first. 5. The rooms are very spacious and the view(s) are absolutely wonderful. Now for the Cons: 1. Inexperienced techs seem to only know how to give meds and take down vitals, 2. The staff smokes even where it is marked "No Smoking", 3. They prefer you use their in house pharmacy which could end up costing you more out of pocket, especially when your father like mine was getting paid prescriptions thru the VA. 4. They do NOT listen... they say they do write things down but they don't, 5. They LIE a LOT! They will tell you whatever you want to hear to get you to adhere to their ways, I have fallen victim to this over and over. 6. The upstairs dementia unit is literally a locked down hallway and they rarely take out the residents. 7. The entire staff is very hard to get a hold of and they do NOT return any of my calls. *** I would only recommend this place to those struggling financially as it is all my husband and I can afford in comparison to other ALF's with memory care.
---
willben
December 19, 2016
I am a friend or relative of a current/past resident
A nightmare from the beginning. My loved one never felt at ease there. She was incapacitated from receiving the wrong medications. The staff was inexperienced. The caretakers would walk right in her room and would end up going through her things. After a while she started missing jewelry, they would ask to borrow items, which is against their oath, and eventually one of the staff stole money right out of her purse while she was there. They would never try to get her involved in and of the limited activities they did have. Food was marginal, DO NOT RECOMMEND THIS PLACE!
---
Daisey Meadows
November 29, 2016
I visited this facility
Staff is expected to know how to care for dementia and Alzheimer's patients, but are untrained. Heron House is interested in census, not appropriate care for these very fragile residents. Management is not sensitive to their needs and have a cavalier attitude . One resident breaks lamps, yells day and night, flips over tables and tries to get into visitors cars daily. But she has plenty of money and therefore compromises the peace and safety of all other residents. Right next to a busy street with open doors, residents who have a tendency to wander are in danger. Staff retention is zero...for a reason.
---
pastir
November 09, 2016
I am a friend or relative of a current/past resident
I knew Heron House would be the right place for my father after his fall. As soon as we I walked in and saw all the residents playing games and enjoying a fun musical performance, I knew he would like it. His room is big and has a good view. The staff is very warm and welcoming, and the food is so fresh.
---
garric
November 08, 2016
I am a friend or relative of a current/past resident
I didnt think my parents could make the transition from home to assisted living, but the staff at Heron House made it much easier. Food's a big deal in our house, so I was pleased to see how fresh the meals were. This seems like a great environment to help my parents prosper.
---
skipnash
September 06, 2016
I visited this facility
Being so far away from my Uncle and being the appointed person to tend to his affairs, I depend on the honesty and reliability of information I read on the internet. My Uncle has the symptoms of dementia with the onset of Alzheimer's to be expected. The Heron House website advertises Interactive Life Stations as part of the program with areas meant to engage residents and bring back specific memories and functions ... check out the baby nursery, office and hobby workbench. After many attempts to get information on this program, I have found out that this does not exist. I asked my Aunt who lives in St. Pete to stop in. The people she talked to knew nothing about this. We entrust our dearly loved and cherished family members to the care of strangers, When honesty is at issue - what is next? I would not with a clear conscience recommend this facility.
---
Karen122980050
April 06, 2016
I visited this facility
I brought my aunt with me to Heron House because I wanted her to be able to see it. She was very impressed with the marketing director. The dining room has open dining, so my aunt, who doesn't three meals a day, can go whenever she wants. She can sit down and someone will wait on her. They will tell her what's on the menu because she can't read it, and then help her escort her back. We asked all these questions at the beginning and they answered all the questions correctly. For me, the size of the room impressed me. The room that she has is an extra large studio and that was what was available, and that was what she needed. It was more than a small room; she wanted a little extra space. It was nice and spacious.
---
Carol L.
December 10, 2015
I visited this facility
We chose Heron House for my mother. She was there for 10 days, and then she fell. Now, she's in rehab. Heron House was definitely a very nice place. I liked the rooms. They were nice. My mother had an especially nice room with a nice view. The staff seemed very nice and very accommodating. They had a wonderful dining room where you could order from a menu, plus the other things that you could order not on the menu, which was nice. They did not have a set time for meals, so you could go there anytime you wanted, which was really the nicest thing. The food was good. They had a lot of activities, like trips. I heard music and saw residents playing a game in the lobby. They also had a rehab facility right on the premises. It was very lovely and very inviting when you enter the foyer. They had an upstairs and a downstairs place to sit with big-screen TV. That way, the people upstairs would not have to go downstairs, or you could go sit in the balcony areas. It was very nice. I, also, especially liked the fact that they accepted Medicaid.
---
David97743650
November 29, 2014
I am/was a resident of this facility
Heron House Indian Rocks was actually recommended by a friend who stayed in Florida. My mom is in the assisted living, and it seems to be working out pretty well. The rooms are very nice, and the staff is very helpful and friendly. We actually looked at 5 or 6 facilities, and this one had the nicest amenities and had a nice feel to it. They have a lot of activities. They have entertainment that come in from the local community almost every day with music and things like that. The dining facility is really nice. They have shuttle service to go out to shopping and things like that. They have a beauty parlor on site as well as a physical therapy room. I think the food is good. They have it set up so that it is like a restaurant -- menus and you can come down whenever it's open, and have whatever you want. It was the only one in my mom's price range where she could actually have a private room instead of having a roommate. The other thing is that it doesn't look like an institution; it looks like a hotel. It has a really nice look and feel to it. They have tracking necklaces for all their residents, so they know exactly where they are all the time.
---
SusanAdvocate
October 08, 2014
I am a friend or relative of resident
The staff is very nice and friendly and they do try very hard. They seem to have a lot of turnover in the nursing staff, which leads to inconsistent care. Residents who requires help getting to meals and showering need a family advocate looking out for them to make sure that they are actually being taken to the dining room and that they are actually showering them. Please do not think you can put your loved one into assisted living and everything will happen like it is supposed to! You will need to be checking on them and be their voice when needed.
---
Caring93618150
September 12, 2014
I am a friend or relative of a resident
Heron House is excellent; the staff and volunteers are very friendly. They're primarily supported by the church that my mother actually attended. Their primary goal is not for profit, though they do take subsidies from the government. My mother is living in a little condo. She participates in activities, and they have things going on all day long. The facility is open and airy. It has two floors. They have a nice recreation facility, field trips twice a week, and it is somewhere that they can stay active. They really have a caring nature, and the place is very clean and the foods are healthy.
---
Sunny10
February 01, 2014
I am a friend or relative of a resident
Mom went into Heron House on December 1st. The staff is wonderful. They're very friendly and very knowledgeable. The director is very personable, gets to know the residents there and their family members and remembers my name every time I go over there or call. They're very, very helpful and communicative as far as what's going on with my mother since I can't be there every day. I can always call them and ask. If the person is not available right away I get a call back within the day. Our mother is in a shared suite, but they each have their own bedroom and they share the common areas, so it's very spacious. But she does have a privacy which she likes. Everybody there is so friendly and they remember her name. The dining room is beautiful. The food is very, very good; we've met the chef. My mom is afraid she's going to gain so much weight. They have bingo, Bible studies, scenic ride tours, someone coming in to entertain or sing, they have a bus ride to church on Sundays, and they have movie nights. There's a ton of activities and everyday there's something on the calendar. It's also right around the corner from where my sister lives.
---
Caring82122550
December 31, 2013
I am/was a resident of this facility
The staff at Heron House Indian Rocks are fantastic. They take me around wherever I need to go. They serve me three meals a day. The food is excellent. It's just a good place to be. The cleanliness of this facility is very good.
---
Anne19
May 29, 2013
I visited this facility
Heron House is the next place that I would choose for my mom. The main thing was that she could go outside and won't be confined in the same building, which is very rare in memory care. Shedd be allowed to sit down in the gazebo and enjoy the grounds outside as well as being inside. It was beautiful inside. It was very nice, very quiet, and most importantly, very clean. It was also very secure. The staff seemed very attentive. We weren't in there very long, but what we saw, we liked.
---
Nancy 4
October 30, 2012
I am a friend or relative of a resident
Mom' been in Heron House for two months now. The facility was laid out very nicely. The only thing I'm not happy with them is she has to share a room with a person, but they are not large enough for a companion suite. They share the bathroom, small kitchen area, and a closet. The staff was lovely. They know her name. If you do not show up for a meal they come and knock on your door and ask why you're not there. Same thing with medication. They also remind them with doctor's appointments. They have activities, a nice garden outside. The only drawback is it's on the main road, and I don't like that because a person can walk out the front door. If they have any kind of dementia, they can step out and get killed by a car very easily. Family members can come and visit 24/7. I have a key to my mother's apartment. The nurses, aides and LPN would call me if my mother has fallen. I'm informed of any doctor's appointment my mom would have. But my mom misses living with me. She's not happy at all. I'm going to talk to them about restricting my mother's sodium intake because she has congestive heart failure.
---
Paula3
June 23, 2012
I visited this facility
Very pretty place with interesting design. The staff is very nice and seem to know what they are doing. They also are appear to know most of the names of the residents. Lots of activities for the residents are available such as exercise, a gathering place specifically designed for social gatherings, group games, crafts and other recreational activities. The staff actively encourage everyone to participate in activities, inviting them to join in! Very pretty buildings and different floor plans. Meals are even included and the chefs attempt to make them as home cooked as possible, I did not try the food though so I can't form an opinion on it. Florida in general seems a nice environment to retire and most of the people I encountered during my visit to Heron House in Indian Rocks seemed well adjusted and pleased with living in the assisted living facility. I am also very impressed with how clean it is, almost immaculate! Very beautiful place.
---
CGarcia1
April 18, 2012
I am a friend or relative of a resident
My grandmother was a resident at this facility and I visited her several times. In my opinion the facility was always clean and beautifully decorated. The entrance was very inviting and had a beautiful area in the front where residents could sit and watch people coming and going. The staff was very friendly and always remembered mine and my aunt's name. My grandmother had a private room that was easy to find on the first floor. They were always coming to her room to see if she wanted to participate in the many activities they had going on. During the holidays they had holiday-specific meals that were quite good! Her private room was cleaned daily, and she always had they key on a string around her neck in case she lost it. They had doctors on staff, so she didn't have to leave the facility to see her doctor. Overall I really like the Heron House.
---
Fenton
September 24, 2011
I visited this facility
My wife and I visited Heron House and were quite placed with what we saw and experienced. If something should happen to my wife or me or if my son could not help us any longer, this is the place we would choose. It is a class act facility.
---
dorisjohn
September 24, 2011
I visited this facility
I plan to go into this facility if something happens and I cannot stay in my home. It is a gorgeous environment and the staff are so nice and helpful!
---
donjohn
September 19, 2011
I visited this facility
This is an awesome, caring, immaculate, and well-run facility. I would recommend this facility to anyone!
---
RogerJ
September 18, 2011
I visited this facility
We have visited several facilities for my parents who are in their mid-nineties. This facility is the best one the ones we visited and have investigated in our area! All aspects are so impressive and we would trust all their care to taking care of my parents.
---
From Heron House of Largo
---
Heron House of Largo offers spacious private and semi-private apartments for an inclusive monthly rate. Our professional team of care managers ensures excellent care and services. Heron House' staff help residents with activities of daily living such as bathing, grooming, dressing, taking medications and making sure they eat well.
Throughout the day, care managers offer residents three chef-prepared meals daily, social activities and outings, chauffeured transportation and a personalized care and activities plan that suit residents' abilities and needs.
Assisted Living Services:
24 hour staffing
Nurse on staff
Medication supervision
Arrangements for local medical appointments
Bathing, hygiene and dressing assistance
Prescription ordering and delivery
Daily and weekly housekeeping
Linen, terry and personal items laundered weekly
Restaurant-style dining three times daily
Scheduled transportation for shopping and banking
Light exercise and activity programs
Social events and cultural outings
Memory & Alzheimer's Care:
When someone you care about is suffering from memory loss, dementia, or possibly Alzheimer's disease, it's overwhelming to prepare for the challenges you and your family now face. At Heron House of Fort Meyers, we understand this challenge.
Heron House of Largo has created an environment completely focused on providing familiarity, compassion, appropriate support, and care. We invite you to visit and meet our caregivers. You will learn how we can help you and your loved one live both safely and comfortably in a home-like environment.
Heron House Memory Care Residents:
24 hour staffing with nurse coverage
Safe, secure environment with secured doors and fenced courtyard
Care from staff members with specific training in •Alzheimer's and memory care
Three nutritious, home-cooked meals and snacks daily
Group & Individualized activities
Outdoor gardens and screened in porch area
Assistance with bathing, grooming and dressing
Incontinence Care
Medication Administration under nurse supervision
Laundry and housekeeping services
Assistance with Transportation
Barber/Beauty Salon services available on site
What Makes Us Special
---
At Heron House of Largo everything is included in one monthly fee. Imagine enjoying an active lifestyle that is both maintenance free and stress free and costs less than your current monthly expenses!
Features of Heron House of Largo
---
Costs
Minimum Rate

$2650/month

Minimum Memory Cost

$3000/month

Entry Fee
Room and housing options
1-bedroom apartments
Companion Suites

We Do Offer Companion Suites.

Studio Apartments
General
Minimum Age

40

Pets

Small Pets Allowed.
Location of Heron House of Largo
---
Get Cost Information
Get full access to reviews, cost information, and amenities