1915 Lohmans Crossing Rd., Lakeway, TX, 78734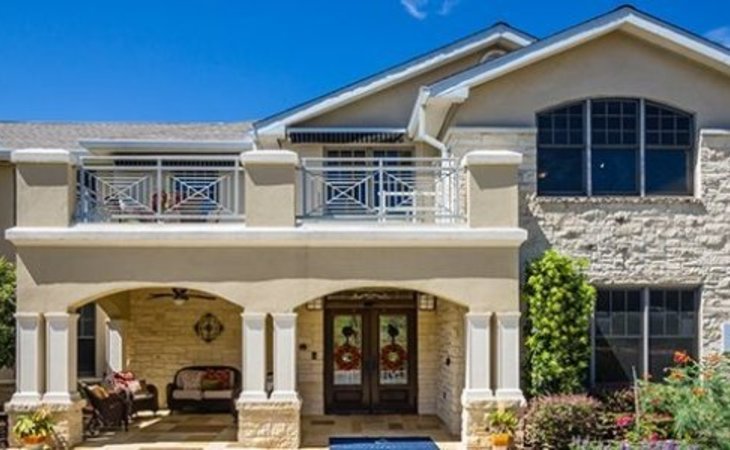 Reviews
of Brookdale Lakeway
---
Write a Review
March 02, 2017
I am a friend or relative of a current/past resident
Therapy is outstanding and service has been wonderful including dinning experiences.
June 30, 2016
I am/was a resident of this facility
Brookdale (Brookdale Lakeway) is very nice. I've made several friends. I'm pretty satisfied and enjoying myself here. I have a nice comfortable room, and the people are nice. The nurses have been very good. The food could be improved, though, but they try their best to please. I don't have any complaints about the staff.
March 31, 2016
I am a friend or relative of a resident
I believe the family is paying around $10,000 a month at Brookdale Leeway, so I expected that the care would be better and, unfortunately, it was worse. I had to do most of her care. There was a 24-hour period where she didn't get any care at all. I know that because I had fed her on the day that she came in and spilled food on her gown, and when I came back the next day, she didn't look like she's been washed and the same gown was on her with the same stain. I wouldn't rate them highly at all for the overall patient care, which I don't believe was very good. I don't know what they did when I wasn't there because the lady couldn't talk, so she couldn't holler or anything. If they didn't touch her for 24 hours when I wasn't there, I imagine she was just left alone. My impression was that the patient-to-nurse ratio was not good. She had a large room with carpeted floor that wasn't overly elaborate. It's a Brookdale in a nice area, and the family had money, but the care was substandard.
March 05, 2016
I am/was a resident of this facility
I went here for pulmonary rehab straight from Cedar Park Regional. My lung doc thought I should be here and do some rehab before going to my apartment. I never/never received any pulmonary rehab. No matter what I kept saying they kept treating my like a stroke patient with memory loss. Got out of there and back home. Dangerous place.
February 12, 2015
I visited this facility
The insides and out are nice and all but what counts is what's on the inside. When it comes down to it the staff is a major problem here. They lack motivation and treat the residents like cattle rather then kind hearted sometimes misplaces seniors. I can only assume that the employees are super happy to come to this job everyday as is. Be carful as well if you trust unprofessional and rude people like this around your beloved mom or dad then this is the perfect place for them.
August 07, 2014
I visited this facility
The staff at Summit at Lakeway were very nice. The rooms were very clean and nice. They do offer a lot of activities. I highly recommend this facility. What I like about this place is its cleanliness and how it smelled when we went in. It didn't smell a regular retirement home; it smelled clean.
June 25, 2013
I am a friend or relative of a resident
We needed a place that's in Lakeway because that's where my brother lives. Luckily, there was an opening at The Summit, so we placed my father there. Currently, he is adjusting really well. I highly recommend this facility. They have gone above and beyond to make him feel comfortable. They gave him a first floor room, so he can go outside and smoke. He is also allowed to bring his dog and they take the dog for walks because my dad isn't able to walk his dog anymore. The staff members are very friendly and the food is great. I can't think of anything negative at all. It has just been perfect.
March 29, 2013
I am a friend or relative of a resident
The Summit at Lakeway was one of the best in Central Texas. This was the reason why I chose this facility for my parents. Everything was there, so I wouldn't have to move them from one place to another. The staff exceeded my expectations. A really great place.
August 21, 2012
I am a friend or relative of a resident
It has ambience, tries to emulate the best kind of hotels and is well-staffed. It is three stories tall, with the bottom level provided with private gardens/yards. My friend is staying in a two room flat with a kitchen alcove. The staff is pleasant, attentative and, generally, very professional. The Activities Director is imaginative and resourceful. All in all my friend is getting all the support and help needed. As a guest you're politely and courteously received, and you can stay for lunch or supper.
August 06, 2012
I am a friend or relative of a resident
My Mother was a resident of The Summit at Lakeway for 2 years. She suffered from Alzheimer's Disease, COPD, CHF, and other diseases. The wonderful attention and care she received from the staff assisted us in keeping her away from several hospitalizations. They treated her as a member of their family. The staff were responsive to any and all of our questions and concerns. We were able to request and attend "care plan" meetings to discuss our mother's care.
July 30, 2012
I am a friend or relative of a resident
While i do believe that the staff was taking good enough care of my mom at most times . at others it seemed as though there was no way for her to get the care that she needed due to overcrowding of the smaller facility. Altough my mom can take good care of herself right now i am not so sure about the future. What am i going to do when she cant take care of herself and these staffmembers are so buysy that she endures neglect or minor abuse. i do believe though that this place does deserve four stars because at least for now she is well taken care of.And plus my mom loves to eat and they have an excellent buffet style complementry cafeteria. which my mother just loves because she loves to eat. It also has a good location seeing as wich its not that far from my current location in dallas. To summarize the staff is friendly but understaffed.They are excellent at what they do whenever they can do it. And it is a thriving community of people in their golden years. plus it has a very lush rich landscape
June 07, 2012
I visited this facility
The Summit at Lakeway assisted living facility was in the same vicinity where we were visiting the area to look at possible places for my brother's friend to live in. The facility looked like it was well tended the grounds were neat. The outside area was ample, with plenty of seating areas to enjoy. My brother's friend really likes living next to a park like area, so this would make him very happy. The variety of activities offered was impressive. Just about any hobby you might have can be accommodated and more. The staff goes out of its way to suggest stimulating things to do from gardening, to reading, going on nature walks, playing games and outings in the community. The rooms we viewed were all very clean, well-kept and inviting kind of resembling what you might find at a hotel that rents out small apartments but a bit more personal. The lunch we saw while there looked really appetizing. The menu was extensive so we were really impressed with the variety of food selections. We liked that the exercise room was large and had a variety of options to choose from. The library had a large book selection and also visit the local libraries. Overall, the facility really looked like a place anyone would like to live. We didn't see anything missing - it just looked like it was all right there.
January 28, 2012
I visited this facility
I took a field trip to The Summit when I was a junior in high school. Initially, I was a little apprehensive of visiting the residents. However, I soon began to feel right at home. It was a very nice building and very well equipped. All of the people there seemed genuinely happy. The staff treated them very well. Each person had their own apartment. They were equipped with a bathroom, television and decently sized bed ( I felt the individual bathrooms were very important.) Also, everybody was free to equip their apartment with whatever furniture and decoration they wanted. The result was a multitude of stylish and unique rooms. It gave the whole place more of a homely feel. While there i even got to try the food that they ate. It was pretty good. Far better than any would expect from an assisted living home. Local bands also played there on occasion for the amusement of the elderly.
See all reviews (13)
See fewer reviews
Services & Amenities
of Brookdale Lakeway
---
About Brookdale Lakeway
---
Brookdale Lakeway provides our residents with lifestyles, housing, and services in comfortable surroundings combined with exceptional amenities, programs, and care. Through Brookdale's signature Personalized Assisted Living we customize our care offerings for the individual. This allows each assisted living and Alzheimer's care resident the freedom and opportunity to make choices that will ease their lifestyle transitions. Residents at Brookdale Lakeway enjoy life with the support they need, coupled with the proper lifestyle and care accommodations as their needs change.
We promise Respect for Individual Preferences and offer personalized care needs in an atmosphere that encourages each resident to live in health and longevity. Our residents enjoy life with the support they need, coupled with the appropriate assisted living and Alzheimer's care accommodations as those needs change.
Our community is dedicated to enriching the lives of our residents every day with signature services for those who value their freedom and independence, but desire or need services providing them with the highest level of quality, care, and value.
Our Clare Bridge Place program serves those with Alzheimer's disease and other forms of dementia. Each day, we promise to work to deliver Daily Moments of Success for each resident. The Clare Bridge Daily Path provides structure and activities each day designed to meet specific needs of those with dementia, while the Clare Bridge Dining Program, designed by a gerontologist and registered dietitian, helps residents in need of Alzheimer's care retain the ability to enjoy and master the daily dining experience.
Get Costs