Villa Valencia
24552 Paseo De Valencia, Laguna Hills, CA, 92653
Talk to a Family Advisor: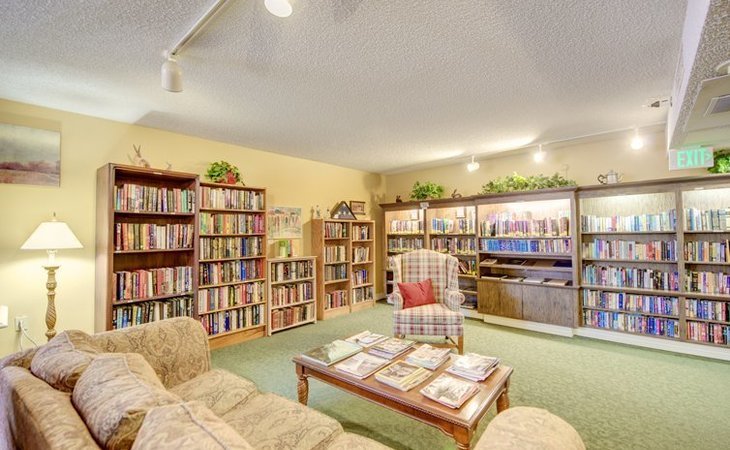 Top nearby Assisted Living Facilities
Reviews of Villa Valencia
---
Kathy022113
April 11, 2017
I visited this facility
I loved Villa Valencia. It would probably have been the first choice, except my mother's health insurance doesn't cover South Orange County. The rooms were beautifully done and large. Everything was very nice. I think my mother would have been very happy there. The staff who assisted me was delightful and very nice.
---
Rene744106
March 30, 2017
I visited this facility
Villa Valencia was quite large with at least five floors. It was well appointed, but they were doing a major remodel, so it was hard to see some parts of it. They had a very open and nice dining room, which was quite attractive. They seemed to have a fair amount of activities. My mom could have a dog, but they do not have a service where somebody would walk your dog, so she would have to hire somebody from the outside, and that was an issue. They had a pool, so that was a plus, and do water aerobics. My mom would have liked it there. There were probably three times as many people there as where my mom is now, so it was not quite as personal.
---
Shelby766317
February 01, 2017
I am a friend or relative of a current/past resident
We moved my mother to Villa Valencia on December 30; it's only a mile away and on my way to work. Our experience is excellent. They have good customer service and good food. The rooms are bigger than expected. The staff is friendly and caring. There's plenty for her to do, like they have movie nights, a swimming pool, putting green, gym, and clubs. I was overwhelmed with how nice it was. They have a double door entrance, and they close the inner door after 8:00 or 9:00, so you'd have to get buzzed in by the front desk. They had a special price for veterans of $2,400 a month as long as she moved in before January 1, which was really inexpensive compared to others.
---
Nancy105161
November 14, 2016
I visited this facility
Villa Valencia had a very active schedule of planned activities, both in-house and trips off the premises. They have a shuttle that takes the residents to shopping and doctors. The grounds were very nicely kept, the rooms were a very good size, and the people who lived there seemed bright, very happy, and involved in life -- which is what attracted my mother to it.
---
Linda641505
October 24, 2016
I am a friend or relative of a current/past resident
My mom is in Villa Valencia, and so far it has been really great. They give you exactly what to expect and give you a tour, and everybody has been very helpful. They are renovating right now, so there is a lot of construction. People who may be affected by that may not like it, but it is not terrible, as the outcome of what is going to happen in 2017 when it is completed will be gorgeous.
---
Judi157108
October 20, 2016
I visited this facility
Villa Valencia is just a really happy, bright place. They have dancing, yoga, music, swimming, and classes, and there are quite a few different rec rooms with different activities. They have a library and billiards room. They serve 3 meals a day, and the food is fantastic. The staff are just wonderful people who make you feel warm all over. I saw a 1-bedroom, a 1-bedroom den, and all the different sized rooms.
---
Caring111884950
September 30, 2015
I visited this facility
Villa Valencia was very nice, and it had excellent food. The rooms are nice, standard plus, and clean. The staff seemed overworked but accommodating for the tour. The residents I bumped into said it took too long for them to come and help. My mother didn't care for it though.
Provider Response
Thank you for taking the time to write a review about Villa Valencia on your recent tour. Our goal is to provide exceptional care and quality of life for those we serve and I am happy to hear that our community made a positive impression on you and your family. I can assure you that Villa Valencia strictly adheres to staffing standards set by the State and I would enjoy the opportunity to meet with you to discuss any of your concerns or impressions raised during your tour. Thank you for your consideration, Brian Rougeux, Executive Director.
---
L500guy
July 27, 2015
I am a friend or relative of resident
Our family came to the realization that our Mother would need a change in her life after being on her own for quite a while. Being from out of State, CA was a big move for Mom, who only knew family in the local area. We looked at many Retirement Centers and found most to be very quiet and dull, until we found Villa Valencia. WOW!! The moment we walked in we heard music by a real "Big Band" playing in the lobby where it seemed like 100 people were gathered for quite a party. Amazing food was set up... Someone said it was the annual "Formal", but it looked to us like a fun time! So many smiles all around, which cheered mom up. Even the grand kids wanted to stay and dance along with the others. We found everyone to be lovely, inviting and welcoming. None of us had any idea that a "Retirement Center" could be so full of life and Villa Valencia seems to be breaking the mold. Mom, now settled in, has friends and seems so happy with her move into the "Villa". On our last visit we found her taking a water aerobic class in the pool! We are grateful to the terrific staff who have helped to make this transition so successful.
---
Donna109057150
July 15, 2015
I visited this facility
My visit at Villa Valencia was great. The director was very friendly and helpful, showed us a lot of different options, and gave us a complete tour. They were nice and big; they were nice rooms. The staff seemed to be very attentive to the guests' needs. It looked like they had a pretty full calendar of activities. They were remodeling the outside of the place, and I know that they said they were going to be doing a face-lift, but I just didn't see any of that happening yet. It looked a little dated.
Provider Response
Thank you for posting your comments regarding Villa Valencia. We appreciate your kind words about our team members and activities program. Our community has started an exciting renovation project which will enhance the beauty and functionality of our entire campus. The planning and approval processes take time, however we've made great strides in completing infrastructure renovations with attention to roofing; HVAC systems; painting; apartment upgrades over the past year. We are all truly excited about the pending modernization and further beautification of our community and are appreciative of the opportunity to make these tremendous changes! Thanks again for your review. Warm Regards, Brian Rougeux, Executive Director.
---
Caroline and Tim
June 18, 2015
I am a friend or relative of resident
We were pleasantly surprised when we walked into the door.... Villa Valencia had so much going on with Activities, music playing, residents and their friends talking, enjoying their day. You get a very positive energy from the place when you walk in the door. Staff were professional and we got the feeling similar to that of a grand hotel. After weeks of looking at the senior living options for my Mother we chose Villa Valencia. My mother has made so many new friends, is now getting out and appears to be enjoying her life again, after the huge loss of our father. We can't say enough good things about the caring staff, who are professional and trained well. The building has started a renovation outside but everyone seems excited about the intended results. Our family is very pleased with Villa Valencia.
---
Sarrah
April 17, 2015
I visited this facility
Villa Valencia was clean. It had a lot of energy. There appeared to be individuals and families who were happy with the environment. I did not actually get into the pricing because we were and still are uncertain as to whether my mother will be moving out to this area, so I cannot speak to that part of it, but the overall appearance and energy of the facility itself was very enlightening. I spoke with a couple of people there, and they were very friendly and very supportive. They appeared to understand their role in the facility. I saw the apartments, and they were very nice.
---
ajl
March 27, 2015
I am a friend or relative of resident
Family member there three years. Best choice we could have made. Best staff. Great food choices and safe. Nursing staff really get to know you. And pet friendly too.lots of entertainment for the old folks.
---
Anne101575150
March 11, 2015
I am a friend or relative of a resident
My experience was good at Villa Valencia. I think they were understaffed, and I think that was a problem for many of the patients there. They were caring and trying to be attentive, and I think they were really concerned. I didn't find anybody who was not caring or didn't really want to help Jack; they all wanted to help him, but they were just so understaffed. They offer physical therapy, nursing care, hygiene, and medication distribution.
Provider Response
Thank you for taking the time to write a review about Villa Valencia. Our goal is to provide exceptional care and quality of life for those we serve and I am happy to hear that our staff made a positive impression on you. I can assure you that we strictly follow the staffing standards set by state and would love the opportunity to sit down and discuss your concerns with the care and attention they deserve.

Warm Regards, Brian Rougeux, Executive Director
---
Sheri7
January 16, 2015
I am a friend or relative of a resident
I had a friend that lived in Villa Valencia for the last three years. She adored the place so much that she couldn't say enough about it. They are very involved in the community. The dining room is very nice. It is right in the great room. The front is very open and quite cheerful. You walk into the lobby, and the front desk is always manned by someone very nice. The dining room has a front desk where they check you in and escort you to your table just like in a hotel. There's always something special going on in the lobby.
---
Caring96020550
October 22, 2014
I visited this facility
The rooms at Villa Valencia were beautiful. The staff was fine. The population was not my client's cup of tea. She liked the facility, but there were not enough ambulatory people.
---
Rob7
October 16, 2014
I visited this facility
Villa Valencia's grounds and interior are old or a little worn -- not quite new and fresh. The staff was very nice and energetic. It was less expensive though. I thought the place is clean, and I didn't find anything that would cause concern.
---
Daughter of Resident Mary
September 15, 2014
Other
New Beginning - The time had come for me to look into a facility for my mother. I had visited 5 facilities and was not impressed. I didn't receive the "home" feel good feeling..... Until I walked into Villa Valencia. I immediately, felt right at home. I new, if I felt this, my mother would feel the same. And she did. She is so happy at Villa Valencia, she calls it the "rich and famous." She feels like a queen. And by right, she should. She worked for so many years and taking care of 2 kids. It's now her turn to just kick back and enjoy her next chapter in life. I am so grateful for the personnel and especially Deb. Now I can rest and know she is in a safe and friendly place. So many activities to participate in. It's actually keeping her very busy. Thank You Villa Valencia!!!!
---
jensen4345
June 30, 2014
I visited this facility
We visited Villa Valencia for my mom, who was looking for assisted care. It's like living in a hotel; it's a high-rise. It has every kind of care you can imagine available, from intensive care to live-in; it's got the whole gamut. The rooms and apartments are very nice. Some of them have a kind of semi-kitchenette, with a refrigerator and a little area for doing some cooking on your own, if you want to. But they really don't need it there because they have such a fabulous dining room, first class. Pricing is not cheap, but I think that for what you get, if you can afford it, it's OK. Hopefully, I never would go to that kind of facility, but if I do, that would be the ideal facility I would want to be in.
---
Rachel13
May 30, 2014
I visited this facility
Everything seems to be good. My great aunt really likes Villa Valencia, but the price is too high for her. The staff was very helpful. It seems like a more social home, which is good. They set it up nicely. I think they could improve on their price.
---
Ann43
March 26, 2014
I visited this facility
Villa Valencia is very nice facility, but only a small part of it was assisted living and the rest of it was more of an independent living. The rooms were of good size. They have a beautiful dining and living room. It was spacious, clean, and modern. The staff were very accommodating and very straight forward about what they can and couldn't do.
---
Walter7
February 14, 2014
I visited this facility
So many of these places have two by four rooms but Villa Valencia had larger rooms and that is important to us. You didn't feel cooped in, we are not used to that and I didn't want that. It has a large dining room with great food. The place feels comfortable and is well-kept. We liked that place so well. Unfortunately, when we went to make final arrangements, they wouldn't take my wife because she was diagnosed with Alzheimer's. I was so disappointed because we didn't know that beforehand. We didn't know that she couldn't be admitted to this place.
Provider Response
Thank you for your positive comments. We are sorry for any miscommunication during your talks with us. Part of our admission process includes reviewing a physician's assessment prior to finalizing any move-in, so that we can be sure that we are able to provide them with the care that they need. We will make sure that this is clarified with all future prospective residents so that your experience isn't repeated. Please contact us if there is anything more we can do for you.
---
Mary73242150
December 02, 2013
I visited this facility
My daughter and I fell in love with Villa Valencia. It was awesome. We had a wonderful tour. The rooms were huge. I just couldn't remember if they had a refrigerator, not that I would need one. But they have a cooktop and a kitchen sink. I was excited about the meals even though I don't know all of the courses. The dining room looked gorgeous. The staff did very well in accommodating us. They have bingo, a lounge room where you can watch tv with nice big chairs and a book room where you can read and meditate. I recommend this place.
---
tracie65
November 23, 2013
I am a friend or relative of a resident
We never stopped asking for healing and a sign of recovery. It had been a harrowing experience; one month of not knowing what Mom's future held. Should Mom have gone through with the surgery? Would she survive? Will she make a full recovery? We had one more big hurdle to jump before we could answer these questions and finally exhale. Where to bring her for rehab? Shuttling back and forth between a myriad of options, we stopped into Villa Valencia. Research into finding Mom's rehabilitation center was confusing, overwhelming and risky. What were we looking for? It had never been in the cards to put Mom into a nursing home; we were a bit reluctant to pick Villa Valencia; most of the patients at the center needed assistance with broken hips, knees and other issues that were not life threatening. Mom had just survived a surgery that was deemed, "the granddaddy of all heart surgeries" by the surgeon whose partner performed the operation. It was only by the grace of god, her will and the power of prayer that she overcame all the obstacles she faced over a 35 day ordeal at the hospital. Fast forward to the day of admission. Mom was just another new patient moving into the "Newport Beach" section of Villa Valencia; she would start physical therapy shortly after her arrival and work towards discharge. However, it became clear pretty quickly that Mom was not just another patient here. She had fierce advocates in her daughters and in her fiance. The first week was a mixture of kindness and tension as the relationship was being established between the advocates and the staff of Villa Valencia. Slowly, all facets of the center came to understand the needs of our Mom. The PT/OT team, the CNAs, RNAs and the nursing staff all began to know Pat De Angelis not only as another patient, but as a woman who persevered. Over time, the advocate's trust and faith in the staff at Villa Valencia grew exponentially. We now saw in those who held our mom in their care a profound kindness, compassion, patience and love. The relationship was circular now. Mom able to express her gratitude and the staff enjoying the woman in room 51A as a whole person, and not just another patient. This is when the true healing began. Mom is now working hard in PT/OT, her overall health is improving, she has her appetite back, and most important...laughter now bounces off he walls in Room 51A at Villa Valencia. All of the staff who have contact with our Mom have inserted themselves into our hearts forever. And, I would like to think they will never forget my mom, or her family. This has been an experience that has instilled in me a sense of profound faith in human kind! Never stop asking for healing and recovery when you have a loved one in need. There are angels all around us. Villa Valencia has been blessed with a staff of extraordinary people who all have a special quality to serve those in need. Get to know the dynamic team when you visit your family member at Villa Valencia; learn about how they came to work at such a place! You will find what you need at Villa Valencia! Thank you on behalf of our mom, the amazing woman in room 51A. Albert, Jeff, Julio, Victor, Victor, Beatriz, John, Lucero, Val, Brenda Lee, Heather, Cheryl, Molly, Meyrhan, Sandeep, Sergio, Jill, Leo and all the staff in Housekeeping, PT/OT, the kitchen, maintenance, admissions, front desk staff, we will be forever grateful. Tracie
---
Uwe
November 21, 2013
I visited this facility
Villa Valencia was a nice property. It was also very well maintained. The lady there was very helpful in showing us everything and giving us some information. The lobby and eating area were really nice and the rooms were good. The location for me, because it is close to my house and on my way to work, would work probably the best. Also, because it was a bigger complex, they have lots of activities for their residents. Overall, Villa Valencia would have been highly considered; however, for my mom, it didn't match what she was looking for at that time. The facility as a whole was a little too big for her. They have like seven floors in each building. Also there were too many people for what my mom was looking for. Nevertheless, I would recommend this place.
---
Caring70643450
October 28, 2013
I visited this facility
Villa Valencia was very nice. Their rooms were huge. I like the sizes of their rooms. I didn't interact with any of the staff except for the woman who took us around. She was very nice and very pleasant but she was a sales or marketing person. She was not a care staff of this facility. In terms of activities, it didn't seem like they have that much and what they have, you have to pay for it.
---
Terry L.
October 14, 2013
I am a friend or relative of resident
We looked at several places before deciding on Villa Valencia. We chose it because it had good 'energy' and felt like a hotel! Mom moved in about 1 1/2 yrs. ago. It took a a while to adjust as she is legally blind. But now, at 89 years old, she is actually the healthies she has been in 15 years! She was frail when she moved in and now she's gained weight (she LOVES the food) and looks healthy. She loves the caretakers and has made several nice acquaintences. She feels so safe and taken care of.that it is a blessing. Highly recommend VV.
---
Antoinette3
August 30, 2013
I am/was a resident of this facility
I stayed at Villa Valencia for a while and I didn't really like it there. The staff was not very pleasant. I called my daughter and asked her to get me out of there and she did.
Provider Response
We would like to thank you for visiting our community, we value the feedback you have provided. Here at Villa Valencia we have a full program of no-cost activities offered daily (seven days a week) from 8:00 a.m. through 7:00 p.m. to all of our residents. There are various clubs in which our residents are able to participate in (bridge, knitting, poker, poetry, art, book/story and bible study). We also offer a variety of exercise programs (walking, wheelchair, aquatic and combo exercises). In addition, we offer a daily social hours with entertainment, dance lessons and a movie offered in our theatre each night. We also do several no-cost activities that are offered outside of Villa Valencia - such as picnics, trips to the beach, and scenic rides. We also celebrate every holiday with a special meal and activities for all of our residents that is offered at no cost. We would love to invite you back to our community to experience any one of our many activities. Again, thank you for your feedback.
---
Amanda B
April 30, 2013
I visited this facility
Villa Valencia was a very beautiful place. We visited it as we looked for a place for my friend. It was an immaculate facility. The staff were cool, funny and gracious. I wanted to move in if they accepted young people.
---
commercesd
June 15, 2012
I visited this facility
We went to see Villa Valencia assisted living facility, since my cousin was looking for an assisted living facility for his mother. Many family members live in the area, so this would be an ideal place for her to live. The outer grounds looked well-kept and pleasant. The staff greeted us and seemed very warm and friendly - which is the most important thing to the family. The foyer was nicely decorated and seemed homey, as did all of the communal rooms. The apartments were all clean, well-kept and conveniently designed. They take the time to personalize to each resident's tastes. They have outings to local libraries, events, culture, restaurants, shopping and attend athletic activities. They also consider suggestions to update the schedule as much as possible. The dining areas were nicely designed and warm. Residents may choose communal dining or more private situations. There were also places for them to visit with families. The food looked deliciously prepared, as well as nutritious. The dietician and chef changes up the menu to keep it interesting and encourage resident to make suggestions. The activity calendar features many healthy and stimulating activities. We liked that the staff encourages participation and tries to make everything interesting for its residents. We really liked this facility in the lovely Laguna Hills region and thought the residents looked content. The staff also seemed very friendly and competent.
---
---
Villa Valencia offers compassionate senior care in Laguna Hills, CA. We strive to create a home-like atmosphere where you and your loved ones can feel secure. Our warm, well-trained staff works closely with our residents to provide the utmost care and comfort. As part of the Five Star corporation, you can be sure that everyone at Villa Valencia shares the Five Star Values, and is committed to a high level of caring in all that they do. Please schedule a visit to see why we are the first choice in senior care in Laguna Hills, CA.
Features of Villa Valencia
---
Costs
Rent Plus Care Fees
Entry Fee
Fee Structure Extra

We Offer A Month To Month Rental
Room and housing options
1-bedroom apartments
2-bedroom apartments
Companion Suites

We Do Not Offer Companion Suites

Studio Apartments
Dining options
In Room Kitchenette
Dining Room Shared Meals
Room Service For Meals
Features
Beauty Barber Shop
Computer Room
Resident Transportation
Party Space
Tv Room
Garden And Patio
Resident Parking
Pool
Features Extra

Library, Fitness Room/Gym, Putting Green
Cleaning services
Private Cleaning Services
Housekeeping
Technology and entertainment
Cable In Rooms
Technology Extra

Emergency Call System
Health services
Skilled Nursing
Medication Management
Physical Therapy
Activities
Offsite Activities
Music
Games
Stories
Religious Services
Lectures Discussions
Book Clubs
Fitness Room
Cooking
Arts And Crafts
Guest services
Guest Parking
Guests At Mealtime
Overnight Guests
Diet
Diabetic
Kosher
Low Fat
Low Salt
Renal
Vegetarian
General
Respite Care
Minimum Age

65

Pets

Small Pets Allowed
Location of Villa Valencia
---
Request Info
Get full access to reviews, cost information, and amenities