Sunrise of Cinco Ranch
21939 Cinco Ranch Boulevard, Katy, TX, 77450
Talk to a Family Advisor: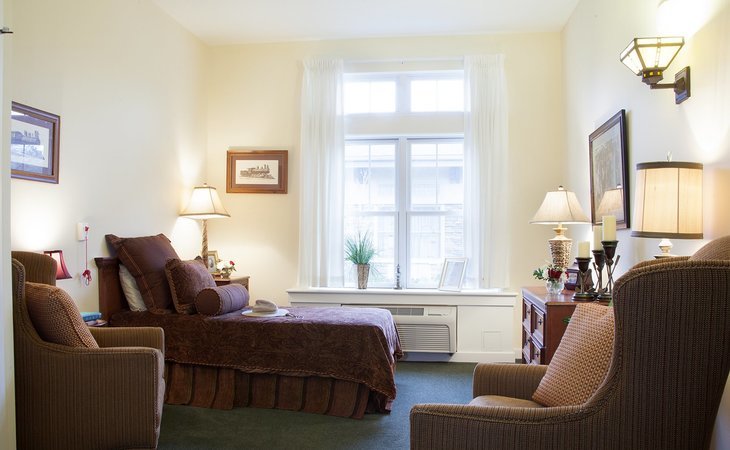 Reviews of Sunrise of Cinco Ranch
---
Don862815
October 13, 2016
I visited this facility
Sunrise of Cinco Ranch was the first one we went to. What stood out to me were the activities. A lot of the residents were active. They weren't sitting in their rooms. They were active and moving about. The staff was friendly. Everybody knew everybody's names. Sunrise of Cinco Ranch is fairly close to grocery store, retail establishments, and restaurants too. It was a pleasant area.
---
PaulOOXYG
May 11, 2016
I visited this facility
We visited Sunrise and saw the dining area, entry area, and the office, which were OK. They were doing everything on a la carte and we wanted a package, so we left.
---
LMR1
December 30, 2015
I am a friend or relative of a resident
The staff is knowledgable, caring, professional and proactive. They all work as a team to provide the best care and life for the residents. The facility is clean and well maintained. Staff keeps in touch and is responsive to my concerns and questions.
---
KB5
December 19, 2015
I visited this facility
Loved this place and it absolutely beautiful. Staff very friendly and helpful. Wish my Mom would have given it the "A-OK" because I would have loved for my parents to live there. My mom said "It's too fancy for my taste." Yes it is one of the more expensive places but I thought it would have been well worth the money.
---
Anonymous113173550
October 28, 2015
I am a friend or relative of a resident
I love Sunrise of Cinco Ranch, and I love the people that work there, but it's very pricey. I did feel there were some hidden costs that they didn't reveal. They did give us some adjustments, which was a pretty good amount, and I was happy about that. It's not that I'm objecting to what they're charging, I just felt like there were some costs that should've been made clear before. However, my parents are very satisfied with it. They are not easy to please, and I feel very confident with the care they're getting. Overall, I couldn't ask for better care. It has a very non-nursing home feeling, and it's a very comfortable living area. I visited several places, and this is by far my favorite in terms of the atmosphere. There was a lot of genuine care. They have good relationships with the people. They've been there for almost two months now, and I have a couple of other friends whose parents are there, and they're equally satisfied. My parents have different needs. One has mental issues, and one has physical issues, but yet they address them both. The Sunrise is in sections, and even though it's three separate sections, you feel like you're in one little area with one living room. You feel like you're in a little community, which is a little more intimate.
---
Brenda111483450
August 14, 2015
I am a friend or relative of a resident
I liked the friendliness of the staff at Sunrise of Cinco Ranch. I also liked the beauty of the place. It was homey. My mother had a large two-bedroom apartment with good-sized rooms. It had a bathroom with a walk-in shower. There was food available all day, and it was very tasty. They had craft-making, movie nights, games, puzzles, and field trips. I loved it.
---
Lisa110598550
July 28, 2015
I visited this facility
The gentleman was nice enough to show me around, but Sunrise of Cinco Ranch just didn't seem homey. It seemed more nursing home, and I know this is kind of a little thing, but there were certainly some residents walking around, and he didn't address anyone by name. The others, they knew the names of the people when they would see them in the hallway and would address them by name, and he didn't, which made me think that maybe he didn't know his residents as well. The lobby was homey enough, but when we started going down the hallways and passing the rooms, there was just a different feel about it. It just reminded me more of a nursing home.
---
Barbara103881250
March 31, 2015
I am a friend or relative of a resident
What made Sunrise of Cinco Ranch stand out from every other place that I looked at was the level of care of all the caregivers, how respectful, how loving, and how committed they were to making everybody's life better: the cleanliness; the facility itself was very homey, welcoming, and comforting; the way they treat the residents; the type of activities that they get them involved in; and the whole level of care. Every single one of them is very caring and loving and seems to be very happy to be working there. My mother has been there now for two months. She does not share a room, but there are people that would share a suite. They each have their own bedroom, they share a bathroom, and they have a common area. They also have different sized rooms and different suites, and the cost will vary based on the actual room that they're in. They had started a support group for families of the residents and provide guidance to us on how we can deal with our family members that are living there as they struggle in their elder years, which is something that I really appreciate.
---
Caring103043950
February 22, 2015
I visited this facility
I liked the Sunrise of Cinco Ranch, but we needed something closer because of my brother. I may have fought for that one a little bit because I did like it; it just seemed very bright, happy, and sunny. I liked the atmosphere, and I liked the way it made me feel. We were there, and they had a cooking activity going on at that time.
---
Caring95080250
January 09, 2015
I visited this facility
We went and looked at the Sunrise. It was more than we could afford, but it was a wonderful place. I liked the woman who showed it to us, and I liked everything that we saw there. I thought they really stress people on being independent to keep people functional and going.
---
Cheryl48
October 18, 2014
I visited this facility
I like Sunrise of Cinco Ranch and that was a really nice place. I met the marketing director, and I love her. She is very professional and informative. The rooms are very updated, but they seemed a little smaller. The whole place is very vice, but more expensive.
---
Caring85150250
May 29, 2014
I visited this facility
The staff at Sunrise of Cinco Ranch was incredible. They were very nice. I did tend to get a little emotional, and they were very nice about that. My husband has early onset Alzheimer's, so for me to see people in their 80s and 90s who have the same symptoms as my husband, who is 58, hurts, but they were very understanding about that. Sunrise of Cinco Ranch was a wonderful place. I wouldn't mind living there myself. It was so beautiful. It didn't smell antiseptic. It didn't have the smell that would tell you that people were not being cared for. The director knew each one of the people by name, and that means a lot to me. Also, they have classes for the families to know how to handle loved ones with this condition, i.e., accept a new reality.
---
Caring81847950
March 27, 2014
I am a friend or relative of a resident
Sunrise of Cinco Ranch was very clean and neat, but the rooms actually looked a little cluttered to me, and they were very, very small.
---
Caring75062950
January 31, 2014
I visited this facility
Sunrise of Cinco Ranch was a nice facility. I had a good visit there. The ambience was very nice and upscale. It was very expensive-looking. It was very clean and smelled good too. Their rooms were very nice. Their staff was very good. It was a really nice facility for seniors. They did have a lot of activities for their residents. This place is highly recommendable for rich people.
---
Winebibbler
January 09, 2014
I am a friend or relative of resident
My mother-in-law is in this facility and she needs 24 hour care, has dementia, alzheimers, doesn't walk and is incontinent. She is being taken care of by the most kindly and caring staff I have seen anywhere. There is never a harsh word spoken even though my mother-in-law has a history of being very nasty. The residents who live there are all treated with dignity and love. I don't think you could find a better care facility. The prices keep going up though and care can cost over $10,000 per month. We will try to keep her there as long as we can.
---
Christine20
October 22, 2013
I visited this facility
Sunrise is beautiful and it's like a country club out in the woods. My boss' mom is in memory care so they haven't really taken her out much but they have activities all the time for the people. That's one reason why my boss picked it. I would like to see their food service a little faster though. The nurses are very nice and they treat each person like their own mother.
---
Luell
September 14, 2013
I visited this facility
I visited Sunrise because I wanted to be as near to daughter as I could be and this facility was close to her. My visit there was fine. Their apartments were beautiful and excellent. However, this is a very expensive facility.
---
navtex
November 20, 2011
I am a friend or relative of a resident
Very attractive place to live. Wonderful, caring staff and activity programs. My mother particularly enjoyed the daily exercise program in the morning. Enjoyed their use of cats, and a very social dog to entertain residents. We had some minor problems with medications being provided as ordered and in a timely manner. Also, the price almost doubled after 8 months. And it rises often with each new med or level of assistance. $8,000 to $10,000 per month is not unusual for a one bedroom with assistance for bathing and dressing.
---
K_Nechelle
July 27, 2011
I visited this facility
This facility is very nice and the seniors there really seem to love calling this facility home. The caregivers seem very nice and compassionate about their work. No matter what position the people are in working in they do it with a smile and speak so kindly to all of the residents. It really is a very home-like vibe. The location is very tucked off from highways, so it is very peaceful, too. There isn't anything bad at all that I can think about this facility. I hope many people can go and live there and enjoy the family-feel and the love all around.
---
From Sunrise of Cinco Ranch
---
Step into the senior living community of Sunrise of Cinco Ranch in Katy, Texas, and you can't help but feel at home. We stop at nothing to make your experience warm and inviting, from our homelike exterior architecture and comfortable community areas, to our choice of suites, exceptional outdoor gardens, and landscaping. Look around and you'll notice fresh flowers throughout the residence, and you may even spot our dog or cat. And of course, there are always the friendly smiling faces of our staff to ensure that each day spent at this assisted living community is a welcome one.
Sunrise of Cinco Ranch is built upon a commitment to our residents and their families. We believe no two people are alike, so the senior living services and attention we provide should never be exactly the same. That's also why we offer a variety of lifestyle, service and care options. By providing these choices, we not only offer solutions for today, we provide the security of knowing that there are options for tomorrow.
In addition to offering senior housing in Texas, Sunrise of Cinco Ranch also boasts Alzheimer's care, assisted living, respite care, and short-term care.
Features of Sunrise of Cinco Ranch
---
Features
Resident Transportation
Garden And Patio
Location of Sunrise of Cinco Ranch
---
Get Cost Information
Get full access to reviews, cost information, and amenities