The Wellington at Southport
7212 US Highway 31 South, Indianapolis, IN, 46227
Talk to a Family Advisor: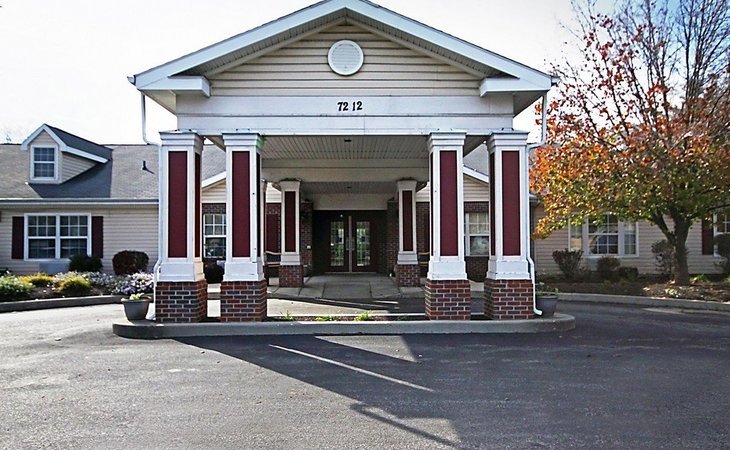 Reviews of The Wellington at Southport
---
Joe612430
March 27, 2017
I visited this facility
The grounds at the Wellington at Southport were all parking lot for the most part. They do have a bit of a courtyard but nothing to speak of. They are right on the major highway -- their front door was probably 35 ft. from a major thoroughfare -- but the person who was supposed to meet me and give me the tour did not show up. The front desk people were very unprofessional. They were unhelpful; they did not try to contact the individual who was supposed to be there and did not offer any alternative. They just said that someone would follow up with me, and no one ever followed back up. I didn't get much farther than the front door.
---
Susie006257
February 01, 2017
I visited this facility
The Wellington at Southport had more rooms than apartments. It was homier and seemed smaller. It had big rooms, which I really liked for my mom. The apartment would not work for her, but a single room with a private shower and private bath would. The one thing that stood out to me was they had like a spa room where the residents could go in and actually take a bath, instead of taking a shower in their rooms.
---
Mildred532782
January 26, 2017
I visited this facility
My mother liked The Wellington, but she said it seemed awfully quiet and did not see a lot of people around. The facility was very clean. The staff members I met were very friendly. The dining area was very pleasant. She liked the menu. They had lots of activities going on. It was a small community, which I thought was really nice because she could get to know the people better.
---
Joyce075318
September 11, 2016
I visited this facility
I particularly liked Country Charm; they were one of the cheaper ones, and the rooms were bigger. We didn't meet any of the people, but we were told they have very good staff there. The rooms other than the cafeteria were very small.
---
Visitor117781250
January 16, 2016
I visited this facility
Country Charm was pretty good. During my visit, residents were playing cards. The girl that helped me was fantastic.
---
Caring110104950
July 13, 2015
I am a friend or relative of a resident
I've been at Country Charm. Their staff was very cooperative. Their rooms weren't cheerful. It was kind of dull and depressing. Their dining facility was not the best. It was all group dining. I had my brother-in-law in here for a month, and he wanted to get out of there.
---
Family of resident.
February 11, 2015
I am a friend or relative of resident
This place is Horrible. The building is run down and the staff are rude they act like they are miserable. The administrator hides behind her door and ignores all resident ,family concerns. The so called director of nursing is a joke. The staff of the building forget why they are there because they forget about the residents needs. The food is nasty and consist of soup and sandwiches basically. The memory care unit makes me sad its so bad.please visit they will tell you all is well and its not
---
Beverly25
November 27, 2013
I visited this facility
I wasn't really impressed with Country Charm Village. It was on a very busy, commercial highway and it was kind of hard to get into because the traffic was heavy. I also didn't like their memory care unit. It was mainly for Alzheimer's people and I just didn't like the feel about it at all. The grounds outside where not good. It was very small and not really kept well. The residents didn't have a lot of space to go outside.
---
theresa01
October 10, 2013
I am a friend or relative of resident
Both of my parents have been residents in the memory care unit for almost a year. I am in the process of moving them. This is the most unprofessional, uncaring place I have ever seen. The facility does not provide any interaction or stimulation for the patients. There are no activities and the staff turnover is unbelievable. I have left numerous messages for the office staff. I never get a response. Anytime I have tried to find someone during business hours, all the offices are locked with the lights off. My parents have complained that the dining room runs out of food and the portions are too small. My parents pay over $4600 per month and I feel that they should recieve better care. I would advise anyone looking for a clean, professionally ran facility to look elsewhere.
---
Sue11
January 30, 2013
I visited this facility
Country Charm Village seemed really nice to me. I liked it a lot because it's very homey. I felt that when I walked in there. A nice lady gave me the information I needed, but she didn't have time to show me a unit. I can make an appointment to come back for a tour, but we've made other arrangements so I did not go back. However, I can tell right after it wasn't a place my mother-in-law would like. She's very contemporary. But as it just turned out we ended up going to different route.
---
Shadowhawk
December 04, 2012
I am a friend or relative of a resident
My mother in law's room was roomy, nicely maintained, and contained such amenties as big bathroom. The kitchen was convenient where one could cook a complete meal if she didn't want to walk down the hallway to the dining area. I have eaten dinner there why visiting her and the dining room staff was very friendly. The outdoors was very peaceful with a pond and woods in the back where one could sit outside and enjoy the view. It was also very conveniently located nearing shopping including a grocery store and a pharmacy which was important since my mother in law had Parkinson's and needed medication on a regular basis. The rooms were kept clean and the other residents were friendly although she didn't spend much time with them.
---
HoosierLady75
November 28, 2012
I visited this facility
The facility was great! Every thing was clean, neat, and orderly. The staff were very friendly as were other residents. My cousin loves it there. She says they are very attentive to her needs. She says everyone is extremely friendly, and she has many friends within the residence. She says she gets the treatment that she needs and deserves, and she never feels ignored. She has been in another assisted living community and had an AWFUL experience, so it is great seeing her so happy. When asking her about her experience she said everything is above and beyond what she had expected it to be! I myself have health issues and have stayed at assisted living facilities so I know all about the quality issues some places have. I can honestly say that shall I ever need to go back into assisted living, this is where I will request to go.
---
Rip Hamilton
October 30, 2012
I am a friend or relative of a resident
Emeritus at Greenwood seemed top notch. It had everything your loved one could ever require. The staffing seemed genuinely happy to help, something many places don't seem to be able to match. The employees are always ready to help at a moments notice, and even remember issues to aid in preventing any further issues. The food is one of the few lacking points. While the food isn't great it is far from terrible and my grandmother was generally happy with the meals they served. The rooms are much more spacious than you would expect and upkeep on them is done with extreme care. The grounds are beautiful, and you can take a nice stroll round them. The area is quite serene, it is quite and beautiful. The fellow residents are also super friendly, and it is quite easy for residents to quickly make friends. All and all Emeritus at Greenwood is a fantastic facility.
---
querencia
September 22, 2012
I visited this facility
I have some concerns about this facility. First, the exterior grounds seemed very well kept. Better kept than the interior, in my opinion. This is not a good sign, to me. I visited this with my nephew. He felt, as did I, that the staff did not seem very happy. This may seem trivial, but it can have a strong impact on how they interact with the residents. They responded adequately to requests from the residents, but did not seem very interested in them as individuals, and most certainly did not anticipate their needs. I observed one elderly man sitting in a wheelchair, motioning to the staff for assistance. No one made any effort to go to him until they saw me watching them. For whatever reason, the staff seemed somehow tentative and even demoralized. After working for 54 years in the business world, I think I recognize this as serious problems with management. I did not see very much for the residents to do except, basically, it sit around. They emphasized their "strong" program for memory issues and dementia. Perhaps this is their focus. I did not get as far as inspecting the individual rooms. This is definitely not a place for me. I need a facility that will "assist" me in my life, not warehouse me.
---
horsified1
May 25, 2012
I am a friend or relative of a resident
The rooms were pretty nice. My aunt had some of her own belongings there to decorate the place. It seemed pretty clean. The staff seemd OK, but not overly friendly or helpful. My dad and I were trying to get help locating a bunch of my aunt's clothes that were missing and no one was very helpful with giving us any answers. They seemed like we were bothering them. My mom and dad had just bought her these clothes like 2 weeks before and they were gone. The outside of the building was well kept and had pretty flowers growing. There did not seem to be too much for the people to do there. It almost seemed like they were there just to live out their last years. My aunt called for assistance and it seemed like they took a long time to get there. It was a decent place, but I was not overly impressed with the staff.
---
speedymex858
April 03, 2012
I visited this facility
I think this facility was perfect and if I have to have my mother moved to an assisted living facility, this is the one I'd pick for her. They had everything she would need and is close to the things she is familiar with. They have memory care also for when she gets worse with her dementia and she could be moved if need be to the other floor.
---
riser10
March 10, 2012
I am a friend or relative of resident
I am a relative of a family member and just very upset about what has gone on at this facility. They have gone through so many executive directors and directors of nursing that it is unnerving. I feel that is never corporate issue that will never be addressed. I have come in and they are low on staff and just this week found my mom soaked. If they are not capable of taking care of these residents then why are they accepting them. One resident had bm all over him and in the dining room. Some are feeds and two person assists!!!!! I'm so concerned that I am seeking other facilities for my mother. I'm just wanting to let anyone know to look around before going to this place.
---
hodgypodgy
September 10, 2011
I am a friend or relative of a resident
Upon first visiting Emeritus my first thoughts were what a peaceful little place for those who need help getting around. My father was a stroke patient there...The corridors are very large and almost made me feel like Alice in Wonderland. Most of the staff at the front desk were very cordial and were happy to show me where my father was. Apparently he had made some great friends in there. We visited with him for his birthday and he had us close the door and whispered to us that he had been asking for the staff to fix his bed for about 2 weeks and they have not done it yet. I just assumed he was being irritable but I took it upon myself to tell them they needed to fix his bed as soon as possible. Until I made it known that I was dead serious and that I would check in the next day and the next day to make sure he wasn't being ignored the staff that dealt with the patients did not move an inch but the management sure lit a fire under them! Overall, I would say it's a pretty nice facility.
---
healthcare worker
July 28, 2011
I am a friend or relative of a resident
The most luxurious retirement facility I have ever seen. Lovely surroundings, great food, staff that wants to provide the best care for their residents and will go the extra mile to do so.
---
From The Wellington at Southport
---
Capitalize on big-city amenities in a downhome setting at The Wellington at Southport, an Independent Living, Assisted Living and Memory Care community in Indianapolis, Indiana, designed to enhance life to the fullest. From thoughtfully designed floor plans to world-class services and myriad recreational and social opportunities, residents will just that we have thought of everything. Our spacious studio apartment homes offer the comforts of home with individual climate control, wall-to-wall carpet and cable TV access while providing privacy with 2-inch mini blinds and individual locked mailboxes. The Wellington at Southport offers the freedom to live the way residents choose in comfortable surroundings. At the same time, it offers companionship. Say goodbye to the worries of living alone, home maintenance and housework. Say hello to a relaxed lifestyle with regular Bingo games, a community choir, Uno Club, trips to the local AMC movie theater and three home-cooked meals a day in our tastefully decorated dining room. Residents receive attentive and prompt care from compassionate and knowledgeable staff members and also can make an appointment to see our house physician, who visits the community once a week. A plethora of shopping, dining and entertainment options are at residents' fingertips thanks to our convenient location just minutes from downtown Indianapolis and the scheduled courtesy transportation we provide to local businesses and services.
Features of The Wellington at Southport
---
Location of The Wellington at Southport
---
Get Cost Information
Get full access to reviews, cost information, and amenities