Atria Park of Baypoint Village
7927 State Road 52, Hudson, FL, 34667
Talk to a Family Advisor: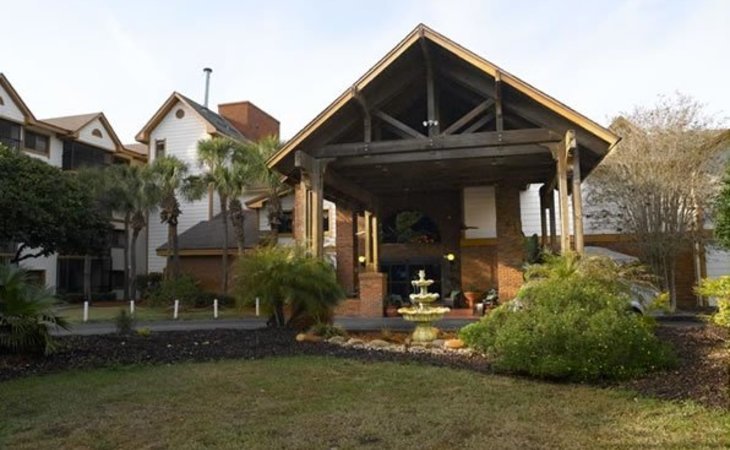 Reviews of Atria Park of Baypoint Village
---
William018652
January 23, 2017
I visited this facility
I liked Atria Park of Baypoint Village more than the other place I visited. The people were talking to each other. They had a bar where they served coffee and cold drinks and a cocktail hour. The location was good for us. The staff who assisted us was phenomenal and showed us the dining room.
---
Bernard280702
November 23, 2016
I visited this facility
We had dinner at Atria, and it was nice. It's welcoming, clean, and attractive. That staff was very talkative, and they have a swimming pool.
---
Catherine605458
November 23, 2016
I visited this facility
My friend is in Atria. It is very nice. It was very accommodating. The rooms are bigger than I thought they would be. The facility is very clean, very organized, and very upbeat. They have an exercise room. They have a room where people can watch television. They have very nice dining room. They have an outside are that is very pretty. The bathrooms are completely carefree. They have the bars set up very nicely.
---
Sue436027
November 22, 2016
I visited this facility
I think Atria Park of Baypoint Village was a wonderful place. It was dynamic and clean. It looked like the people were well care for. The dining area was sparkling and inviting. They sent me home some cookies, and they were very good. The staff seemed very welcoming and understanding. The apartments were modern and spacious. However, they needed to improve on the one-on-one care.
Provider Response
Hi, Sue. Thanks for visiting our community. I'm glad you enjoyed the homemade cookies and connecting with our staff. If there is anything else you'd like to share with me about your visit, or if you have any questions, you can reach me directly at customerservice@atriaseniorliving.com.
---
Ruth466360
October 04, 2016
I visited this facility
Atria Park also was elegant life style living, but it's like living in a lodge as there's timber and more masculine and rustic. It was very nice. They had a pool. I have friends that live there, and they had a little problem getting in their pools; some made it easier for wheelchair patients. The meal was very good. They were organized, met you at the door, greeted you, and were ready to give you the tour.
---
David068402
October 04, 2016
I visited this facility
Baypoint village was nice; the building and people seemed to be very nice. It looked like the residents were happy there. They have a laundry room; the residents can do their own, or the staff do it. They have a barber shop, a beauty shop, exercise rooms, and a couple of restaurants. The rooms were smaller but nice and adequate.
---
Shirley Z.
September 09, 2016
I visited this facility
Atria Park of Baypoint Village was wonderful and very clean. The staff was wonderful, and there seemed to be plenty of them around to do whatever needed to be done. The apartments were nice. We stayed for lunch, and the food was excellent. I would recommend this place to anybody who could afford it. It was great. I was impressed by it. They had games, exercise, water aerobics, and cards. They had a lot of activities for the patients there.
---
Ioanna
August 31, 2016
I am a friend or relative of a resident
My mother-in-law is at Atria Park. We liked it for the location, the friendliness, and the professionalism of the place. The rooms were fine, clean, and of good size. The dining area is fine, too. It's definitely secure, and they have codes and locks. The price is comparable to the others.
---
TinaKYBAB
May 11, 2016
I visited this facility
Atria Park of Baypoint Village was really nice. The staff was perfect. I love the facility and I would move there myself if I could. I would move my mom there in a heartbeat but it is expensive. She can't afford it with what she has. There's the pool and there's entertainment. It is very upbeat and happy. It doesn't feel like you're in a retirement home. Everyone seems happy, they all are going places and nobody is sitting around drooling in the corner or anything like that.
---
Loving Daughter40
May 11, 2016
I visited this facility
We went to Atria Park of Baypoint Village for my mom; we may choose this one. It was good and looked nice when we went in. I liked the push button they had in the rooms, which is kind of like a check-in button, so that people would know that they're there and everything's OK. The rooms and apartment were nice, so that was good. The one thing I really liked is that it's progressive so my mom can be independent. Care level goes all the way up to memory care, all in one place, so I wouldn't have to keep moving her around. It was too isolated and in not the best neighborhood, so there's no community around. For them to go anywhere, which my mom likes to do a lot, it wouldn't be safe for her. They will take them places, so there's that, which is good.
---
Happy ResidentYPIRM
May 11, 2016
I am/was a resident of this facility
I am satisfied with Atria Park of Baypoint Village but the only thing I don't like is the price. My room is cleaned up once a week. The bed and the laundry is done once a week, too. They provide the meals three times a day. The dining area is open 12 hours a day and you can get meals anytime you want to. You can order off the menu like in a restaurant. They servce continental breakfast from 6AM to 7AM. They have two main dining rooms. One dining room is open for regular standard meals all day. They have a big swimming pool, three big vans, and limousine service that will take you where you want to go. It is a fancy place. But there is very limited activities especially for men. If you have the money, this is a very good place for you. It is very clean, everything is done for you. They give you 100% service.
---
Valerie29
January 24, 2016
I visited this facility
Around 200 seniors lived in Atria. We really liked the way it was setup, and the one-bedroom apartment was perfect. It was very clean, and well-organized. They have activities although my mother-in-law won't be using them. However, she can advantage of some nice things such as singing, and shows. The meals seemed very nice. The choices were good, and they have an all-day dining outfit. We liked the people, and the location was very good for us.
---
Caring Son21
December 29, 2015
I visited this facility
Atria Park was a very nice, large, clean, and well-staffed facility.
---
Caring110187350
July 21, 2015
I am a friend or relative of a resident
My in-laws are in Atria Baypoint Village. It's clean, the people are friendly, and they have a lot of activities. It looked like it would be a good place to go. The staff are all very helpful. The rooms are clean, and it was one of the nicer looking places that we've seen. The food is pretty good. I was impressed with it. They have cards and different get togethers, and they always seem to be doing something. They have happy hour almost daily. It looks more like a condo.
---
Janet107722250
June 07, 2015
I am a friend or relative of a resident
Atria is very good. I would highly recommend it on all levels. I can't say enough good things about it; they are absolutely fabulous. My mother has several friends that are there, and it's close to our home. The food is excellent, and they have three chefs. They have tons of activities every single day. They do trips and all different types of activities, even for the people on the memory unit. The staff is helpful and friendly. I went to five different facilities, and that is the only place that I would put my mother.
---
Jean107023150
May 28, 2015
I visited this facility
We were also able to visit Atria Baypoint Village. It had a respite kind of a feel as supposed to a more elegant feel -- respite not being bad though.
---
Dolly6
May 24, 2015
I am a friend or relative of a resident
We had my husband at Atria. He was very happy to be there, but he got worse, and they will only accept patients up to a certain amount of illness. He was only there for 3 days. It was very nice; they did take care of him. From what I saw, it was clean. I believe they have a pool and kind of like a library. I was in a room that was loaded with books, and it looked like some novels. The one thing that is not that great is that he had to go in an area called memory. I had to buy the furniture for that room, and it caused me quite a bit of money because in that area, the rooms were empty.
---
Anna28
May 24, 2015
I visited this facility
I didn't like the location where Atria Baypoint Village was, but everything was lovely. I like the idea that they had separate dining rooms where you can order food at any time of the day. The residents were very friendly. I have nothing really negative to say about it outside of I didn't like the area. We had a meal, and the food was very good. They gave us our choice of what we wanted. The young lady that took us around was more than pleasant. That would be at the top of our list if we were going to rent one, but I couldn't afford it.
---
Barbara99725550
January 19, 2015
I am a friend or relative of a resident
I chose Atria Baypoint Village for my mother because it was really nice. It is clean, and it has a very nice atmosphere. We also chose it for the level of activity although my mother does not participate much. Actually, their activities were cut down a little bit. So I have to say I am a little bit disappointed because they are not quite doing as much -- maybe because of the winter -- but it is a beautiful place.
Provider Response
Thank you for taking the time to provide feedback. Your comment regarding activities will be shared with the appropriate directors and in the meantime, if you would like to share suggestions of activities your mother would like to participate in, we'd love to hear them! Please reach out via customerservice@atriaseniorliving.com and be sure to include "Atria Baypoint Village" in your subject line so we may quickly connect.
---
Cathy98012050
November 28, 2014
I am a friend or relative of a resident
The food was good at Atria. My husband was far; he was on the fourth floor. The room was small, but it was OK. It was more expensive, but it was nice. His room was actually has 1 room; it was like a studio type. You walk in and there is a bathroom, a hall, a kitchen, and it was definitely a lot smaller. The experience was very good.
---
Peter25
September 30, 2014
I am a friend or relative of a resident
Atria Baypoint has a memory care unit that has a philosophy with it and a program that's hiding. It's not just calling themselves memory care; they actually have a program and that was the first thing I asked. They were very helpful and professional. My wife is in a studio room, and its fine with her. I ate there and the food was fine, and my wife liked it too. They are keeping them busy all day long one activity after another. I would recommend the facility.
---
Cindy5017
June 27, 2014
I visited this facility
They could improve on having more activities.
---
Caring78155250
June 17, 2014
I am a friend or relative of a resident
My mom stayed at Atria. It was pretty lively. The staff was very good. They kept me up-to-date and informed. Her room was really nice and worked well for my mom.
---
philly5695
March 20, 2014
I visited this facility
Atria is a very nice facility with a lot of activities, but it did not have a separate dementia ward. They are working on a memory unit that will open in June of this year. It is also a much larger facility and the rooms are first class. They have a formal dining room and the meal was quite nice, it was like dining in a restaurant. The staff is friendly and attentive. The people that are employed in the therapies are very skilled.
---
Gino1
December 02, 2013
I am a friend or relative of a resident
My mother-in-law is in Atria Baypoint Village. The place is like a hotel resort. We choose it because we think it is the friendliest, the most attractive and cleanest place she could afford. It is also near our house. I like the staff a lot. Everybody I meet seems to genuinely care. They are attentive to her and they don't forget things. I never have any problem with them at all. We are happy when we put her there and she is relatively happy and comfortable. They have lots of activities, but my mother-in-law have an escalating memory problem and can't read. However, she goes to exercise class and she participates in movie nights. She also has a lot of things to do. I have eaten there a bunch of times and the food is fine. She likes the food and she cleans her plate every time. They have menu with ten different things that you can get almost all day long. Then they have three or four changing specials for lunch and dinner. There is also a café where you can eat any time. The nurse determines that my mother-in-law is pretty confused and can't deal with very complicated things. So, she will be happier, safer and less confused in the smallest room they have. It has two closets and a bathroom.
---
Mike35
November 22, 2013
I am a friend or relative of a resident
Mom is in Atria. It has one wing that's four stories high whereas the building is two. We were impressed with the architecture and room layouts they had. Mom didn't get to see it before I got it for her but she was happy once I brought her over. She has a studio apartment. It gives her plenty of room and she's by herself so I couldn't ask for a whole lot more. The staff and all the facilities seem to be very first class. My friend and I ate there two or three times while we were looking to decide and after we brought Mom there and it was pretty good. Mom hasn't complained yet. They have considerable activities there but Mom has macular degeneration so she can't see a lot of the stuff that's going on. She's still recovering from abdominal surgery and a recent bout of urinary tract infection and she just hasn't been a communicative type of person right now. I think she'll get over that but she's 96 so she's not being too terribly active. I'd have to say that she's happier here at the Atria.
---
John67104250
September 29, 2013
I visited this facility
Atria Baypoint Village seemed to have a higher energy staff. They knew many of the people there by their first name and they addressed them by their name. They engaged with them. They were dedicated to taking care of the folks that live there. The dining room was a community kind of dining room where it seemed like there was an assignment of seating and the people seemed to get along fine. It seemed like it was a happier place.
---
Caring65055050
September 23, 2013
I am a friend or relative of a resident
I think things are working out very well ever since we placed my parents in Atria Baypoint Village. Basically the decision to move them there is that I didn't want to change location because they're quite elderly. I wanted to keep them together and being near their doctors. That community was close to where they were living. Also price definitely played a role into it because my parents would need a lot of care. I have been in there a number of times paying attention to how the staff interacts with the residents. I would say I'm extremely pleased with the care level they're providing. With regards to dining, Atria has a set scheduled hours for meal times; however, they have a cafe that's called, The Anytime Cafe. The menu is exactly like the major dining hall. So if residents want to go and have breakfast at 10, they can have breakfast at 10 a.m. I wish Atria Baypoint has memory care with them because my mom has recently been diagnosed with Alzheimer's. Nevertheless, I feel like she is being watched there pretty close. Overall, I still think this is a better place for both my parents.
---
virtual reader
November 28, 2011
I visited this facility
After parking in the ample parking lot I noticed that this facility was built in a beautiful woodsy area. I also noticed that Atria Baypoint Village was like a small town in itself.
When I walked in, the first thing I noticed was a wonderful aroma coming from the kitchen. I met with friendly staff that was more than willing to give me a tour. The first place I wanted to go was the kitchen where I was introduced to the chef. He was cooking an Italian dish that looked wonderful.
After the kitchen we were able to look into several of the apartments that are available and all are very roomy and comfortable.
The facility offers a swimming pool for it's residents, a chapel that is open at all times, a small café that offers drinks and snacks.
The dinning rooms all have large windows so that the residents can eat and enjoy watching nature outside. Atria Baypoint Village offers 24 hour staff, physical therapy staff and a very large activities department.
I was able to sit with a few residents and chat and all told me that they are extremely happy living at Atria Baypoint Village and also the residents said they feel very safe living here.
---
Caregiver6
November 17, 2011
I am a past client of this provider
Atria Baypoint Village is a beautiful resort like facility where the staff, for the most part are caring and compassionate people. The amenaties are wide and varied with something for everyone. The dining room serves a resturant style menu and there is no lack of choices for personal taste. Thier own buses will take residents to doctor appointments, pharmacies, malls, not to mention special side trips to local attractions. However that being said; the cost per month goes up considerably as you progress up the the level of care, being it administering medications, or just general assisted living. You may move in with the belief that you will be financailly able to afford to live there, but before you know it, things begin to be cost prohibative. And you must rethink your living arrangements. In addition to that, just trying to get in touch with maintenance to get something done could go on for weeks and weeks. You may want to downgrade to a studio apartment to save a bit of money there. They will drag thier feet "getting another apartment ready for you". So much so that in our case we made the decsion to move our elderly aunt out. In general if you live with an unlimited budget, Atria is the place for you.
Provider Response
Thank you for your feedback about our community. While I am happy to hear that your aunt enjoyed her stay with us, I am concerned about the maintenance issues you mention in your review. Atria prides itself on maintaining high standards of service and we welcome the opportunity to learn more about how we can improve the experience of our residents and their families. If you are willing, please contact us at customerservice@atriaseniorliving.com so we can set up a time to talk further (be sure to include the community name in your subject line).
---
njdevils828
October 19, 2011
I am a friend or relative of a resident
My grandparents have been residents of Atria Baypoint Village for a few years now. In my experience with the facility, I have come to view Atria as a very good assisted living home. The staff is very friendly and will always greet you with a smile. The bus is very convenient in the fact that residents can go anywhere they want; the store, the doctors office, or even to a show. Atria also has many events scheduled each day. With bingo, pinnacle, and other entertainment, it is hard for residents to not find something to do. The room layouts are very generous as well. My grandparents have a large living room, a kitchen, bathroom, and a good sized bedroom. Meals are standard and if there is something that is not on the menu, you can always ask for something different. Other than that, the food is nothing out of the ordinary. Overall, Atria Baypoint Village offers everything that an elderly person would need. They bring a mix of entertainment and safety into all of the resident's lives.
---
Caring32
June 18, 2011
I am a friend or relative of resident
I was looking for a place for my 79 year old mother. I toured several facilities within a 10 mile radious of New Port Richey, FL. I chose the Atria mainly because everyone there was so very friendly. Rebecca, the woman who provided the tour to me was exceptional. The place is 26 years old but well maintained. They provide 3 meals a day plus a seperate area for meals if you miss out on the time schedule of the dining room I have eaten several meals with Mom and the food is very good. The Atria provides numerous activities for the c;lients everyday. As Mom is basically independent at this time; however they do offer several levels for Assisted living as well. Mom has been there a little over a week now and I feel she is very content. It has been a great choice and I am very pleased with the outcome, the staff, the apartment, and all amenities.
---
From Atria Park of Baypoint Village
---
Voted "Best of Suncoast" for three years running by readers of The Suncoast News, Atria Park of Baypoint Village is a vibrant community offering assisted living and memory care options. Situated in a private, wooded setting, Atria is conveniently located near Hudson Beach, local restaurants and shops - and offers the right amount of discreet assistance to support an active lifestyle.
Here, older adults are able to spend each day as they please - whether socializing with friends in the beautiful dining room, joining friends and family for a swim in the pool or relaxing in the privacy of their comfortable apartment. With several floor plan options and a full calendar of social and cultural events, residents are able to choose the lifestyle that best matches their interests.
Atria Senior Living is a leading operator of independent living, assisted living, supportive living and memory care communities in more than 180 locations in 28 states and seven Canadian provinces. We are the residence of choice for more than 21,000 seniors, and the workplace of choice for more than 13,500 employees. We create vibrant communities where older adults can thrive and participate, know that their contributions are valued, and enjoy access to opportunities and support that help them keep making a positive difference in our world.
Features of Atria Park of Baypoint Village
---
Costs
Rent Plus Care Fees
Entry Fee
Fee Structure Extra

We Offer A Month To Month Rental
Room and housing options
1-bedroom apartments
Companion Suites

We Do Not Offer Companion Suites

Studio Apartments
Housing Extra

Studio Deluxe
Dining options
In Room Kitchenette
In Room Kitchens
Dining Room Shared Meals
Room Service For Meals
Features
Beauty Barber Shop
Computer Room
Resident Transportation
Coffee Shop
Party Space
General Store
Tv Room
Garden And Patio
Resident Parking
Pool
Features Extra

Library, Fitness Room/Gym
Cleaning services
Laundry For Linens
Private Cleaning Services
Housekeeping
Laundry For Clothing
Technology and entertainment
Cable In Rooms
Technology Extra

Emergency Call System
Health services
Hospice Care
Medication Management
Physical Therapy
Activities
Offsite Activities
Music
Games
Stories
Religious Services
Lectures Discussions
Book Clubs
Wii Sports
Fitness Room
Arts And Crafts
Activities Extra

Computer Class
Guest services
Guest Parking
Guests At Mealtime
Overnight Guests
General
Staff Patient Ratio

1 To 20

Respite Care
Minimum Age

55

Pets

Small Pets Allowed
Nurses
Nurses Extra

Licensed Nursing Care On Site
Licenses
Licenses

Assisted Living

State Licenses

ALF AL5873
Location of Atria Park of Baypoint Village
---
Get Cost Information
Get full access to reviews, cost information, and amenities