Five Star Premier Residences of Hollywood
2480 North Park Road, Hollywood, FL, 33021
Talk to a Family Advisor: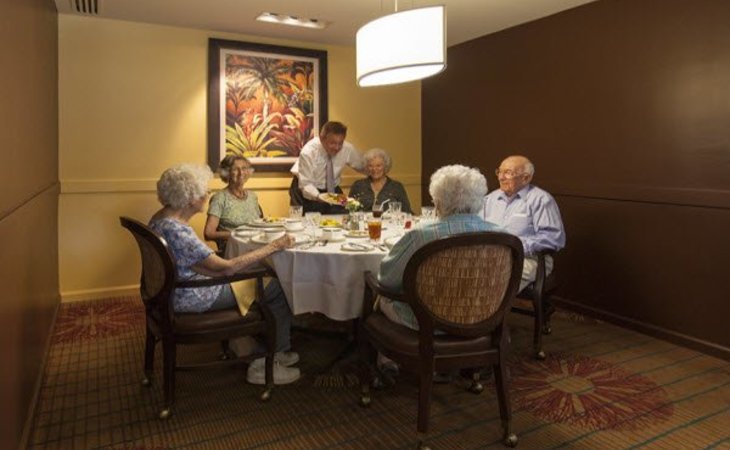 Top nearby Assisted Living Facilities
Reviews of Five Star Premier Residences of Hollywood
---
Ileana1
February 11, 2016
I visited this facility
Five Star Premier Residences of Hollywood was the best one of all. I liked it more than anything else; the staff, the residents, everything. However, they didn't have any Spanish-speaking staff, and that's important for me. The apartments were gorgeous. Everything was state-of-the-art. The food was top-rated with the best chef. We didn't try the food, but they had a very nice menu. They had a lot of activities. They had entertainment, and also bus services to different areas for the residents so they can get around.
---
Caring son20
December 29, 2015
I am a friend or relative of a resident
My mother has lived in Five Star Premier Residences for about three weeks now. We ended up liking that one enough that didn't visit any others. She has a one-bedroom, one-bath with a separate living room and a kitchen with a stove and a refrigerator.
---
Melissa31
December 10, 2015
I visited this facility
My mom is moving into Five Star this Monday. It looks very pretty, very nice, and very clean. The rooms were nice and clean. The staff that I met was super nice.
---
Linda107796950
July 21, 2015
I am a friend or relative of a resident
My husband's uncle was at Five Star Premier Residences. It is more of an upscale assisted living community, but it got quite expensive for Mel, even with his pension and all. The care was good. I have to say for the prices they charged and the price he is paying now in the other facility, the care is equally good. However, you still have to keep after the staff. I did have a difficult time with the fact that when I would tell them that we would be buying his medical supplies, e.g., Depends, his lotions, etc., that I would never get the proper response from them as to what he needed. We did not want them to buy it because it costs more money when they do it. They would never call me and tell me, and it was very difficult all the time for me to get with them. My uncle would be out of whatever it was, and we had to run to the store to immediately get it. We told Five Star Premier Residences that we have an account at Wal-Mart and that we can just order the supplies and have them delivered to his door, but they were not responsive in his needs. However, it was a very nice facility. They maintained it and were renovating it. They kept the facility very nice.
---
Rebecca40
July 14, 2015
I visited this facility
I went to Five Star Premier Residences of Hollywood. It was very nice. Everything about it was excellent.
---
djdj
June 02, 2015
I visited this facility
WARNING! DO NOT PUT YOUR LOVED ONE IN THIS FACILITY!!! I visited Five Star Premier Residences of Hollywood with my 90 year old mother and was shocked to see how people living there were being treated. One woman living there simply asked if she could get a cup of coffee and was told very sternly NO and stop asking questions! She started crying and was not comforted by the staff. I would not put a dog in this facility!
---
Caring100337850
February 25, 2015
I visited this facility
It's immaculate and very clean. My mother actually lives right across the street from there, so when I visited her, I saw them renovating the place. It's just beautiful, but it was beautiful before they renovated it! It has always been a lovely place. It's very close to shopping, and they have transportation that takes people shopping. My mother said the food was very good because she had a friend (she since passed away) who was a resident; and she invited my mother for dinner one night as a guest. They have wonderful entertainment. I happen to know the Activity Director, and they really go all out to give the people a good time. There's a big television in the lobby, they always show pictures of different events they've had there, and it always look like everybody's having a good time.
---
Frances8708
May 29, 2014
I visited this facility
I haven't moved in yet at Five Star Premier Residences, but I will be moving in in two weeks. It is assisted and independent. The studio was enormous. I can fit quite a few pieces of furniture in there. There was a little refrigerator, a microwave, and a little stove. Everything was very, very clean. They have all the activities. The one that I am most interested in is the book club. They have a book club that meets once a week, and a book review will come in once a month. They also have a Kindle book club. Those were the greatest things that I really look forward to. Of course, they have exercise after breakfast and all these different activities like bingo, the usual things that they have for assisted living.
---
Caring021201
December 13, 2013
I am a friend or relative of a resident
Five Star Premier Residences of Hollywood was far superior to anything else we saw. Layout of residence, privacy, amenities, and support staff was great. It feels like you're living in your own apartment with full concierge services. For Independent Living a differentiator is the multiple more private entrances, which eliminates the need for everyone to enter through a central hall.
---
Caring72056150
November 21, 2013
I visited this facility
My visit at Five Star Premier Residences was good. They did have an independent living that looked so much nicer. You have to go through that to get to their assisted living which was sort of big disappointment. It should be the other way around because when you see their ILF, you're like, "Oh, this is going to be great," and then you move onto their assisted living, and that's a little depressing. I just didn't really like the rooms as much. They were the probably the same as with their ILF rooms but they didn't seem as well laid out. They were a little darker and they didn't have good light. However, the things that I thought nice about this place, and what I think I like best, were their grounds. They did have nice grounds and the rooms for getting together for large activities seemed very nice.
---
leahf
October 18, 2013
I am a friend or relative of resident
We decided to have our mom move in there after 18 months in our home... after we moved her from out of state to Florida. We chose it when it was under differnt management and we have been through two changes and each time things have gotten better . It fit our budget- looks like a cruise ship or nice hotel and the rooms with outdoor balconies are lovely! Food is prepared by a Culinary Institute grad and served in a lovely ,freshly decorated dining room and the services are great- maid, activities,transportation, friendly and helpful staff and 24 hour security for medical emergencies. People there care and it shows in the cleanliness and the decor. Mom does not take nearly enough advantage of the social activities but she swims daily in the glorious pool!In house nurse is there for everything and has served us well on many an occasion. I just hope we dont have to move to the assisted side because of cost reasons but for now this is a nice little safe and pretty nest for Mom that is 2 minutes from my house. HIGHLY RECOMMEND for anyone looking for upscale facility at a reasonable price.
---
Max5
October 13, 2013
I visited this facility
I'm going to Five Star Premier Residences. I have friends there and I like it. The rooms are very nice. I'll have a kitchen, bedroom, and dining room. It's very spacious. It's a five star place, the dining room is very nice, the service is delicious, the food is delicious; everything is nice.They also have very good activities; you name it, and they have it. Then, they have transportation. You could go anywhere and they'll take you there.
---
William16
September 26, 2013
I visited this facility
I visited Five Star Premier Residence of Hollywood. Their rooms were fairly good. The working staff seemed fine. I was able to eat there and the food was good. It's a fairly nice community.
---
daughter!
August 10, 2013
I am a friend or relative of a resident
A nice place from the outside - pool, pleasant rooms, etc but once you move in the care is not very personalized. Communication between residents,family and staff was very difficult for the most part and everything was handled according to the regulations. With few exceptions there was little warmth in the caregiving.
---
Paul14
August 01, 2013
I am a friend or relative of a resident
Five Star Premier Residences is the one we chose for my Mom because everybody is friendly and the environment is clean. My mom is happy there.
---
Caring071901
July 29, 2013
I visited this facility
We are moving mom next week to Five Star Premier Residence of Hollywood. We chose them because they got more things for the value of our money. They also have activities that my mother wanted to participate in and the facility is only a mile from my brother's house. She was primarily interested in the fact that they have a knitting group. When we had our tour of the facility and their staff looks very pleasant. My mom decided that's where she wanted to go. The rooms are perfect. The food was good. They have lovely walking paths around the facility. I like the fact that this facility is a $1000 cheaper and she is getting a larger living space. The people that we saw seemed lively and alert and not sitting around waiting to die and that's very important to me. The people there seemed to be involved in all the different activities that they offer. We are very satisfied with the place.
---
The girls
June 12, 2013
I am a friend or relative of resident
Our mother has lived in this assisted living facility for three years. We are so very very happy with the care and the facility. They are so wonderful, everyone who works there seems so happy and very polite to all the residents. We visit our mother, so we do see what goes on with everyone.
The nursing staff is exceptional with our mothers care as well as with the other residents. We have to say unfortunately in the assisted living part our loved ones are not easy to handle, they can get very mean and sometimes will go after the nurses. We have seen this a lot, there is not one time we have seen the nurses loose it on them, they handle the situation with love and care, lol better then we could. Not only do they help our mother but often have to help us understand why this is happening to someone we love so very much!!!! We can't think of another place that we would trust our mother the most important person in our lives.
---
Suzfla
June 07, 2013
I visited this facility
It looks like you are on a cruise at the Five-star Premier Residences, except that there's no boat. That place was absolutely, strikingly gorgeous. The amenities were fabulous. It had a giant pool. I didn't think anybody actually ever swims there, but I asked and they said that sometimes the grandchildren and other residents do. It looks great. I won't say anything against it. It was an excellent place. If it was close by and we could afford it, I wouldn't really have a problem about putting my mother in there. The staff was lovely. What was interesting was that the person in-charge of the interviews and tours was busy with the lunch. She had a whole bunch of prospective clients that were having lunch there and she invited us, but I can't eat their food so I didn't eat lunch there. Their maintenance person actually gave us the tour and he did an extremely good job of telling us all about the place from a man's point of view.He was very knowledgeable. He answered all of our questions and he was somewhat a good cheerleader for the organization. The rooms were a little dark, the windows were a little on the small side, although that won't bother my mother because she sits in the dark most of the time and she doesn't like lights; they hurt her eyes. They do take care of transportation, but they give a ten mile radius to your doctor's appointment except that my mother's doctors are all more than ten miles away from that facility.
---
CChassen
February 11, 2013
I am a friend or relative of resident
My Dad is currently a resident at Five Star having moved in a little over a year ago and we are both so very happy with his decision to move there. We really feel that we chose the best place for him and we enthusiastically recommend Five Star.
While it is never easy for someone to transition from their home to a senior facility, the staff at Five Star welcomed him with open arms and did a fabulous job of helping him integrate into the community. My Dad is very social and the staff made sure that he was introduced to other residents with similar interests so he could form new friendships.
Notwithstanding the social issues , the facility has a beautiful campus and is extremely well kept and maintained. Any maintenance issues with his own apartment are quickly addressed and the housekeeping staff do a good job. The dining room has a varied menu and more importantly, my Dad is very happy with the food. There is also a long list of activities and special events such as the occasional BBQ by the pool, ice cream social or holiday party for everyone to socialize and have fun. All in all, we feel it was a great choice for our family and is one that should be considered by any one contemplating this move.
---
BubbieAllyn
June 21, 2012
I am a friend or relative of a resident
Over close to 15 years, though the name has changed, the character of the residence has not. First my in-laws, and then my parents, have been very satisfied. The director cares & makes sure her staff does also. Nurses are kind, patient & persistent. Aides are plentiful and accommodating. The dining room staff knows my parents well enough to make suggestions of what they might enjoy. The entertainment staff provides a lively calendar of 8-10 activities a day, appealing to all kinds of interests.
---
Caring5182
May 19, 2012
I visited this facility
My mother lived there several years so i am certainly familiar with the facility. It was a great lease for her at that time. My experience with them was great. Now that I'm looking around for a place for myself, they've actually called me. I've talked with them but I'm not ready for it yet. I was exploring for the future.
I am considering this facility because it is near my family. My daughter, my brother and my friends live near there so its like a perfect location when I decide that I need that.
There in the Classic Residence I wish I had an option in which meals I have to use. The current situation is breakfast and dinner and I'm not someone who wants to get up and go running in the morning. So the option of meals is something that i wish they have differently and not required.
When you live in your own home it's very difficult to transition into something but you also have to realize that your not as capable as you were. When my mom had a bad fall and broke her hip she was in the hospital in a matter of minutes. They took care of her and that's whats important. I absolutely recommend this facility.
---
picky1
May 09, 2012
I am a friend or relative of a resident
The place is very nice - beautiful facilities which are kept clean and pretty much odor free. Employees are kind and wonderful to my mother - but my mother is a sweetheart. However, the people working there as aides seem to be a cut above what one generally anticipates.
The food is good and the service lovely. You feel like you are eating in a restaurant and not a cafeteria. The menu does seem a bit repetitive, but the food is really pretty good. The only complaint I have is that although they have activities throughout the day, there is too much BINGO going on. For a facility of its caliber, they should have live lectures, current events, arts and crafts. Maybe I am expecting too much.
I might add that it is not inexpensive - so if you are looking for the cheapest alternative out there, this is not the place. Also, it is part of a major chain of facilities - the good being that they have their act together and the bad is that they are part of a big chain.
---
commercesd
April 18, 2012
I visited this facility
We were delighted to visit the Classic Residence in Hollywood while in the vicinity - checking out assisted living facilities in the area for my friend's mother.
Our tour of the outside was lovely; there were nicely landscaped grounds with flowers, shrubs and nice seating areas.
The staff was very friendly and all seemed to really like their jobs. The main living areas were fresh, clean and sunny with a contemporary, yet homey décor and furnishings.
The staff goes out of its way to suggest stimulating things to do - from gardening, to reading, playing games and going on outings in the community. The variety of activities offered was impressive.
The lunch meal we saw while there looked really delicious. The menus featured a variety of selections that all sounded appetizing.
The gym equipment in the exercise room was nicely maintained and there were also classes to choose from.
The rooms we viewed were all very clean, well-kept and inviting - resembling that of a nice bed and breakfast, though personalized.
Overall, the facility really looked like a place where my friend's mother would like to live. We didn't see anything missing - it looked like everything a senior would need was readily available.
We could really see that the residents are treated with care, kindness and respect at all times.
---
From Five Star Premier Residences of Hollywood
---
Five Star Premier Residences of Hollywood offers compassionate senior care in Hollywood, FL. We strive to create a home-like atmosphere where you and your loved ones can feel secure. Our warm, well-trained staff works closely with our residents to provide the utmost care and comfort. As part of the Five Star corporation, you can be sure that everyone at Five Star Premier Residences of Hollywood shares the Five Star Values, and is committed to a high level of caring in all that they do. Please schedule a visit to see why we are the first choice in senior care in Hollywood, FL.
Features of Five Star Premier Residences of Hollywood
---
Features
Beauty Barber Shop
Computer Room
Resident Transportation
Garden And Patio
Resident Parking
Security Gate
Technology and entertainment
Health services
Nurse On Staff

Onsite 24/7

Pharma
Guest services
Guests At Mealtime
Overnight Guests
Diet
Diabetic
Low Fat
Low Salt
Renal
Location of Five Star Premier Residences of Hollywood
---
Request Info
Get full access to reviews, cost information, and amenities