Linden Ponds
203 Linden Ponds Way, Hingham, MA, 02043
Talk to a Family Advisor: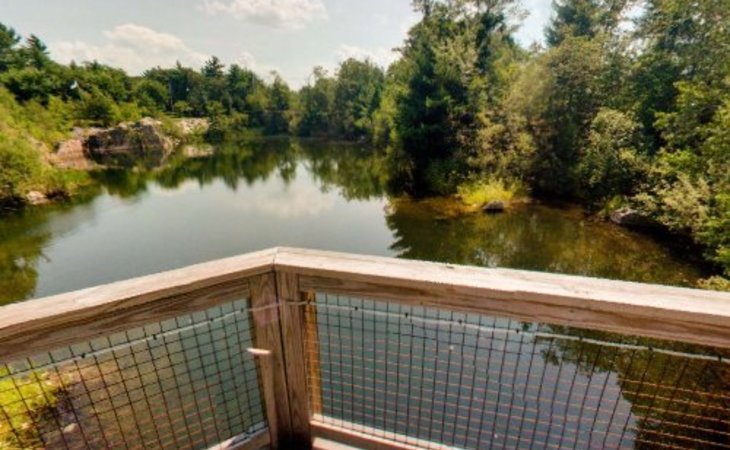 Top nearby Assisted Living Facilities
Reviews of Linden Ponds
---
kevin372824
May 26, 2017
I visited this facility
I was very impressed with Linden Ponds. It's a CCRC community, so they have independent living for seniors and assisted living. They do all kinds of outings and seemed like a thriving community. The residents weren't all just sitting around sick, and it looked like a very active lifestyle. They have a lot of walking trails, and they're on a lot of acres in a nice town. It would have been sending people off to college, it was that nice. They have a bar and a fantastic gym with a swimming pool. They have condos to rent for visiting family, a movie theater, and a beauty salon. It looked amazing and beautiful. Everyone says good things about it, and my own impression is really favorable.
---
HeidiLovesBill
December 12, 2016
I am a friend or relative of a current/past resident
My mother has lived in Linden Ponds for 11 years and has had nothing but positive experiences the whole time. We kids love not worrying about her. She has great access to medical care both on- and off-campus. I've visited many times over the years and see no diminution in service or conditions. I've also eaten in the dining rooms many times. There are many choices of entree and the ability to customize what one orders as much as one would have at a mid-range restaurant. The food is quite good. We are so impressed with Linden Ponds that my husband and I are planning to move in in a few years.
---
Thomas358756
June 10, 2016
I visited this facility
Everybody seems satisfied with Linden Ponds. It's the best place around. They have a gym and very beautiful grounds. It's expensive, but it's where I want to go. The dining room has white tablecloths and a really good dining experience.
---
Amy H.
March 31, 2016
I visited this facility
I've looked at Linden Ponds. It is a huge community totally covered from one building to another with a shuttle bus that goes from one building to the other. It has a pool, which I want, and a good fitness club. There are many activities that are run by residents themselves, which is a plus. The rooms are a good size, and the food is excellent.
---
Jill36
January 31, 2016
I am a friend or relative of a resident
My mother was at Linden Ponds. She had a nice big apartment when she was independent. The staff was very nice, and the people who run the place were helpful.
---
momsdaughte
October 26, 2015
I visited this facility
Visited my Mom staying in Rose Terrace - short term re-hab and I could see that the nurses aid were not too helpful at all especially the first day after arriving from the hospital after a hip replacement. They never asked which hip or what surgery did she have... very odd, not communicated, and did not listen to us... then today, I spoke with my Mom , and the Bed Arm that she would need to use was broken which I would think someone with Hip Replacement using bars to help lift themselves would be needing go sturdy equipment. Also, because of other ailments such as spinal stenoisis and arthritis, the Bed itself was very, very uncomfortable, so she slept in the chair in the room that was too heavy and would not operate with ease. She is hoping that they will bring her a new bed with air mattress, which at this point waited all day. So far she feels her own home is better equipped, and then left on the commode for her husband to pull her off of. The nurses aids are not too enthusiastic in helping instead they want to sit and relax.. not what we would have expected, and then pay for a Bed to boot.
---
Katherine M.
August 18, 2015
I am a friend or relative of resident
I have been very disappointed with Linden Ponds and the care my aunt has received at this facility. This is a great place if you are 55 to 80+ in good health with no extra care needed. That's the irony - as one chooses such a facility with the expectation that one might need additional services in the future. Patio beautiful; but chairs are so heavy even I at 54 have trouble moving them. I asked for "gliders" nothing happened. Dining Service made a point letting us know eating outside created extra work from them. Once had the waitress hold the patio door with the tray and yell for me to come get the food. Once a server requested that we - my aunt being on a walker - move 5 tables down, as they only service 5 specific tables outside. Shuttle bus driver told my aunt "she was in the way now" when she accidentally got up before the driver could get her walker out. Home aid didn't show up one night - and I was told it was a "miscommunication" "mis-scheduling" and didn't happen on a regular basis. You can't get someone to come up to even take a temperature, yet medical facility/doctor on site, no availability the day she needed to be seen. Trying to get a salon appointment is impossible, lack of staff, even though this is the highlight of the day for many residents. No manicurist on site. In short, my question at this point is - would one be better off in a single floor apartment/condo in 55 and older community and hire additional services or aides on one's own?
---
Caring109452450
July 13, 2015
I visited this facility
We went to Linden Ponds. It is a very big place, and it has everything you would need. It has a shuttle service, and it has four places to eat. They do independent living and memory care. It was a very nice place. Food was very good. The rooms were of good size. They were spread out just like a regular big condo. We were more into the assisted living end of it than they wanted us to be, so we got rejected, but it was a very nice place. I was ready to move in. The dining areas were not formal, but they were nice. They were of good size. They have two big main dining rooms, a couple of pubs, and then an all-day restaurant of some sort. The food was good. You can get a drink with your supper, and that's one thing that the other places don't have.
---
Unhappy experience
July 04, 2015
I visited this facility
My uncle went into Linden Ponds for rehab. It was then determined that he couldn't go home again. They wanted to charge him $250,000 per year! They did nothing for him. They didn't cut his finger nails or toenails, they didn't cut his hair. They didn't take him to any activities or let him know when activities were happening. Physical therapy was almost non existent. I would never advise anyone to go to that place. A huge ripoff?
---
Anonymous103942850
April 17, 2015
I visited this facility
Linden Ponds was excellent. We liked it very much. The people, the activities, and everything else were all very interesting. They have a lot of things to do there. They had one-bedroom and two-bedroom apartments, and they were great. We had lunch there, and the food was excellent.
---
RobertW
January 31, 2015
I am a friend or relative of resident
My mother lived at Linden Ponds for 9 years. While the facilities are very nice and the employees dedicated she found it to be much too big and had trouble forming friendships with other residents. Obviously, some people would love the diversity that size brings but she found it difficult. Her ties to Hingham were the only reason she stayed as long as she did. She has since moved to a smaller retirement community in Maine and finds it more suitable for her. Perhaps a more vexing problem she has encountered is that they have been very slow in renovating and marketing her unit. Five months after she vacated they have only just begun to show it. So don't expect to get your deposit back quickly if you decide it's not the right place for you
---
Caring102436650
December 02, 2014
I visited this facility
I had heard good things about Linden Ponds from a number of people. Their prices seemed reasonable. The apartments were very nice. I've looked at one- and two-bedroom units. They have apartments. They're very nice. Everything was very clean. I didn't come in contact with that many staff, but the staff that I did see was very nice. They seemed to have a number of activities. They had something with knitting -- and I used to knit -- they had films, and they had book clubs. Their grounds were very nice. I remembered it was very nice and very pleasant, and they seemed to have a lot of land. They had walking trails. They had transportation to a train. Their dining room looked very nice.
---
Kathy100685550
October 22, 2014
I visited this facility
We've looked at Linden Ponds, and it was beautiful. We saw what they offered. The rooms and apartments were all beautiful and nicely appointed. They were all very polite to us, and they have good activities for the people, too. They had an art class, and they do ice cream socials and stuff like that.
---
Linda86705950
May 30, 2014
I visited this facility
The staff are wonderful at Linden Ponds. They are very thorough. We got in a shuttle and we had our tour, and it's really big. We also took a walk, and we saw the dining room. We saw everything, and it was very nice. They did a great job. They had a lot of stuff going on for the people. I love the place. It was really, really big, and my mom was kind of overwhelmed by it.
---
JakePup
September 27, 2012
I visited this facility
Great location, very peaceful and remote, yet close to Boston, easy off the highway for visits. Very new and clean facilities, pleasant and helpful staff. Spacious accommodations and hallways. It is quite large, so it does not have a very intimate feel, but one cannot have everything. They let my uncle live independently, the way he wanted, though we felt rushed to move him when he began to refuse treatment.
---
travelfan87
June 13, 2012
I am a friend or relative of a resident
Over the last few years I have visited my grandmother at Linden Ponds over a dozen times. The facility is always spotless, including the grounds and all common areas. Even the gym and pool are pristine. From the moment you enter, the scene is so peaceful and perfect that it makes even a young person want to live there. The staff is always very friendly and as helpful as they can be. Servers in the dining room are very pleasant and happy to chat with residents and visitors alike. The security gate is always manned, no matter the hour, and the guard always greets you with a smile. They even keep a look out for me when I go for a run, and make sure that I have gotten back safe and sound. I am extremely impressed with their door monitoring system to make sure that no one gets stuck in their rooms. My only complaint is that the food quality has fallen. Granted, it still isn't bad, but at first it didn't taste like cafeteria food at all, but now the food tastes and looks mass produced. Since my grandmother lost her sense of taste, this has impacted her far more than it would most, because she can't judge that the food still tastes pretty good. Overall, though, the facilities, staff and activities and services available at Linden Ponds are excellent.
---
---
Boston extended care at Renaissance Gardens offers compassionate levels of support for all your needs. We're located on the lush, 108-acre campus of Linden Ponds, the Erickson Living community in Hingham, Massachusetts, easily accessible from Boston and Cape Cod.
Our Boston extended care residents enjoy plenty of fun activities, like movies at the nearby Patriot Cinemas, plus some of the best shopping and dining on the South Shore.
Our experienced team offers the following services in a homelike environment:
Memory Care
Short-Term Rehab
Long-Term Care
Respite Care
Unlike other Boston extended care options, all the activities and amenities of the Linden Ponds community are at your fingertips. But it's our compassionate caregivers that truly set us apart. We treat you or your loved one like a member of the family, providing comfort, support and personalized care.
Request Info
Get full access to reviews, cost information, and amenities