Aspen Trace
3154 South SR 135, Greenwood, IN, 46143
Talk to a Family Advisor: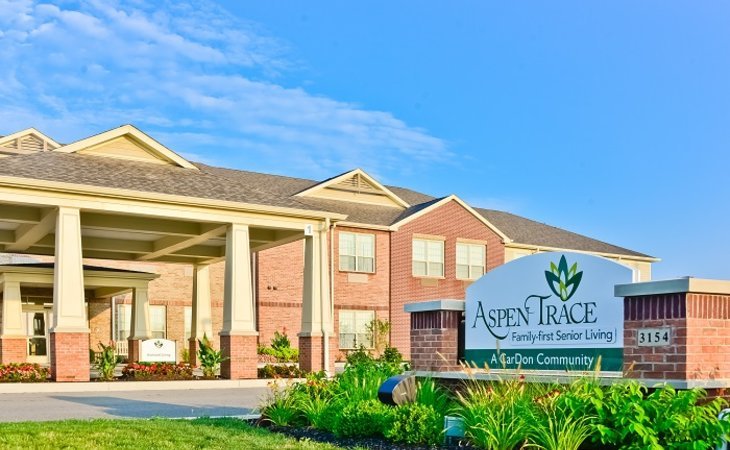 Reviews of Aspen Trace
---
Betty561162
January 26, 2017
I am/was a resident of this facility
I went for therapy at Aspen Trace. It was fine, and the food was pretty good. The rooms were fine and nice. The residents were OK.
---
Pickle50
September 26, 2016
I am a friend or relative of a current/past resident
My mother was in the rehab for 3 months there was a couple of great employees (CNA) but the nurses not so much my mom had second outpatient surgery came back same night I met her there from hospital the nurse told me she didn't have time for her and gave me her medicine to give her never check on her I had to get a CNA to come in help me to get mom comfortable then mom got moved to extended care my mom was 2 person asstist my mom had to go to bathroom they would tell just pee in your pants because they didn't have the help to get her to bathroom one time it was hour before lunch and they told her they would take her after lunch! We complained about on regular bases nothing Every changed feel sorry for the ones that don't have anyone to speak for them our complaints was not little things my mom had to ask for her medicine half of the time because would forget they change Medicine without discussing with anyone. Each shift did NOT communicate with others, the dropped mom several times but never told us that is why her knee could not heal But last thing my goes to hospital very sick they never called to us until she has emergency room vomiting blood my mom was hospital 2 weeks then died they told us her lift chair would be there whenever we pick up Barey mom Tuesday go to get the chair on Friday a worker had already taken home so my sister go to her house to get they never called again. I would not recommend this place to anyone it may look nice but that is all it has going for it.
---
vdow
April 15, 2016
I am a friend or relative of resident
My dad went here after a COPD exacerbation put him in the hospital. Before the hospital he was only walking through his house and sleeping all day. The fact that they had only private rooms for rehabilitation was a huge selling point for us. My dad was on the fence about a rehabilitation place and the private room helped sell him on going. The staff was very friendly and quick to respond. My dad was concerned that they were too responsive and friendly! Physical therapy was great and they worked around his schedule so we could plan doctors appointments and other things without the worry that he wouldn't get his physical therapy for the day.
The rooms were great they had a lot of natural light and a fridge for any snacks you would want to bring in.
A nice side bonus is that if you bring in documentation of rabies vaccination you can bring your dog in for a visit. My kids loved being able to bring the dog in and the keurig machine that they have available for guests. Due to flu worries my kids weren't able to see grandpa in the hospital and seeing him here in a place that looked like a hotel rather than a traditional nursing home, helped calm their worry and made them excited to visit which I am sure helped lift my dad's spirits.
No one wants to be here instead of home, but the staff did everything to make it a great experience. As a daughter it was nice to know people were caring for my dad and not have to worry about his recovery. It also gave me some time to get things ready for when he came home.
---
Thecla1
January 23, 2016
I visited this facility
Aspen Trace was very nice but it was really expensive. I would definitely say it is a good fit for a lot of people who has the money to go there. It is brand new so it is nice. The rooms are big and they are all single. They have nice flooring. It did not have a hospital-feel to it which is what I was looking for. I would recommend people to go check it out for themselves.
---
Not.in.it.for.the.patient
December 26, 2015
I am a friend or relative of resident
My grandmother briefly stayed here post heart attack for rehab. She entered on a Friday. Monday morning my grandfather noticed she was having stroke-like symptoms and contacted staff. He was told that the doctor would visit at 2 pm. This alone was unacceptable. By 6 pm the doctor still had not shown up and the nurse called him again. He was at home and would not be coming back. We took her to the emergency room where MRI confirmed stroke. She in now currently in hospice. The staff had no concern that she couldn't use her left arm suddenly nor did the therapist. Time is extremely important with stroke. It was just gross negligence. The doctor either lied to my grandfather thinking he would leave or honestly forgot. Either way he should have call 911 as is protocol for stroke patients.
We wanted her here because we felt she would be safe and could regain strength with a trained staff. It's the exact opposite of what we encountered. DO NOT LEAVE YOUR LOVED ONES HERE!
---
kjself
December 09, 2015
I am a friend or relative of resident
My mother is a temporary resident at Aspen Trace in Greenwood. It is really a beautiful and clean facility. She loves it there and her progress has been amazing! Mom really likes the food and always eats it all, which has helped her to gain back the weight she lost when she was sick. Also the phy. therapy dept.has helped her get mobile again. They are all so sweet and helpful. Her progress has been really good. This is the first time she has enjoyed being in a rehab center!
---
KAY878
November 24, 2015
I am/was a resident of this facility
I was at this facility for 7 wk. The food was horrible! I had something that was good only 3 times during my stay there.They were so unorganized I felt like it was my job to keep up with everything from my meds to my clothes even physical therapy, the therapists spent half of my time for therapy talking to each other about nonsense to keep themselves entertained,they were bored to death,not interested in the progress of the patient. Sure it is a pretty and clean facility,I WOULD RATHER BE IN AN OLDER CLEAN FACILITY,WITH GOOD MANAGEMENT AND GOOD FOOD.AND THERAPISTS THAT CARE ABOUT WHAT THEY ARE DOING.
---
Gladtogo
September 30, 2015
I visited this facility
My mother went there after surgery for rehab, what a mistake! The therapy given to her was little, close to none. They are very quick to dismiss so they can put you on private pay. There is little communication with family, and little communication among staff. One hand never knew what the other was doing! A call to corporate brought no results . Beautiful facility, but that is all they have going for them. After moving Mom to a different facility, after 3 weeks she was up walking! Stay away from this facility!
---
waltzb
September 02, 2015
I am a friend or relative of resident
My mother recently passed there....could have complained a lot about short staffed, but the workers they had, did their best, it wasn't their fault. What I am really upset about is, not getting "We're are sorry for your loss" from Aspen Trace. Of course we did from the staff! They were wonderful!!! I guess it is true what they say, residents there are a $ to CarDon and other facilities.
---
Applegate56
September 01, 2015
I am a friend or relative of resident
My mother was Aspen Trace for one year. On a whole I think they gave her good care and cared about her. The food was not good and always a new chef and kitchen help. I thought I would hear from the staff or the facility after my mother passed away but not a word nothing from the facility thanking us for her time there or choosing them. If you are looking for a caring facility this is not it. They do their job no more. I overpaid them still waiting on that check. hmmmm
---
Caring110104950
July 13, 2015
I visited this facility
The staff that I have in contact with at Aspen Trace has been good. Their activities are comparable to the rest of the facilities I've visited.
---
The elderly need an advocate
July 10, 2015
I am a friend or relative of resident
The CarDon facilities came very highly recommended. Wrong.....Aspen Trace has done nothing but gone downhill since they opened. The food is horrible. Go into the non-Medicaid side and ask the residents what they think of the food. There are very few activities. They are always short-staffed. The turnover rate has been tremendous. The only employees that they seem to be attracting do not care about the residents. The residents are suffering from lack of care. I am not saying that there is not good employees there, but it seems like it is an almost a daily event that someone is leaving.
---
carol2071
May 16, 2015
I am/was a resident of this facility
I would definitely cross out Aspen Trace. I was there for a few weeks, I fell in the shower, and I couldn't get up because the shower was very slick. Since then, they have put the safety strips in because I am sure they don't want too many people falling, and somebody might get it in their head to sue them.
The food there was very good. They have lots of activities, and something is going on every day if you want to participate in it. The grounds are very well-kept. The room that I was in was almost like an apartment. It had a bed and a small table to eat at, there was plenty of closet space, and the bathroom was good except, like I said, I took a shower and, by the grace of God, I didn't break anything, but it hurt pretty bad. I don't know if they put those safety strips in all the bathrooms, but they did put them in mine.
They provide just about everything. They have rehab, assisted living, and a nursing home. I was in rehab; I had therapy twice a day every day both PT and OT, and the staff was great. They were a little slow in responding when you push the button for them, but there are a lot of people there.
---
Caring102165450
February 03, 2015
I am a friend or relative of a resident
Aspen Trace is a beautiful, brand new facility. The food was good, and my mother-in-law liked it. For the time she was there about six months, she was treated very well. They played bingo and got the residents out in the main room for puzzles. The rooms were very nice, and the security was excellent.
---
Caring88331850
July 22, 2014
I am a friend or relative of a resident
Aspen Trace is a brand new place. My mom is there right now, and she was able to pick what room she wanted. She liked the idea of it being brand new instead of having to fit in with the residents who were there. She is in a two-bedroom room with a kitchenette and a washer and dryer in her room. They have a theater and an activity room. They also have their own restaurant-style dining room. They also have a library area. The director of their restaurant talked to my mom and asked if there is anything she wants. She said everything was made from scratch. I tasted their food, and it was good.
---
---
From the moment you walk through the doors of our new senior living community, you'll feel the warmth of family and home – friendly faces, inviting spaces, familiar comforts.
Aspen Trace brings the family-first philosophy shared by CarDon communities throughout Indiana to Greenwood, Bargersville, Center Grove and the surrounding area. It's a philosophy that inspires the exceptional living options and compassionate healthcare services we offer. At Aspen Trace, these include: assisted living, short-term rehabilitation, specialized memory care and long-term skilled nursing care.
Aspen Trace offers the perfect combination of home-like casual elegance and convenient access to area amenities – entertainment, shopping, restaurants and more. With Stones Crossing Health Pavilion nearby, as well as other physicians' offices and specialized medical services, our location is the perfect complement to our progressive approach to senior living and care.
At Aspen Trace, you'll see our family-first philosophy shine through in all that we do to make the living experience truly special. You'll see it in our thoughtfully designed, comfortable suites and welcoming gathering spaces – and in the variety of services, amenities, and engaging activities we offer residents and family members. You'll feel the warmth of being part of our family of residents and staff.
We welcome family visits and always appreciate the family's participation, suggestions and concerns. Because we share a common goal – the well-being and happiness of each person we serve – we go the extra mile to ensure the senior living options and health care services we offer meet everything from lifestyle desires to a wide range of personal needs. It all contributes to optimal quality of life for our residents receiving assisted living support, rehabilitative care, long-term skilled nursing care or specialized memory care.
Community Amenities Include:
The Bistro restaurant-style dining
The Colonnade private dining room
The Junction community center
Welcoming lounges and living rooms
Heartland Theater
Bargers Library
Civic Hall activity center
Inviting outdoor courtyards
Modern, fully equipped therapy gym
WiFi throughout the community
Beauty salon/barber
Family first is our philosophy at Aspen Trace an approach that goes back to 1977, when CarDon & Associates was first established. Based in Bloomington, Indiana, CarDon is one of the largest providers of senior living options in Indiana, raising the expectations for the entire industry with our commitment to personalized, passionate attention across a continuum of health care needs. Thank you for your interest in Aspen Trace, please give us a call to schedule your tour.
Features of Aspen Trace
---
Costs
Minimum rate: $3477/month
Licenses
State Licenses 14-013185-1
Get Cost Information
Get full access to reviews, cost information, and amenities