The Woodlands at Furman
1500 Trailhead Court, Greenville, SC, 29617
Talk to a Family Advisor: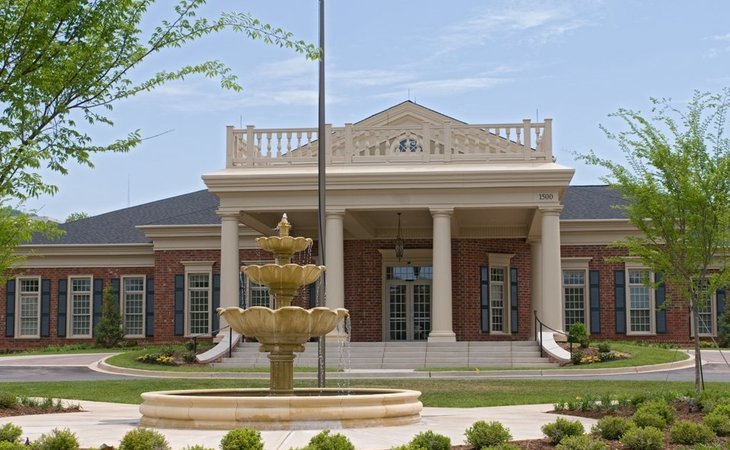 Top nearby Assisted Living Facilities
Reviews of The Woodlands at Furman
---
Janet W.
January 06, 2017
I visited this facility
We looked at The Woodlands at Furman, which was absolutely gorgeous. I loved it. It is the top of my list, but I don't think we can afford it. The menus looked outstanding, and there were tablecloths on the tables. It was just a lovely facility. They offered everything we would want like an exercise room. We saw people in the exercise room, some doing exercise, and there were people sitting around. The people seemed very happy to be living there. The apartments were very nice. Whoever showed us around went out of her way to see us. She was very pleasant and showed us everything we needed to see. It is pricey, and you get one meal a day.
---
Emma15
March 27, 2016
I visited this facility
I visited The Woodlands at Furman for my mother. It was open, friendly, and attentive, and had anything and everything a patient could possibly want. It was very nice and had big, well-decorated, updated rooms. The staff was super. The food was excellent. The activities were out of this world. They make sure they do a community activity once a month, have people who come in from outside to sing, play games, do arts and crafts, and take the bus for outings. It was pretty cool.
Provider Response
Thank you, Emma, for taking the time to write such a nice review of our community. We're glad you enjoyed your visit and took the time to learn so much about what The Woodlands at Furman has to offer. We certainly hope to see more of you in the future. If you ever have any questions we can answer, don't hesitate to give me a call. Kindest Regards, Amy Foley, Director of Sales and Marketing
---
Can't please the system
June 04, 2015
I am a friend or relative of resident
I currently have a long time friend at the Woodlands. He was put in Assisted Living because (I have heard several different stories) the Skilled Care that he needs was not available. This means he has to pay for round the clock caregivers. I was there this week and the bathroom was dirty (feces on the floor) and the carpet in his area was dirty. I spent time cleaning. The caregiver told me she only sits. She said she cannot do anything that my friend does not ask for. I asked her if he should need clothing changed due to an accident, how many days would pass before he is changed. She said he needs to be more independent. I told her he cannot due to his condition. She said, "Then he should be moved." I agreed with her on that. It is if he is being punished. He does not eat and no one helps him try. I made photos of the inside of the fridge where all of his containers of food are sitting because he did not eat. I pray he can be moved from there in a short time. I think his life has been shortened because of his stay there.
Provider Response
While we certainly appreciate you taking the time to bring your concerns to our attention, I'd like to take this opportunity to clarify some facts about our community. Our residents and their care are our highest priority and we take that responsibility seriously. I can assure you that our staff members working in Assisted Living are among the most well-qualified and best trained in the industry. Their compassion is second to none, and their dedication to our residents is unsurpassed. With that said, I'm certainly happy to discuss the details of your particular situation and address any of the issues that caused you to come away with a negative impression of our community. Please contact me. I'm happy to answer any questions you might have. -Carol Babbitt, health care administrator
---
JRGREEN
January 28, 2015
I am a friend or relative of resident
My mother has been a resident at the Woodlands on three separate occasions for short term rehab. The experience we encountered this time was horrendous. She was a patient there for 12 days and all of these incidences happened during this stay. Medications were not dispensed correctly, and in 1 instance not at all. She developed a bed sore while there and it was not called to my attention. Some members of the CNA staff members were down right rude and were told that they were not to come back in her room if they could not be nice to her. Test results were not revealed to me about a problem with her platelet count. Mom has congestive heart failure and was allowed to gain 2.8 lbs overnight but nothing was done. I called attention to her weight gain to the nurse on duty about the swelling in her legs. Nothing was done that day and had to call it to the attention of a different nurse again the next day where she finally received medical attention. She was allowed to wet the bed (3) times while waiting on assistance. Her platelet count dropped from 225 to 107 within a week and nothing was mentioned to me about a problem. Needless to say I am not happy with her treatment she received. She was allowed to get so weak that she literally could not raise her arms or legs or talk properly. At that point I had her transferred back to the hospital for treatment. This information was relayed to the Executive Director, Director of nursing, and other staff members. Hopefully something will be done to correct the numerous problems the Woodlands have.
Provider Response
We take the health, well-being and safety of all our residents at The Woodlands very seriously. We are listening and concerned that there were communication gaps during this stressful time. We learned a great deal from this situation, and we will continue to have structured communication protocols in place to address resident and family issues as they arise. Due to the privacy act and HIPAA regulations, we cannot go into greater detail online, but I would request that you contact our health care administrator, Carol Babbitt, at your convenience to discuss matters further. Thank you.
---
Caring91967450
August 14, 2014
I am a friend or relative of a resident
My mother was at The Woodlands at Furman. She was there for rehab. The actual facility seemed to be a little understaffed because it seemed like it would take a while to get somebody if you try to buzz for someone. The food was institution food. It was all right, though. My mother never went to the dining room. She took all her meals in her room. The staff was nice and helpful, but like I said, they were understaffed. The rooms were very nice though.
---
caring78033450
January 28, 2014
I visited this facility
I liked Woodlands. It was much more expensive than the other places and the assisted living area was small. I didn't like the painting of the rooms in the hallways which was a very pale blue. It gave it a very depressing look and it wasn't a very cheery looking place. The facilities that they have for the assisted living section are fine. The food looks good but I didn't eat there. They have activities and they had a schedule. The staff was very nice and she introduced me to some staff members. They were friendly and professional.
---
Anna Bella
April 26, 2012
I am a friend or relative of resident
Even though this was our first experience with having to put a loved one in a assisted living facility, we all agree that everyone in our family has been scared emotionally forever. The advanced care facility for memory care is HORRIBLE. The treatment of the staff to the patients and the family boarders on abusive! It is very expensive and decorated well but it is unfortunate that the flowers in the gardens get more attention then your loved one. Most nights it is hard to sleep, as we wonder if she is all right. My advice to all is just becauce a facility charges over $200. a day and the facility looks pretty do NOT assume that your loved one will be well cared for. Look at every possible assisted living space. Take your time and educate yourself.
Provider Response
Thank you for taking time to share your concerns. It has been and always will be top priority to provide the best care to our residents. We believe strongly in open communication and an open door policy when it comes to questions and concerns from our residents and their families and loved ones.

We couldn't agree more with your advice. Anyone searching for a community should consider many important factors when considering a move to a community, such as the quality of care, staffing levels, meal choices and variety of activities, plus the overall feel you get when you walk into a community. Since senior living communities are highly regulated by the state, a good place to start when comparing care and services is by reviewing annual state surveys.

If you'd like to discuss your concerns further, please call me as we're committed to being the community of choice for the Upstate.
---
Enaiya33
March 14, 2012
I am a friend or relative of a resident
I visited this facility many times over the course of a few years while my grandmother stayed there. Above all the word I can use to describe it is quality. It is funny thinkIng back but I remember my grandmother would talk so much about how she enjoyed the food. I finally had a chance to experience it myself one day when she shared her meal with me as we watched cartoons. Even though I was a child I remember distinctly how kind the staff was to my grandmother. The most impressive thing to me was how beautiful the buildings were and the upkeep of the grounds. The first time we went to visit my father couldn't stop talking about how great the landscaping was. I think that contributes a lot to the overall feeling radiated by the facility. It may be the nostalgia looking back and remembering my grandmother but he genuinely seems so happy. Everytime we went to visit I just remember smiles and laughter. It means a lot to me that they were able to help furnish such fond memories.
---
Nicholas4500
July 26, 2011
I am a friend or relative of a resident
My mother has been a resident at the Woodlands for several years now. Last year she transitioned from assisted care to memory care. It was a relatively easy transition and I was glad to have the opportunity to increase her level of care without moving to another facility.
---
From The Woodlands at Furman
---
The Woodlands at Furman is a retirement community located in Greenville, a growing city in the northwestern corner of South Carolina that has been recognized by CNNMoney.com as a great place to retire.
The Woodlands at Furman offers assisted living and continuing care services and lots of opportunities for residents to connect with students and faculty at a nearby university. From physical wellness to mental and emotional health to social engagement, Woodlands prides itself on helping residents enjoy long, healthy and active lives.
FACILITIES AND AMENITIES
The Woodlands at Furman serves residents who want to live independently as well as those who require assistance with day-to-day activities and those in need of memory care. Residents in the community's independent living area of the community have 12 different floor plans from which to choose, including one-, two- and three-bedroom apartments. Each apartment includes a fully equipped kitchen, granite countertops, a washer and dryer, and an emergency response system.
For those who need help managing daily activities or issues related to their health, the Woodlands at Furman offers alcoves and one- and two-bedroom apartments for people who require assisted living services as well as private suites dedicated to residents in need of memory care.
All residents have access to a fitness center, spa, multi-media room, an on-site beauty salon and barbershop, regular housekeeping and the outdoor areas of the Woodlands campus, which is full of trees, flowers and foliage.
HEALTHCARE
The Woodlands at Furman offers an array of health care services for seniors. Trained staff and nurses provide assistance and support to residents who need some help with day-to-day activities in the assisted living area. Residents living with dementia receive highly personalized care and access to geriatric doctors and nurses in the Memory Care Center. Residents who require long-term care are treated by a team of certified nurses.
Residents in need of more specialized medical treatment or emergency services also have access to the nearby Greenville Memorial Hospital, which offers specialized care in heart and vascular medicine, orthopedics, cancer and radiology.
HEALTH PROGRAMS
The staff at Woodlands is committed to a lifestyle program called "Masterpiece Living," which is designed to help residents age with maximum health and happiness. The program offers residents opportunities to stimulate their bodies and minds; engage socially with their neighbors; set and achieve goals related to health, physical activity, and mental and emotional health; and participate in the surrounding community.
The Woodlands at Furman also offers residents a unique opportunity to keep their minds sharp thanks to a partnership with Furman University. The Woodlands Residents have access to the university's Osher Lifelong Learning Institute, which provides opportunities for auditing classes and attending lectures.
ACTIVITIES AND EVENTS
The Woodlands at Furman gives residents many opportunities to participate in activities and events throughout the year. Activities and events are designed to meet the goals of "Masterpiece Living," so residents can paint, take music lessons, exercise, take excursions to nearby museums and theaters and join book clubs.
Features of The Woodlands at Furman
---
Features
Beauty Barber Shop
Computer Room
Resident Transportation
Garden And Patio
Resident Parking
Guest services
Guests At Mealtime
Overnight Guests
Location of The Woodlands at Furman
---
Top Cities for Assisted Living
---
Request Info
Get full access to reviews, cost information, and amenities