Brighton Gardens of Greensboro
1208 New Garden Road, Greensboro, NC, 27410
Talk to a Family Advisor: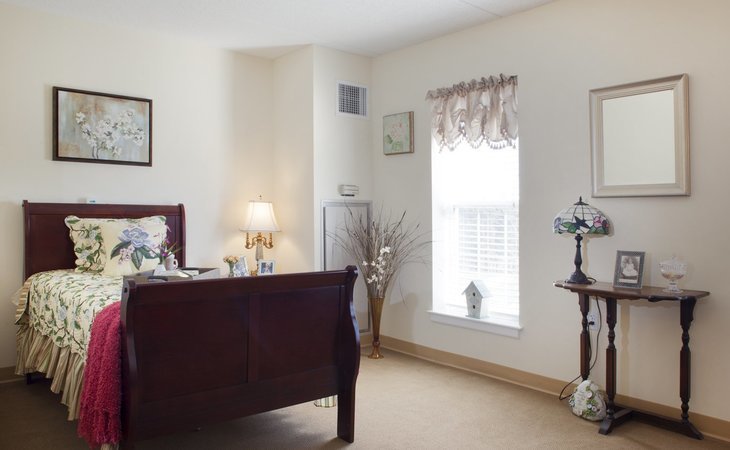 Reviews of Brighton Gardens of Greensboro
---
Rita437112
March 04, 2017
I visited this facility
Brighton Gardens of Greensboro was a very nice, clean, and carpeted place. The staff was very friendly. When we got there, it was a very warm welcome to see our names.
---
Agnes565817
January 10, 2017
I visited this facility
The rooms at Brighton Gardens of Greensboro were very nice, very cheery, and very bright, and the whole place was very nice. I saw an activity in action while I was there. They were doing some music and a visit from a therapy dog, and the residents seemed to be very engaged. The staff people were very nice; everybody was very friendly and very nice. They seemed to know the residents, addressed them by name, and talked to them.
---
Andrea476556
January 06, 2017
I visited this facility
Brighton Gardens was my favorite of the three I visited. I was impressed with the staff, the rooms, and the services they offered. I appreciated that it was very clean, and the pricing was very doable.
---
Sandy442262
November 20, 2016
I visited this facility
I like Brighton Gardens of Greensboro, but I don't like that the rooms and closet space are so small. I also don't like that they require $2,000 down. Those are my only objections about it. The studio apartments seem really small, and the 1-bedroom has more room, but it's closed off, so there's a living room and a bedroom that's like a box. It would be better if they had an entryway from the living room -- like an arched doorway so it's more open. I like the feeling and the atmosphere in Brighton Gardens. I really like the dining room and the fact that they had tablecloths on the dining tables. It had a nice warmth to it that I haven't really felt anywhere else, and the people were very nice.
---
Peggy040828
August 31, 2016
I am a friend or relative of a resident
I really liked Brighton Gardens of Greensboro. I had previous experience with them before and this is the one I chose for my mom. She's there for respite care for a short time, and she's going home next week. They're very friendly and seem to care about their residents. It's in a very nice and convenient location. The grounds are very pretty and well-kept. She likes the food. I've been there a couple of times when she's having her meals and it looked very good and very appetizing. The dining room is very clean and very nice. It's a homey atmosphere.
---
CharlotteLTDOK
May 11, 2016
I visited this facility
I visited Brighton Gardens. The staff was very helpful. It was a little bit out of the area that I was looking at and cost too much. The atmosphere was wonderful, very nice, and friendly. The place was pretty and kept spotless. They had line dancing, games, Wii and went out all the time. The food was very good and included a lot of choices. They had a knowledgeable staff.
---
Wanda30
May 11, 2016
I am a friend or relative of a resident
My father has moved into Brighton Gardens, a very clean, friendly place. It seems like staff knows everybody by their first names, which is good. They have activity schedules that vary all the time. I have looked in the dining room, and everybody enjoys their meals. They clean up your apartment once a week, have a snack room with coffee, juice, apples, oranges, cookies, and a fun room, so that's really nice.
---
Caring Daughter114041650
March 08, 2016
I am a friend or relative of a resident
My parents moved into Brighton Gardens of Greensboro. It is a very nice and well-kept facility. They have a lot of different activities going on all of the time. They are good about providing transportation to doctors' appointments and such. Once you have gotten in there, made your presence known, and you're vigilant, their care is excellent. They're very attentive to my mom and dad. The only complaint my parents have is with the meals, and a lot of that has to do with a schedule that they're totally unaccustomed to. For the most part, my parents do like the food. The facility has included a little more variety, too. Pretty much anything that we call to their attention, they do try to make adjustments. My parents have a very nice setup in a two-bedroom apartment with a living area and a small kitchenette that works really well for them. It is expensive, but it is the kind of space they need. They're very caring and want you to bring any kind of issues to them since they're very willing to work and try to make changes.
---
Anonymous116310650
November 22, 2015
I visited this facility
We choose Brighton Gardens because it was close, and they seemed reasonable. The pricing is more in line with our budger than some of the others. It is a really nice facility. The staff is very polite and conscientious. They have a lot of activities always going on to engage with the people, and they take residents out on trips. They have first-class amenities there; it is the Cadillac of facilities. I will absolutely recommend them. It has a cheerful, pleasant environment.
---
Angela21
September 16, 2015
I visited this facility
Brighton Gardens of Greensboro was a bit more on a residential area. There were homes closer to that location. It was a little further away from a hospital. I would probably say 20 to 30 minutes to a hospital. We met a couple of residents, and they were very nice. They seemed happy, and they had positive things to say. They were very nice, and I would recommend them.
---
Linda110450950
July 21, 2015
I am a friend or relative of a resident
My mother-in-law is at Brighton Gardens. We love it, she loves it, and it is a great place to be. The food is good. The staff is excellent. It has just been a really good place for my mother-in-law. She has been there for six weeks now. The staff is very attentive. My mother-in-law gets her meds given by them, and they're very attentive on that. The food is good. The activities are great. They do a really good job of checking on their folks. They would check on them if they come by during breakfast time, lunch time, and dinner time. If they see you in your room, they would announce that lunch is coming.
They have a wonderful activity director. He really keeps the residents busy. They have onsite and offsite activities, which some of them I really like. They have movies, they bake, and they have a piano and entertainers almost everyday. They crochet, they do puzzles, and they have an exercise class. There are lot of things for different people's interests. They are very encouraging to participate in activities, but they're not pushy; they just encourage you to participate if you're interested. I have had 10 years of experience with my parents being in a nursing home and assisted living, and Brighton Gardens is definitely the best facility that I have ever dealt with.
The rooms are very nice. My mother-in-law is in a studio that has an inset for a bed. She has a nice little living area and a mini kitchen with a sink and a refrigerator. She has a wonderful bathroom, a nice walk-in closet, and a very nice linen closet/storage space. It has met all our expectations. It is very homey.
---
Oscar4
April 18, 2015
I am a friend or relative of a resident
I choose Brighton Garden for my mom because it is close by, and they have a nice room available. It has lots of bright lights and large enough. The people there are all very nice. They seem to be very caring, and for the most part seem to be really on the ball. It is a nice place. It smells good. It looks good. It is clean. It is a very pleasant building.
---
BarbaraJ
April 17, 2015
I am a friend or relative of a resident
My mother was at Brighton Gardens. They were very good, but they just cost more than I could pay. The staff were excellent and very knowledgeable. The rooms were good, and the dining room was very clean.
---
Jan47
March 08, 2015
I visited this facility
Brighton Gardens of Greensboro was very pretty, very friendly, and very homey. The rooms were very nice and clean and had plenty of space. The food was very good. We were actually there for some of their entertainment. It was good, and we thought it was just fun. They had music for the people who live there. There were also small areas where they came in and baked cookies and things like that. We liked it a lot and I guess the thing that stood out was the willingness of the staff to help and work with our needs.
---
Alan19
February 17, 2015
I am a friend or relative of a resident
There are a number of reasons we chose Brighton Gardens of Greensboro, but it boils down to the services they offered and quality of the facility. The staff seemed very well trained. They act very professionally and courteous. We have not had any problems. I have eaten there, and it is good. There are a lot of activities. There is always something going on since they have a full calendar. I would recommend this facility to others.
---
anonymous101547350
February 10, 2015
I am a friend or relative of a resident
Brighton Gardens has a very professional person to deal with in the sales department. Of all the facilities I have dealt with, she does the best job. My mom is in a studio apartment and it is fine. One thing I would comment about it is that the bathroom sink is not a pedestal. She is in a wheelchair and she cannot get it under the sink. She cannot reach the faucet so someone has to turn it on and off for her.
Another comment would be downstairs in the lobby next to where the dining area is. There is only one bathroom for the residents. If it happens to be occupied, the other bathroom is for guests and staff which is locked. You have to ask for the key and sometimes early in the morning, the staff with the key is not on duty yet. That's my only complaint. Other than that, the facility is very nice and the food is good. The place is clean. The housekeeping does a good job.
---
Tom104567850
January 17, 2015
I am a friend or relative of a resident
My overall experience was poor here in Brighton Gardens. My wife was in the memory care unit. It was too crowded and too noisy. The staff was not as caring as they need to be. It wasn't very good, and it wasn't very clean. They were outrageously expensive. The food was good though.
Provider Response
Thank you for review. Please know that we take all concerns seriously and would like to learn more about your experience with Sunrise. Please email us at Information@SunriseSeniorLiving.com so we may follow up. Thank you, Sunrise Team
---
Caring93190250
September 01, 2014
I visited this facility
I was able to take a look at Brighton Gardens of Greensboro and I found the facility wonderful. It's a larger facility and I think my mom would be confused if she moves in. But if I had to go myself to any facility, send me to Brighton Gardens. The staff was very welcoming. They told me to call if my decision changes and they were very pleasant.
---
Maii
August 27, 2014
I am a friend or relative of a resident
We chose Brighton Gardens for my friend because of the location and basically the health care that is available in this area. They actually offer an inclusive care program, and I found out that there are a number of states that do not provide that type of care. We found that Brighton Gardens has everything from memory care, assisted, and independent living. The staff is very engaged. They have a number of activities that the residents can participate in. There is transportation, food service and we have just been really pleased with everything so far. The rooms are very roomy and spacious. They have a couple of different floor plans. It just depends on each individual resident's needs. The food is wonderful. He is retired from the US Navy and he's an excellent chef. They have a snack room available to residents throughout the day, whether it is for popcorn, almond and what-have-you. There are plenty of snacks for them. Even the memory care residents are able to come into the community area and mingle and have some socialization as well. So we have really been pleased. What I have observed in terms of activities is that they have a Friday night movie and social hour. They have bingo and bridge. They have a farmer's market where residents could come and shop. The place is a very comfortable environment. For us, half the battle was just making sure that (1) they have different levels of care; and (2) they work well with the medical community, which is good. That was one of our deciding factors -- the overall health care quality in the community. I would definitely recommend this community to others.
---
Caring8195
July 31, 2014
I visited this facility
Brighton Gardens was a beautiful place. In Brighton Garden, the layout was like a horse shoe. You could walk to one end then turn around and come back the other way. The assisted living area as well as the dining area were outstanding. But when you go back to the memory care, it was smaller. The rooms appeared to be kind of comfortable. However, it was the priciest of all the facilities. I guess the thing that kind of bothered me was when I took the tour, something happened to one of the residents. One of the residents was in the hall screaming loudly, but no one came to find out what was going on with her. When we came out of the room, the person giving the tour approached the lady. She was half-dressed, so she got someone to help the lady in her room. Well, I got over that. But when I was walking out, there was another lady who was confused; she was trying to get to her room. There were staff working probably no further than 8 feet away from her. They did not try to assist her. The resident said she was trying to get to her room and couldn't get to her room because she wanted some water. So the lady that was giving me the tour turned to the woman standing close by and asked her if she would assist her, and the staff responded "Well, her water is right there in her room but OK, I'll assist." They weren't as attentive to the residents. It was right there in their faces.
Provider Response
Thank you for your review. We'd like to learn more about your experience and tour with Sunrise as we take all concerns seriously. Please email us at Information@sunriseseniorliving.com
---
Caring70740950
June 30, 2014
I am a friend or relative of a resident
My mother stayed in Brighton Gardens for about 2 years. It was available at the time that we needed it, and it's a nice facility. There are some downsides to it, but that's true anywhere you go. The room was nice. She didn't really do too much. That was one thing I didn't like: that they would put her in the room, and she would just sit there, instead of at least having her just downstairs amongst the general population.
Provider Response
Thank you for sharing your feedback with us. Although, it sounds like your experience was mostly positive, we'd like to speak with you further. Please reach out to information@sunriseseniorliving.com with your contact information so that we can reach out to you. Thanks, The Sunrise Team
---
Caring82906050
June 23, 2014
I visited this facility
Brighton gardens is real nice. It's top of the line. The dining area was real nice, but we didn't eat there. It's expensive, though, and I would recommend it to people who can afford it.
---
Caring85153950
June 13, 2014
I visited this facility
Brighton Gardens was very good. The staff was very nice and very competent. They had very nice rooms. They basically had the same kinds of activities as other places. There were mentally stimulating activities for the residents.
---
Kelley4
April 11, 2014
I am a friend or relative of a resident
We chose Brighton Gardens because of the atmosphere when we walked in. I was just a lovely and homey place. The staff seemed very caring and nice. When we went on a tour, they were having activities with some of the seniors, and they were singing some of the hymns that my father and mother loved. My mother's experience there was fine. My mother said the food was delicious. We had some of our friends live there, and they said the food was very good. However, back in January, they put her to bed and she heard a commotion. She got up in the middle of the night to go out on the hall, and she fell and broke her hip. After that, she had to go to a rehab facility, and we paid an extra month to hold her room, but she was not able to go back there. However, the girl who was in charge in the assisted living did go visit my mom once a week while she was in the rehab facility.
---
Ray10
January 31, 2014
I visited this facility
The lady who gave us the tour at Brighton Gardens was an excellent person to deal with. She was nice and we walk around to check the place out.
---
Pat47
January 31, 2014
I am a friend or relative of a resident
We placed my mom in Brighton Gardens. She was there initially for respite care. She liked it very much, so I decided to investigate what it would take for her to be there and it worked out. She is able to just stay on from respite care. Actually we're just very impressed with the staff and everything they do there. They're extremely professional. They treat their residents with tremendous respect and they're very nice regardless of what their residents' physical or mental condition is. They're efficient. I really have nothing negative to say about the staff and the facility itself. It's a nice place. It doesn't have any smell to it. It smells like a hotel instead of nursing home. The rooms are nice size. They're all clean, pretty and nice. You can furnish the room yourself, so you can put in there whatever you want. They're sufficient and efficient for what the person needs. They have a wonderful dining room and it is just like a restaurant. Residents can order what they want and make choices. For activities, they have things that residents can do that are physical activities for them. They also have what they call brain games, puzzles, etc. They can also play bridge, bingo, arts and crafts. They also have a lot of people that come in for entertainment.
---
residents son
August 13, 2013
I am a friend or relative of resident
This place is all about up front appearance but the staff is not competent, especially in the memory care unit. it is a lovely place, the food is wonderful, they decorate for holidays. However, they are understaffed and the staff that is there is, with a few exceptions, uncaring and under trained.
Provider Response
We're very sorry to hear that you did not have a positive experience at our community. Please contact us at information@sunriseseniorliving.com so we can better understand your concerns and learn more. – The Sunrise Team
---
Midwestbobby
October 18, 2012
I visited this facility
The first thing you notice when you walk into the facility is that it is very clean. You will also notice the staff is very helpful and friendly if you are there for the first time. The staff maintains a professional but home like feel that the residents seem very happy in. It is clear that the staff has the best intentions for each and every resident. It is also clear that staff know residents fairly well as they know them by name and make them feel welcomed. The other thing that is noticed that is there is always some kind of activity going on with the residents be it making paper hats to playing with musical instruments. The staff is very creative in their ability to get residents to exercise such as playing indoor volleyball or when it is nice outside taking them out for walks. The assisted living facility is in a nice area with lots of green space and open fields
---
Pwisn591
November 08, 2011
I am a friend or relative of resident
Overall, I am pleased with the care my father receives at Brighton Gardens. Brighton Gardens is assisted living that is geared toward people with varying degrees of dementia, and care is tailored accordingly (at varying costs). The facility is kept very clean, and my father's needs are attended to well.
The food is better than most institutional food, and residents are given choices.
They do a good job of trying to get residents to participate in activities; however, I would like to see more variety. I do get the impression they are working to develop a greater variety, and the actively invite suggestion from family members.
I think the one area in which they are somewhat weak is they are not as timely with minor maintenance issues (like replacing the small freezer door inside the refrigerator or fixing a leaky tub spigot) as I would like. I have not seen any major maintenance issues that have not been addressed.
I would recommend Brighton Gardens to families who have relatives with varying stages of dementia as step between regular assisted living and a full memory care or skilled nursing facility.
---
jksmith77
August 02, 2011
I visited this facility
Brighton Gardens does not look like much from the outside but once you figure out what it is all about, then it is not that bad of a facility except for a thing here or there which could be fixed.
The management and staff thinks of everything when a potential family of a guest member or guest including background checks and things of that nature.
When I got inside the building I approached the lady at the desk and asked if I could have a brochure and possibly a tour. She said there was no one to show me around for a tour but I could call back and set up a time for one. I viewed the material she gave me and noticed that a lot of the furniture looked like it may have bought in bulk. There was no " pizazz" to the place.
Besides that, everything (from what I could see looked pretty good).
---
Edith A.
August 01, 2011
I am a friend or relative of resident
Avoid this place! My father-in-law has fallen 3 times. The last time he broke 3 ribs. CNA's do not check on patients. Double medicate and do not feed meals accordingly. I wouldn't put my dog here. Definitely A LOT of neglect going on here.
---
From Brighton Gardens of Greensboro
---
Discover our beautifully landscaped courtyard and gardens, enjoy our fine cuisine or join in an activity or social group. At Brighton Gardens, we have an abundance of ways to make your life here enjoyable. Here is Assisted Living committed to comfort and care: tastefully appointed apartment-style living, attractive and spacious community areas and daily assistance from an attentive, caring and trained staff. At Brighton Gardens, we take care to consider your needs as well as your wishes.
Features of Brighton Gardens of Greensboro
---
Technology and entertainment
Health services
Nurse On Staff Available During Business Hours
Location of Brighton Gardens of Greensboro
---
Get Cost Information
Get full access to reviews, cost information, and amenities