Sunrise of Gilbert
580 S. Gilbert Road, Gilbert, AZ, 85296
Talk to a Family Advisor: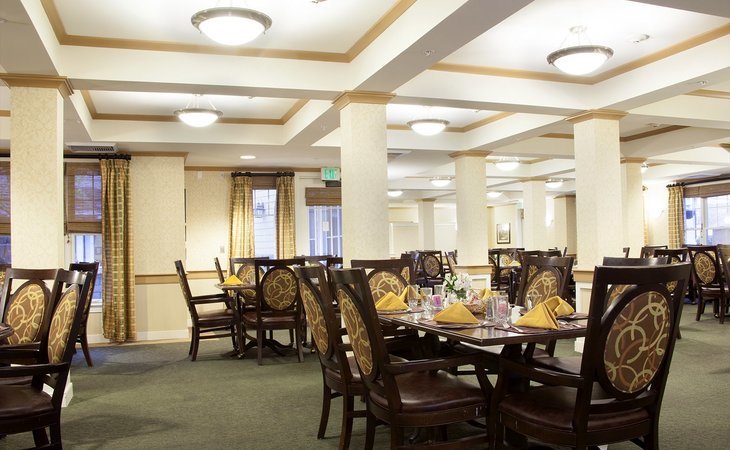 Reviews of Sunrise of Gilbert
---
Dave673508
March 28, 2017
I visited this facility
Sunrise of Gilbert was the furthest away and the most expensive of those that we looked at. It was in downtown Gilbert, and it was a beautiful place. It would have been a good choice, but geographically, it was not ideal for me.
---
JHH
March 23, 2017
I visited this facility
Interior decorating was gorgeous. I visited looking for a community for my parents, but my dad is afraid that "senior living" means it must be "institutional." I can't wait to show him Sunrise and change his mind! The apartments are bright, modern and very spacious, and will definitely cushion the shock of moving from his own 3-bedroom house. Who wants to live in a little dormitory size room for the rest of your life? The common areas are clean, well-kept and have homestyle touches like fireplaces, a community dog (Gracie is a retired service dog, how cool is that?) and lots of comfy chairs on the multiple patios.
---
Susan512737
March 04, 2017
I visited this facility
I thought Sunrise of Gilbert was a very nice place. It had a nice feeling, but they did not have a two-bedroom available. THey showed us one that didn't have a living room but had two bedrooms and a bathroom, and that's just going to be enough. It's an upscale, nice, and pleasant environment. The dining room looked great.
---
Lacy588204
February 11, 2017
I visited this facility
I toured Sunrise of Gilbert. It was very nice. The staff was very pleasant and helpful. Everything was clean. The rooms were nicely set up. The menu was nice. The activities were good. I went right around Christmas time, and they had a really big party. The grounds were very nice and well kept. It was very pretty and very close to me.
---
paul125821
January 06, 2017
I visited this facility
Sunrise was very clean and very well managed. The staff was professional, courteous, and very thorough in their review. The dining area was very clean, well lit, and looked very professionally managed. I toured the independent living side.
---
Anna744514
October 04, 2016
I visited this facility
Sunrise of Gilbert was a nice facility, clean, and very organized; just a little out of our price range. Everybody was friendly and nice, and it was close to our home. We did eat there, and the food was good. Our whole family sat with another couple, and it was very enjoyable.
---
James121629050
March 28, 2016
I am/was a resident of this facility
Sunrise of Gilbert is a more than excellent facility. The staff is caring and courteous. We have a good one-bedroom apartment. The food is lovely. We like it here.
---
Dr. X
February 24, 2016
I visited this facility
Sunrise of Gilbert is relatively clean from the outside. The inside is very busy with the usual, basic routine. The apartment feels homey with one bathroom and feels like you're in a nice hotel. The tour went pretty well. Generally, it's all good. They have in-house and outside activities, and also customize activities specifically for you.
---
Anonymous Visitor2
December 31, 2015
I visited this facility
Sunrise of Gilbert was very nice. It was clean and the people were nice. It would have been an option but I didn't like the fact that the memory care center was on the 3rd story and the residents had no way to walk and get out on their own.
---
James106902250
September 29, 2015
I am/was a resident of this facility
I am currently at Sunrise of Gilbert. Everything is fine. It is a nice place to be. The dining area is really nice, and the food is good. I am really satisfied with it.
---
Caring110512150
July 04, 2015
I visited this facility
We visited Sunrise of Gilbert. The staff was fine. They were very busy. It seemed a bit crowded, but it was nice. We had lunch there, it was great, and the people were nice. The dining room was more crowded. The spaces between tables were more crowded. It was like an old hotel with meandering rooms that you could get lost in.
The rooms had two options. You could have a shared room arrangement. It was two bedrooms and a little courtyard area with a little connecting room wherein you had individualized apartments. The other room was like an efficiency room, which was OK. They had a variety of activities, things to do, and places to go. There were senior memory care activities that were fine. It was secured enough. The reason why we didn't choose it was because it didn't have weekly respite care; you had to go there for two weeks but we needed it for eight days.
---
Caring99357650
December 30, 2014
I visited this facility
Sunrise of Gilbert has a transition of program in which you live in the second floor of the assisted living; they would provide a particular program and routine. The rooms are smaller, and they don't have any access to independent living. But other than that, the staff was very good; they were accommodating. I would like to see some ways they'll not separate so much the different levels. They don't have a way in which you can interact with others.
---
Caring94112950
December 26, 2014
I visited this facility
I did not Sunrise of Gilbert. It was a cramped place to live, it just didn't suit us at all. I had no problem with the staff. I think her name was Liza, and she was excellent. The rooms were really small.
---
Caring6282
December 18, 2014
I visited this facility
Sunrise is a beautiful place, but it's too expensive for us. The dining room is beautiful; it's a big dining room with white tablecloths. It's a big, well-run facility.
---
Jeff25
August 14, 2014
I am a friend or relative of a resident
Sunrise is outstanding. It's a very nice facility. The staff could not be nicer. I like the caring element of the staff. I would rate the food as good.
---
Sherry33
July 23, 2014
I visited this facility
Sunrise of Gilbert was quite nice and homey. It's not too far from downtown. The staff was very nice. They had a nice little dog outside, and everybody was fine with that.
---
Caring82991650
April 25, 2014
I am a friend or relative of a resident
The staff that we've met at Sunrise have been incredibly kind and incredibly caring. I've been really impressed by the way they've treated my in-laws, especially my mother-in-law. She has severe dementia. My father-in-law had been taking care of her. He had a stroke and could no longer take care of himself or her. She was very angry and difficult about having to move to assisted living, but they were just so gentle and kind with her. They gradually turned her around to the point where I think she's starting to enjoy living there.
The prep going in wasn't quite as good as I would expect. We had to move my in-laws very quickly because they could not be left alone. So we didn't give Sunrise a whole lot of notice before we had to move them in. When we moved them in, there were problems with the apartment. It had gotten new carpeting the day before, and the carpet installers had messed up the paint in there, and it took a bit before they were able to completely touch up all the paint. I noticed some little details that could have been a bit tidier. The blinds in the room were kind of dusty, and the drapes in the common areas looked like they needed pressing. The housekeeping is not bad, but I noticed it's not as good as where my mom lives.
But the actual care, the people that have worked with my in-laws, have been very nice. Everything we've seen of the food looks really good. I've gone there for lunch a couple of times. It was very nice. They also have something going on every day. They have snack times in between meals, games, they've had musicians doing recitals, scrapbooking club, exercise equipment, a small pool, and they also have a bus that will take the people around to various stores or to doctor's appointments. They actually care that way, and I thought that was outstanding from what I've seen so far.
What I like best about the community is how kind the employees are to the residents and the way they encourage them to do different activities. I also really like that each resident has a shadow box by their door for them to decorate. That was really nice, and I really appreciate how they were able to calm my mother-in-law down. I've seen a huge difference in her behavior. She's definitely doing better than she was when she was at home. When we moved her in, she really couldn't dress herself, bathe properly, or put on her makeup. Now, when I go over to visit over, she's clean and fresh, tidy, and her hair is all nice. She looks really well cared for. They've done a good job with my father-in-law too, I think.
---
Jean37
March 26, 2014
I visited this facility
Sunrise of Gilbert is a beautiful facility. It's fairly new and very beautifully decorated. The staff was very nice and she took me on a whole facility tour. They have lots of rooms for activities and I saw some residents participating in the activities. I saw their rooms and they were not well laid out, but aside from that everything looked gorgeous.
---
Caring79088350
February 28, 2014
I visited this facility
At Sunrise of Gilbert, the facility was beautiful. In terms of cleanliness and ambience, it was very nice. The people were especially nice. However, if two people move into a unit and one of them needs assistance or goes into assisted living, then that person has to move to another part of the facility.
---
Susan77460350
February 27, 2014
I am a friend or relative of a resident
Mother stayed at Sunrise for about eight months. It goes from independent to assisted living and then it also has the Alzheimer's or dementia area, too. It was just top of the line. The people were very hospitable. The food was good. Good care for my mother, just clean, nice, very accommodating, big enough for her. I like the way it was decorated, the way care was given. The people were very nice and they attended to my mother very well. She needed showering and her medication given to her. They were so accommodating that my mother smoked and there was no smoking inside the facility but they made a smoking area outside and got an ashtray for her.
They are a little pricey. It was the closest one to our house. They're out of the city but it was just perfect. I was happy with it. They did have activities. They would take her to the store and they would take them out for lunch and they would have crafts. They would even have people come in to play music usually once a week. It was really nice.
---
youngest daughter 51
December 21, 2013
I am a friend or relative of resident
I have visited this facility at least twice a month for nearly four months. I nearly always visit during lunch or dinner. I have had maybe two meals there which I found to be acceptable. I would say that ninety percent of the time the meals are served cold. There will be only one person handing out meals to more than 20 people. If someone orders pie ala mode, their ice cream is nearly completely melted before the coffee is served. I have NEVER seen them serve what is posted in the elevator nor outside the dining room. A few days before Thanksgiving, they served a tasty turkey dinner. On Thanksgiving day they served a lunch which was the worst turkey dinner I had ever had. The people who work at this place are nice, but they are seriously understaffed at meal time. The outside and inside of this home are beautiful -- the winner of one season's Design Star did the interior decorating. I was in the restroom of a shared bathroom for two studios once. There was no soap, towels or anything in there except toilet paper. I am not too impressed with this place, considering people I've spoken with say that the amounts charged for staying there are very high for what one gets. I would say, at this point, that this place is 65% facade and 35% real. Unfortunately, the lack of service that I have experienced has all been on the memory care floor. Many of the residents lack the ability to make their needs or wishes known. They claim that they keep their residents up and active with games and other activities. I have come in around 4:40 and found my friend fast asleep in her room, not realizing it was time for dinner. The memory care residents seem to have no concept of time, day of the week, or even which month it is. I have seen this last issue addressed better in hospitals. How are the residents supposed to be grounded and focused in reality when they have no sense of time or date? I am a truly disappointed friend. I, too, have seen residents bussing their own tables. This is hardly indicative of an upscale facility.
Provider Response
We're very sorry to hear you did not have a great experience in our community. We'd like to learn more as well as invite you back to try another meal on us. Please contact us at Information@sunriseseniorliving.com –The Sunrise Team.
---
Michael1946
December 11, 2013
I visited this facility
I have eaten lunch and dinner with a friend who lives there on the 2nd floor. The food is, more often than not, cold by the time it is served to the residents. The meals being served are seldom what was posted in the elevator and the entrance to the dining room. More often than not, there is only one person delivering meals to residents and cleaning up afterward. I have seen residents clearing the tables, and I have heard the residents complained about this facility being understaffed. I have been in the restroom of my friend who shares a restroom with another person in another studio. There was no soap, towels, or toilet paper in there one day.
---
Caring72269750
October 15, 2013
I am a friend or relative of a resident
Mom has been at Sunrise of Gilbert for about 2 months. It is very clean and very elegant. The staff are all very nice and friendly. She said the food is excellent. They really make a really good effort at everything that they cook and they had filet mignon one night. It is always a surprise everyday about what they have on their menu.
---
Rose21
October 11, 2013
I visited this facility
I liked the atmosphere of Sunrise of Gilbert. I liked the staff, they were all very good and they answered any questions we have. The sanitation was great. They do have activities there.
---
Diamond Channing
September 13, 2012
I visited this facility
I was very impressed with Sunrise of Gilbert. It's located in a newer area of Gilbert and is within easy access to many of the places my relatives father-in-law frequents such as doctors, library, etc. When first arriving at Sunrise of Gilbert, I was quite taken back at how well kept and well manicured the grounds landscaping was. It was beyond what one would expect for nice landscaping. I was just as impressed when entering the main reception and visitors area. It has just the right amount of an up-scale feel with it still being very warm and homey. Many of the residents could be seen getting ready to board the facilities shuttle bus to go shopping, doctors appointment's, etc. Other residents were busy in the recreation area doing all sorts of crafts. The staff was very welcoming, warm and immediately assisted us. We were visiting to go on a tour of the facility. I was very pleased with all aspects of Sunrise of Gilbert from the appearance of the facility on up to the staff and management.
---
CaringFamily1
March 10, 2012
I visited this facility
This facility is fairly new to the Gilbert community and it is absolutely beautiful. The flowers, trees, walkways and landscaping in general are stunning. They allow residents to pick and choose from some beautiful designs in order to give their condo-style homes their own beautiful touches. The common areas in the community are very well designed with comfort and beauty in mind. It's just down the road from downtown Gilbert which houses a few amazing restaurants, a farmers market, and the Hale Theatre. The staff is very friendly and caring. They truly take pride in their work and provide the best assistance possible to the residents. The staff treats all of the residents like a part of their own family and not like it's just a part of their job. It's the personal touches that set this place apart from others. My favorite part about this place is that there are always activities going on onsite as well as planned events that they take residents to offsite.
---
leezee
July 18, 2011
I visited this facility
My mom and I have been visiting facilities in the southwest corner for over two months. I live in Mesa, she lives in Prescott, but we figured we could eventually settle on a place in between.
This is where Sunrise came into play.
A drop dead gorgeous facility! Honestly, no pun intended. White-washed exterior, too many plants and flowers to name, active enough to get distracted and move on.
A twenty four hour staff, and every room is telephone ready, a plus that pleased my mom as she has looked into countless facilities and was often told: You need to set up your own services.
She worries about losing contact, even if it is just for one day.
I have to say, personally, without my mothers input, how they specify directly on their website and in their brochures, the exact price! Nobody does this. Right away you are aware of what your costs are! Who does this?
Exceptional staff, friendly, caring, smiling (and we didn't even schedule an appointment).
It felt very active here. Very ""into"" community. My mom is an active senior, a hard working woman who loves to live life. We were both quite happy with our visit here.
It became one of the top on our list.
---
---
Sunrise of Gilbert is located in Gilbert, Arizona, which was ranked by Money Magazine as the 16th Best Place to Live in 2006. With nearby restaurants, museums and golf courses, this senior living community is located in the heart of Maricopa with easy access to major routes (Route 101 and of Route 60). Williams Gateway Airport is also nearby this assisted living community. Sunrise of Gilbert also gives residents easy access to recreational parks, as well as medical services at Gilbert Hospital.
Step into Sunrise of Gilbert and you can't help but feel at home. We stop at nothing to make your experience warm and inviting, from our homelike exterior architecture and comfortable community areas, to our choice of suites, exceptional outdoor gardens, and landscaping. Look around and you'll notice fresh flowers throughout the residence, and you may even spot our dog or cat. And of course, there are always the friendly smiling faces of our staff to ensure that each day spent at this assisted living community is a welcome one.
In addition to offering senior housing in Arizona, Sunrise of Gilbert also boasts independent living services, Alzheimer's care, respite care, and short-term care.
Features of Sunrise of Gilbert
---
Location of Sunrise of Gilbert
---
Get Cost Information
Get full access to reviews, cost information, and amenities