Morningside of Gastonia
2755 Union Road, Gastonia, NC, 28054
Talk to a Family Advisor: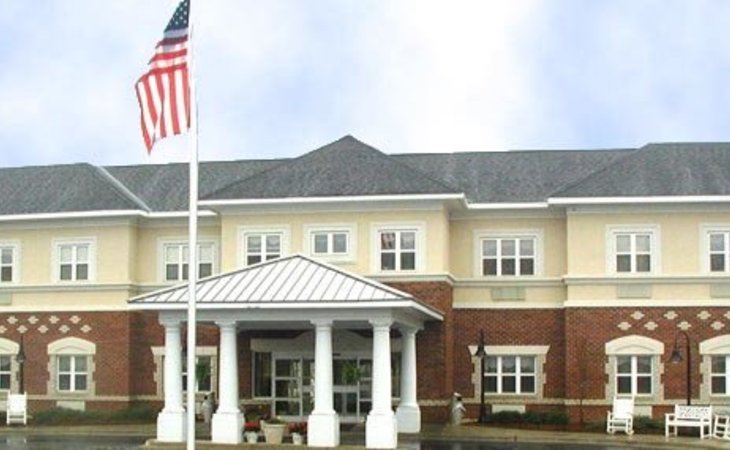 Reviews of Morningside of Gastonia
---
Lynne806282
January 01, 2017
I visited this facility
Morningside of Gastonia was lovely. I didn't have any complaints while we were there. The rooms were absolutely lovely. You can decorate them however you want to. The showers were enormous. I really liked the fact that you could decorate; they didn't care how many holes you put in the wall, so it felt like a collage dorm. She showed us several rooms, and it was pretty personal. It was pretty coo,l but I don't think my father can do it. The dining room was very nice, and the grounds were lovely with a big courtyard and a grill outside to barbecue. The food looked fine.
---
Donna150873
June 10, 2016
I visited this facility
I visited Morningside of Gastonia. The community was clean, and the staff was nice, but it was out of my price range. Everything seemed fine. I would choose it if I could afford it.
---
Ken120344550
May 11, 2016
I visited this facility
Morningside of Gastonia was a really good place wih a good atmosphere. The staff was very helpful and friendly. The rooms and surroundings looked very nice. The lady who took us around was very knowledgeable. I think it's pretty new.
---
Gerry10
March 27, 2016
I visited this facility
Morningside of Gastonia was a very nice community. They informed us they're just assisted living people, and not skilled nursing care. The lady said they were going to check my sister-in-law out and see if she fell into the skilled nursing care category and if so, they could not help her. She called back probably 30 minutes ago and said they had checked her out, and she was in fact in need of skilled nursing and they were sorry they could not accommodate her. It was a very nice facility with about 92 private rooms. We were impressed with the facility and sorry that we couldn't fit in. The staff seemed to be very accommodating and very friendly.
---
Caring113323050
September 29, 2015
I visited this facility
I liked everything about Morningside. It's very pleasant and beautifully decorated; it does not smell like a hospital. They had a really nice facility. The only issue was that we could not afford to have my mother-in-law living there on our budget. We were interested in something that took Medicaid, and they did not.
---
Caring108898950
June 29, 2015
I visited this facility
We visited Morningside of Gastonia. We thought the staff was very friendly, supportive, and nice. It turned out my mother knew a couple of people that were in that facility. I thought it was a favorable experience. They had a daily schedule for different types of activities for the residents in their common area, whether it was playing games or having entertainment coming in from the outside like singing group or church groups. It was a professional organization that seemed to be attending to the needs of their residents. It was clean and well maintained.
---
Caring103725750
March 27, 2015
I visited this facility
Morningside has very professional people. I talked to the residents there, and they are quite happy. I also interacted with a couple of the residents that are further into their dementia stages more like my dad is, and you could tell. If you go to some places, you can tell that they are distressed and not happy at all. These folks seem fine, and it was like they haven't suffered from dementia. They seem basically very happy. It is small and professional, and I would give them a high rating.
---
Kathleen25
April 25, 2014
I visited this facility
We liked Morningside. We liked the rooms. We thought they looked very comfortable. We tried the food, and it was very good. The dining area was very pleasant. The staff was very friendly, and the people there looked very happy.
---
Shari5
January 30, 2014
I am a friend or relative of a resident
The staff at Morningside of Gastonia is very helpful and very friendly. Most of them are very long-term. Some of the residents and the families that I've met have been there a while since they are very pleased with the care. The facility seems to be clean and well taken care of.
---
grays niecehollycearley
December 11, 2013
I am a friend or relative of resident
I feel that Morningside of Gastonia should be shut down completely. The facility fools you with all the fancy rooms and fake smiles from the staff. My aunt was there only 4 days and on the 5th day they let her fall out of a 2nd floor window. They have no alarms on the windows. And after the incident happened the director told me that this was not the first time that another resident before my aunt tried to crawl out a window but he was fortunate enough that a nurse happened to be walking by. So that shows me they knew the windows were a problem but did nothing to fix it and the end result was my aunt falling to her death. I feel no facility that cares for residents with memory problems should have them on the 2nd floor . Why are their alarms on the doors but no alarms on the windows. My aunt was not the only one that wondered around and wanted to go home, most of the residence want to go home. My aunt had dementia and that means she was capable of knowing where she was at all she knew was that it wasn't home. I put my trust in the staff to take care of her but they were not capable. After the incident it took the staff over a hour to tell me what happened and then it was not the truth. No apologies, no nothing. Pure disrespect to my family. They had no consideration for myself nor my family. So I strongly recommend if you want your loved one to be safe and have the best care DO NOT EVER put any of your loved ones in Morningside of Gastonia. This facility does not even deserve one star.
---
Nolechik
September 19, 2013
I am a friend or relative of resident
My mother has been at Morningside for almost 2 years and she loves it. The place is kept clean and the staff is very attentive. Mom loves the fact that she can order her meals from a menu and the food is good. She loves going on the outings to restaurants, parks, stores, etc. I like that the staff always keeps me informed on what is going on with my mom and they always respond to any requests or concerns of mine. Mom's room has a door that goes out to the interior courtyard, where there are rockers and tables with benches. I would not hesitate to recommend Morningside for your loved ones.
---
Andrew9
August 25, 2013
I visited this facility
I thought morning side was a good match for my aunt. The interior was fine and comfortable. They have a secured courtyard where my aunt could walk the dog. The dog wouldn't be able to escape the premises because if something like that happened to her dog, it would be a big problem for my aunt. There was a person that had followed up with me, we do communicate on a regular basis and I liked that. They had activities, but I don't know much about them.
---
Sandra15
March 20, 2013
I am a friend or relative of a resident
Morningside of Gastonia is considered a 5-star facility. So we felt very comfortable when we left them our relative because we felt that it was a good place. She was an Alzheimer's patient but very mobile. However, she was confused and in complete denial when she moved in. She was looking to get out to get back home. She went in on a Wednesday and was able to get out of the 2nd-story window and fell to her death on a Sunday. When she fell, although it's been changed now, the first report said it was a suicide. She wasn't trying to kill herself. She was trying to go home. I think since then they tried to improve on some things. But they have prior knowledge that there were problems and issues with windows before. It was a tragic thing and should not have happened. And I understand as humans, we all make mistakes sometimes. But Alzheimer's patients don't know what they're doing. And they have a lot strength that we don't know they have. I felt bad for the staff. I'm sure nobody wanted it to happen. But the window issue should have been prevented.
---
jaydbry88
August 30, 2012
I am a friend or relative of a resident
When my aunt Nellie went to a Morningside Assited Living facility in Gastonia, North Carolina, I didn't know quite what to expect. This was one of my first experiences visiting an assisted-living facility and I my mind had conjured visions of a place that was more medically focused than homey. Imagine my surprise when I arrived! My aunt was being cared for in a room that was very much like a room you would find in her home. They allowed her to bring her own bed and other items of furniture in order to make the room as familiar as possible for her. One day while I was visiting, a staff member arrived to remind my aunt that it was time for Bingo. Well, my aunt loves Bingo so the next thing you know the staff member is wheeling her towards a common area. I played the game with her for a little while, noticing the friendliness of the staff. After that, my aunt and I ate dinner together in the dining room. It was good food, a fact that she'd let me know once or twice prior to my visit.
---
LouiseW
July 25, 2012
I visited this facility
I would give Morningside 5 stars but they are too expensive so it's just 4 stars for me. The admin staff are helpful and welcoming. The facility itself looks very warm and pleasant but, again, like I said, it's too expensive for me. I just went there and checked if they accept medicare or medicaid but unfortunately it's not covered. I didn't get to eat there and try the food because I just visited the facility really quick.
---
ncsusupersenior
June 27, 2012
I am a friend or relative of a resident
Most of the staff is excellent. They all are very kind and helpful to my grandmother, especially through this tough time, and always took excellent care of my grandfather. They worked with my parents to make sure they had everything they needed and made sure that they were as comfortable as possible. The facilities themselves are great, everything is kept spotless and I have never seen anything in a state of disrepair. The food is quite good, and the service in all areas of the facility is great. It really is as if they are living with family. Though the place has been great, there is always room for improvement. The activities that they participate in could use improvement. Sometimes they are put together very haphazardly and end up to be a less than stellar experience. For instance, the planning of their bingo events tends to always have some hang up, such as missing equipment or even a missing bingo caller. As far as I know, this has been really the only major problem with them living there. Otherwise it has been a very good place for them to live.
---
From Morningside of Gastonia
---
Morningside of Gastonia offers compassionate senior care in Gastonia, NC. We strive to create a home-like atmosphere where you and your loved ones can feel secure. Our warm, well-trained staff works closely with our residents to provide the utmost care and comfort. As part of the Five Star corporation, you can be sure that everyone at Morningside of Gastonia shares the Five Star Values, and is committed to a high level of caring in all that they do. Please schedule a visit to see why we are the first choice in senior care in Gastonia, NC.
Features of Morningside of Gastonia
---
Costs
Minimum Rate

$2775/month

Minimum Memory Cost

$4000/month
Licenses
State Licenses

HAL-036-019
Location of Morningside of Gastonia
---
Get Cost Information
Get full access to reviews, cost information, and amenities