Brookdale Fredericksburg
3500 Meekins Drive, Fredericksburg, VA, 22407
Talk to a Family Advisor: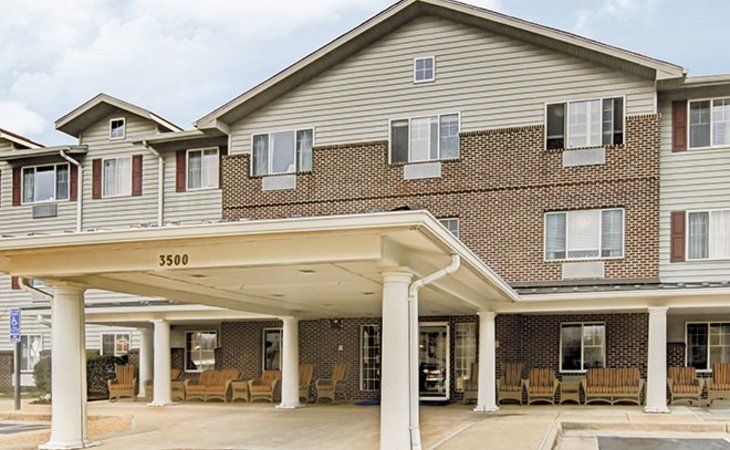 Reviews of Brookdale Fredericksburg
---
Christine781073
September 30, 2016
I visited this facility
We liked everybody we met at Brookdale Fredericksburg. It seemed clean, and the residents seemed very friendly. Everybody was interacting with each other, and they had a big dining hall where everybody could go and eat together. They had lots of activities going on. They had a movie room, and they can go on day trips on their little van, so there are a lot of things going on.
---
Linda602303
September 11, 2016
I am a friend or relative of a resident
We placed my mother in Brookdale, we were ironing out issues, but my mom likes it there. We chose it because we got a really good deal with the price, the location was good, and we got the room she wanted. I liked the dining room setup, and the meals were good. I think it's going to be a good fit for mother.
---
Visitor17
December 17, 2015
I visited this facility
Brookdale Fredericksburg is very clean. The staff are very friendly, very attentive. Their prices are reasonable. The rooms are very nice-sized, very clean. They just did renovations on the whole place. I would recommend them to others because it has been a good experience.
---
Jerry115826350
December 01, 2015
I am a friend or relative of a resident
The staff at Brookdale was very polite, friendly, and attentive. The rooms were smaller, because we looked at studios, but it's bigger than any of the studios I've looked at. Mom said the food is good, and I thought it was fine and probably of appropriate portions. They had a band playing, they did painting, and there's always something going on. They are in the process of doing renovations.
---
Iamanurse2015
January 13, 2015
I am a friend or relative of resident
My mother passed away as resident of this facility. I feel that the care provided was not in keeping with the resident's safety. There is not enough staff in the memory care center. Calling them on weekends to speak with a resident, they do not answer the phone. When someone has fallen, they are still allowed to ambulate on their own without added safety precautions. Also the cost of a residency was to my mind, exorbitant for the level of care received. I would not recommend this facility to anyone for the care of their loved one.
Provider Response
We appreciate you sharing your concerns with us. Please be assured that we are passionately committed to serving our residents and our goal is to provide an individualized plan of care to fit our residents' needs. We will share your feedback to help better serve our residents and their families in the future.
---
Robert100210950
December 28, 2014
I visited this facility
Emeritus was a nice place; I am very impressed with it. The first time I went to Emeritus was with one lady, and then the second time I went back, she had actually moved to Richmond. I did notice a big difference in the way the place was. When I went there with the first lady, she knew the place, and she knew everybody there. When I went the second time, the guy that was there was a nice guy, but you could tell he didn't know that much about the place. They had a nice floor plan. When I went in I saw their social activity board, and I saw they were having social activities. The rooms were of nice size; there's a microwave, coffee pot, and a small refrigerator. I would probably pick this facility for mom and even for myself. They have their own rehabilitation; it was a one-stop shop except they did not offer transportation. I would recommend this place.
---
K3
December 26, 2014
I visited this facility
I wasn't as impressed with Emeritus at Wilburn Gardens. The rooms were smaller, and the activity room was very small meaning you couldn't get all of the residents in to participate; it was the same thing with the dining area. It is an old facility. For maintaining it, they did fine. It was clean, but it just wasn't as spacious and crisp looking. They have very good and professional staff. Their location was convenient, close to a lot of amenities for some family that may be coming in from out of town to visit, but I just couldn't see my mother there with being in a wheelchair and things feeling small and crowded.
Provider Response
Thank you for taking the time to share your thoughts. By giving us your feedback, you are helping us to understand what we do well and what we need to focus on improving. Please be assured your feedback will be reviewed and used to help better serve our residents and their families.
---
Rebekah2
October 19, 2014
I am a friend or relative of a resident
My sister was at Emeritus at Wilburn Gardens for a couple of months and she moved out. She hated it there. The place seems nice. She shares a room with someone else and it's a pretty good size room. When you go in it looks nice. She hated the food and couldn't eat it. She had lots of stuff stolen while she was there, including her laptop and her clothes. She fell several times, pressed the thing that was on her neck, but nobody came. She was pretty miserable there -- that's why we took her out. I think they need to have cables and Wi-Fi would be good because they don't have anything like that. Also, making sure that the employees are trustworthy, and getting a different cook/company to make their food because their food is disgusting.
Provider Response
We deeply regret that we were unable to meet all of your expectations. We want to thank you for your feedback and please know we take these concerns seriously. They will be reviewed by our team and used to better serve our residents and their families in the future.
---
Star2
July 31, 2014
I am a friend or relative of a resident
My brother and I place our father at Emeritus. He goes in in the assisted living portion and then has to go to the memory care section. For what little that I have seen, I do not care the way the memory care section works and I am not saying that's the way it is with everybody. They only have a couple of people back there and they have 16 or 17 people who have some form of dementia and of course, they cannot keep an eye on all of them because there are so many people. Just recently, my dad started falling and he fell once in the shower. He becomes tangled in his walker, which they start him on and we really didn't think he needs to start in a walker yet. I think that it is perfectly strange that you are paying $5,000 or $6,000 a month and then they are going to have to call in hospice or somebody to be with him few days a week to help him bath. Of course, it is not the money but as far as having somebody to that, I feel that it is a part of their responsibility that he will not be hurt. They should have somebody check on him when he go to the shower and not have somebody else to be called in. I think it feels like a home. They roam around and talk to each other. In the assisted area, the dining area is beautiful. In the memory care area, it is smaller, but they have a menu and they can order. They have the regular four meals or you can order something else. They have good food. As far as the accommodation, he has a clean and nice room. It is very large with one room, a very large bath, a counter, a cabinet, a table, a couple of chairs and I think there's a little fridge. However, when we visit there few weeks ago, we notice that there is no soap in the bathroom. So, my brother asks about the soap. "Why there isn't any soap out?" That's when they tell us that some of the residents tend to sometimes eat the soap. They have an exercise room where they exercise their hands and legs. They have a little courtyard where they can go out which is enclosed. They have some people come in and entertain with music. Overall, it is a nice place.
---
Caring88885650
July 27, 2014
I visited this facility
Emeritus at Wilburn Gardens was a good place. It was clean, but too much of a nursing home type facility. The help would be good for my dad but not appropriate for my mom. The residents that we saw in wheelchairs looked well cared for. Stacey was a sweetheart there.
---
Reviewer 1
July 26, 2014
I am a friend or relative of resident
Best suited for the individual who is truly able to take care of themselves with little to no mobility issues and just needs meals provided. First day of residence, the head chef and activities director were fired due to having a relationship. Staff morale is low and issues are obvious when you hear staff complaining in the hallways to each other. Each resident is given a necklace to wear allowing them to push when needing assistance. The 2nd evening it took 25 mins for an aide to come, I had to go down to the director's office and have her radio for someone. She said they were probably giving someone a bath. Turns out the only aide on the floor said she was delivering food trays to rooms, my relative needed to be helped to the toilet. Aide came, but put her unsmoked cigarette on the rail outside of my relative's room, then went in to assist. Guess she was going to take a smoke break. Prioritizing the needs of patients is crucial, yet doesn't happen. Short staffed seems to be the norm for the weekends. Toilet in room clogged on a Saturday and was told it would be fixed on Monday. Unacceptable, no way resident should have to be wheeled out of room to use toilet downstairs or down hall, especially for the amount of money being spent. It was fixed later that day. Two weeks later, toilet broke again. Oxygen issues that were told would be taken care of, over and over and are constantly being addressed. The previous nights dinner tray still in room at dinner time the following day. I could go on and on. WIth each visit there seems to be another issue that has to be addressed. TG there are a few of the staff who seem to be caring, others should be employed elsewhere-compassion and understanding instead of a frown and making one feel as if they are a bother is unacceptable. If it were up to me, my family member would be placed elsewhere. A fancy dining room and pretty sitting area mean nothing when everything else seems to be problematic.
---
Mike45
May 20, 2014
I visited this facility
I visited Emeritus at Wilburn Gardens, and it was very nice. It's one of the places that I was thinking about. It's a brand new facility. Looking around the facility, it was very lovely. The people who gave me the tour were very nice and very helpful. They called and followed up.
---
Greg17
April 27, 2014
I visited this facility
Emeritus had good-sized rooms. The rooms were pretty clean. They did not smell like a nursing home, as I had anticipated. I called them one morning on my way to work, and I went over there and met with the individuals there. The staff was very personable and very attentive. They have outings. The facility was nice. It was convenient as far as where I work. That's another plus, and it seemed to be very secure as well
---
Patricia82102750
April 11, 2014
I am/was a resident of this facility
My mom is Emeritus, and it's working out. We chose it as soon as we felt comfortable with it and with the people there. The person who showed us her room explained everything. They are very helpful. They have 12 o'clock nurse assistants who come in to check on her. The room my mom has is very nice and clean. I just paid the move-in fee, and they changed it, and they have the furniture there. It has been good. I have not eaten there, but they seem to be well-organized, and they have a variety of different things. She's kind of used to country food, and I don't think she's getting that, and it's a little bit different to her, but she's eating and enjoying that. I think they have exercise class and outings, but she has not participated in any activities. They do have people who come in and entertain. She's into things that are right there on the premises but not very excited about going to any place. They can improve on maybe having people to spend time with her because I am not able to go all the time. She has dementia, and she doesn't even remember why she eats.
---
Pam23
March 29, 2014
I am a friend or relative of a resident
The staff was great, they showed us everything. They were very knowledgeable and very courteous. The rooms would accommodate both my parents. All around, it's a great place for them. They offer activities from playing cards to listening to music to putting on shows and taking them every place they need to go. I highly recommend Emeritus.
---
Tina19
January 30, 2014
I am a friend or relative of a resident
I moved mom at Emeritus at Wilburn Gardens. She has been there since October in their memory care unit. A lot of things added up wrong after I got her in there. I thought I was not going to have to pay anything, but when I got her in there it's a lot different and I'm paying more than I thought I was going to have to pay. It's a three-storey building. My mom is down in the main level in a separate wing. Her room is different from the other area. She has a roommate and they share a bathroom, but they have their own closet. They have on nurse there round-the-clock and my mom needed that. The staff are very caring and really nice to my mom. If a resident is upset, they sit down with them and talk to them on what their problem is and it really works very well.
---
Caring0929
September 18, 2013
I visited this facility
Emeritus at Wilburn Gardens was clean and beautiful. The staff were helpful and interested. However, the price was expensive for us.
---
SOS
April 17, 2013
I am a friend or relative of a resident
The food was awesome at Emeritus at Fredericksburg because they've got a great chef. I really like the staff they're very warm and attentive to the people around. They really went out of their way. They've helped a lot in getting my mom settled in. They keep her actively involved in things which is what she really needed. She has a studio and she's paying $1995 for that and she's within the first level of care, another $325 so she's looking at $2320 a month. I find the staff are into people and they're kind to her. The good thing about Emeritus is that whatever my mom had to pay initially to about every Emeritus that we go to, like if we move, they would transfer her fee. It goes with her. They don't charge her whatever their charges are. But I did find out too that depends on the others.
---
playsinpaint1
August 28, 2012
I visited this facility
Overall compared to the rest of the area's assisted living facilities I give it a solid 5 stars. Everyone in the staff seems to be very nice to the patients. I usually arrive during dinner time and I never see the staff yell or be abrasive with them, they take extra time to make sure the patients are well cared for. They also keep fruit, water and other various snacks around that the patients can grab. Overall the place is well lit and clean, there is no smell like there is at other homes. I firmly support this facility.
---
Caregiver100
December 30, 2011
I am a friend or relative of a resident
Pro: The apartments are larger than most in town, the residents are friendly, the facility allows pets. Doctor days (Tuesday and Thursday) are a huge help (the bus takes residents to doctor's offices), and shopping/lunch out days are a big thrill for my Mom. Some of the staff are awesome, some can be condescending. When handling serious medical emergencies they are great. Con: They're coming off of a huge flux in management that I think could have been handled more effectively by the corporate office. The families were not kept "in the loop" as to the chain of responsibility during the numerous changes. The food is uneven in quality, and the facility does not currently seem able to handle dietary requests. I'm hoping that the new Director will address these issues. If my loved one would have been willing, I probably would have moved him, but he's pretty happy there so we stayed.
---
3z3qNath
June 10, 2011
Visited this facility
This seemed like a very pleasant facility, the interiors were very warmly decorated and the staff was extremely nice and helpful. Everyone staying there seemed very happy, and there was a general pleasant atmosphere. The only negative that I really noticed was that the quality of the food did not seem very high, and the menu was repetitive, with the same things being served on the same day of the week each time. The patients should be served a healthy diet. Other than that, everything seemed wonderful though. However, I did not spend enough time at the facility to gain a close understanding of it, or to be able to fully evaluate it.
---
From Brookdale Fredericksburg
---
We offer a home like setting and cheerful smiles from our professional staff who greet you every day. Our caring staff offers the assistance you need while respecting your independence.
Our peaceful setting, restaurant style dining experience, activities and beautiful setting combine to create a wonderful living environment everyday. Our genuine caring staff, home style meals, daily activities add to our residents' experience.
Through special events, activities, clubs and ongoing cultural enrichment programs, we offer unlimited opportunities for you to get to know other residents and us. Call to set up an appointment for a tour because we delight in showing you our home.
Amenities and Services
Daily assistance with bathing and dressing
Medication management
Dining assistance and special diets
Assistance with reminders and redirection
Escorts and assistance with walking
Emergency response call system
Housekeeping
Laundry and linen service
*Rates subject to change at any time. Level of care not included.
Features of Brookdale Fredericksburg
---
Room and housing options
1-bedroom apartments
2-bedroom apartments
Studio Apartments
Location of Brookdale Fredericksburg
---
Get Cost Information
Get full access to reviews, cost information, and amenities