The Palms of Fort Myers
2674 Winkler Avenue, Fort Myers, FL, 33901
Talk to a Family Advisor: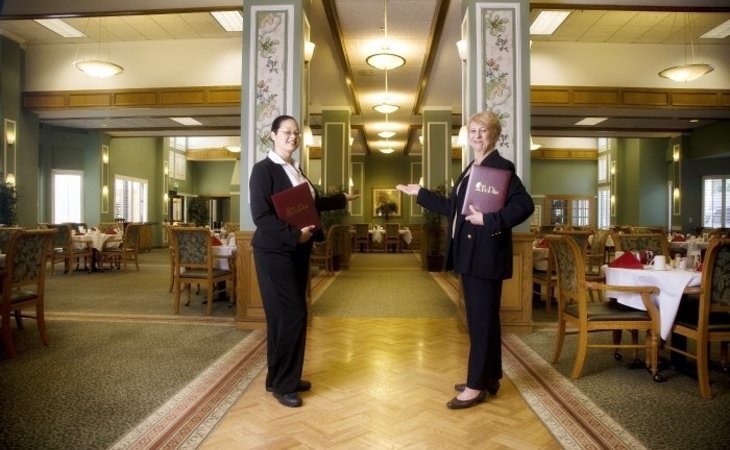 Top nearby Assisted Living Facilities
Reviews of The Palms of Fort Myers
---
Terese258648
March 27, 2017
I visited this facility
The place I was interested in was The Palm. It was very nice and had everything. It was clean, and the people were very friendly. They had a lot of activities, and it had a swimming pool as well with water aerobics class. They had a lot of outdoor like covered porch areas, which is very nice.
---
Pamrr94
March 05, 2017
I am a friend or relative of a current/past resident
My mother in law moved in at the end of December. This was the best thing that has happened to her since her husband passed 2 years ago. We went the first time and were both very impressed with the whole atmosphere...this was her first look at an independent living facility. At this time she didn't want to move out of her house yet, we went to every other facility like this in Fort Myers and compared everything to the Palms. Mainly because of the atmosphere and the friendliness of the staff and residents. We went back 2 more times over the course of a year and a half until she was ready to move. She has made so many friends and the staff is helpful and friendly. So far...everything has worked out perfectly. The only 2 things that make up for the lack of 5 stars is one, the bus that transports them to the Dr, she says is extremely uncomfortable BUT they have told her they are getting a new bus..the one that takes them to outings is nice though. And the other complaint is that the food is so so...some days good..some days not so good. But all in all...she's very happy with her move.. and so are we. Diana and Laura are very helpful and accommodating. Whenever I need something, I can call them to find out information if my mother in law is confused. Very helpful staff!! Great place!! She is hardly ever home anymore which is a complete 360 from living in her old home...she never went anywhere...never came out of her house...a whole new mother in law..for the better!!
---
Lennie
January 10, 2017
I visited this facility
The Palms of Fort Myers was a nice place, but it was not on my mom's list of choices. The rooms were nice enough and adequate. When we went there, they were not really prepared to show us around, so one of the aides showed us around.
---
Diane416416
November 21, 2016
I visited this facility
I visited The Palms. They had shared and private rooms. I knew some people that had been there, and they were very happy with it. Also, compared to a lot of others, it was more reasonable.
---
Elizabeth W.
November 19, 2016
I visited this facility
I would be interested in The Palms of Fort Myers for the future. I did like it. I thought the place was clean, and they were very friendly and very cordial. I was looking at a 2-bedroom, 2-bath unit. It was a very cheerful room. I recommend them most highly from what I have seen so far.
---
Sharon S.1
May 11, 2016
I visited this facility
My mother is on a waiting list at The Palms of Fort Myers. It was nicer, more affordable, and the food was better. They gave us lunch, and we picked some specials of the day; it was excellent. I believe the food is so good because they have it catered to the level of the independent people. I saw a few different rooms in the memory care unit that were pleasant and easily accessible to the common area. If you open your door and you look to the right, everything is there. Once you're in the open area, you can see the TV and dining tables. They had activities going when we were there, like someone in the meeting room playing the piano with all kinds of different residents in the community listening. It's a lovely place. It didn't smell, and the rest of the community was beautiful, very clean, and very nice. They have a pool, too. I thought the price was top notch, and they weren't pushy. They didn't get you into the room and try to force you to put down that deposit for the waiting list, which some places do. There's a real board of directors, but there's also a resident board that gives feedback and has some say in the community, which I think is really cool. They want to keep communication open rather than just run things. There was a person from the dementia unit on the board, so they were getting perspectives from different people. I was impressed that they really reached out to the people in the community in the different areas to make sure that they were relevant to them. I thought it was really good.
---
Pat107656850
October 28, 2015
I visited this facility
I visited The Palms of Fort Myers. The people were all very nice. They were throwing a little party at the time for the residents, and everybody seemed to be very content. So those were all good signs. The apartments were nice-sized and very sufficient. The atmosphere was very friendly. Most of the staff that I talked to was very nice. They were very knowledgeable.
---
Caring1165
July 04, 2015
I visited this facility
The community that we are looking at is the Palms. We liked it because it was nice. My mother-in-law hasn't moved in yet, but she is on the waiting list. We talked to the staff members several times, and they were good. We were invited to a meal, and the food was good. It was all good.
---
Caring93958150
October 19, 2014
I visited this facility
We were very impressed with The Palms. The treatment was excellent during the visit. The staff was so friendly. They seem to have a lot of activities. The only thing lacking that I would be interested in is more arts and crafts. Otherwise, they have transportation that takes you to places; they have cards, bingo and shows of music or something. They showed us a 2-bedroom, 2-bath -- not new but I think I can decorate it myself and make it look better. It's not as nice as some but it's better than some, but the size is good. The dining room and the lobby looked really nice and clean. It's a lot better than some places I've been.
---
Caring98155450
August 30, 2014
I visited this facility
We already signed a paper at The Palms at Fort Meyers to go on for a waiting list. We chose the facility because of the size of the apartments and the activities that they have available. The staff was very helpful and got back to us with our inquiries in a timely fashion. The rooms were very nice and very well-laid out. My husband is on a scooter, so it makes it easier for him to get around. They had line dancing, movies, and transportation that takes you to the malls in the area.
---
Caring83453550
June 10, 2014
I visited this facility
I have found The Palms. I just liked everything I saw there. The staff I saw seemed very friendly. I liked the rooms very much. The dining room is lovely, but I haven't eaten there yet. I was very impressed with it.
---
Caring1021
May 11, 2014
I visited this facility
The Palms of Fort Myers was a smaller place. We were not crazy about the location, and for us, it was average. There was nothing wrong with it, but it was just not for us. The place was pretty clean. The rooms were not as nice as the other facility we visited. The dining area and the food were decent.
---
Caring82421850
April 29, 2014
I visited this facility
My visit to The Palms was excellent. I particularly like that place. It was beautiful, and they have a lot of things going on. The rooms were spacious; they even have a little kitchenette with a microwave and stuff. They had more activities for the residents.
---
Michele11
December 30, 2013
I visited this facility
The Palms of Fort Myers was very nice. It had great food. The inside was spacious and clean and the people looked like they were engaging. The staff that gave us the tour was very good – very enthusiastic, full of information, and friendly. They have an indoor activities and I think they also have outdoor activity, I saw somebody swimming. Their food was also excellent.
---
Bobbie Hawkins
December 21, 2013
I am/was a resident of this facility
My husband has been a resident of The Palms for six years; I have been here for almost four years. He was in Assisted Living for a while; I have always been in Independent Living. We did not know each other before I moved here. I am on the Welcoming Committee here. I tell newcomers that "if you are bored or lonesome, it's probably your own fault." There are enough activities here to keep anyonyone busy. We have Bingo, Scrabble, Bridge, water aerobics, and many, many more activities. This facility is kept spotless. I have actually seen the head of housekeeping give places the "white glove test." Quite often we have special, semi-formal dinners for residents and their guests. When I first came here I was unhappy because I missed my old home. It didn't take me long to realize that at The Palms I always have someone to socialize with, which is important to me. I would encourage anyone who is looking for a facility offering Assisted Living, Memory Care or Independent Living services to check out The Palms. It's a wonderful place to call home. Your worries over you loved one will disappear immediately.
i
---
Joanne19
November 27, 2013
I visited this facility
I like The Palms at Fort Myers really well. They have been there for a very long time and they do have a very good reputation from what I have seen. It is also rated very highly in Fort Myers area. The facility was really nice. Their clients seemed really happy there. The staff seemed really nice as well. They have tons of activities for their residents. They have the assisted combined with the independent. The assisted could share the activities there. I saw some of their activity people and they seemed great. It seemed really good. Overall, this place seemed really good. I like the activities that were going on, I like that their clients seemed very happy, and I like their very nice building. Their rooms were really nice and they did have nice selections of floor plans.
---
Suzy6
November 21, 2013
I visited this facility
I've visited The Palms. I don't really like it actually. The staff was very nice and very helpful. Their rooms were also very nice and everything was clean. However, I don't like where this facility was located. I just don't like anything about it.
---
P.McKenzie
November 11, 2013
I am a friend or relative of resident
My mother has been a resident of the Memory Unit at the Palms for over two years. I live in Idaho, and it is a comfort to me that Mom is being cared for by such a cheerful, friendly, and competent staff. The advise I get is excellent, and I am kept well-informed about Mom's condition. I rest easy about her even though I am on the other side of the country.
---
wishme
November 09, 2013
I am a friend or relative of resident
My Mom has been a resident in the Memory Care unit at the Palms for 6 months. She is doing better than I ever imagined. I visit her many times a week and am pleased with the care she is getting. The facility is always clean and the staff show a lot of compassion for the residents and families. Patients with memory issues need a structured routine and schedule and The Palms does a good job with this.
---
janetruth
November 08, 2013
I am a friend or relative of resident
My husband has been a resident of the Memory Care Center for over a year now and I visit him often. The facility is always clean, bright and beautifully maintained. I feel my husband is getting good care and I, also, am treated with every respect. The staff is great and I am kept very well informed on my husband's care. It wasn't an easy decision to place my husband in a memory care facility, but I am glad I chose The Palms.
---
Djnel
November 07, 2013
I visited this facility
I am looking for a community for my mother Sue. She is very energetic and outgoing . When I toured the Palms I walked in and saw resident engaging in activities. As the tour went on the staff were smiling and saying hello. The salesperson the tour us at the Palms was very friendly and outgoing. She made me feel as if all her attention was on us and was understanding of my mothers needs and wants. I hope that anyone that tour The Palms feels the same way as we did when we tour warm caring and loving of their residence.
---
madray123
November 07, 2013
I visited this facility
I had on opportunity to visit this facility memory care for my aunt. The director of that unit was very professional and friendly. They offer a varieties of activities for resident and their price is reasonable.
---
Phoenix5665
November 06, 2013
I visited this facility
I toured this facility when looking for a place for my parents who are in their late 80's and need a little extra help. I think I found exactly what they need. A home like atmosphere where the staff makes you feel welcome and goes out of their way to answer questions and put you at ease. While I was there, I observed residents in a word game activity and all seemed to be enjoying themselves. I think I have found "home" for my parents!
---
Zoyenka
November 04, 2013
I am a friend or relative of resident
My aunt lives at the Palms of Fort Myers for the last 4 years, the facility it is very clean , the food very very good the laundry service also very good, the staff it is wonderful friendly always ready to help you with all kind the extra requests, we can not ask for better place to take care of our aunt, by the way my aunt Grace it is a very demanding person, and she is happy with the service at the Paslms of Fort Myers all the time, thank you for the great service you provide
---
scaramouche
October 28, 2013
I am a friend or relative of resident
My mother was in this facility for quite some time. They had major problems with staffing and caring for residents that were restricted to wheel chairs. There are many issues, including proper feeding, hydration and daily care. I can not reccomend this facility for anyone.
---
Donnajean2
October 26, 2013
I visited this facility
I visited The Palms and I liked the facility. It was beautiful. The orientation lady was very nice but I didn't see any other staff. The rooms were okay. It had its own bathroom. However, it bothered me because there was an odor in the bedroom. Also, their Alzheimer's unit had a gloomy appearance.
---
Caring73000850
October 18, 2013
I visited this facility
I went to visit The Palms at Fort Myers and it's very clean. It was a bright, cheery and up-to-date place. I saw a couple of different room possibilities and they were very nice. The person there was very helpful and they had a lot of activities. It's like a restaurant style where they serve the meals. I think it's just going to be perfect for my sister-in-law.
---
Caring8896
October 09, 2013
I visited this facility
The Palms of Fort Myers was okay. The staff showed us around and we had a little tour of the facility. The facility itself was a little small. They did have a pool there but it didn't have a lift to get in or out of the pool and that was a big issue for us. Another thing we had with them was that, if my parents were move into a place like this and if one of them had a fall or whatever, then they would have to be separated. That's actually a major setback for us.
---
Caring8632
July 12, 2013
I am a friend or relative of a resident
I chose The Palms of Fort Myers first of all because of the price and secondly because of the services available there. The environment has been very clean and well-kept. My mom is in a one-bedroom and it is quite spacious. She has a screened-in lanai and has her own mini kitchen. It is very nice and very clean. They have a wide range of activities, lots of games and organized exercise, outings, transportations and parties. Also their food has been very good. My mom has just moved in this May. She has just moved out of the state. She also has early stages of dementia, so she is not really doing so well with transferring to a new part of the state, but I have to say that the staff has been absolutely wonderful. They are very accommodating and helpful. I can't say enough nice things about them.
---
Caring06054
June 15, 2013
I visited this facility
Palms of Fort Myers was an extremely clean community. It's very large. It has independent, assisted and memory care facilities. In the assisted living, they had 80 residents. The rooms that I saw are all single rooms, but they were very nice. They have a living room, a separate bedroom, a kitchen and a bathroom, like an apartment. They also had a porch or lanai. It was a wonderful and beautiful community.
---
Caring6685
December 29, 2012
I am/was a resident of this facility
The people at The Palms seem nice. The apartment that I moved into is very nice.
---
commercesd
May 03, 2012
I visited this facility
The Palms of Fort Myers assisted living community was one of our stops while searching fora place for my friend's mother to live.
The outside area resembled that of a high-end, well maintained condo building. The interior design was lovely with nice views throughout. There was bright light everywhere.
Because the weather is so mild there, the residents may enjoy walks along the beach and spend time outdoors on a year round basis.
The dining areas offered the kind of food that you would find in a five star restaurant. All of the food we saw looked and smelled delicious. The menus included food options for all kinds of diets.
The staff often takes residents on many outings into the area's vibrant community to enjoy all that it has to offer. From sight seeing to nature walks and cultural events, the staff appeared to accommodate all levels of ambulation.
Private units featured beautifully decorated surroundings. All had a great deal of natural light and fresh air, through large windows.
Seniors are encouraged to enjoy physical activity as much as possible. The residents enjoy yoga and aerobics classes, sometimes held outdoors.
The seniors appeared content here, with just the amount of care and attention they need.
---
Bella M.
September 10, 2011
I am a friend or relative of a resident
My husband's aunt was a resident of The Palms of Fort Myers for several years. We visited her there often. Every time we visited her, this assisted living facility was clean and beautifully maintained. I recall in particular one holiday season when the main sitting area located not far from the front desk was spectacularly decorated for Christmas. The gorgeous fireplace was particularly striking. In addition, we always found the staff to be friendly and eager to be of assistance to us and to the residents. My husband's aunt enjoyed her time at The Palms very much and spoke highly of it. In fact, she enjoyed it there so much that she recommended it to several of her friends who ended up moving to The Palms as well. If you are looking for an assisted living facility either for yourself or for someone in your family, you should definitely take the time to check out The Palms of Fort Myers.
---
From The Palms of Fort Myers
---
The Palms of Fort Myers is a rental community located in the heart of Fort Myers, Florida. Our campus offers independent living, assisted living and we also have a memory care neighborhood. The Palms has a variety of amenities including a lovely heated swimming pool, a garden with walking paths and a gazebo, game rooms, a beautiful chapel and a unisex salon, but most important, a house full of friendly faces. From our staff to our residents, there is a atmosphere of family and caring. We are proud to announce that we have been selected the "Best of the Best" of southwest Florida's senior living communities for the 4th year in a row!!
Location of The Palms of Fort Myers
---
Request Info
Get full access to reviews, cost information, and amenities