Discovery Village At The Forum
2619 Forum Boulevard,, Fort Myers, FL, 33905
Talk to a Family Advisor: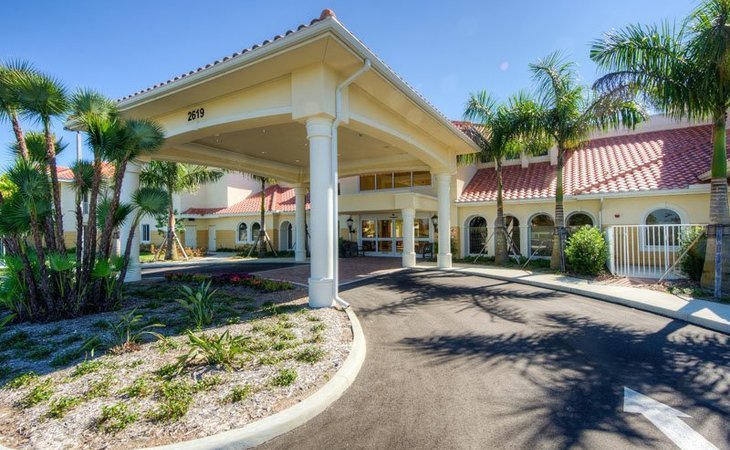 Top nearby Assisted Living Facilities
Reviews of Discovery Village At The Forum
---
Johua
December 06, 2016
I am a friend or relative of a current/past resident
My Mother stayed at Discovery Vilage for a litle over a year. I was very pleased with the care she received. I felt like Discovery Village really treated my mother as if she was family.
Thank veryone for all of their help!
---
CharlieG
December 06, 2016
I am a friend or relative of a current/past resident
Tara, I wanted you to know that you have put together an excellent team of employees with a great vision of what an ideal Assisted Living Facility should be like. A caring place that provides a very high quality of service!! With fun activities for the residents and memory care patients in a bright and clean environment. It means so much in support of a higher quality of life for the residents! The residents appreciate it and the families of the residents appreciate it. The Happy Hours and the entertainment give the relatives of the residents an incentive to come and visit their loved ones and have some much needed fun! We particularly like the fact that my mother's painting was chosen for the Alzheimer's fund raiser. It was a win-win. We were able to purchase the painting to keep it in our family and at the same time make a charitable donation. What a great idea! You certainly do your job well and have made Discovery Village a place we can all be proud of. Thank you very much from myself and our entire family.
---
visitor685740
November 26, 2016
I visited this facility
Discovery Village was far away from her doctors, and I didn't like the location. They had 1-bedroom. It was clean and organized, and the people seemed very pleasant.
---
Joanecg
November 24, 2016
I am/was a resident of this facility
Love it! I really do. Left a beautiful house to come here. I like the workers and the people, Tara, Lisa, Laura,. Lots of things to do and keep busy.
---
Happy pair
November 18, 2016
I am/was a resident of this facility
My wife and I enjoy the care and concern from the staff. Seems like the staff and management bend over backwards to work and serve all the residents. We enjoy the activities and being able to attend the calendar planning meeting to help suggest lunch trips and outings. We were very pleased recently on the prompt service over the weekend when the maintenance department delivered a new washer and dryer to us after they were not able to repair our machine.
---
Home in Florida
November 15, 2016
I am/was a resident of this facility
I have a towel that says "Home Is Where Your Mom Is". My girls Mom is here at the Forum and it is my home. They don't have to worry if I get sick or fall or need help (as we all do at times) this home is full of trained and caring staff that treat me like family. We are a family here. If I need a helping hand to get dressed, showering, or taking my medicine it is provided by our assisted living group. We all, (in this family), are made to feel safe. loved, cared for content and happy -under competent care while still being allowed to enjoy our independence with a sense of freedom to feel our lives are still worthwhile-If "Home Is Where Your Mom Is"-Let me live here-It's my home-for always-I hope.
---
John H.
November 14, 2016
I am/was a resident of this facility
Love it. I really do. Left a beautiful house to come here. I like the workers and the people. Lots of things to do and keep busy.
---
JanetNY
November 14, 2016
I am/was a resident of this facility
I like it here very much. The staff at Discovery Village at the Forum is excellent, friendly, caring and helpful!! My apartment is spacious and bright. The activities are multiple and varied. Something for everyone. The food is not very good or healthy.
---
Advocate for old people
August 28, 2016
I am a friend or relative of resident
My mother was a 3 year resident in memory care. Don't let the sales pitch & fancy facade fool you. Of the 6 caregiver to 30 resident ratio they claim, only 3 assist residents in personal care. I visited daily before meals, 90% of the time Mom was wet or need to use the bathroom, then I would assist her to eat a hot meal, by the time care giver came to help, her food was cold. I brought this to Tara the directors attention and was told no additional help would be hired and I could move. I wrote headquarters and got no response at all.
Memory care residents can not choose food off the main menu like promised. I told the nurses, and the doctor my mother had a UTI. I asked for her to be tested and treated. It went untreated because the doctor didn't think it was necessary. She was rushed to the ER, the UTI developed into a life threaten infection and created other complications. No one should be put through that kind of pain and suffering . She is no longer with us.
---
Dale O.
August 24, 2016
I visited this facility
We will be putting my brother's name on the waiting list at Discovery Village. It was actually closer to me, and he could get a larger unit for about $4,500 a month. We really liked it. The amenities seemed fine. We saw their dining area and actually invited us for lunch, but we did not take them out for that. It had everything I wanted for my brother. They had supervised independent living, which was in the same building with the assisted living. It was independent but included meals.
---
Karen123842150
May 11, 2016
I visited this facility
We went to Discovery Village at The Forum and very much liked it. I would highly recommend The Forum. I like the person that we spoke to and the concept. I talked to some of the people that live there who were very, very happy. I liked the idea that it have a nurse 24/7 and people who come in to entertain them. They have a small pool in which they do water aerobics and a wide area where you can just sit and mingle with the people that live there. They have weekly trips for the people there. When I walked in, it looked like a home, and my mother-in-law would have done very well there.
---
Loving SonEYVAC
May 11, 2016
I visited this facility
We went to visit Discovery Village at the Forum. The place was very clean and well attended to. It was a newer facility and it was a little bit pricier.
---
Gretchen12
February 16, 2016
I visited this facility
I loved Discovery Village. I thought it was perfect for his needs. It was very clean, and fairly new. I loved the rooms. I thought the rooms were nice, and a good size. They showed me both sizes, and I thought they were very thorough. They explained that they come in every day, straighten them up, and make the beds. I had a couple of questions, but I felt like they covered everything really good.
---
Sherry116072250
November 25, 2015
I visited this facility
I like Discovery Village because they seemed to give my parents options and more privacy. I felt that that would help them keep their dignity longer. The atmosphere seemed good. They have nice rooms, especially their companion suites. They have all sorts of activities and even do gardening. The dining room was nice with a bar they can go and get coffee any time they want. I thought that was nice, and the menu looked good.
---
ChicagoPat
October 04, 2015
I am a friend or relative of resident
We were referred here by a family friend. The staff and the residents are friendly. Residents are well cared for and very happy. Food is tasty with many choices. Fun activities- happy hour with music, horse racing game, brain activity class, art. Price includes everything so the value is best we saw.
---
carlsbad
October 02, 2015
I am a friend or relative of resident
Visited this facility recently, and although staff was friendly, appeared to be overwhelmed, getting assistance when you call for help is a challenge. There have been several occasions of long waits wait before you get someone to answer you. Came in the afternoon, and although nice, nurse appeared frazzled and inexperienced and could not understand her. administrator, tall woman, seemed a bit stuffy and barely said hello when i entered the building was not pleasant to her staff. It is a very nice building but does not really appear to be functional.
---
grampjohn
September 13, 2015
I visited this facility
Would not recommend this facility to any one going to memory care unit. Never judge a book by its cover. Facility looks great and most people seam caring. But found they like residents that do not need much care. So found several facilities that will tend to my wifes needs but not as fancy looking.
Provider Response
Thank you for your reveiw Grampjohn. We are always interested in learning about our residents experience and how we can continue to provide the world-class service and environment we are known for. We empathize with you in your search to find the right level of care that best matches your wifes needs. We would like to personally discuss your review. Please feel free to reach out to Tara the Executive Director at Discovery Village At The Forum and it would be her pleasure to review your circumstances. Thank you Discovery Senior Living
---
Jodi7
August 13, 2015
I am a friend or relative of a resident
My dad loves Discovery Village; he calls it his condo in a resort. The direct care staff is very professional. The administrative staff is as well very prompt in returning phone calls and answering questions and is also very professional. They have a menu and a chef; it's wonderful.
The rooms are spacious and beautiful. The way the rooms are set up provides the residents with the ability to interact with other residents. They have an actual game room with a pool table and card table. They have a men's club; they do bingo. They have a movie theater where they have movies. They have a pool where they do physical therapy, but they also allow us to take our loved one to the pool.
---
Caring103747850
March 26, 2015
I visited this facility
Discovery Village at the Forum was kind of far out from the city's center, but I liked it. It was not as accessible to events and so forth in downtown Fort Myers. It was newer, very nice, sunny, and open. It seemed comfortable. The apartments were in good size, and they had kitchen units. They were fine, yet they didn't seem as friendly there as the other ones. The person that showed me around was knowledgeable and pleasant; she toured me all around and answered all of my questions. She gave me a lot of information, but when we saw people or people crossed our path, they didn't speak. It wasn't a friendly place by any means. If there was a group of people sitting down in a sitting area, they weren't talking to one another. She told me everything I needed to know. They had an a la carte menu of medical care, and you could have it with the assisted living. You could buy what kind of assistance you wanted.
---
Jim102783550
March 17, 2015
I am a friend or relative of a resident
We have found one, and he is placed. The staff at Discovery Village is very helpful and very friendly. They made this process very simple. I have eaten there myself, and I have no complaints. The apartments and rooms are very clean and very spacious. It is very new -- barely a year old. I have no complaints there either. They are spacious. The bathrooms are large, and the accommodations are great. They have bus trips a couple of times a week to different stores or different locations to go out to eat or shop. They have an indoor pool where they have activities. They have happy hour twice a week with live music and serving alcoholic beverages. There is something going on all the time. They have a movie night, and they have a movie theater around the facility. They have a chapel right on the facility. There are all kinds of activities.
---
Bill102549750
February 25, 2015
I visited this facility
Like the others, the staff at Discovery Village at the Forum is very friendly. We just met the lady that was showing us around. The rooms are very nice, and it has a complete kitchen. The place is new, so it is very nice. They have a lot of activities, and like most of these places, they have a bus arranged to take people where they want to go. I liked the general appearance of it. It looked very nice and very attractive because it is fairly new. It has an interesting layout. It is kind of built around a square as I recall with kind of a garden area in the middle.
---
Caring101828150
February 11, 2015
I am a friend or relative of a resident
We brought my mother to a bunch of different ones, and Discovery Village at The Forum was the one she liked, so we moved her in. They seemed very nice there, and we also have a caregiver that we still pay for eight hours a day. Her room is one big bedroom -- not like an apartment -- but I would prefer a larger one. The food is good, and she orders off the menu. They have exercise class, artwork, bingo, different activities, different little parties and get togethers, and happy hour once or twice a week. I would recommend this facility. Almost everybody we had spoken to are residents who really love it there.
---
Caring100637150
January 16, 2015
I am a friend or relative of a resident
My mother moved to Discovery Village in November, and the fees are all inclusive. It is nice, bright, and new, and the staff is pretty good. The food is really good. The sanitation is very good, they empty the trash once a week or more, and they do the laundry once a week or more as needed. They have happy hour. They should improve on being more proactive and take her to the activities.
---
Questioning Decision
November 04, 2014
I am a friend or relative of resident
I have a family member who lives at Discovery Village at the Forum. It seems that there are not enough staff to handle nursing issues. For example, when a resident leaves a phone message at the nurses station & the call is not responded to. Also do not seem to have maintenance staff on duty 24/7 to handle emergencies, such as when a smoke alarm goes off. The facility is a beautiful, new place, and the prices are very high. We expected everything to be first rate, but have been disappointed & are now wondering if we made the right decision.
Provider Response
Thank you for your feedback and we appreciate the opportunity to continue developing our service. We would love to personally speak with you to address your concerns and listen to your feedback. Please call the Executive Director, Tara O'Sullivan, at your convenience. She can be reached at 239-989-0444. We are dedicated to delivering the best level of affordable care in Fort Myers and work diligently every day to make Discovery Village At The Forum a remarkable new experience in assisted living.
---
Caring94499850
September 08, 2014
I visited this facility
Discovery Village was very nice. It was brand new. It is much closer to my house, which makes it easier. The only thing I didn't like was they're very pricey. Also, they had elderly patients in wheelchairs left out front in the hot sun. That's not good. I was not really happy with that. Regarding staff, I just met with one girl who gave me a little tour down the hallway. She showed me a room. It was a very small room. I had to furnish the room, which is upsetting to my mom because I just cleaned out her house and put it on the market. I did not know that we were going to have to put her over to an ALF and I would have to buy all the furniture for the place. That's not good because she is not going to be able to stay there and that's money down the drain.
Provider Response
We appreciate that this reviewer was impressed by our nice, new community. Our prices are very moderate compared to our competitors especially since our Assisted Living price is All-Inclusive without costly care levels. Perhaps due to cost this visitor chose to look at one of our smaller apartment homes available. We have very spacious one bedroom, two bedroom and studio apartment to choose from at Discovery Village. Since our community has some beautiful courtyard and front sitting areas we do have residents choose to sit outside for a time. Residents are never left outside and our staff frequently check on the residents to ensure that they do not spend too much time sunning.
---
Caring2103
August 13, 2014
I visited this facility
Discovery Village at the Forum was a very nice facility. It was very large, very lovely, and new. They were doing something in the large room -- a woman was asking them things and they were participating. I think that was a group of Alzheimer's patients and I was very impressed with how she handled them.
---
nancyl
July 31, 2014
I am a friend or relative of a resident
Discovery Village is brand new and much nicer than anything else we looked at. There's physical therapy and a salon on site. It's an active place – there are movies, games, and shopping trips. There is a lot of stuff going on and it's also very clean. It's new, so it's nice and they serve very nice meals. The staff are very good. They are nice, friendly, presentable, and they seem to care.
---
Christine0517
July 30, 2014
I visited this facility
My mom is going to be moving to Discovery Village at the Forum. We chose them because it is a good value. Also there is a three-year rate lock, and it is only $3000 to sign up. She will have a private room with a screened porch that is bright and airy. The facility is very clean, it is spotless. The menu is very diversified. There are multiple specials in addition to the standard regular everyday menu. There is a large selection. The staff seems to enjoy their job and everyone seems very friendly. They are just very pleasant. The residents all seem happy. They were out and they were talking to us. I would absolutely recommend this community.
---
Charles44
June 27, 2014
I am a friend or relative of a resident
The staff is outstanding. The facilities are first class. The food is not so good.
---
Barnas
June 27, 2014
I am a friend or relative of a resident
Discovery Village provides great assistance to their residents. The staff is pleasant, kind and attentive. They have good activities and entertainment. They provide laundry service. Their meals are good. Overall, it's clean and has a homey atmosphere. The residents are happy.
---
Sue B.
June 19, 2014
I am/was a resident of this facility
All I can say is ' You can't beat it" My boys are happy for me and my daughter reserved a room for me. When I was at home, I was content but don't realize how happy I could be. My sister says I even look happier!.
---
C. Cannon
June 19, 2014
I am a friend or relative of a resident
Excellent Services, Well maintained property, employees friendly considerate, Quality Food and service excellent, very well satisfied
---
John Livingston
June 19, 2014
I am a friend or relative of a resident
Excellent caring staff. The new director Jan, is fantastic!
---
Tee3
May 30, 2014
I am a friend or relative of a resident
My father is very happy at Discovery Village at the Forum. The atmosphere is beautiful, and the décor as well. They have an alert system, so people wear an emergency button that they can press to ask for help. The staff responds within 5 to 10 minutes, and sometimes quicker, depending on how many staff they have. The food is gourmet restaurant style. The nursing staff is very, very efficient. They call me any time if something happens, like when my father fell, they called me immediately, so they communicate very well. It's really nice. I don't have to worry about him when he is there. I would highly recommend them.
---
Joanne24
April 29, 2014
I am a friend or relative of a resident
My in-laws are happy at Discovery Village, and they said the food was OK. The nice thing is it's brand new. They have a nice apartment, a small 2-bedroom, and they're happy and OK. I think they would've been happier staying home, but my brother-in-law didn't want to deal with it. I think it's very nice; it's brand new especially. They have something called "independent assistance;" this is brand new in Florida. If it looks like you're on the way to assisted living, the insurance companies pay for the care, so it's 'independent assistance' which is very unique and new. So basically if you've been paying for long term care insurance, this is maybe one of the first ones that are doing this. Your long-term care insurance will pay for this "independent assisted living." They have a license for that, and that's huge. They got that title specifically, so people who have been paying for long-term healthcare insurance can use it to pay for this, even though they're not at the complete assisted living point. The staff was very nice and very warm. The place is like Mediterranean. It's very pretty. And because they're new, they need more activities. There's not much to do, and that has been my mother-in-law's issue. But they had a huge party for my mother-in-law and my father-in-law for their anniversary. It was a nice a big brunch.
---
WillGross
February 25, 2014
I visited this facility
I toured this facility with my mother who is in need of assisted living. Being from out of state I was very concerned with finding the right place for my mother. I was impressed from the moment I walked in the door. The community is stunning, clean and very friendly. The staff was amazing during our tour spending as much time with us as needed. I was impressed with the dining facilities and offerings as well as the activities scheduled. It is important that my mother continue to feel engaged and happy and I can see her doing that here. Having the medical staff onsite and nearby at all times is a great relief for me. Overall this was our favorite community and unlike any other was saw. We are hoping to move my mother in withing a couple months after we get her personal items in order.
---
Joanne19
November 28, 2013
I visited this facility
We're going to Discovery Village at the Forum for my mom. A family told me about this facility and that they had just a grand opening. One reason I picked it was because it was a little closer to me. It was a wonderful facility. It wasn't too big, which I like. They did have everything there. They have the ILF connected with ALF, which is good for assisted because it keeps their residents there more active. I like everything about it really compared to the other ones I looked at. I like the way the rooms were set up. All their rooms were brand new and really nice, especially their bathrooms which were really big, big enough for the wheelchair to go in. To me, that's important! A lot of ones I looked at, their bathrooms weren't as big. Their closets could have been a little bit bigger and that's the only negative I would have on it. With regards to activities, they were just starting, but it looked like they were going to have a lot of exercises in the morning. They would have like yoga one day and balance exercises the other and the latter one I really like for my mom, I think that's important. They offer something different in regards to exercises every single morning.
---
From Discovery Village At The Forum
---
Welcome to Discovery Village At The Forum, a world-class senior living community located in the "City of Palms" Fort Myers, FL. Nestled among the gorgeous Southwest Florida landscape, mid-way between Naples and Port Charlotte, Discovery Village At The Forum is within minutes of white sandy beaches, the downtown River District, Southwest Florida International Airport and top shopping destinations such as Bell Tower Shops and Gulf Coast Town Center.

Our state-of-the-art community was completed in the fall of 2013 and features three distinct living options; Supervised Independent Living, Assisted Living and Memory Care, our secured dementia and Alzheimer's community. Discovery Villages all-inclusive lifestyle offers a unique approach to retirement living in that we provide the care, services and activities that residents need now or may need in the future all in one place. Our on-site Medical Director leads a team of specially trained health and wellness professionals delivering the personalized care plans that help you live smarter and healthier. Plus, all the comforts and happiness of resort-style amenities like three chef-prepared meals served restaurant style in one of two dining rooms daily, a full-time activities director and full calendar of events, concierge services, housekeeping, complimentary transportation and much more.

From the elegantly appointed Grande Clubhouse to the luxurious apartment homes featuring granite countertops, dark wood cabinets, tile backsplashes, designer flooring, closet organizing systems and keyless card entry, the entire portfolio of exceptional living can be yours at Discovery Village At The Forum. Please call us today to schedule your private tour. This is the community you or your loved one has been waiting for!


Features of Discovery Village At The Forum
---
Costs
Minimum Rate

$3495/month

All Inclusive Rent
Entry Fee
Room and housing options
1-bedroom apartments
2-bedroom apartments
Companion Suites

We Do Not Offer Companion Suites

Studio Apartments
Dining options
In Room Kitchenette
In Room Kitchens
Dining Room Shared Meals
Features
Beauty Barber Shop
Computer Room
Resident Transportation
Coffee Shop
Party Space
Golf
Tv Room
Garden And Patio
Resident Parking
Security Gate
Pool
Tennis Courts
Cleaning services
Laundry For Linens
Housekeeping
Laundry For Clothing
Health services
Medication Management
Physical Therapy
Nurse On Staff

We Have 24 Hour Nurses.
Activities
Offsite Activities
Music
Games
Stories
Religious Services
Lectures Discussions
Book Clubs
Wii Sports
Tai Chi
Fitness Room
Yoga
Gardening
Cooking
Arts And Crafts
Financial guidance
Va Benefits Consultation
Financing Advice
Location of Discovery Village At The Forum
---
Top Cities for Assisted Living
---
Request Info
Get full access to reviews, cost information, and amenities