Talk to a Family Advisor: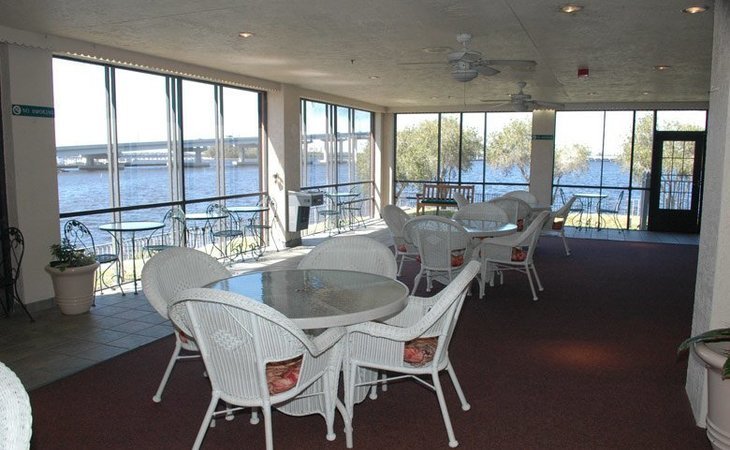 Top nearby Assisted Living Facilities
Reviews of Calusa Harbour
---
zunismom
February 23, 2017
I am a friend or relative of a current/past resident
Both of my parents are residents, starting in Independent Living and transitioning to Assisted Living as needs increased. The staff is fabulous overall... special "hats off" to Krystal, Kathy, and even the top man, Bill, for being so caring, supportive, and personable with my parents (and me!). I've worked in SNF's for over 14 years and feel this community is truly outstanding! Food is good (not like home cooking, but no place is other than home!), amenities are nice, activities are abundant, personal care staff is attentive (another special mention of Patty who gives my parents their meds and lots of LOVE), front desk staff is awesome, and even the bus drivers go above and beyond. The place is not cheap, and I only wish that some day I will be able to afford to live in a community like this, but we make it work. I would not hesitate to recommend Calusa Harbour to anyone wanting an excellent senior community experience for their loved ones.
---
A RelativeGWTSF
May 11, 2016
I am a friend or relative of a resident
Calusa's studios in assisted care are spacious, but I'm happier that my mom gets the attention that she needs. They have cards, musical programs, and lots of events for the holidays. The food has been delicious when I've eaten there. They do a great job, but I think every place is too expensive for most old people to afford.
---
Superwoman1
January 31, 2016
I am a friend or relative of a resident
My dad is in an assisted living. He is at Calusa Harbour. He has a one-room unit with a bathroom. It has a refrigerator and a little sink. The staff members are all polite and friendly. They take them out, and they go shopping. My dad does go out to lunch with them. They have all sorts of activities, but he opts not to participate. Food has been excellent.
---
anonymous1960
January 15, 2016
I am a friend or relative of resident
I find the management of Calusa Harbour to be lacking in compassion for their residents. The Director of Assisted Living violated a HIPAA rule!
---
Anonymous117122550
November 30, 2015
I am a friend or relative of a resident
My mother is living at Calusa Harbour. I don't have any complaints with them at all. They are treating my mother well. I would rate this place highly. They have different activities for the residents like games, sing-alongs, bingo, and many more, but my mother does not socialize.
---
Caring106817050
September 07, 2015
I am a friend or relative of a resident
My friend is at Calusa Harbour. Everything is nice. The room is nice. The food she complains about, but it is normal for her age. However, it is very clean. There is no smell or anything like that. Also, I think they take good care of my friend. I would recommend this to others. It is a beautiful place. My friend chose this facility because it is right on the river, and there is water. It is just a beautiful place.
---
cindyjlm
August 22, 2015
I am a friend or relative of resident
My mother moved to Calusa Harbour about 2 months ago. She lived with me and my family for about 15 years. She was initially nervous but now she is happy, has friends and is busy all the time. I can hear it in her voice when she calls how happy she as she tells me what she had done for the day or what she will be doing the next day. Calusa Harbour is beautiful and clean. The staff there are all very helpful, friendly and always have a smile of their face. The food at Calusa Harbour is very good!! Calusa Harbour offers so much for the residents to keep them busy and entertained as well security they provide. I highly recommend Calusa Harbour!!!
---
Jim Gorski
May 21, 2015
I am a friend or relative of resident
My friend's Mother recently moved to Calusa Harbour from the Bonita Springs area. I flew down to visit her in late March, and was very impressed with the facility. My first impression as I walked through the front doors was that of a 5 star luxury hotel. There were several staff members at the front desk, along with a uniformed security officer. The commons area was well appointed and very clean. Mom's room is on the 7th floor and overlooks a beautiful harbor/river. What a stunning view. There is a picnic area with a dock where residents can go down and enjoy the sunshine or go fishing on the river. The sit down restaurant/dining area was very clean, bright and portrayed a happy and upbeat feeling. All aspects of Calusa Harbour are bright and cheerful, and the building is very well maintained and smells fresh. There is also a bus which takes residents to various places such as the doctor, the grocery store or Church. All they have to do is sign their name in a book to reserve a time and date, and indicate where they wish to go. To me, it would be a dream place to spend my golden years if I no longer wished to maintain my own home.
---
Bill102549750
February 25, 2015
I visited this facility
We did visit another one called Calusa Harbour right downtown Fort Myers. It looked really large. They had something going on at the time we were there. It was very nice. We just met somebody who showed us around. It's an older place that is right down the water front. There's a beautiful location within about two blocks from old town Fort Myers, so the location is very nice. The rooms were OK and good. The building is 10 to 12 years old, but they were fine. I like the location because it's very close to downtown.
---
Caring100446050
January 21, 2015
I am/was a resident of this facility
Calusa Harbour has been here for 30 years. I tried to live in Texas, and nobody would give me the deal that these people gave me. They wouldn't even approach it. I am a nurse by profession with a master's degree. I worked in the medical field all my life, and I am telling you that this program is before its time. Their series of operation, the courtesy, and the fun that they let these people have until they die is just unbelievable. The staff is unbelievably nice. I have a beautiful apartment. It is a two-bedroom, two-bath apartment. One of the ones that I am involved in the most is the art classes. It is taught by an artist, and we don't do children's stuff. We do beautiful art. The food is excellent. It is upper restaurant style. We even have waitresses, and we pick from a menu.
---
Jane90790450
September 27, 2014
I visited this facility
I would highly recommend Calusa Harbour. It was very nice, the people were amazing, and the view was spectacular. It was a very nice place, and the people looked so happy. They've got a whole area outside where they can sit and look at the water and they were just having the time of their lives. The only thing I didn't like so much is you could go outside the area around it and a little farther away there is a not so nice area, but the people who go to these facilities don't leave anyway, so this doesn't really matter. But it is protected and so nice. There were people sitting outside everywhere and talking, and they looked very happy. It was a little more expensive than the other ones, but not by much.
---
Caring73575050
July 31, 2014
I visited this facility
I've been in Calusa Harbour a lot because my sister-in-law is there. She's in the assisted living area. She's very unhappy not because they're not good to her but she doesn't want to be there. She's sick in the early stages of Alzheimer's. She doesn't understand the fact that she is no longer able to be alone.
It was close to where I am. It's about 20 minutes from where I live right now. The food is very good. They had a lot of activities there. It's swimming and exercising and they had happy hour 3 days a week. You could have your guests come and eat in the main dining room.
---
Caring88475950
July 31, 2014
I visited this facility
For Calusa Harbour, a plus is that it's actually on the river; it's a good size body of water. It's very close to downtown. The facility is totally gated and there's a bus stop right outside of the gate. So you could walk out of the building and down the driveway to the bus stop -- it is that convenient. The lady who gave me the tour was nice, but I felt like she kind of rushed it. It's a much larger facility and so I didn't feel like it was as personable as the other facilities I've visited. I didn't feel like it was quite as clean, quite frankly -- it just has a musty smell. The facility wasn't hideous and I think a lot of people would be very pleased with it. Some of my friends have friends who have lived there and they've been very happy. But I also have some acquaintances who have lived there and were not happy. It's very close to the downtown library. I don't know if I'd call it a good neighborhood, but it's a convenient one. The staff at the front desk were very kind and greeted me cheerfully, but I was not overly impressed with the place. It's a very large building so I think they have a large population.
---
Deguise
July 23, 2014
I am a friend or relative of resident
Ok but my mom fell because she thought she could walk several times and the last time after 4 1/2 years they would not take her in skilled so sad
---
BDes
May 27, 2014
I visited this facility
I think this by far the best rehab facility in Southwest Florida.
---
Bob Descoteaux
May 25, 2014
I visited this facility
I have been visiting my partner Bryan for the last few weeks and have enjoyed the dining room and spectacular food and service there. The patient care in rehab is also excellent.All employees go out of their way to make patients and visitors comfortable. I definitely agree this is a 5 star facility and would highly recommend it to everyone.
---
Caring83290050
April 25, 2014
I visited this facility
We were taken through a tour of Calusa Harbor. It was very nice. It's got high-rise independent living and then a lower building for the assisted living. They have beautiful dining facilities. They have a beautiful porch that you can go out on anytime. It's right on the Caloosahatchee River. It's right where boats go up and down. The scenery and the view is beautiful. It's like a beautiful picture. I did not care for the rooms in the assisted living part. They were just one square big room with a bathroom. They did have a little kitchen area where you could put your table and stuff. They do have some apartments that have two rooms.
I thought it was a very nice place. It's quite expensive. I would like it, but I'm not ready for that kind of building. I've been in rehab three times this year. Everyone was very nice there, and I didn't hear any complaints. I don't think it's a place where I'd want to be, very honestly. It was very lovely. They had everything you could ever want, but it's expensive. They had a lot of couples living there. They had a lot of social things going on at supper time and parties. But I don't want to be in that kind of society. It's a beautiful place. I'm not putting it down. It just wasn't my kind of surroundings.
---
Caring70747350
April 12, 2014
I visited this facility
We like Calusa Harbour down on the water. The room was nice. Some rooms overlook the water; we liked that part. The staff was good. They had a librarian. They had things going on, like games if you're interested. They'll take you to the doctor and shopping if you want to. They have transportation.
---
Caring79709350
March 31, 2014
I visited this facility
We checked out Calusa Harbour. It seemed like a neat, well-run place. The residents seemed really happy. It's just the living space is a little smaller than some of the other places that she looked at. I think one of the down-sides was my mother-in-law later progressed to needing assisted living so that she had to move from one apartment to another. It was really depressing for her to see people on wheelchairs and walkers. You're going to have people with various ranges of needs, and it was a little sober. But we were very impressed. They let us stay for dinner, and the food was excellent, and they were very accommodating. If she needed a place like that, it would be certainly something that we would consider.
---
Debra10
December 30, 2013
I am a friend or relative of a resident
It's been about three weeks now since my mom is at Calusa Harbour. It's a beautiful facility and I love it. It's brand new. The place is clean and nice. The elderlies have their happy hour and they have live bands. I told my husband I want to move in there. The staff seemed to be very on top with everything with their physical therapist. They did seem to be very encouraging. I'm very happy with that experience.
---
Suzy6
November 20, 2013
I visited this facility
I don't personally like Calusa Harbour. It was a nice facility but I think it was too big. I wouldn't put my grandmother there. It's high-rise but not as homey and I don't like that. There's nothing that need changing, it's just the way the facility was set up. They're very nice but it was also very expensive.
---
Karen 8
May 31, 2013
I am a friend or relative of a resident
My parents are at Calusa Harbor. For the most part, they do their job. But the actual caregivers are very inconsistent, which is very upsetting to elderly people.
---
Caring 5237
May 23, 2013
I visited this facility
Calusa Harbour was an excellent place but they did not have memory care which my mom needed. They only had independent living, assisted living and skilled nursing. The personnel were great and even the financial people who I registered with were wonderful. I would recommend this place to seniors who needed what they offered.
---
Mary 2
April 17, 2013
I visited this facility
Calusa Harbour was a high-rise building like a hotel. It had a lovely view and a good location. The place was clean and well-kept. But the elevators got really crowded, and you had to wait.
---
TomL1
March 01, 2013
I am a friend or relative of a resident
My mother-in-law has mild dementia. We checked Calusa Harbor and we talked to some people who actually live there or friends who have parents there, and we got nothing but good reports. The facility is excellent. It's a little older, but it's clean and neat. We were very impressed with them. It's larger than most other facilities, but it was more affordable. The food is good, too. We put my mother-in-law in a one bedroom apartment.
---
Mollie McGuire
January 30, 2013
I visited this facility
from the minute I walked in i knew this was the place for my parents. No other place had the same warmth that was displayed here. I was able to observe the activity and also the staff interactions. I was interested in bringing my parents from Ohio to be closer in case something happened. I've noticed that they are becoming more frail and wanted to be sure their meals were going to be provided and transportation so my dad didn't have to keep driving. I did visit several places, but this has worked out beyond my expectations. Thank you, Calusa Harbour for making two of the most important people in my life happy and content.
---
Caring6685
December 29, 2012
I visited this facility
I wasn't comfortable with the atmosphere in Calusa Harbour. People seemed a little aloof. They just did not strike me as some place I wanted to go. The rooms are beautiful, and I'm sure practically every room there has a view of the water. But it was too far for me and it's in the downtown area. We had a complimentary lunch. The food was good.
---
7Thesoy
May 25, 2011
Friend or relative of resident
My aunt was in this assisted living facility and I visited her there often. I always found the facility to be clean and the staff to be very friendly. My aunt has always been a healthy eater and she has found the meals to be to her liking. Although my aunt originally moved to the independent living section of Calusa Harbor, her health declined after about a year there. When we began to realize that she would probably need to move into the assisted living facility, she was initially reluctant to do so and expressed her concerns. We discussed them with the staff and they helped both us, her family members, and her realize that the assisted living facility would better meet her needs. Furthermore, they helped us all realize that she would still be able to visit with and be visited by her friends in the independent living units. In addition, she would be able to continue to take part in the activities that she enjoyed, such as Bingo. With the assistance of the staff, her transition to the assisted living facility went off without a hitch. All in all, we have found the facility to be very good and are very pleased.
---
---
Calusa Harbour is an assisted living facility in Fort Myers, FL that offers residents independent living options and daily support services. Contact Calusa Harbour for more details on housing, services, and rates.
Location of Calusa Harbour
---
Request Info
Get full access to reviews, cost information, and amenities