Sheldon Park Assisted Living
2440 Willakenzie Road, Eugene, OR, 97401
Talk to a Family Advisor: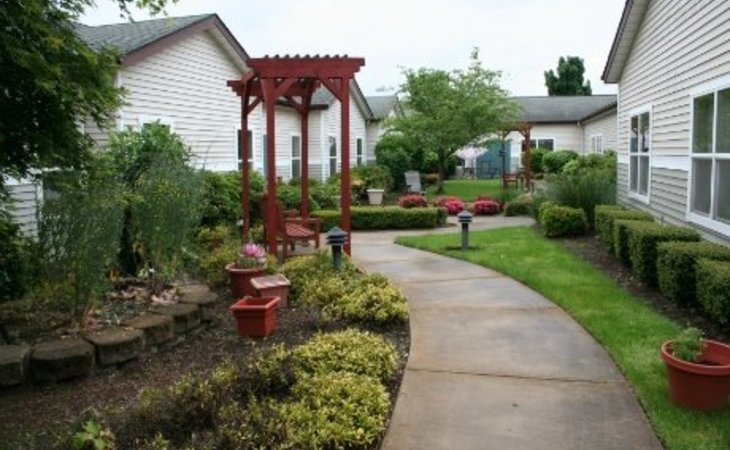 Reviews of Sheldon Park Assisted Living
---
Jessica Thurner
March 16, 2017
I visited this facility
I have been to Sheldon Park many times, and have always been impressed. The care staff is very helpful. The residents are happy, and the building is beautiful. The people in charge of the activities are amazing and they are always going the extra mile for the people that live there.
---
Caseygiles
February 17, 2017
I am a friend or relative of a current/past resident
I couldn't be happier with Sheldon Park for the care of my Grandma! Everything about the facility is top notch! The smiling employees at the front door make you feel right at home. The facility is well taken care of with the cleanest amenities. The staff is so caring and provides the best personalized care. I have participated in the fun daily activities and it is truly a joy to see all the residents having fun and engaging with one another! I enjoy visiting during meal times…every meal is delicious with such variety! It is so comforting knowing that my Grandma is in the best hands, gets great care and loves her home! Thank you Sheldon Park!
---
Sue400263
February 02, 2017
I visited this facility
We toured Sheldon Park. It was really great and had a nice memory care program. The outdoor area was contained in the middle of the building, which was nice. The rooms were great. It was close to our home, which was very nice. They had a library. The dining room was very nice, spacious, clean, and very light. The staff was very helpful.
---
Corey F
January 20, 2017
Other
The warm and welcoming atmosphere makes it feel like you are entering a friends home. The times I have visited the staff are always friendly and caring with the residents. The building is decorated for each Holiday which makes it nice for everyone who lives there and visits. Activities are the best in town and the Residents always have something to do. Sheldon Park is the best Assisted Living Facility in Eugene/Springfield area.
---
timmaverick
December 19, 2016
I am a friend or relative of a current/past resident
I like the friendly atmosphere and the interaction between the employees and the residents is phenomenal. The times that I have visited, it seems that the staff treat them like they are family. The Activity Director really tries hard to do fun things that the residents wart to do. If something isn't right, the staff advocate to make a difference for the residents and the cook makes some mean BBQ ribs. I believe that it the best Assisted Living in Eugene.
---
Kudo001
December 11, 2016
Other
I have had the pleasure of seeing Sheldon Park Assisted Living Facility in person. I have always seen a heart warming smile and a sincere greeting when walking through the door at Sheldon Park Senior living. You feel that instant warmth from residents and staff alike. The beautiful decor within the facility is just as comforting as the smiles you see throughout the facility. While I have been at the facility their have always been very engaging activities of one kind or another going on with the residents and you immediately see the beneficial impact made on current residents. The resident apartments have been spacious and very well seen after. The staff and management have always treated me with such respect and knowledge and I get an immediate sense of family when speaking with them. Kudos and a generous thank you to all at Sheldon Park!
---
Alexander2017
December 01, 2016
I visited this facility
I have visited Sheldon Park as a professional and visitor over the past few years. As soon as you walk in to the community, you feel a sense of warmth and family. The residents are friendly and seem very happy. A few residents greeted me and asked me questions and made sure I was comfortable. I was impressed... It showed they took pride in their home. The staff are friendly, welcoming, and accommodating. Having visited several different communities, I was impressed at the longevity of not only the management staff but also many other employees that work there. Some have worked there for 17 years! Sheldon Park has several different activities to choose from providing many different options. They have an activity program for the assisted living portion, their Bridges Program, and the Memory Care program. I have never seen an activity program as extensive as theirs and truly personalized to their residents plus their activity director is one who has been there for over 15 years! The community is clean and odor free and seems well maintained. During one of my visits, I came during an event and met the chef. He made some great BBQ! And again, worked there for over 15 years. This community is top notch, they put their residents first, and clearly go above and beyond.
Provider Response
Dear Alexander, We are simply delighted that you had such a great experience with our team! Thank you so much for taking the time to share with us and we look forward to sharing this feedback with our team as it very rewarding for them to hear how they are able to make such a positive impact for others. Thank you again! Sincerely, Team Sheldon Park Senior Living.
---
mnbvcxz
November 29, 2016
I am/was a resident of this facility
This place is clean inside and out. All of the staff are friendly and they go out of their way to help the people living here.
---
visitornursemother
November 29, 2016
I visited this facility
As a professional in the industry for 15+ years, I was very pleased to the welcome I received as soon as I walked through the door at Sheldon Park, Eugene. I received a tour on the spot with no appointment and was very impressed by such cleanliness. More importantly, the staff were super kind and it was clear at Sheldon Park, the residents are provided a safe, secure and loving home. Both the dementia unit and assisted living had a full schedule of all types of activities to encourage neurological stimulation at all different levels. Very impressed! Love the car in the activity room!
---
Wanita McPherson
October 26, 2016
I am a friend or relative of a current/past resident
One of the hardest decisions for any family to make is to send an aging parent to Assisted Living or "the home" as some people call it. Our 89 year old mother was recovering from serious health issues and because of the need for trained medical care and management of medications we were unable to care for her at home. We talked about Assisted Living for a short period while she recovered and selected Sheldon Park because of the beautiful facility, incredible staff and the care available. Mom is now recovered and when asked about moving back home she tells us to move somebody else into the house because she is having too much fun at Sheldon Park. They handle her medications, do the cooking, spoil her with kindness and care and best of all give her the opportunity to choose every day what activity she is going to participate in. She has made numerous friends and enjoys visiting daily with all of therm. In fact, it is hard to ever find her in her room because she is a very happy and busy lady.
Sheldon Park is an amazing place with incredible caregivers, staff and administrators. We highly recommend it!!!
---
Diane061136
August 22, 2016
I visited this facility
I visited Sheldon Park, and I was not impressed. I did not like the fact that the memory care people were pushed off into an area, which seemed dark and dreary. They weren't with the rest of the people like in the assisted living; they were definitely in their own little world. However, the grounds were ample and nice. I remembered that there were some people that were sitting at the table and smiled and talked to us as we went through like, "Hello," and we tried to "Hello" back, but they rushed you through there. They would not let you linger.
Provider Response
Thank you, Diane, for writing us this review. We take our reviews seriously and use them to improve our service. That said, we are disappointed to learn about your most recent experience with us. This is not how we aim to run things. If you're willing to give us a chance, we would like to make this right with you and help however possible. Please call Charisa Coxen directly at (541) 344-1078 for help resolving this matter.
---
Susan865860
August 17, 2016
I visited this facility
Our tour at the Sheldon Park Senior Living was fine, and the place was very nice. The staff gave us information on what we needed to do. The place looked comfortable, and the residents were doing OK. It looked like they had a lot of activities for the residents and was very organized. The room was very nice. The dining area was very clean and very pretty, and they served good food.
---
Timothy Waggoner
June 30, 2016
I visited this facility
I met with Jennipher a few weeks ago at Sheldon Park, and I felt comfortable and at home the moment I walked in - the staff welcoming and greeting me with genuine smiles. Jennipher herself is amazing and dedicated to her work with a true passion, and you can see it on the faces of everyone else who works there, as well. The residents are happy and treated like family, the facility is clean and bright feeling, and there's an atmosphere of care and peace wherever you go. I've seen several of the other retirement/senior living communities across town, and none of them live up to the standards of Sheldon Park. They're an amazing community. :)
---
Libby K
March 31, 2016
I visited this facility
I have met several of the staff at Sheldon Park. They continually strive to meet the needs not only of their residents but also of the community by providing education about chronic conditions and ways to manage memory loss. If I helped a relative choose assisted living or memory care services, Sheldon Park would be on my list because staff are dedicated to providing appropriate & quality services.
---
Sarah120891250
February 26, 2016
I visited this facility
I visited Sheldon Park. It was clean. They provide three meals a day, which were served restaurant style, were very nicely presented, and tasted excellent. They had studios, one-bedrooms, and two-bedrooms, but they were pricey. The staff was excellent. The facility really meets our needs, but, they need more things in the activity room. I saw the planned activities for the month, and they have a big game room, a small game area that was very nice, a pool table, and things to do for when your family and grandkids come. It was very nice, and everything was very clean.
---
Claire Thomas
February 23, 2016
I visited this facility
I am a student at the U of O and I visited Sheldon Park a couple weeks ago for a class project. They were putting on a jazz concert for their residents. As soon as I entered the building I was pleasantly surprised by how beautiful and modern it was. I didn't feel like I was in a nursing home. I was immediately assisted by someone at the door who greeted me with a smile. Jennipher was the most helpful and answered any questions I asked her and continued to check on me throughout my time at Sheldon Park even though she was busy with the event. The residents were so pleasant and happy compared to other nursing homes I have visited in the past. I look forward to volunteering there in the future.
---
Lindiagee
February 07, 2016
I am a friend or relative of resident
I have been to Sheldon park assisted living on a few different occasions and have found the staff to be very tentative and helpful. The building has always appeared very clean and smells clean. I haven't tried their food there, but it smells good. I always see the residents smiling and active within the building. I will definitely look into this facility for placement of my loved one when the time comes.
---
mdbennett
January 28, 2016
I visited this facility
Sheldon Park is an excellent place to check out should you find yourself or a loved one in need of a caring and loving assisted living or memory care environment. Sheldon Park has earned the respect and support of senior providers and healthcare professionals throughout Lane County. As a marketing director in Independent living, I often refer seniors to Sheldon Park that need more than my community can provide. Mike Bennett-Marketing Director-Solvang Retirement Living
---
Caring Daughter104625450
December 30, 2015
I visited this facility
I visited Sheldon Park and the place was very nice and clean. The staff seemed fine and friendly.
---
Hzleug
September 12, 2015
I am a friend or relative of resident
We moved my mom here in June and couldn't be happier. The staff is fabulous and I feel Ike they really got to know mom and work with her based on her needs. Mom is happy and we are too!
---
MarieTC
August 13, 2015
I am a friend or relative of resident
The caregivers are exceptional. All of them are briefed on all of the things needed to care for your loved one. The atmosphere is clean, positive and upbeat. The furnishings and decor in the facility are elegant and comfortable. The food is excellent and healthful.
---
Lisa110544050
July 14, 2015
I am a friend or relative of a resident
The staff was great at Sheldon Park Senior Living. My mom was not well enough to participate in any of the activities, but they had some great ones. Her apartment was very nice. It was a studio with a small kitchenette and a bathroom. The dining room was very spacious.
---
J. newman
June 29, 2015
I am a friend or relative of resident
My mother has been living at Sheldon Park assisted living for over two years and we have been pleased with her care. She moved from out-of-state and the transition was handled with care and she felt very welcomed. The facility is always clean and bright and there is good programing for residents. Staff are friendly and know the residents by name. I feels like her home now!
---
MikeN
May 22, 2015
I visited this facility
The staff there have really gone above and beyond when it comes to creating specialized programs for their residents. They make sure that everyone has access to an array of activities. They have a huge dining room and activity room in order to accomodate all sorts of special events. Over all they seem to really care about their residents being able to live a fun lifestyle during what could be some very difficult times of their lives.
---
Kevin17
April 30, 2015
I visited this facility
The one I liked the most was Sheldon Park. It just seemed like a very nice place. People could go in if they wanted to or whenever they were hungry, they had snacks available all day, and they just kind of offered a less regimented type of schedule. They had an activity room there for painting and stuff, but there was nobody in there at that time. They have painting classes, and they did field trips and all kinds of stuff. The rooms were all clean, well-lit, and bright. They were just like any other places' rooms, but they were nice.
---
Keven
April 28, 2015
I visited this facility
Sheldon Park seemed like a clean facility and seemed like it was all around. It seemed like that all that you would want was there -- including the engaging type programs involving the society. The staff was friendly and knowledgeable.
---
Caring105545650
April 22, 2015
I am a friend or relative of a resident
We visited several communities, and we have chosen Sheldon Park. We just knew it was good, so we looked at it. They showed us around and showed us what we wanted. The staff was very kind and invited us to lunch a couple of times. The food was good, and the dining setup was nice. They have a lot of activities like bingo, art classes, and health classes. I don't know what else they have, but they have something going on every day. Security seems to be topnotch, and I never heard any problems about it.
---
Linda104284050
March 27, 2015
I visited this facility
I would say Sheldon Park is a very nice facility. I think that all of my dad's needs would have been met there. That is my first facility, so I didn't have anything to compare it to, but looking back having seen several places, I would say it is one of the nicer communities. I didn't see anything alarming at all.
---
Caring86977150
June 28, 2014
I visited this facility
They have very nice facilities. They're probably a little nicer. I would really like to put my mother there, but they were not Medicaid-approved.
---
Jean87604150
June 17, 2014
I am a friend or relative of a resident
My mom moved into Sheldon Park, and she really likes it. It makes sense for her to stay there because my brother sees her every day. She has a lovely apartment. It's very quiet. Her memory is failing very badly, so it is good to have her in a place where we feel she's being watched over and taken care of. She's really enjoying it there. She loves the activities. However, she says, "There's nothing much going on here," so I think they can improve on their activities. They do not provide transportation. They don't have any shuttles on Sunday. So my mother is on her own to go to mass, and my brother has to go and take her.
---
MKSmith
October 26, 2013
I am a friend or relative of resident
This is very nice upscale facility. The staff was very kind and helpful when my sister needed a place to stay.
---
happy sheldon park
August 21, 2012
I visited this facility
The staff was welcoming and friendly, the environment was clean and felt very warm unlike what i expected, not hospital and sterilized feeling. It felt as though there was a community atmosphere there. At Sheldon park there are several activities and involving events for residents to do which makes things feel more like everyday life then a nursing or assisted living home. it seemed residents were happy and healthy as well as motivated and independent. The people living there seemed to feel safe and at home. the dining style was great instead of a cafeteria feel it was more like a casual restaurant. The rooms offer an at home feel with a kitchenette and spacious floor plan. between the salon, the library, the billiard room, and the movie theater there are several things to fill free time with.
---
From Sheldon Park Assisted Living
---
Listening. Serving. Caring.
These things matter to you, and to us. We offer more than just a beautiful place to live. We offer a lifestyle that embraces our residents independence and offers high quality care and assistance where needed.
Our goal is to enhance the quality of life of our residents and make sure they live their lives to the fullest. We recognize that our residents require varying levels of care and assistance. We promise to tailor our community and services to the needs and preferences of each individual resident, ensuring that they continue to lead the life they want. Visit us today to start living your life to the fullest!
Features of Sheldon Park Assisted Living
---
Costs
Minimum rate: $3100/month
Room and housing options
1-bedroom apartments
2-bedroom apartments
Companion Suites We Offer Companion Suites
Studio Apartments
Features
Beauty Barber Shop
Computer Room
Resident Transportation
Tv Room
Garden And Patio
Resident Parking
Features Extra Library
Cleaning services
Laundry For Linens
Housekeeping
Laundry For Clothing
Technology and entertainment
Technology Extra Emergency Call System
Activities
Music
Games
Lectures Discussions
Book Clubs
Fitness Room
Gardening
Arts And Crafts
Location of Sheldon Park Assisted Living
---
Get Cost Information
Get full access to reviews, cost information, and amenities