Alexian Village of Elk Grove
975 Martha St, Elk Grove Village, IL, 60007
Talk to a Family Advisor: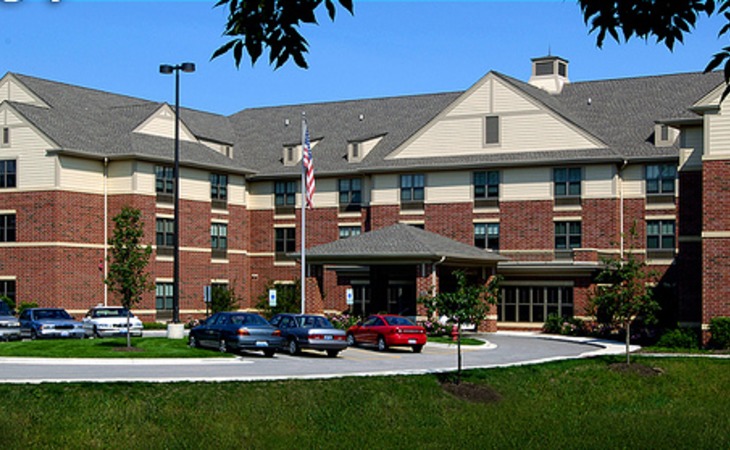 Reviews of Alexian Village of Elk Grove
---
Brigitte768080
December 16, 2016
I visited this facility
I liked Alexian Village of Elk Grove very much. It was not fancy and had a very homey feel. I liked all the staff, and the residents there looked like they were very well taken care of and very well liked. The amenities were basic, not fancy; they do the job. The dining room was big enough for everybody. The rooms were small but lovely and very homey. All of the rooms were studios but comfy and very clean. It's like a no-nonsense type of facility that meets all the needs of the people there. The price was very good, the location was convenient.
---
Lynn273683
November 25, 2016
I visited this facility
I went to Alexian Village. It was very clean. They were a different level of care. The room they showed me was just one large room with a bath. It was very bright.
---
Donna144658
October 21, 2016
I visited this facility
Alexian Village of Elk Grove's food is very good. The facilities are very nice, and it seemed like the staff was very good. It was a little small, but I think they're all like that. You could have a 2-bedroom there too. They could improve by having bigger and newer rooms.
---
Hildegard
October 06, 2016
I visited this facility
I was not too crazy about nor impressed by Alexian Village of Elk Grove because it was not a very large facility. A friend was there, so that's why I saw it. I thought their front lobby was nothing to brag about since it was very small. I had a nice lunch there once. When the staff came in to help with my friend's medication, they were very friendly, very careful, and very nice. They said, "hello," to anybody in the hall, and I said, "hello," back.
Provider Response
Thank you for your review. I am glad to hear that our team members were so friendly to you. We hope that you will continue to visit your friend.
---
Sue504750
September 11, 2016
I visited this facility
My mother in law intends on going to Alexian Village after our visit there. The tour was very good, my mother in law liked it, and she went to visit it twice. They have a whole list of activities like sing-alongs, the rosary that my mother in law is interested in, and Bingo. They do have a hair salon on the premise, and you can sign up and go out on community visits and all sorts of things. The grounds are nice, there's a nice garden with a little play area for children, a nice gathering area when you walk into the building, and a very nice dining room.
---
Caring108410750
June 15, 2015
I visited this facility
We liked Alexian Village very much. Every person was so accommodating. They tried to follow through and checked back with us. Everyone was wonderful. I will absolutely recommend it.
Provider Response
Thank you for your review! I'm glad to hear that you had a positive experience at Alexian Village. It is always our goal to go above and beyond for our residents, staff and guests.
---
Bill106178450
May 28, 2015
I am a friend or relative of a resident
Alexian Village is pretty conscientious, and they give us an alert when something arises as far as infections, i.e., bladder infections. They keep my mother pretty active as she wants to be. She has been there a little over a year now, and overall it's been a fairly good experience. It is very good, very uplifting, and clean. They have all the traditional trips to different facilities, they bring people in periodically for entertainment, and they've got bingo. They also have a place to walk outside that's gated in the back.
Provider Response
Thank you for taking the time to review our community. I am glad to hear that your mother has had a good experience at Alexian Village. Please continue to give our staff feedback on anything that you would like to see improved upon. It is through family and resident feedback that we get better. Thank you again.
---
Eunice M
May 08, 2015
I am a friend or relative of resident
I will never forget the visit that I had with my aunt at Alexian Village on Monday, May 4, 2015. I had come from Michigan to visit. After my experience at this facility I determined that I had seen some incidents that gave me real insights into the challenges faced by this facility in providing a high level of care.
When I first arrived I immediately smelled urine. My aunt is incontinent, so that smell cannot be avoided entirely. However, my first test of any longer term care facility is the smell of urine, so I was a little troubled. I waited. I finally asked that she be changed after being with her 2 ½ hours. What I observed is that the diaper was so heavy and soaked with urine that I wondered if she had even been changed earlier in the day.
We arrived at lunchtime, and as my aunt was eating I noticed her severely swollen hand and arm. My aunt could not lift the arm nor use it to eat. She explained to me several times that she was experiencing severe pain throughout her lunch. I went to the nurses station and they told me that they had seen her arm and that she had fallen out of bed over the previous weekend. I should not be concerned. I was concerned. I was observing swelling and an angry redness all along my aunt's right arm and hand. The swelling in her hand was so severe that her fingers looked like balloons all the way to her fingertips. I asked that my aunt's daughter be called . The nurse explained to my cousin that they had noticed the arm and had determined that it would heal on its own. Meanwhile the hospice nurse had looked at the arm and hand and had come down to the nurses station. She stated clearly that the arm and hand was now traumatized and should be Xrayed asap.
Both of these incidents raise troubling questions for me. Why would my aunt not be changed in a timely manner, especially since she was just now healing from bedsores on her bottom? How could the deteriorating condition of my aunt's arm since the fall out of bed not have been observed by any number of staff over the previous 24-48 hours? It turned out that the arm was not broken. But what if it had been broken? How long would she have had to wait to receive care and also to receive medication to help reduce the pain and swelling? As it was I had to prompt the staff to administer some pain meds to my aunt. I do not know if they continued with pain meds after I left.
Finally, I know that this facility has had bouts of flu recently that have run rampant. At my visit I noticed many dirty coffee cups around the sink area in her room. Disposing of dirty dishes seems critical to me in helping control a flu outbreak. In addition, my aunt was so thirsty that I cleaned one out in order to give her some clean water. I saw no glasses in my aunt's room that would tell me that clean water was being brought around to each resident on a daily basis.
I have much to study regarding the rules in place for assisted living facilities in Illinois. If the guidelines do not cover what is a basic level of quality of care in these facilities, then I would suggest that advocates must come forward asap to address these challenges at every level.
This particular home has a wonderful front desk with a friendly receptionist. They provide strawberry infused water for guests upon arrival. Unfortunately that is not enough. We expect so much more for our elderly loved ones.
Provider Response
Thank you for your review. I am so sorry to hear about your experience. It is my understanding that our Executive Director has spoken to your cousin about the situation. Please know that as a company we strive to give the best quality of care for our residents and that we are looking into this situation. If you have any more details or concerns please contact Carole, our Executive Director at 847-437-8070.
---
Kathy70
April 27, 2015
I am a friend or relative of resident
This was not my first rodeo when it came to finding a home for my 90+ year-old mother. I've been through it twice before with my in-laws. When it comes to making a decision for finding a home for a patient, it's an approach/avoidance conflict issue: we know it has to be done, but we don't want to make the decision. Hence, on visiting a facility, I've had to decide whether I didn't like the facility and the care or my apprehension was that I didn't like the whole idea of placing mom in a facility.
First, Alexian Village came highly recommended by a friend who works in the healthcare field. Since I live out of state, my brother visited Alexian Village the first time. Then, I came down, met with the staff and took a hard look. I liked it.
I looked past the wheelchairs and walkers since they're a given in such facilities. I looked for cleanliness, attentiveness, and calm, smiling residents. I asked pointed questions. And Pathways communities are part of Illinois' Supportive Living plan, so when Mom runs out of money, she can stay for the rest of her life with what she can afford. Trust me, it doesn't get better than that. In MI where I live, Medicaid beds are at a premium, you run out of money, you have to find and move to another facility. Not good for older people.
Mom has been at Alexian Village for over a year now. She's happy and well taken care of. Have we had communication issues? Who doesn't? But our concerns have been addressed. Mom's in hospice now, in her Alexian Village home. She will stay there for the rest of her life. And I am confident, she's in a good, caring environment.
Provider Response
Thank you so much for your review. I am so happy to hear that your mother has had such a positive experience at Alexian Village. As always, please reach out to Carole if any concerns arise.
---
Lynn43
April 18, 2015
I visited this facility
I really liked Alexian Village of Elk Grove, but it was too expensive, which was really disappointing. The staff were very nice. I liked the apartments. There was a nice little outdoor area where they could sit outside. The units and the hallway look more personal. They could personalize the outside of each unit, which gave them that homey feeling.
Provider Response
Thank you so much for taking the time to review our community. I am sorry to hear that the community did not meet your financial criteria. Please reach out to Emily Powell at EPowell@pathwaysl.com and she will be happy to assist you in finding another Pathway community that may meet your needs. Thank you again for your review.
---
Steve S.1
April 05, 2015
I am a friend or relative of a resident
My uncle is a resident of Alexian Village of Elk Grove Illinois. I am his power-of-attorney for all health and property related matters, so I have had considerable interaction with staff in all departments at Alexian Village. Suffice it to say, my uncle loves Alexian Village and is very appreciative of all the support he receives from the enthusiastic individuals who work there. It is clear from my conversations and visits with my uncle that he is very happy and healthy at Alexian Village. He feels that all his needs are handled responsively and responsibly. My uncle feels the food is perfect. He is allowed to have a pet, which is great because he loves his cat. His room never smells because laundry is done routinely, housecleaning is on top of room maintenance and twice daily garbage pick-up. There are no shortcomings in the service my uncle receives.
We are quite appreciative of all those who support the residents at Alexian Village. I do want to make special mention of one individual, Lauren. Lauren goes out of her way to assist my uncle and other residents, making them feel comfortable and secure. Lauren was the face of Alexian Village when we first visited the residence to learn if it was the right place for our uncle. From the beginning Lauren made us feel welcomed, and that our uncle would be special to them. Lauren has helped us in so many instances, whether it was directing us to the right people to handle Medicaid issues or to understand rules pertaining to resident care and residency. She always gets back to us quickly whenever we have any questions. Lauren has even gone out of her way to help my uncle maintain a secure and sanitary environment for his cat!
There are others within the ranks of the administration and staff who have gone out of their way for my uncle. I could go on and on. We frequently talk about how incredibly grateful we are to have discovered Alexian Village!
Provider Response
Thank you so much for your review! It is so heartwarming to hear the positive ways our staff impact our residents and family members lives. Thank you for choosing Alexian Village for your Uncle.
---
Mike687
November 13, 2014
I visited this facility
It felt like a nursing home. Old people sleeping all over.
Provider Response
Thank you for your review. I am sorry to hear that you felt our community felt like a nursing home. At Alexian Village, we are proud to be able to care for residents that require all levels of care. It is our goal for our residents to live the rest of their lives in their Alexian Village home. We would love for you to visit again and join us for a meal so that you can meet all of our residents.
---
cirene
November 05, 2014
I am a friend or relative of resident
We moved our mother to Alexian from another facility and WOW! We didn't realize there would be such a remarkable difference. It is clear that the staff really cares about her and cares about providing comfort and support to her. Multiple staff members have gone above and beyond to help her - finding lost object, helping her organize and clean out her room. Mom used to be suspicious and fearful in the old facility – due to the exceptional care she has received at Alexian, she is now calm, smiling, and happy. We are very grateful for their excellent, compassionate service!
Provider Response
Thank you for your review. We are so pleased to hear that your mother is having such a great experience at our community. We hope that she can be part of our Alexian Village family for a long time to come.
---
Caring76801650
January 31, 2014
I visited this facility
Alexian Village is where we wanted my parents to go to. You can stay all the way to the end. You can get converted over to your government insurance after you ran out of money. However, we couldn't go there because my father made too much money. It's a very nice place. They have TV rooms, exercises, crafts, and different activities.
---
Faye2
August 29, 2013
I visited this facility
Alexian Village's grounds were fabulous. They have the most beautiful flowers. Everything was great. There is a hospital just right across the street. I saw one of their apartments. It was very nice, clean and painted nicely. They also have a clean laundry room in the facility. Everyone was nice. The staff was very nice. The one who toured me around answered anything that I wanted to know. Alexian Village was a very good place in to stay; however, I have cancer and my legs are weak and I have to do a lot of walking just to get to their apartment building.
---
Elaine8
May 14, 2013
I visited this facility
I liked the location of Alexian Village of Elk Grove but I did not like the facility as much as the others. The staff were helpful and friendly.
---
ktowne
December 22, 2012
I visited this facility
In my experience, the facility was fantastic... My grandmother was extremely happy there and all of her fellow residents seemed to be happy, healthy, and got along well with all of the staff members. Before my grandmother became hospitalized, she loved living there and truly cared about her neighbors and the staff. The rooms were very clean and roomy. The bedroom, bathroom, and kitchen were surprisingly well-equipped and modern. To be honest, I was kind of jealous! The grounds of this place were quite nice and the place looked just beautiful from the street. I felt comfortable with her stay there because she was happy and was very close to other residents there. It was very easy to visit her and we were welcomed by the staff with open arms. I will admit that this was some years ago but I have not heard anything different since she was living there. I am glad that she was able to spend the last few years of her life in such a loving environment.
---
Liljoy
September 27, 2012
I am a friend or relative of resident
Upon entering, the staff at Alexian is very friendly and helpful. The first time we went there, they showed us around and even walked us to my great uncle's room. They seemed both professional and caring. The facility is great and offers a lot of activities for their residents. My great uncle isn't particularly active there, mostly because he forgets to go to events they have planned and sometimes forgets that he attended them. He has found, with help of the staff there, some friends who come get him for events, along with a group to play cards with. He laughs that there are a lot more women than men there and he isn't about to take on a wife since he hasn't had one for 80 some years. The food there is nutritious and the food service is well organized. We have even had the pleasure of eating with him there a few times and actually found our food to be pretty tasty. The outdoor grounds are beautiful. We love taking him for short walks and sitting on the benches. I find his actual room (apartment) to be a bit small, but I suppose for one person, there isn't a need for a lot of space. He has had to go the ER a couple of times during his stay there and the staff has been helpful and prompt in letting our family know immediately when the situation occurs. While there is staff on duty 24 hours a day, we have had a couple of times when we have picked him up for a family event and had a difficult time getting him back in, as no one was there to open the door and it's locked I believe after 8 AM. Another time we had called to let them know we would be picking him up, as requested by a staff member, so that they could give him time to be ready. When we arrived, it hadn't been communicated to him. I suppose it's possible he forgot, but the nurse on duty didn't seem to know anything about it. Overall, I would definitely recommend this facility to people seeking care for loved ones.
---
From Alexian Village of Elk Grove
---
Alexian Village is an assisted living community located just outside of Chicago in Elk Grove Village, named for the small herd of elk in the Busse Woods Forest Preserve. The area is home to numerous parks, golf courses, and even a theme park and historical museum. There is plenty for Alexian Village residents to do in the surrounding area, from local festivals to an annual summer concert series, farmers' markets, and ample shopping.
Facilities and Amenities
Alexian Village of Elk Grove is a 65-and-older community. The community consists of 114 apartments: both private studio and adjoining studio units. The Village also features a community dining room, a community living room with a fireplace, a library with several computers, a community 'life room', a private dining area, wellness center, medical facility and outdoor amenities such as a playground for visitors, a patio and garden.
Alexian Village offers a dining program that aims to provide balanced nutrition for seniors as well as a social program that focuses on the seven dimensions of wellness. The community is also equipped with 24-hour security.
Health Programs
Alexian Village works with residents and families to coordinate a proactive healthcare program that monitors residents' unique health care needs. The community's VIVA! program is an award-winning health program that promotes living purposefully and healthy, happy aging. The program offers educational, social and spiritual pursuits. There are yoga classes, exercise classes, health talks with wellness partners, and more. Additionally, the VIVA! Plus program brings third-party healthcare partners to the community to give residents access to a number of different medical and behavioral care options. These options are delivered in the privacy and comfort of residents' homes.
Healthcare
Residents of Alexian Village have 24-hour medical staff available for their every need. The community is located near the renowned Alexian Brothers Medical Center, which was regionally ranked as one of the top hospitals in the Chicago area. The medical center rated high in performing adult procedures, and has more than 900 physicians on staff representing over 80 medical and surgical specialties.
Activities and Events
Alexian Village residents have plenty of opportunities to take part in social activities and events both within their own community and the surrounding Elk Grove area. For example, every year Alexian Village residents help plan and take part in a community-wide Autumn Gourd Fest. They also participate in service projects that benefit the American Red Cross and the Elk Grove Township food pantry.
Residents can also sign up for on-site learning groups, exercise classes and game nights, and have the chance to help to develop the community's daily menus. The community has a full calendar of events that changes monthly.
Pets are Welcome
This pet-friendly community allows residents to bring their own pets, or to visit with the pets in the "See Spot Retire" program. The program is designed to provide the benefits of pet ownership without the costs and responsibilities of actually owning an animal. "See Spot Retire" offers older dogs a new 'leash' on life, bringing them together with residents and building bonds.
What Makes Us Special
---
At Pathway Senior Living, we think about aging differently. We value elderhood as a viable and productive period of human life. We focus on providing WELL care, not sick care. We take a holistic and proactive approach to enhancing our residents' lives. Ou
Features of Alexian Village of Elk Grove
---
Costs
Minimum Rate

$4700/month

All Inclusive Rent
Fee Structure Extra

We Offer A Month To Month Rental
Room and housing options
Companion Suites

We Offer Companion Suites

Studio Apartments
Dining options
In Room Kitchenette
Dining Room Shared Meals
Dining Extra

Meals Can Be Delivered To A Resident's Apartment If The Resident Is Ill Or Unable To Attend A Meal
Features
Beauty Barber Shop
Resident Transportation
Tv Room
Resident Parking
Features Extra

Library, Fitness Room/Gym, Emergency Call System, Gazebo
Cleaning services
Laundry For Linens
Private Cleaning Services
Housekeeping
Laundry For Clothing
Technology and entertainment
Wifi
Technology Extra

Apartments Come Cable & Telephone Ready Should The Resident Choose To Purchase Those Services From An Outside Vendor.
Health services
Skilled Nursing
Hospice Care
Medication Management
Physical Therapy
Activities
Offsite Activities
Music
Games
Stories
Religious Services
Lectures Discussions
Book Clubs
Wii Sports
Tai Chi
Fitness Room
Yoga
Gardening
Cooking
Arts And Crafts
Activities Extra

Our Award Winning Viva! Life Enrichment Programs Earn Praises From Residents, Staff, And The Senior Housing Industry For Its Innovative, Resident Centered Approach To Caring. Viva! Offers Something For Everyone!
Financial guidance
Va Benefits Consultation
Financing Advice
Financial Aid
Guest services
Guest Parking
Guests At Mealtime
General
Staff Patient Ratio

Our Care Staff To Resident Ratio Exceeds State Regulations

Minimum Age

65

Pets

Small Pets Allowed
Location of Alexian Village of Elk Grove
---
Get Cost Information
Get full access to reviews, cost information, and amenities